Last Updated on November 7, 2022 by admin_hunter
Survival shovels pretty much look the same, but we all know they are not really the same when it comes to quality.
You will find this guide particularly useful if you are thinking of adding one or a few good survival shovels to your survival kit.
This list curates the very best survival shovels currently available on the market to make your shopping a tad easier. Remember to check out the buying guide at the end to help you figure out which product best suits your needs.
The Best Survival Shovels – Out Top Picks
1. SOG Folding Survival Shovel
18.25 INCH FULL LENGTH, 24.5 OUNCES: Lightweight foldable outdoor, hunting, military shovel is versatile to get the job done. E-Tool features a wood saw edge to cut or chop small branches and trees for kindling or fire building
COMPACT AND PORTABLE: The multi-use shovel folds down to be barely bigger than your hand. 10 inches in length when folded, it takes up about the same space as a stack of paper plates. A needed tool that is easy to pack and takes up no space in your backpack, or camp kit
HIGH-CARBON STEEL CONSTRUCTION: Super durable to handle the long list of jobs the shovel was designed to handle in extreme conditions. Dig through dirt, sand, gravel mud, and snow with the tempered steel blade. The triangular handle is strong and fits the hand well for optimal use when digging, trenching, cutting, or slashing
3-WAY FOLDING DESIGN: Hand shovel collapses into a portable outdoor shovel, emergency shovel, and hiking shovel. The rotating spade blade can be adjusted to act as a pick or hoe. Ultimate camp tool to dig fire pits, bury waste, or trench drainage lines
SOG TACTICAL SHOVEL FOR LIFE: Take care of your folding shovel and we'll take care of you; SOG shovels for digging are built to last, and we consider all repair and sh083-20nt requests
The SOG Survival Shovel is the go-to option for many survivalists, and it's not too hard to figure out why. The manufacturer is renowned for making first-rate yet affordable survival knives. That tradition is no different with their shovels, too!
A durable tempered steelhead with partially serrated and sharp edges on either side and a carbon steel folding handle design, this SOG folding shovel is definitely one you should consider.
This SOG shovel is undoubtedly the best survival shovel when it comes to portability. It is slightly bigger than the average adult hand when folded, so it is small and compact. However, unfold it, and the sturdy tool can work just fine as a sand, garden, snow, or camping shovel.
This portable shovel comes with a well-made shovel carrying case that can hang from your belt or fit nicely into your backpack, also making it a great camp shovel.
Pros
High carbon steel construction
Ergonomic handle
Folds to an extremely compact size
Carry bag included
Lightweight and durable
Cons
The small size offers little leverage
Not suitable for digging large holes
2. Rhino USA Folding Survival Shovel
Folding Survival Shovel W/ Pick – Heavy Duty Carbon Steel Military Style Entrenching Tool for Off Road, Camping, Gardening, Beach, Digging Dirt, Sand, Mud & Snow
Support A Small Family Co. – Buy From a Father/Son Business in California
Military Style E-Tool – 2lbs of Powder Coated Carbon Steel, Tough Pickax & Sharp Rugged Saw Teeth.
Compact & Portable – Full 23″ Long Extended but only 9″ x 6″ when Folded into Included Carry Case.
Multi-Functional – Shovels = Great Garden Tools, Backpacking Gear and Metal Detector Accessories.
Constructed from heavy-duty high carbon steel and weighing a mere two pounds, this folding survival shovel from Rhino USA is not your average folding shovel. The multi-functional military-style tool comes with a pickaxe for digging and a serrated saw edge for cutting wood.
The rigid design of this versatile tool combines with an amazing spade makes it a sturdy shovel. You will want to bring this tool along if you plan to head out in the snow. It is useful for getting your car unstuck from frozen snow by prying with the pickaxe.
Like most other good-quality multi-tool survival shovels, this one also features a bottle opener, fire starter, fish scaler, and a whistle. It comes with a carry bag to store the foldable shovel.
Pros
Great shovel for snow
Heavy-duty carbon steel construction
Folding design collapses to 7"
Carrying pouch included
Versatile option
Cons
No instructions included
Too short and heavy for its size
3. Cold Steel Special Forces Shovel
Weight: 26.6 oz
Overall Length: 19.68″
Handle: Hardwood
Thickness: 2mm (Shovel Head)
Sheath: Cor-Ex Sheath (Included)
A typical wooden-handle shovel may not appear as attractive or even functional as folding and multi-tool models, but Cold Steel's option is by far better than many foldable shovels available.
This outstanding shovel comes with a heat-treated carbon steel head molded after the Russian military shovel design – a well-made shovel. It features extremely sharp edges, which are great for light chopping and clearing small under-bush.
This is the best survival shovel to bring along if you are heading out for a winter camping trip. Keep in mind that the hardwood handle is coated with varnish, giving it a polished look and protecting the wood in the warehouse and during shipping. If you choose this model, consider sanding off the coating, as it can cause blisters when you use it for serious work.
The product doesn't have a carry bag since it is not designed to fold. There's a good-quality sheath to cover the sharp edges, but you have to purchase that separately.
Pros
Heat-treated medium carbon steel for extra strength
Digs extremely well
Sharp digging edge is great for camping
Replaceable hardwood handle
Cons
The smooth, lacquer finish can cause blisters very quickly
Sheath sold separately
4. Sahara Sailor Unbreakable Survival Shovel
Unbreakable Survival Shovel – This survival tool set constructed with military-grade solid carbon steel with aerospace-grade anodized aluminum tubes that make it sturdy enough deal with survival activities or car/truck emergency
Mufti-functional – This ultimate survival shovel incorporates 12 other functions and tools, including a shovel, hoe, saws, bottle opener, cleaver, whistle, knife, fish scaler, emergency hammer, flat-blade screwdriver, and 4 size wrench. These functions will ensure you survive camping with your kids
Collapsible and Portable – This camping shovel can be folded and expanded by twisting lock for secure storage and carrying. A durable carry storage bag is coming with the package as camping gifts
Not just camping – This tactical shovel is perfect for camping, hiking, gardening, backpacking, hunting, traveling, expedition, car emergency, and outdoor survival
Satisfaction Guarantee – Lifetime warranty with 100% satisfaction and zero hassle returns guaranteed. With this military-level survival shovel, you have the last piece of camping and survival tool you will ever need
The Unbreakable Survival Shovel from Sahara Sailor is another popular choice among professionals and hobbyists alike, and that's not merely for its great looks. This shovel is renowned for its superior construction, versatility, compactness, and sturdiness.
It is engineered using military-grade carbon steel for the head and aerospace-grade aluminum tubes for the handle and other tools.
You should consider getting this product if you are in the market for the ultimate survival tool. It comes with 12 different tools, such as a shovel, knife, bottle opener, whistle, screwdriver, and more. Plus, it can be used for 23 functions, including starting a fire, hammering, breaking a window, and more.
The shovel collapses into a compact size and fits nicely into a carry bag. It is portable and suitable for hiking, camping, hunting, car emergency, and other outdoor survival missions.
In a nutshell, the Sahara Sailor Survival Shovel is a good buy, especially considering its multi-functionality and affordable price tag.
Pros
Military-grade carbon steel construction
23 different functions
Collapsible design
Durable carry bag
Lifetime warranty
Cons
Shovel blade lock and handle section may require frequent tightening during use
Subpar pouch material
5. M48 Kommando Survival Shovel
Features virtually indestructible, injection-molded nylon handle with 30% fiberglass & nylon reinforcement.
The shovel head is made of tempered 2Cr13 stainless tool steel with a hard, black oxide coating.
Perfect for camping and outdoors use, light chopping, or for use as a defensive weapon in an emergency situation.
The shovel point edge is sharpened, with a partially serrated edge on one side, and a concave chopping edge on the other.
Includes a reinforced nylon belt pouch.
Sometimes, all you want is a simple shovel that does what it's meant to do well. That's where the M48 Kommando Survival Shovel shines. It is a small, incredibly lightweight, and no-frills shovel.
But don't be fooled by its seemingly unassuming size and lack of bells and whistles. This model has a tempered stainless steel head and a virtually indestructible nylon-based injection-molded handle. That's another way of saying it is an exceptionally durable option.
While this is not a multi-tool model, its function goes beyond mere digging. It features a partially serrated edge on one side and a concave chopping edge on the other. All the sides are extremely sharp. You can use this for light wood chopping and protect yourself if a wild animal should spring out of nowhere.
Overall, the M48 Kommando model is one you'll want to look at if you are in the market for the best survival shovel that doubles as a powerful defensive weapon.
Pros
Extremely durable construction material
Includes a reinforced belt porch
Lightweight construction is great for hiking
Cons
The short handle may require shoveling on your knees (depending on your height)
The belt on the pouch may wear over time
6. Yeacool Survival Folding Shovel
Strong and Sturdy Camping Shovel. This shovel is super strong, very easy to use and feels really solid in your hands. It does a great job for digging,trenching, chopping and sawing etc. Also with good weight and balance to it. You will be impressed with the durability!
All-In-One Military Shovel. The multiple sections – each having a specialized purpose different than that of any and all of every other part: Shovel Board, Hexagonal Wrench, Saw, Bottle Opener, Nail Extractor, Hoe, Pickaxe, Emergency Whistle, Fire Bar, Ice Ax, Flashlight, Wire Saw, Compass, Safety Hammer, Screwdriver. A very useful tool!
Awesome Gift Option: It is the most sturdy and reliable army shovel you could own! All of the shovel and its small tools come with a compact bag. Great for a BOB or keeping in the car for emergencies. Don't travel without this versatile folding spade. It is a perfect gift for the outdoor enthusiast in your life!
Tactical Shovel designed and produced with the sports and outdoor enthusiast in mind: Off-roading, Car Emergency, Hiking, Backpacking, Fishing , Expeditionists, RV Camping, Scouts, Military Personnel, Hikers, Camper, Hunter, Fisherman, Gardener, Survivalist, Gold Digger, Truck driver and more.
Order with Confidence. Yeacool customer satisfaction means all! We fix any problem quickly and offer the best solution to our valued customers in a polite, fast, courteous, and efficient way!! Simply contact us via Amazon message when necessary, enjoy hassle free shopping experience with us!!!
Looking for the best survival shovel that provides excellent leverage without compromising portability? Yeacool's option fits that bill perfectly.
While most survival shovels feature short handles that make usage a bit cumbersome, this model has a maximum length of 38-inches.
But length is not the only thing going for Yeacool's folding shovel. It is a multi-tool option that comes complete with three extension bars, a pickaxe, compass, fish scaler, ice ax, whistle, and more.
Whether you plan to saw or cut branches, chop wood, or just dig a sizable trench, this shovel, with its long handle, gives you excellent leverage to make your work faster.
Yeacool held nothing back in terms of build quality. Both the shovel head and handle are constructed using high-carbon steel – a material known for taking some serious punishments without bulging.
Pros
Very sturdy and durable
Features impressive range of tools
The long handle provides good leverage
Military-style design
Carry bag included
Cons
Can take a little longer to assemble
Choosing the Best Survival Shovel – Buyer's Guide
Eye-catching designs are not the only thing to consider when choosing a survival shovel. Here are the most crucial factors to help you figure out what features best suit your needs, so you can find the right shovel to add to your survival gear.
Purpose
When choosing your ideal survival shovel, the first thing to consider is how you plan to use the tool.
A survival shovel with multi-tool functionality is a better choice if you want something for camping trips. This type of shovel can help you do more than just digging; you could use it to start a fire, extract nails, open bottles, and more.
Consider a tactical shovel if you intend to spend time in the great outdoors during winter. This shovel option can serve as an ice pick in addition to digging through the frozen ground.
Durability
Fortunately, most survival shovels are designed to last, so finding one that will serve you for a long time shouldn't be a problem. To be doubly sure, choose a model with a lifetime warranty.
While the product's durability isn't usually an issue, a stainless steel survival shovel will require periodic sharpening depending on what jobs you use it for and how often you use it. If you want to skip sharpening, choose a nylon-based tactical shovel.
Shovelhead
A survival shovel with a flimsy head is useless. Instead, you want to pick a shovelhead constructed with extra durable material, such as carbon steel, heat-treated stainless steel, and reinforced nylon.
Keep an eye out for models with serrated and straight edges on either side of the shovelhead. These configurations can come in handy when you need to saw or chop with the survival shovel.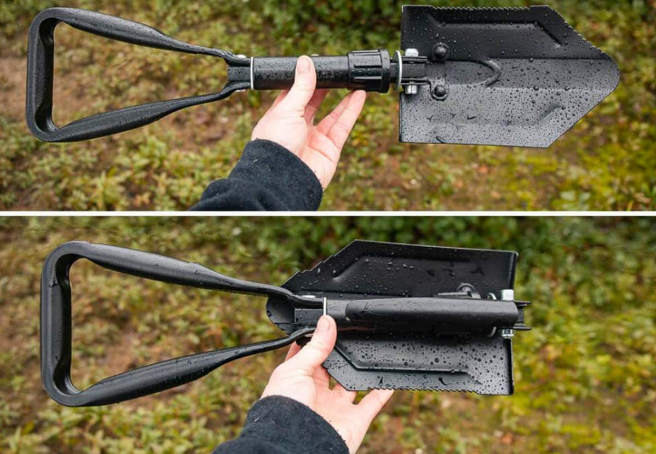 Shovel Handle
When choosing a shovel handle, your options come down to wooden, steel, and polymer handles.
A shovel with a wooden handle is great at absorbing shock, making it an excellent choice. However, it can snap or even splinter.
Models with steel handles offer exceptional strength and durability. The downside is poor shock absorption, which can make digging take a toll on your hand.
Lastly, polymer handles are strong and usually come in lightweight designs. This makes them great choices for a portable survival shovel.
Weight
One of the qualities that set a survival shovel apart from the regular type is the ability to carry the tool around easily. A heavy shovel is less practical in a survival situation because it will slow you down.
The best survival shovel should weigh around 8 to 32 ounces, depending on the design and functionality. A heavier model is ideal for general camping use. But you will be better off with a lightweight shovel if you prefer something for frequent survival-style missions.
Portability
Survival shovels are generally designed to be portable and usually between 16" and 38" long. Whether you choose a folding or multi-tool design will depend on your specific needs. In both cases, pick a model that can easily hang from your belt protected by a sheath or fit in your backpack folded in a pouch.
Extra Tools
A multi-tool shovel offers superior versatility and minimizes the need to bring several other tools for your outdoor mission. Note that this type of option can take longer to set up and may pose a problem if dirt gets into the tube sections.
A dedicated or foldable shovel is not as versatile as a multi-tool option, but it is more practical if you already carry separate tools for different purposes. Besides, this option is designed to resist harsh environmental conditions and is usually very reliable.
Sheath
A sheath offers protection against injuries, damages, and scratches when the shovel is not in use. It will also prevent the sharp edges of the shovel from cutting through your backpack or other delicate items.
While a lack of sheath is not a deal-breaker if you find a really great shovel, it can be the difference between staying safe and getting injured. You can safely carry a shovel without a sheath in the trunk of your off-road vehicle, but you will be at a higher risk of injury if you are hiking.
A survival shovel that comes with a carry bag offers maximum protection. However, some brands only offer sheaths for the shovelhead.
Conclusion
The best survival shovel is not necessarily the most popular model or one with plenty of extras. Instead, it is a model that suits your specific needs.
While the options listed in this guide are all great, we strongly suggest you think carefully about how you plan to use the tool before opting for any model.