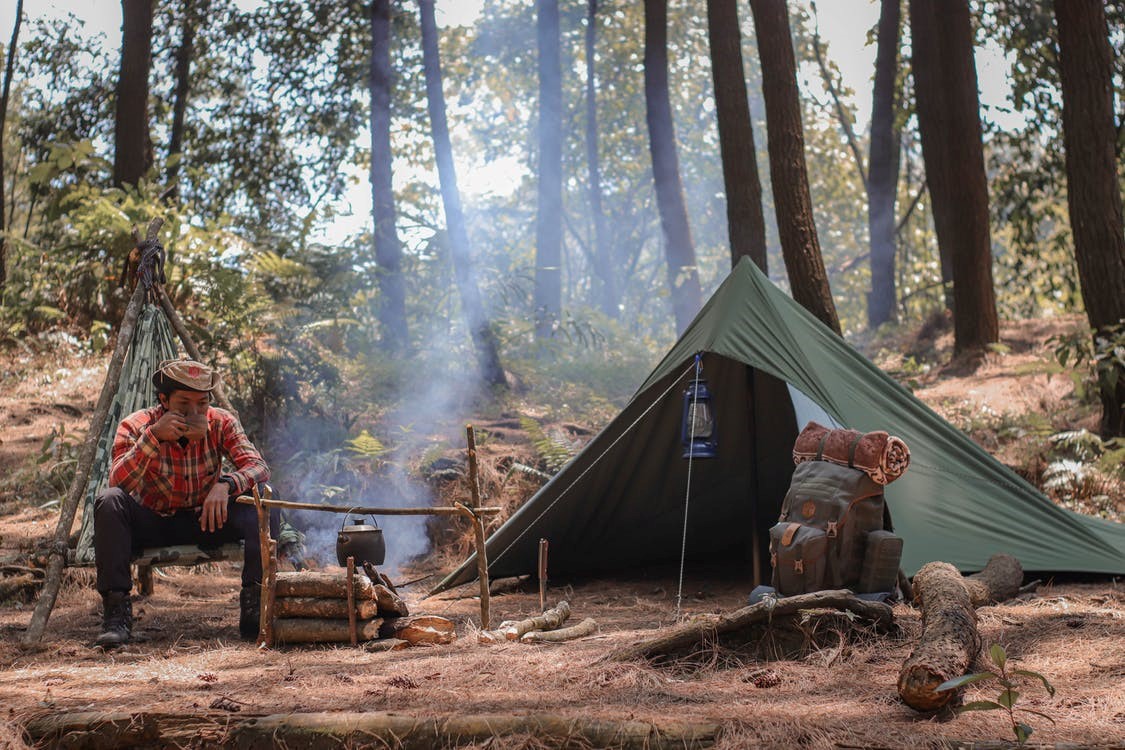 How to Build a Survival Rain Shelter (Best Shelter Designs Explained)
The best adventures in the forest go beyond just a bunch of trees and stunning rocks. When you take a deeper look, you'll realize the magical work of mother nature. If adventure in the wilderness is on your bucket list, you need to hone your skills on how to build the ideal survival shelter. Exposure to winter weather, heat, and floods are among the leading causes of death in the wilderness.
So, What Is a Survival Rain Shelter?
A survival rain shelter is primarily used to prevent you from becoming exposed to rain, snow, or other harsh weather conditions. It also gives you refuge from insects and other falling objects.
A survival shelter can undoubtedly offer a sense of peace and act as a ward against wild animals and panic. Because you're building a cover to keep you warm, you need to understand how you get cold. The four primary forms of heat loss are radiation, conduction, evaporation, and convention. The aim when building a survival rain shelter that can halt these processes.
How to Build the Best Survival Shelters
Tarp Survival Shelters
Carrying a tarp while going outdoors is a great survival tactic. With a tarp, you can build different shelters, including:
Tarp Wing – This type of tarp is designed to offer partial coverage from the rain. You can combine it with fire to keep you warm. Camping tarps are waterproof, big pieces of fabric meant to provide you cover from wind and rain.
A tarp can either be lightweight or heavy-duty. Heavy-duty tarps are heavier, durable, and can handle varying weather conditions. On the other hand, lightweight tarps are suitable for backpackers.
A-Frame Tarp – This type of tarp comes in a triangular shape and utilizes tools like sticks, tarp, or rope. It's suitable for protecting you against wind, sun, and rain. Building an A-frame survival rain shelter requires you to tie a string between two trees and wrap the tarp on the rope.
Burrito Tarp Shelter – A burrito shelter is designed to keep your face in the open to ensure exhaling won't cause condensation. It has a waterproof coat to protect you from the rain. You don't need skills or tools to build an ideal structure. All you need is to roll yourself up in the structure and cover your body as much as you can. But ensure you lay down soft branches, moss, and leaves underneath your burrito for enhanced insulation.
Tarp Tipi – Tarp tipi is the of the most versatile rain shelters you can ever build. With dozens of poles, a bit of rope, and a tarp, you can build this structure to protect yourself from rain, wind, or cold.
Lean-To
If you're looking forward to building the simplest shelter, then a lean-to is the ideal choice. You can set it up in less than 60 minutes with various materials. The one-sided design shelters you from rain and wind that wilderness might throw at you.
Building a lean-to rain shelter requires you to secure a robust, long pole between two trees. Ensure you cover one side with branches and heap grasses and leaves on the top. However, this shelter doesn't hold heat, and if rain or wind changes direction, you won't be shielded.
Think of a lean-to rain shelter as a house with half of a roof and one wall. It may offer little insulation, but you can build it pretty fast. It's, however, difficult to see the shelter from far. Some hang up something like a flag or a bright material, so they can better spot their shelter.
Wicki-Up
A wicki-up comprises a thicker grass and brush covering a steep roof to make it suitable for occasional rain. It has a broader base for easy accommodation. It can give you shade when it's too hot and can protect you from heavy rain.
Collect poles that are forked at the top and conjoin these forks to build a tripod. Finish the rain shelter with vegetation, which is readily available outdoors. If possible, ensure the vegetation above is green or wet materials to make it safe when you light the fire inside.
Round Lodge
The round lodge is a combination of various architectural styles, which are part wicki-up and part tipi. It can block sun, cold, and rain, leaving you safe while in mother nature. The structure has an additional doorway and a smoke hole on the roof. You can thatch the shelter with mats or grass or typically cover it with a thick layer of leaf litter.
Leaf Hut
A leaf hut is a hybrid of wedge-shaped, two-sided lean-to structures with better insulating and weatherproofing features. Get a string pole, about 12 feet long, and crutch it on a tree. You can also set it on a stump or rock and cover the sides of the pole with branches.
Three feet of leaves, moss, and branches covering all sides is enough to keep you warm and dry. You can make a bough bed for comfort. Use dead grass or dry leaves to make the bed thicker if you don't have a sleeping bag with you. A groundsheet ensures you are inches away from snowy and wet surfaces or frozen ground.
Ramada
Rainy, sunny or hot conditions require shelter. A ramada is a flat-roofed structure based on some lightweight beams, four poles, and a cover. Mats, brush, or tarp will do great on Ramada's roof and offer you the durability you want and need when building an emergency shelter.
What You Need to Build a Survival Rain Shelter
Now that you know the different types of survival rain shelters you can build, let's make sure you have a few of the necessary components to do so while you are out in the wild or find yourself in need of an emergency shelter.
To build a simple survival shelter, all you really need to have is a plastic tarp and some cordage. With these two items you can make most of the shelter designs we have explained above. You can even turn your camping tarp into a rain poncho when you are really in a pinch. Additionally, for a quick emergency shelter, simply tie each end of your tarp to a tree and you will have a solid, temporary shelter to shield you until the heavy rain passes and you can build an even better one.
The Bottom Line
Don't let inclement weather ruin your outdoor adventures. With a few tools, the right camping gear, and some skill, you can shelter yourself from harsh weather conditions.
The shelter is your priority in survival situations. Luckily, there are many materials and techniques to build the best rain shelter for survival, as discussed above.