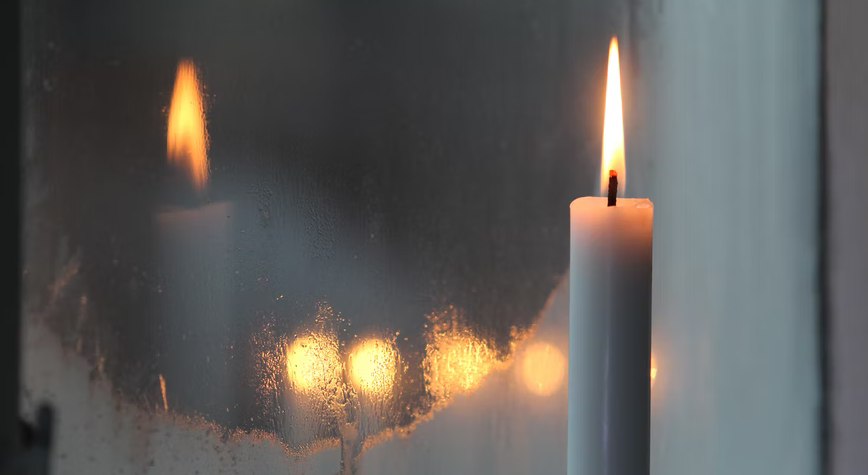 What You Need to Know Before Buying Emergency Candles
Power outages are often a result of bad weather and they can occur at any time of day or night. Power outages during the night can leave you in the dark – literally. Flashlights and lanterns are ideal to have as long as the batteries are charged, but emergency candles are the most reliable when you're left in the dark.
It's not just being without power when you need emergency candles. You can also use them outdoors while camping or hiking if you don't have a flashlight or lantern.
But what type of emergency candles should you buy? What size is the best and how long should they last?
In this guide, we'll explain what you need to know before buying emergency candles so that you choose the best ones to get you through your next power outage or night in the dark.
What are Emergency Candles?
As opposed to regular candles, emergency candles are designed to provide light for long periods of time. Emergency candles can last up to 100 or more hours, whereas common household candles may only last up to 8 hours.
Emergency candles are typically made of beeswax or paraffin wax and will be unscented. Their primary purpose is to provide light or heat, so they won't have a scent. Emergency candles are long, usually about 10" or more, to provide light for long periods of time. There are also mini emergency candles that you can keep in your car for roadside emergencies at night. These are often around 4" long.
What You Need to Know Before Buying Emergency Candles
You should know the burn time, wax material, wick, and size of the emergency candles before you buy them. These features all play a role in how the emergency candles will function.
Burn Time
Arguably the most important feature that you need to know before buying emergency candles is the burn time. The burn time is important because it will let you know how long the candle will burn before going out. Not all emergency candles can burn for 100 hours or more. You'll need to know the burn time of the emergency candle you choose so that you have enough candles to last you through each night that you're without power.
Wax Material
Beeswax, paraffin wax, and soy wax are the most common wax materials for emergency candles. They are slow-burning and unscented waxes which is ideal for burning candles in emergency situations.
Candles that are made with paraffin wax are generally more affordable than beeswax candles. It's common for many paraffin wax candles to include toxins, making them smoke more than other candles. This can also give them a unique smell even though they are odorless.
Beeswax candles are the most natural candles but they can also be the most expensive. That's because beeswax candles burn slow, bright, and have a natural honey smell, making them the most desirable emergency candle option.
Soy wax candles are made from soybeans and burn longer than paraffin wax candles. While they're not as expensive as beeswax candles, they are a close second.
Wick
The design of the wick is one of the determining factors for how long the candle will burn. A wick that has a tightly-wound design like a braid or knitted pattern will burn slower than twisted wicks. If you're not sure what the burn time is for the emergency candles you're considering, look at the design of the wick. If it's braided or knitted, it will burn slower than emergency candles with a twisted wick.
Size
The size of the candle is another factor when determining how long the candle will burn, but that's not the only reason why you need to consider the size of the candle when choosing emergency candles. You should consider where you will be placing the candle or how you will be using the candle to determine what size you should choose.
If you plan to use emergency candles for your home when there is a power outage, you should choose a large candle with a flat surface so that it won't get knocked over. Even better is if you can place the candle in a jar to keep it protected.
If you plan to use emergency candles for the outdoors like camping or hiking, you may want to choose skinnier candles that are easy to hold in your hand.
The Best Emergency Candles
Emergency Candle | Clean Burning Unscented and Uncolored All Natural Soy Wax | Long Burning Up To 100 Hours | 13 Lumens and 80 BTUs | Large 16 oz Jar | Hand Made in the USA by Stillwater Bath and Body
Be Prepared: Trust our products to ensure the safety and comfort of your family during an emergency. The best candles to have on hand for lighting during power outages or just a weekend of camping. Produces approximately 13 lumens of light and 80 BTUs of heat energy.
Protect Your Health: All-natural soy wax containing no fragrance oils, dyes phthalates or parabens plus a high performing, 100% natural fiber wick make our candles ideal when air quality matters, especially when indoors or confined to a small space.
Best Performing: Extensive laboratory testing for reliability, safety and long burn time make our candles the ones to trust when the unexpected happens.
Renewable: All of our products are made with sustainability in mind. Renewable soy wax, cotton and paper wicks, recyclable jars, lids and packaging minimize impact on our environment.
About Us: Our mission is to create useful products that ensure the safety and comfort of our customers. All of our products are of excellent quality, survive the test of time and work as intended when they are needed.
The Stillwater Bath and Body emergency candle will burn for 120 hours, making it one of the best emergency candles you can choose. It is made of unscented soy wax and has a natural fiber wick that will let the candle burn slow and brightly.
BOLSIUS White Household Candles Bulk Pack 45 Count - Unscented Dripless 7 Inch Dinner Candlesticks - 6+ Hours Burn Time - Premium European Quality - Consistent Smokeless Flame - 100% Cotton Wick
ILLUMINATE YOUR DECOR WITH ONLY THE BEST - Our dripless candles white in color are a must-have in the home. Whether you are having a fancy party or a casual dinner, our pack of 45 white candle stick alleviates the ambiance from ordinary to phenomenal.
CRAFTY MANUFACTURED LONG WHITE CANDLES - Bolsius non drip candles are designed to last longer than usual taper candles. The long straight even thickness have more wax than tapered candles and burns a consistent flame.
PREMIUM QUALITY DRIPLESS HOUSEHOLD CANDLES - Our long straight household candles are made to provide a convenient experience to the customer without bringing any hassle of cleaning the mess. The long stem candles don't drip and smoke for an even and clean burning atmosphere.
LONG BURN CANDLES FOR ALL NIGHT - Bolsius long candlesticks are created from a high-grade wax which burns slowly for up to 7 hours. The slow burning candles last longer than usual 1 inch candles which are perfect for all-night celebrations, parties, and festivals.
MULTI-PURPOSE CLEAN BURNING CANDLES - Order our pack of 45 no drip candles and use as Christmas candle in candelabra, church service candles, dripless dinner candles, emergency candle.
The pack of Bolsius unscented candles contains 45 candles that are 7-inch long and burn for 4 hours each. They are long and easy to hold, making them perfect for using outdoors.
Hyoola Emergency Candles - 24 Pack White Short Taper Candles - Unscented - Emergency Candles for Home and Emergency Kit
PREMIUM QUALITY: These unscented candles are made with high grade smooth wax that melts slowly with virtually no drip. Made from 100% paraffin wax, these small candles have a 100% cotton wick that is lead and metal free.
EMERGENCY CANDLE: This package of bulk candles is must for every emergency survival kit. Keep it handy along with all other emergency supplies.
MULTI PURPOSE: Great for household, emergency, blackout, power outages, utility, and school projects. They can also be used for vigils, churches, synagogues and religious ceremonies, dinners, weddings, parties and other special occasions
PERFECT SIZE: These white candles will fit any standard taper candlesticks and holders. They are 4" (10cm) tall and .65" (1.7cm) in diameter. Burn time approximately 3 hours.
VALUE PACK: Candles bulk package includes 2 x 12 count boxes (24 total), perfect to stock up with so you can enjoy the best in both quantity as well as quality.
We recommend keeping emergency candles in your car in case unexpected emergencies occur at night leaving you stranded in the dark. These Hyoola candles are only 4 inches long and can burn for 3 hours. There are 24 total candles in this pack, making them a great option for keeping your car, backpack, or bedside table.
Hyoola 9 Inch Beeswax Taper Candles 12 Pack – Handmade, All Natural, 100% Pure Unscented Bee Wax Candle - Tall, Decorative, Golden Yellow – 5 Hour Burn Time
HIGH QUALITY HANDMADE CANDLES: Lead and metal free . 100% pure beeswax (NO fillers). 100% cotton wick. Homemade right here in the United States! They are made from premium natural beeswax and crafted to be reliable and useful in any household for beautiful decorating. lighting.
LONG LASTING BURN: Keep the flame burning for up to 5 hours so they stay alit through evening get-togethers and lovely dinners – great strength make them highly dependable whenever you need them.
TAPERED TO FIT IN MOST CANDLE HOLDERS: 0.63" diameter. Great fit for most candle holders, the sophisticated tapered design will accentuate any living room décor fabulously so they elegantly fit any home with style.
DRIPLESS DESIGN: The slow burning process provides a truly dripless feature so less clean up around your home. This also allows for easy removal of your candles whenever it's time to replace them.
LARGE QUANTITY: Get 12 great candles in one order so you can keep any room in your home aglow for weeks, even months – get your money's worth with our candles that are greatly scented and last long.
Hyoola beeswax candles are 10 inches long, made of 100% beeswax, and have a 100% cotton wick. There are 12 in the pack and they have a 5-hour burn time.
Conclusion
You should keep emergency candles on hand so that you have a light source in all types of situations when little to no light is available. Emergency candles can be used during power outages, roadside emergencies, and camping trips, which is why you should always keep them on hand.
Make sure that you keep a lighter or matches with your candles so that you can easily light them when there is little to no light available.