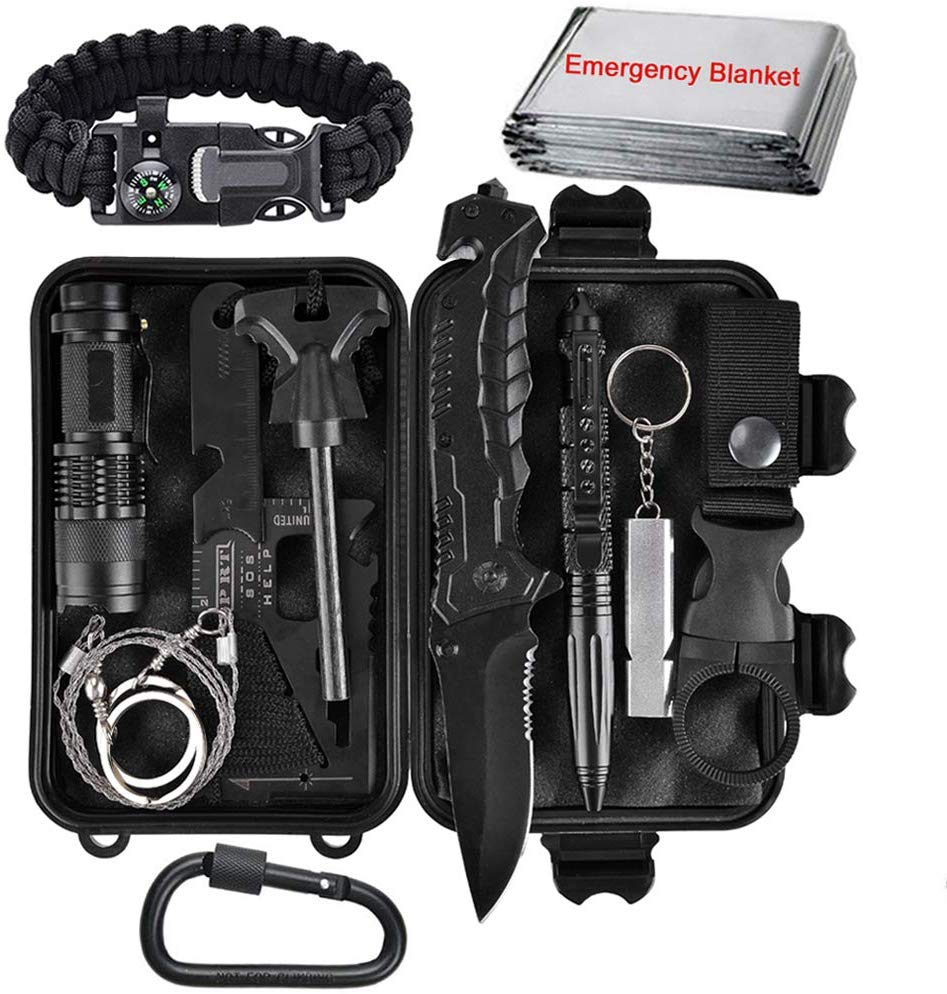 Xuanlan Emergency Survival Kit: A Quick Review
Sale
XUANLAN Emergency Survival Kit 13 in 1, Outdoor Survival Gear Tool with Survival Bracelet, Fire Starter, Whistle, Wood Cutter, Water Bottle Clip, Tactical Pen (Survival Kit 1)
➤【ALL IN ONE SURVIVAL KIT FOR EXTREME ADVENTURES】This all in one survival kit contains everything that any survivalist or outdoor enthusiast would need. Includes emergency blanket, fire starter, scraper, compass, swiss card, flashlight, whistle, Survival Bracelet and black box etc
➤【UPGRADED - MORE SAFETY AND PRACTICAL】5-IN-1 paracord bracelet with embedded compass, fire starter, whistle; Luminous Compass of military grade: Features 360 degree rotating bezel; Thermal Blankets are essential for preventing hypothermia as they retain 90% of body heat; They can also be used as a signal, to make a shelter, or as an extra layer in cold weather
➤【BREAKING CAR GLASS IN EMERGENCY & SIGNAL TO RESCUERS】 the whistle that made by Aluminum Alloy generates sound as loud as 120db, Double Tube with high frequency design can be heard from far distance, help you easier to be found by rescuers
➤【FITS INTO BACKPACK, LIGHTWEIGHT, DURABLE AND WATERPROOF CARRY CASE】 The dimensions of our professional survival gear is 4.1 x 1.8 x 6.3 inches. The entire box weighs only 0.98 pounds. This ultimate kit is compact enough to easily fit into your backpack and car
➤【PERFECT GIFT】 It's necessary when camping, hiking, adventures, survival and in emergency situations. You would find this pretty cool as a stocking stuffer or birthday gift. And also can develop the child's ability to survive with kids hiking and camping kit. Giving a surprise to your Darling
The world is a dangerous place, so it's never a bad thing to be prepared even for the first. It is during these times when emergency survival kits can come in handy.
You can prepare a survival kit on your own, but if you don't have the time and resources, or if you simply want to get one that's already made for you, then getting a premade option is the best choice.
To help you out, we will take a look at one such option, which is the Xuanlan Emergency Survival Kit. We will discuss the product's features, pros, and cons, and to give you more insight, we'll even compare it to similar products.
Xuanlan Emergency Survival Kit Review
The Xuanlan Emergency Survival Kit is a 13-in-1 outdoor survival kit with different gear packed into one small and convenient pack. It is great for outdoorsmen, backpackers, EDC (or Everyday Carry) enthusiasts, and beginner preppers.
Features
Here are the different things the Xuanlan Emergency Survival Kit can offer:
Five-in-One Survival Bracelet: This kit's bracelet not just comes with a seven-strand parachute cord, but it also has a whistle, compass, fire starter, and scrapper.
Military-grade Compass: Aside from the small compass built into its survival bracelet, this pack will also come with a separate military-grade compass which includes a 360-degree rotating bezel. This makes orienteering and navigation a breeze.
Emergency Rescue Blanket: The blanket that comes with your kit is 130×210 centimeters in size and is made from an insulated material designed to retain up to 90% of your body's heat.
Card Multi-Tool (aka Swiss Card): Do not underestimate the credit card sized multi-tool that comes with this kit. It comes with a canned screwdriver, open box knife, cut rope knife, can opener, flathead screwdriver, ruler, keyhole, serrated knife, Allen key, saber, and an escape rope!
Bottle Holder: Attach your water bottle to your belt or bag easily with the clasp that comes with the kit. Aside from this clasp, this kit also contains a carabiner which you can also use to attach other objects or gear. Do note, though, that this carabiner is not suited to be used in climbing.
Wire Saw: You can easily cut things with the blade that comes with this kit's swiss card. That is, if it fits. For bigger cutting tasks such as cutting away tree branches or fences, then you can rely on this kit's wire saw.
Multifunction Tactical Knife: Finally, this survival kit comes with its own knife that also serves as a can opener, a hook, and a blunt weapon to break into a glass if need be.
Honestly, this product contains more features and interesting gear inside, but the ones we have listed above are our favorites. Let's now move on to this survival kit's pros and cons to get to know it even more.
Pros:
All-in-One: The main benefit of owning this product is that it covers most of what you're going to need while you're outdoors, and most of all, during emergency situations.
Affordable: You won't need to buy all the gear included in this kit individually, allowing you to save significantly.
Convenient: Just toss this into your backpack or bug out bag. The gear that you'll find in this product have been organized inside its own waterproof bag already. Thus, you won't have to worry about anything else.
Stylish: We don't know about you, but one of the issues we've had with do-it-yourself survival kits is that they don't look good together. This kit, on the other hand, has all of its tool and equipment in classic black.
Con:
Unknown Brand: The only real downside we can see in this product is that its brand is not as well-known as its competitors. However, if you're willing to give it a try, then we certainly believe that it's worth it.
Summary
The Xuanlan Emergency Survival Kit is intended to be an all-in-one solution to all the basics you need. It's got a knife, a fire starter, a paracord, a compass, a wire saw, a whistle, a flashlight, and more. It even has an emergency blanket that most survival kits don't have!
Those tools are enclosed in a compact waterproof pack which you can easily throw into your backpack. However, as what we mentioned above, Xuanlan's name is not that renowned in the world of survival gear—something that you might want to consider especially if you're a collector of high-quality survival tools.
How Does the Xuanlan Emergency Survival Kit Measure Up to Another Survival Kit?
Sale
Outdoor Survival Kit for Camping Hiking Hunting Travel Selfhelp SOS Gear Emergency Tools Pack with Fire Starter, Carabiner, Survival Whistle, Credit Card Tool, Compass, Wire Saw, Pliers
Portable mini survival kit: Small and lightweight easy to storage and carry, the box is 5 X 3.5 X 1.6 inch and weight is 8.1oz.
7 in 1 survival Gear: Including stainless steel versatile tool card, fire Starter, compass, wire saw, emergency whistle, multifunctional Pliers and carabiner. One case can meet your different needs.
Practical survival gear: Whistle is loud. Compass is high sensitivity. Wire saw has saw blades sharp and smooth, do not hurt hand. Fire starter is easy to use. Carabiner is strong, light and reliable.
Multi-funcion survival gear: The credit card survival tool is a multi-tool including 10 different tools, multifunction Pliers includes six daily home furnishing repair tools.
Cost Effective: Worthy to have for outdoor enthusiasts, like camping, hiking, hunting, cycling, climbing, traveling, outdoor adventures, disaster, survival and in emergency situation. it is a great gift for friend, also an practical gear to develop your children's ability to survive.
Let's take a look at how the Xuanlan Emergency Survival Kit measures up to the outdoor survival kit by Top Lander. This outdoor survival kit is also a compact pack that fits all of its gear into an easy-to-carry pouch. Like Xuanlan's kit, this one contains a card multi-tool, a wire saw, a high-sensitivity compass, and a firestarter.
There are two main differences, though. First, Top Lander's kit contains seven-in-one folding pliers. This has a pair of pliers, a wire cutter, a saw, a can opener, a cross screwdriver, a small knife, and a flashlight. This is definitely something to consider if you're a big fan of Leatherman's multi-tool.
The second main difference lies in utility. Say what you will but Xuanlan's kit simply contains more tools. Top Lander's kit, for instance, does not come with an emergency rescue blanket, a multi-function tactical knife, and the survival paracord bracelet, just to name a few.
In the end, it will all boil down to what you think you need. If you think that your needs will already be covered with Top Lander's, then you can choose this kit instead.
The Bottom Line
Any prepper, camper, hunter, or other types of outdoorsman would surely benefit from having an emergency kit like Xuanlan's. It even makes a perfect gift for anyone you know who loves to spend time traveling and exploring the great outdoors.
The Xuanlan Emergency Survival Kit is also a stylish piece of gear that you won't feel embarrassed taking out of your backpack during your next hiking trip. This kit really contains everything you will ever need. Only time will tell if it's durable enough to last you long, but this is definitely worth a try!