Last Updated on November 20, 2022 by admin_hunter
When most people imagine survival resources, they picture tips that would be useful in remote, natural settings; however, the truth is urban survival resources are just as necessary as their wilderness counterparts.
Urban environments can be incredibly violent, crowded, and dangerous, so it is essential to know what to do in the event of a large-scale riot, terrorist attack, natural disaster, or any other type of emergency situation that can occur in a heavily populated urban environment.
To help you, we will explain what we mean by urban survival resources. From there, we will share some vital urban survival tips and cover useful urban survival gear you can keep handy if a crisis situation presents itself!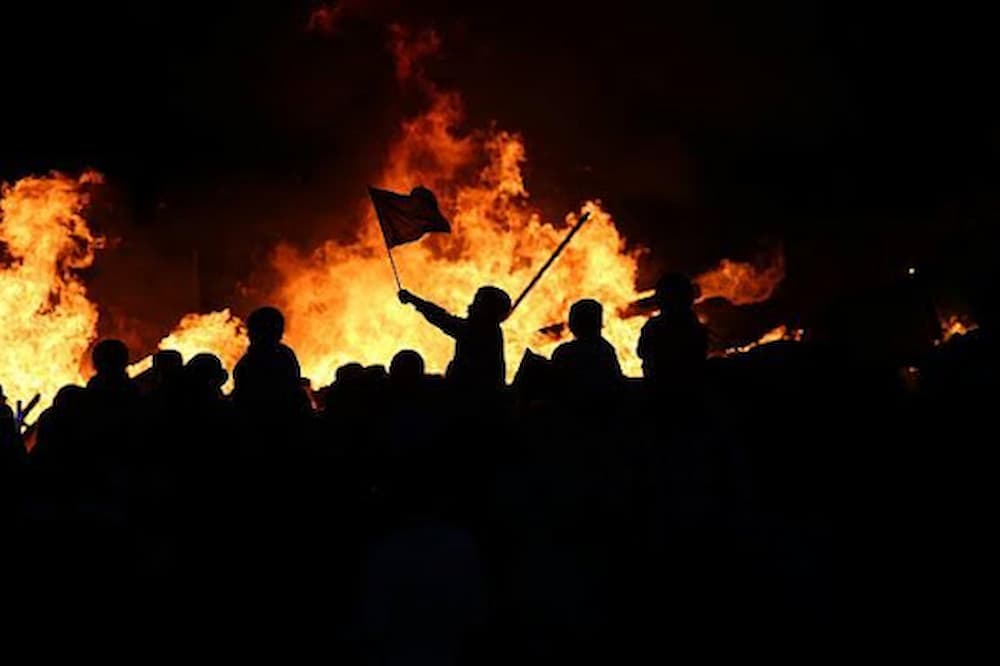 What Are Urban Survival Resources?
Urban survival resources is a blanket term used to cover any kind of information or equipment you can use to help you survive in an urban environment.
It can refer to individual survival tips and complete urban survival handbooks that explain all of the skills and tactics a person would need to stand the best chance of surviving an extended disaster situation in an urban environment.
You can break down urban survival resources into three main categories:
Preparation and supplies
Knowledge and skills
Mindset
Preparation
Preparation refers to the effort you put in before the emergency situation to give yourself the best possible opportunity of surviving during a crisis. This can refer to supplies you put aside, a potential evacuation plan, or a pre-arranged meeting place you and your family have decided on.
If you are unsure what types of supplies you should set aside for urban survival situations; we recommend reading our list of the Best Bug-Out Bags for 2022. Here you will find a breakdown of what a bug-out bag is and our top picks for the best options.
If you have small children, you may want to read another guide – What Should I Put in My Kit's Bug-Out Bag? Unfortunately, many people forget to account for their children when preparing for survival situations, which can strain the entire family's movements and survival strategy.
Knowledge and Skills
Knowledge and skills refer to the know-how you bring to an urban survival situation. Knowing how to keep you and your family safe in a frenzied and crowded urban environment can be the difference between staying alive and falling victim to the chaos.
We will be going over some of the important urban survival skills you should practice and memorize below, but another important set of urban survival resources you can acquire are handbooks written by survival experts.
Many of the authors are military veterans that have experienced urban combat first-hand, so they have practiced the skills they preach in real-world scenarios. The following are just some of the best options:
By reading the books outlined above, as well as other urban survival resources, you will gain the knowledge to know what to do when a crisis situation presents itself.
Mindset
In addition to knowledge and skills, you must also learn to have the right mindset to survive dangerous situations. The ability to stay calm and think clearly when everything around you is chaotic is vital for your personal safety.
While this can be somewhat difficult to teach, plenty of resources can cover techniques for staying calm and collected during stressful situations.
Bear Grylls's book, How to Stay Alive – The Ultimate Survival Guide for Any Situation is an excellent mindset survival resource. Rather than focusing on specific survival skills, he focuses on maintaining the right attitude and staying calm in adverse situations. It is an outstanding resource for any urban survivalist.
What Are Some Important Urban Survival Skills?
Surviving in an urban environment differs from trying to stay alive in the wild. You must account for crowds of potentially violent people, which means much of your skillset will revolve around separating yourself from the crowd.
The following are just some of the top urban survival skills you should familiarize yourself with:
Blending into the crowd and being less conspicuous. Those that stand out tend to be the first victims of mob violence. Wear neutral colored clothing and avoid drawing any attention to yourself.
Avoid eye contact, looking overly hurried, and be as quiet as you can be. You should also ensure that any weapons you carry are hidden and that you do not look overly prepared, even if you are.
SurvivalResources.com offers a useful list of Things to Avoid in Urban Survival Situations that explains how you can blend in.
Make sure you have an adequate supply of clean drinking water. Dehydration is your number one enemy in any survival situation, even in an urban environment. Make sure you have bottled water supplies at home and in your vehicle at all times.
Recognize the importance of shelter. Even in a city, finding shelter at night is critical. Not only will it protect you from the elements, but staying indoors will help you avoid mob violence.
Learn how to ration your food supplies. During panicked situations, looting can severely strain food supplies, especially in densely populated urban centers. Keep a stockpile of non-perishable food at home that you can draw upon during a crisis.
Read our Survival Food Buyer's Guide for information about foods you should keep on hand for emergencies.
Avoid conflict, but be able to defend yourself. Avoiding conflict should always be your aim, but if you are targeted, you should know how to protect yourself quickly and effectively. Personal protection tools, like pepper spray, can be effective, as can basic self-defense skills learned through classes.
Learn how to evacuate from an urban center stealthily and rapidly. Keep maps on you and familiarize yourself with the quickest routes out of the city. Avoid main arteries in and out of the city, as these will be the most congested and panicked. Move early in the morning when the roads out of the city are less likely to be busy and know where you are headed.
By familiarizing yourself with urban survival resources ahead of time, you will be prepared when a life-threatening situation occurs. One of the keys to survival, regardless of the environment, is always preparation.
Create your own urban survival kit and brush up on the skills outlined in the survival resources we highlight above!