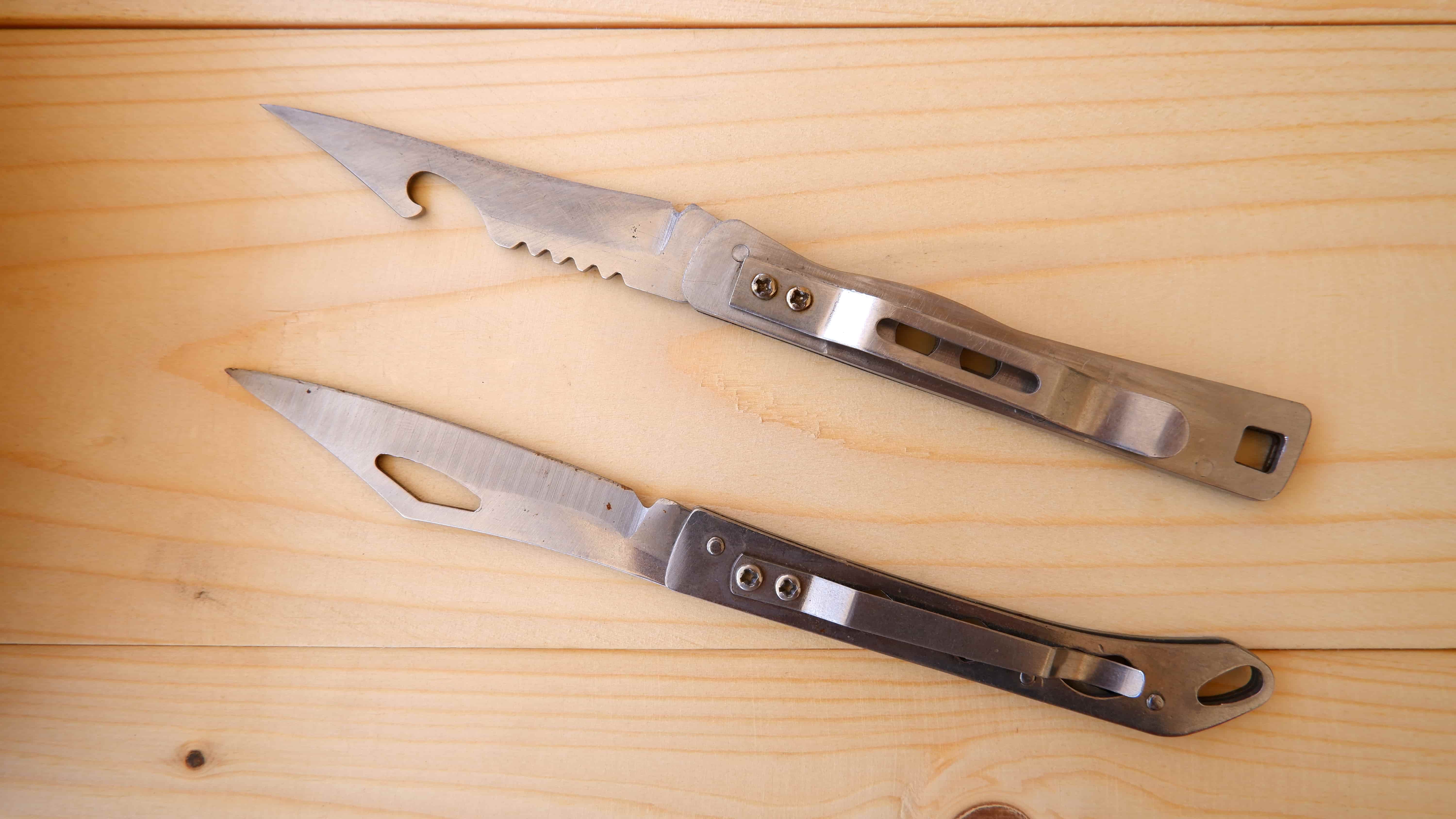 Best Japanese Survival Knife of 2020
Japanese knives are famous for their quality and longevity, thus making them some of the best survival knives around. Of course, there are many options to choose from, which is what we are here to help with today. We will be reviewing 5 of the best Japanese survival knives available.
Best Japanese Survival Knives: Reviews
KA-BAR Seki Japan Fixed Blade Knife
KA-BAR is a highly trusted brand name when it comes to the world of high-quality knives, and this Japanese hunting and fishing knife makes for a great survival tool.
Review
This knife is sold under the KA-BAR brand name, but was actually originally made in Seki, Japan, by a knife-making master. The KA-BAR Seki Japan Fixed Blade Knife comes has an overall length of 9.75 inches, with the blade being 5 3/16 inches long.
The blade is made out of genuine 440B stainless steel, which is very hard and strong. It comes with its original factory edge, and due to the high-quality materials used in the manufacturing process, it's quite the durable knife that can hold its edge for a long time.
The handle is also notable, as it is made out of stacked leather with a brass guard,  with an aluminum pommel. To keep it safe while not in use, it comes with a leather sheath that you can clip onto your belt loop.
Pros
Made in Japan
Good size for survival
Quality materials
Great handle
Sheath included
Cons
The sheath could be of a better quality
KATSU Folding Japanese Knife
Fixed blades are fine, but they can't be put in your pockets, which is why something like this KATSU Folding Japanese Knife might be right up your alley for survival purposes.
Review
When it comes to quality materials, this is going to be one of the best Japanese survival knives around. For one, the blade here is made out of top-quality VG-10 stonewashed steel, which is about as tough as it gets. It has a super sharp and fine cutting edge, and due to the high-quality steel, it really doesn't need to be sharpened much.
This is a folding knife, which makes it very portable; when closed, it is 5 inches long, and when open, it is 9 inches,  with a 3.9 inch blade.
To ensure your safety, it comes with a frame lock to make sure it stays in place when open. It can be closed with one hand. Let's not forget that the combination titanium and carbon fiber handle is very tough, lightweight, and resistant to corrosion.
Pros
Extremely durable
High quality metal
Portable and foldable
Pocket clip included
Lightweight
2 blade styles to choose from
Cons
Belt clip is a little weak
Gisuke Japanese Kiridashi Knife
Here we have one of the most interesting looking knives that you can get your hands on. It is quite small, but it has a great level of quality and can be used for a variety of applications.
Review
The Gisuke Japanese Kiridashi Knife is a very small knife —190 mm in length — with a total blade length of 75 mm. This translates to roughly 7.4 inches in length with a 2.9 inch long blade.
As you might be able to tell, due to its size, it's best used for small tasks and true survival scenarios. It's ideal for cutting small pieces of wood, rope, fabric, and other such things. The steel blade is about as sharp as it gets, kind of like a boxcutter blade.
We like how it comes with a wooden handle which is very durable, although it is quite smooth, so it does not provide a lot of grip.
Pros
Durable wooden handle
Great price
Ideal for small tasks
Cons
Not much texture on the handle
Not ideal for large tasks
NEWOOTZ Japanese Handmade Damascus Steel Pocket Knife
NEWOOTZ Handmade Damascus Steel Pocket Knife with Leather Sheath,Liner Lock Bone Handle,Japanese VG10 Core 2.8in Blade,Folding Knives for Camping and Fishing,EDC for Men and Women
【Beautiful Handmade Damascus Art】:Japanese craftsmen hammer knife blades with layers carbon steel and VG10 core.There are hundreds of natural steel fusion lines between different layers on the surface after polishing.It is mysterious damascus pattern.Blade core gets a 60-62 HRC for excellent heat treatment while both sides carbon steel keep it from broken.
【Cool Bone Handle】:It creates a comfortable holding.The handle will become more delicate and smooth after long term use.Traditional Japanese style decorative pattern is wonderful.Hidden frame lock keeps it perfect appearance and protects you from accidents.
【Classic Leather Sheath】:The first layer of cowhide is adopted and implanted with python skin, which is cut by hand and sewed by wax rope.Belt hole back makes it suitable for all kinds of outdoor activities,such as camping and hiking.It is your best EDC choice.
【One Hand Opening and Folding Knife】:It has an extremely durable and sharp 2.8in blade,while 3.7in closed and total length 6.3in.Ergonomically designed,Japanese style forefinger opening lever and balls bearing make user open the knife with one hand fast and smoothly.
【Craftsmanship to be the best】:NEWOOTZ is an original brand of craftsman.We try our best to supply better hand-made folding knives. We are responsible for our products life-long.LIFETIME WARRANTY against defect.Free delivery and return service are supplied,try it risk free.
This has to be one of the most beautiful pocket knives around, and not only is it great looking, but it has a razor-sharp blade.
Review
This knife is made of Damascus steel, a very popular type of steel to use for knives. The VG10 core  with many layers of carbon steel make this one of the toughest knives around, and it barely ever needs to be sharpened.
This is a folding knife, and it features an easy one-handed opening, plus a lock to keep it in place when open. This makes it ideal for transportation and for keeping in your pocket. The blade itself is around 3 inches long, making it great for simple survival tasks.
The handle is made out of real bone, it has a beautiful pattern, and it provides you with a good grip as well. You also get a cowhide leather sheath included for easy carrying.
Pros
Extremely durable
Very sharp
Does not require much sharpening
Lightweight and portable
High-quality bone handle
Cons
Being lightweight can also be a con
Spyderco Dragonfly Signature Tattoo Folding Knife
Spyderco Dragonfly Signature Tattoo Folding Knife with 2.32" VG-10 Steel Blade and Durable Stainless Steel Handle - PlainEdge - C28PT
DRAGONFLY - The Dragonfly is a remarkably refined folding knife design that balances compact size with full-service cutting performance.
BACK LOCK - This locking system is positioned on the back of the handle that uses a rocker arm that pivots in the center. A lug on one end of the arm engages a notch in the blade's tang to lock the blade open.
FULL-FLAT GRIND - This knife features a blade ground with flat bevels that extend from the spine all the way to the cutting edge. This grind reduces drag during cutting and decreases overall weight.
STAINLESS STEEL HANDLE - Solid stainless steel handle is extremely strong and provides an excellent surface for engraving. Steel containing a minimum of 12.5% chromium, making the steel resistant (not stain proof) to corrosion.
SPECIFICATIONS - Closed Length (Inches): 3.22, Overall Length (Inches): 5.54, Blade Length (Inches):2.32, Blade Steel: VG-10, Grind: Full-Flat
This Japanese survival knife is not cheap, but you get what you pay for, and here you get a high-quality piece of craftsmanship.
Review
Folding knives are great survival tools because you can keep them in a pocket or in a pack without fear of anything getting damaged. When closed, this knife is barely over 3 inches long, and when open, it's slightly under 6 inches, with a blade length of 2.32 inches.
It's a VG10 blade, which is a very strong type of steel often used in knifemaking. The full flat grind of the blade makes it one of the sharpest around, and it retains its cutting edge even after many uses.
To make sure that it stays open and in place, there is a blade lock to ensure optimal safety. When it comes to the handle, it is made of solid stainless steel with a good portion of chromium, thus also making it quite strong.
Pros
Extremely sharp cutting edge
High quality steel
Durable handle
Small and portable
Corrosion resistant
Cons
Quite expensive
Not ideal for big jobs
Conclusion
Whether you want a fixed-blade or folding knife is up to you, but the bottom line is that having a good survival knife on hand can save your life in a sticky situation.