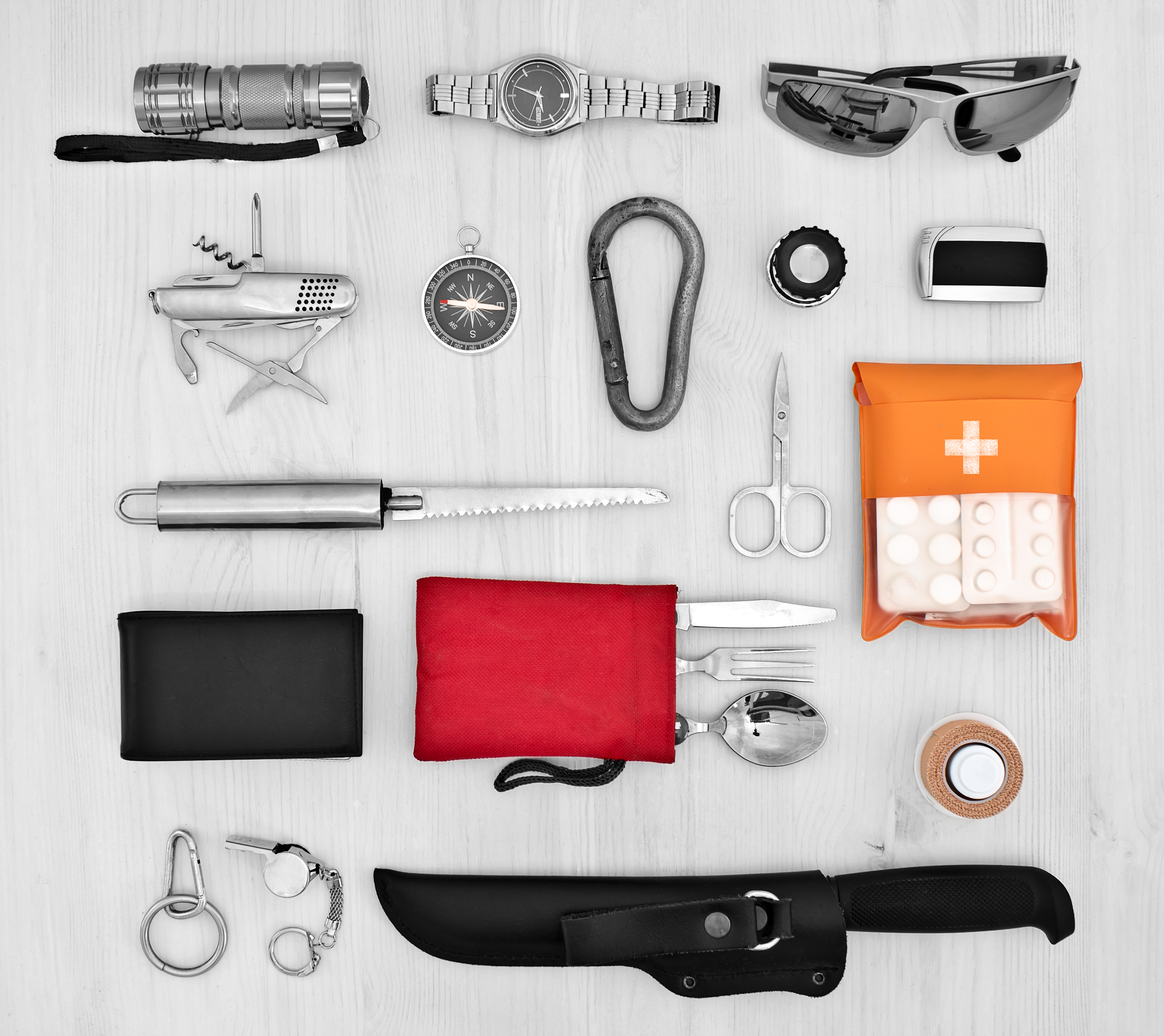 Best Survival Knife Kit
Before venturing into the wilderness, whether you're hiking or camping, it's crucial to bring the proper equipment.
This should include a survival knife kit, which provides you with all the essentials to build shelter, cut food, protect yourself, and much more.
Today, we review five of the best survival knife kits to help you conquer the outdoors.
What To Expect in a Survival Knife Kit
A survival knife kit will provide you with the necessary items to help you survive in the wild in a life-or-death scenario.
Although it differs a bit between kits, you can expect items such as:
Compasses
Fishing Lines
Paracords
Firestarters or Matches
Fishing Hooks
Weights
Wire Saws
Mini Flashlights
Emergency Blankets
It usually comes down to the price; more expensive survival knife kits will have more to offer. Before choosing, you should consider where you're going—if there are people nearby or if you're completely isolated, and what the terrain is like. This will help set you up for survival success.
Top Five Survival Knife Kits
It's now time to look at the best survival knife kits. We've included a bit of each so that you can choose the best option for you.
1)   Mossy Oak Survival Knife
Sale
Mossy Oak Survival Hunting Knife with Sheath, 15-inch Fixed Blade Tactical Bowie Knife with Sharpener & Fire Starter for Camping, Outdoor, Bushcraft
✅ 15" Fixed Blade Knife: Ultra-sharp combat knife, stronger than any hunting knife or bowie knife. Overall Length: 15 inch; Blade Length: 10 inch; Thickness: 5/32 inch (3.8 mm); Weight: 16.8 oz.
✅ Razor Sharp Clip Point Blade: The survival Knife is made of stainless steel for excellent hardness, improved edge retention and rust resistance. Survival knife's clip point blade features saw back, black anodize, ideal for camping expeditions, survival training or military combating.
✅ Rubber Handle & Nylon Sheath: Classic rubber handle of survival knife, provides high friction and comfortable non-slip grip for use. Durable heavy duty nylon sheath with easy open fastening system and belt hanging system for easy and safe carry.
✅ Sharpener & Fire Starter: Packed below the plastic container in the paper box, please check carefully. Fire starter (black) and a sharpener (sliver) is suitable for outdoors camping.
✅ Occasions: As a perfect camping and hunting survival knife, Mossy Oak fixed blade knives are built to last. it's suitable for hunter, camper, survivalist or outdoor sports enthusiast so that you can enjoy your adventure.
The survival knife from Mossy Oak has a lot to offer for the avid outdoorsman. It's a hefty knife, measuring 15 inches in length, with a 10-inch blade and a thickness of 0.156-inch.
Mossy Oak made the blade from 440C stainless steel, providing superior resilience, improved edge retention, and rust resistance. Thanks to its different sides, you can complete various tasks, which includes a razor-sharp clip point and a saw back.
The knife boasts a classic soft, anti-slip rubber handle, preventing it from gliding out of your hand.
Along with the knife, you'll receive a nylon sheath, a sharpener, and fire starters. Although it's not the most comprehensive package, it does include the necessities.
Pros
Well-constructed knife
Different sides on the blade for various tasks
Rubber-coated handle
The kit includes a fire starter, sharpener, and sheath
Cons
The kit only includes a few necessities
2)   Holtzman's Gorilla Survival Camping Knife Kit
Survival Camping Knife | Fixed Blade Hunting Knife W Sheath | Gift Set For Him Knife with Fire Starter, G10 Scraper & Paracord | Bushcraft Outdoor Knife |Full Tang Tactical Survival Knife Kit
✅ ENJOY NATURE IN MAX SAFETY: Set off camping, hiking, hunting or fishing with a premium bushcraft knife including a Kydex Sheath with leather strap, Flint Rod with G10 handle, G 10 Scraper, Paracord and Allen Wrench.
✅ ELITE FIXED BLADE KNIVES MADE TO LAST: We are offering you an 8.6" outdoor knife equipped with a 4.0" D2 steel blade of 0.136" thickness and 58-60 HRC hardness- a razor sharp blade for optimal functionality.
✅ ERGONOMIC HANDLE FOR BEST GRIP: Your emergency knife features a G10 knife handle 1.4" wide, which is easy to hold, anti-slip and comfortable, allowing for better agility and control in use without tiring your hand.
✅ GET A COMPLETE BUSHCRAFT KNIFE KIT: Keep your military knife in the Kydex Sheath with the leather strap. We are offering you the Ferro rod, the G10 Scraper, Paracord to attach them to the knife & have them always at hand.
✅ GIVE A THOUGHTFUL GIFT TO A LOVED NATURE LOVER: Coming in an eye-catching Gift Box, this superior quality bowie knife is ready to offer as a gift. Thrill a loved hunter, fisherman, camper and adventure lover!
The Holtzman's Gorilla Survival Camping Knife is an elite-fixed blade, designed to last years to come. It measures 8.6 inches in total length; the blade consists of D2 steel, measuring 4 inches with a 0.136-inch thickness.
In the survival kit, you get a few extra goodies. This includes a Kydex sheath with a leather strap, G10 scraper, paracord, flint rod with a G10 handle, and an Allen wrench.
Thanks to the Kydex sheath, you can keep the knife and all the survival equipment in one place. It attaches to your belt, so the kit is always ready at hand.
You have an ergonomic handle measuring 1.4-inch wide, providing an excellent grip. It comes with a non-slip coating, improving your control without tiring your hand. With that said, the handle might be too short if you have big hands, making it uncomfortable to use for long periods.
Pros
Sharp, thick blade
Several good-to-have items in the kit
A Kydex sheath with room for everything
Ergonomic, non-slip handle
Cons
The handle may be too short for big hands
3)   SE 8" Survival Knife with a Compass and Survival Kit
SE 8" Survival Knife with a Compass and Survival Kit in a Nylon Pouch - KFD1522
Includes compass and survival kit with nylon pouch
Entire knife is made of durable and lightweight stainless steel, allowing for easy handling
Dimensions: overall 8", blade: 4-3/4", blade thickness: 3 mm, handle: 3-1/4"
Storage compartment contains survival kit
Great to have for multiple uses for camping, fishing, hiking, hunting, or any outdoor adventure
If you're going hiking, the SE survival knife is worth a look. It's an 8-inch knife with a 4.75-inch blade and a 3.25-inch handle.
The handle is where all the survival items are. You can open the end, where you'll find a compass, thick matches, and a fishing hook with string.
You can complete almost any task; the knife has a double serrated side for fine cutting and sawing and another side for slicing. The blade consists of stainless steel and comes with a sheath that attaches to your belt.
However, the knife isn't the most durable and may not hold up with frequent use. The handle is also a bit short, which could compromise your overall control.
Pros
Hollow handle with room for the survival items
Two sides of the blade
It includes a sheath
Cons
Not as durable as hoped
The handle might be too short for some users
4)   Grand Way Tactical Folding Knife
Pocket Knife - Tactical Folding Knife - Spring Assisted Knife with Fire Starter Paracord Handle - Best EDC Survival Hiking Hunting Camping Knife - Knife with Firestarter and Whistle Grand Way 6772
EDC tactical knife for men and women. A pocket clip and a lanyard available. Lock type is a liner lock. Handle of the knife is made of durable plastic. The knife can be trully called a Knife set. It contains a knife, a firestarter rod to strike against the blade and a whistle.
Steel type - 440С. The blade provides impressing cutting performance out of the box. The best fire starter knife combo in your camp - boy scout knife set with fire starter ferro rod.
Folding knife best for camping, hiking, hunting, fishing. Cool military, survival knofe. Boy scout knife.
Combat tactical knife with magnesium survival flint fire starter and a whistle is the best tool for men and women, boys and girls for any hikes, camps, edc and other activities.
Perfect gift idea on Christmas, Birthday, Father's day. Stocking stuffers for men. Stocking stuffers for teen boys. Gifts for him. Secret Santa goft.
For camping, the EDC tactical knife is an excellent choice. It's a spring-assisted knife, equipped with a pocket clip and lanyard, as well as a thumb stud for quick opening. When not in use, you can lock the blade using the incorporated liner lock.
You have durable plastic for the handle, which carries a firestarter rod that you strike against the blade to spark a flame. It also includes a removable paracord that you can use for different tasks.
What's great about this knife is how compact it is, thanks to its folding mechanism. The blade is quite durable, too, made from stainless steel.
Unfortunately, the blade comes very dull and requires some elbow grease to sharpen. The durability of the plastic handle is also questionable, especially with everyday use.
Pros
Smooth spring-assisted blade
Easy to lock and unlock
Includes firestarter and paracord
Compact when folded
Cons
Arrives dull
The plastic handle may not hold up
5)   Whetstone Cutlery The Vermillion Survival Knife and Kit
For the ultimate survival kit, we suggest looking at the package from Whetstone Cutlery. In this, you'll receive a compass, bandage, matches, fishing line and hook, and a sharpening whetstone. Included is a nylon sheath that you can attach to your belt.
All the items fit into the knife's handle, where you unscrew the end to access them. As for the knife, it's a double-sided blade with a serrated saw back. The handle features a textured finish to enhance your grip while working.
The knife, however, arrives dull and requires some sharpening. Its overall durability is also questionable, but for the average camper, it should do.
Pros
Comprehensive survival kit
Hollow handle for storage
Nylon sheath included
Double-sided blade
Textured handle
Cons
The knife arrives dull
The overall durability may not be sufficient for rugged use
Final Takeaway
Investing in a survival knife kit is a great idea when going camping, hiking, or even on a road trip. Such kits provide you with different items to help you survive in the wilderness should disaster strike.
You can expect different items in various kits. What to pick depends on your needs and where you're going.