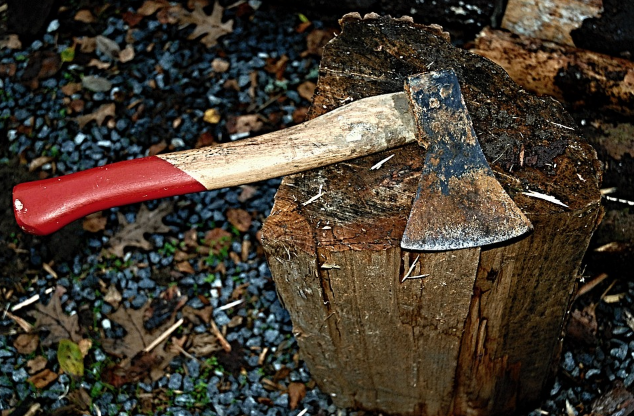 The Best Survival Hatchet for Camping and Outdoors
A survival hatchet should be among the very first tools to buy when you're preparing for emergencies, especially one that will involve spending time in the great outdoors.
A hatchet is not as large as a traditional ax, yet it is bigger, stronger, and more useful than a knife – talk about the perfect tool for surviving a primitive circumstance.
In this article, we've rounded up some of the best survival hatchets for your consideration. These tools come in different sizes and construction materials, making them great for different types of survival situations.
Take some time to read our buyer's guide at the end to understand which option works best for what situation.
Review of the Best Survival Hatchets
1. Gransfors Bruk Wildlife Hatchet
This hickory handle model from Gransfors Bruk is as reliable as any survival hatchet can get. It is very durable that the manufacturer backs it with a 20-year warranty.
It features a heavy-duty stainless steel hatchet head with an extremely sharp blade. Combined with a long handle of about 13 inches, this hatchet will slice through heavy-duty logs easily.
The ergonomic handle and the shock-proof quality of the hickory wood make it comfortable for cutting, chopping, and splitting wood.
Designed for traditional scouting and camping, the hatchet is a trusted tool for splitting logs in the wild.
The camp hatchet fits nicely into most rucksacks. Thanks to the leather sheath included, the sharp blade won't cut into backpacks.
All of these don't come cheap, though. However, you're getting plenty of value, so this survival tool is worth every penny.
Pros
Lightweight model
Includes a vegetable-tanned leather sheath
20-year warranty
Cons
2. Fiskars X7 14-Inch Hatchet
Sale
Fiskars 378501-1002 X7 Hatchet
Ideal for chopping kindling and small- to medium-sized logs
Chops deeper with each swing to get more done faster
Perfected balance and power-to-weight ratio increases swing speed to multiply power, much like an aluminum baseball bat
Proprietary blade-grinding technique provides a sharper edge for better contact and cleaner cuts
Lifetime warranty. Low-friction blade coating powers through wood and prevents head from getting stuck
What's not to love about the Fiskars X7 hatchet?
First, it is made from first-rate materials. The fiberglass handle and insert-molded hatchet head are virtually impossible to break.
The brand's patented grinding technology means the blade has better contact with surfaces. Plus, the edge is ultra-sharp for cleaner cuts.
The X7 series, like other models from Fiskars, is a best-seller. That's not surprising, considering the high-quality product comes with an incredibly affordable price tag.
In a nutshell, this option should be top on your list if you're in the market for a model that's ideal for chopping small kindling.
Pros
Stronger-than-steel long handle ensures durability and offers greater leverage
Sleek, modern design with non-slip grip
Low-friction coating on the blade keeps it sharp for longer periods
Cons
Not suitable for heavy-duty work
3. Schrade SCAXE 10 Full Tang Hatchet
Sale
There is zero chance of the head or handle of a full tang hatchet coming off. That's one of the reasons you should consider the SCAXE 10 survival axe model from Schrade both for camping and survival situations. It makes a great addition to any survival kit.
The edge on the 3.6-inch blade of this Schrade axe is extremely sharp and won't need sharpening often. Even if you use it for everyday tasks, camping, or outdoor survival, there's hardly a chance that the blade will chip or roll unless for the usual scratches from wood and dust.
It comes with a plastic sheath that looks great and works amazingly well, too.
Pros
Ergonomic rubber grip
Full tang design with extra-durable blade
Lightweight construction
Cons
Not suitable for heavy-duty cutting
4. SOG Tactical Tomahawk – Throwing Hatchet
Sale
SOG Tactical Tomahawk- Throwing Hatchet, Versatile Survival Tactical Axe and Emergency Breaching Tool with Sheath (F01TN-CP)
SOG TACTICAL AXE WITH BITE: At 15.75 inches, these throwing hatchets and tomahawks are built to swing fast and true; these tomahawk throwing axes feature a razor-sharp 420 stainless steel hatchet blade
24 OUNCE TACTICAL AXES: Light yet heavy-duty, tactical throwing hatchet is a superb survival axe and fire rescue tool; throwing tomahawk boasts a sleek black blade finish for added durability
EMERGENCY AXE WITH SOG TOMAHAWK SHEATH: This woodsmen-meets-urban tactical tomahawk snaps securely in its ballistic nylon sheath; includes belt loop for 1.5-inch belts
HAMMER AXE EDGE AND PIERCING SPIKE: FastHawk tactical survival axe features a flat edge for hammering and a spike for piercing; an emergency kit tool first, but versatile to handle small wood chopping tasks
SOG FOR LIFE: Take care of your SOG tomahawk throwing axe and we'll take care of you; we gladly consider repairs and replacements for your properly maintained SOG FastHawk tomahawk hatchet
SOG is a renowned specialty knives and tools company, so it comes as no surprise that the brand's Throwing Hatchet made this list.
This tactical hatchet features a head made from first-rate stainless steel material and a razor-sharp hatchet blade that cuts cleanly through the wood. The head also functions as a pry bar or spike and hammer, so you have three distinct functions built into one handy tool.
The handle of this tactical tomahawk is made from reinforced fiberglass with a textured grip. The survival tool comes complete with a nylon sheath with a belt loop suitable for 1.5-inch belts.
Bottom line: get this throwing axe if you want something versatile for surviving in the wild.
Pros
Light but heavy-duty hatchet
Versatile option
Excellent build quality
Cons
The spike could be better
5. iunio Survival Multi-Tool Camping Hatchet
iunio Survival Axe, Camping Hatchet with Sheath, Multitool, Camp Ax Gear, Folding Portable Tools, for Hiking, Backpacking, Emergency, Hunting, Outdoor (Black)
A Survival Multi-Tool! Several uses in one survival axe that can be used for splitting small logs, preparing kindling as well as extracting yourself or others from vehicles, breaking glass/windows, wilderness navigation, building shelters, starting fires and engraving, Boy Scout and wilderness survival training and more. The usefulness is limited only by your imagination! You do not need to be an expert survivalist to benefit from the multiple uses of this survival axe.
Hatchet with Ingenious Tubular Engineering! This survival axe assembles or disassembles smoothly. Partially assembled, it can be a short axe if you are in a close and compact situation or fully assembled for regular use. This axe can be different sizes for different trips. Furthermore, the tube sections each have available space for small first aid kits, fishing gear and tackle, survival gear or anything else you can imagine. This is a good "back up" hatchet to have for "just in case" needs!
Camping Axe with Protective Sheath/Camo Wrap! Comes with protective sheath, which protects the axe for extra safety! Easy to attach to your belt like a really cool bushcraft warrior! Camo wrap is also included not only for visual enhancement but the wrap also provides the user both a better grip and cushioning for the hands.
Great Gift Idea: It has many features a stand alone ax doesn't have. Fantastic tool for a long term "bug out bag" or a camping, fishing, off road or hunting trip. Best gift for Campers, Hikers, Hunters, Fishermen, Survivalists, Preppers, Outdoor Enthusiasts, Backpackers, Boy Scouts, or anyone needing tactical and practical tools for your car, SUV, truck, van or RV.
Iunio camping hatchet lasts for life: Our hatchets are built to last! You take care of our hatchet and we'll take care of you! All replacement requests are supported by our awesome customer service team anytime!!!
From iunio comes this model that's not merely a survival hatchet but also a multi-tool. You can use this for splitting and kindling. It also works great for intricate works, such as carving.
But what sets this hatchet apart from others is the extra features that come with it. In addition to the traditional hatchet functions, it comes with a pull rope, whistle, hammer, compass, and flint.
The handle is adjustable, making it easy to reach and cut even in tight spaces. But that's not all. The handle has a tubular design that allows you to store a small first aid kit and fishing gear. Besides being a versatile tool, it also saves you ample space in your backpack, especially in emergencies and survival situations where every inch of space matters. It fits perfectly amongst your other survival gear.
Pros
Highly versatile with lots of flexibility
Adjustable handle length
Easy to assemble and dismantle
Cons
Not suitable for heavy work
6. Husqvarna Wooden Hatchet
Cutting firewood just got better with the Husqvarna Wooden Hatchet. The high-quality blade material, sharp edge, and finely shaped handle combine to make this a great choice for emergencies.
There is little to no chance for the handle to break while in use. That's because of the straight grain in the ergonomic handle. But it is best to always check the hatchet on arrival, as there could be quality control issues with a few products.
Husqvarna's offering is not exactly a good choice for those living in hot regions and prepping for emergencies. The handle will shrink and mess with the performance if you store the hatchet in warm conditions.
Pros
Long, ergonomic handle offers greater comfort and leverage
Leather edge cover for safe storage
Handle is great for absorbing shock
Cons
May have quality control issues
7. Gerber 9-Inch Hatchet
Gerber 9-Inch Hatchet [31-002648]
PTFE coated blade reduces friction, chops clean.
Forged steel head construction is durable for long term use.
Composite handle is shock absorbent, reducing hand strain.
Slim sheath ensures safe storage + transport.
Chop deeper with control + efficiency.
Our last entry is made in Finland and is best in class when it comes to affordable hatchets with short handles. At only 9 inches long and weighing a mere 1.2 pounds, you can complete tasks with this model without too much strain on your hand.
The small size makes it an ideal choice for splitting small logs when making campfires during camping or in outdoor survival situations. It features a hardened forged steel blade with a low-friction surface coating, so when it chops through the wood, there is less chance of sticking.
The Gerber 9-Inch Hatchet travels well, thanks to a modern-looking sheath that clips to the head and covers the sharp edges.
Pros
Soft-touch handle for comfort and ease of use
Includes slim sheath for safe storage
Lightweight and extremely durable
Cons
Short handle does not offer plenty of leverage
What to Look for In a Survival Hatchet
Good quality hatchets are highly versatile tools, capable of different functions from splitting wood to clearing brush. While traditional options are mostly made from wood, other modern hatchets are constructed from various metals. In a nutshell, all hatchets are not created equal.
Here are the essential features to look for when buying a survival hatchet.
The Blade
The hatchet blade is arguably the most important part of a hatchet. The blade's design and thickness will determine what you can use the tool for.
Consider a blade with a flatter edge design if you plan to cut through wood. The flat edge allows the entire blade to make full contact with the wood with every strike.
With curved edge blades, some parts of the blade won't hit the wood every strike, so they are not the best choice for making clean cuts through wood. However, flat edge blades are likely to get stuck while cutting through flat surfaces.
For this reason, it is always a good idea to know what you'll mostly use a hatchet for to enable you to choose a flat or curve edge or a blade.
In terms of thickness, blades with thicker cheeks increase inertia and leverage. This results in more power in the hatchet's head when chopping wood. A thick-cheeked blade is an excellent choice if you intend to use the hatchet for chopping and cutting logs.
On the other hand, blades with thin cheeks are best for hunting or other intricate works. Of course, hunting seems to be the most appropriate use for a thin-cheeked blade in a survival situation. If you use a blade with a thin cheek to cut or chop firewood, it will likely get stuck several times and leave you frustrated.
Weight
Consider the weight of the material before choosing a survival hatchet. Heavy options are great for splitting stronger and larger wood, while lightweight hatchets are your best bet for chopping small to medium-sized logs.
But you can't determine which material is heavier by merely looking at it. It is easy to assume that a hatchet made purely from metal or alloy weighs more than an option with a wooden handle.
For example, the Gerber 9-Inch Hatchet is made of metal and weighs only 1.2 pounds, while the Husqvarna Wooden Hatchet weighs 2.2 pounds. The best way to figure out the weight of a hatchet is by looking at the specification.
Gerber 9-Inch Hatchet [31-002648]
PTFE coated blade reduces friction, chops clean.
Forged steel head construction is durable for long term use.
Composite handle is shock absorbent, reducing hand strain.
Slim sheath ensures safe storage + transport.
Chop deeper with control + efficiency.
For emergencies and survival situations, you want to choose a lightweight hatchet that's effortless to use and easy to carry about in your survival backpack. Usually, this will mean buying a hatchet with shorter handles.
Handle Length
Talking about shorter handles, the length of a hatchet handle will determine its performance. As mentioned earlier, consider hatchets with shorter handles if you want a lightweight option that will conveniently fit into your bag.
On the other hand, consider a hatchet with a longer handle if you want more forceful impact with plenty of leverage, especially when splitting logs.
Handle Material
Hatchets are designed to have metal heads, which can be steel or titanium, but the handles are made with different materials, including these common options:
Polymer: This material is lightweight but not very strong and durable. It is not your best option for a survival hatchet, but it is better than having nothing for self-defense in the wild.
Wood: Most hatchets feature wooden handles, including models from renowned brands. Wood can absorb a ton of shock and can last for a very long time. But it requires periodic oiling to maintain it and prevent splinters from getting into your hand during use.
Fiberglass: This material makes the handle lightweight yet strong. There is no maintenance routine with fiberglass handles, and the chances of breaking them are pretty slim.
Full Tang: This type of hatchet has a handle made from metal or alloy. The entire tool is one solid metal, creating balance and making it the strongest type of handle with zero chance of breaking.

Ergonomic Handle
A survival situation is not the most ideal one, yet you shouldn't use a hatchet if it doesn't feel comfortable in your hands.
This is especially the case if you have to use the tool when it is wet. You want to choose something with a textured grip and ergonomic handles that won't slip off your hands too easily.
Extras
It is usually best to carry fewer tools for emergencies because you don't want the sheer weight of your tools slowing you down, especially in life and death situations. For this reason, a survival hatchet with extra features – sort of a multi-tool – will be of great benefit.
A lack of extra features is usually not a deal-breaker, especially if you don't need to use the hatchet for other purposes. However, a cutting tool that can also hammer and shovel is more practical, right?
Bottom Line
Choosing the best survival hatchet is beyond buying the first option you come across. Hopefully, this article has helped you gathered enough data to make a more informed buying decision.
Whichever model you choose to go with, make sure you learn how to use it safely. After all, the purpose of having a hatchet in a survival situation is to stay safe.