Last Updated on November 7, 2022 by admin_hunter
The best survival lighter is one that you can rely on to start a fire, regardless of the emergency you find yourself in.
Starting a fire might not seem like something any modern person would want to do to stay warm, keep predators away, sanitize wounds, or illuminate their surroundings.
But you could be trapped in a basement during natural disasters, lost in the woods, or find yourself in an unexpected primitive circumstance. All of these emergencies call for the use of a survival lighter.
Preparing for emergencies is incomplete without this highly versatile tool. That's why we invite you to consider this list of some of the best options in the market. Having one or two in your survival kit is crucial.
Good-quality survival lighters tend to come in attractive designs. But before you buy the options on this list, remember to read the buyer's guide at the end of the review. This will help you decide which options are best for different situations.
Top 10 Survival Lighters
1. Zippo Matte Pocket Lighters
Genuine Zippo windproof lighter with distinctive Zippo "click"
All metal construction; Windproof design works virtually anywhere
Refillable for a lifetime of use; For optimum performance, we recommend genuine Zippo premium fuel, flints, and wicks
Made in USA; Lifetime guarantee that "it works or we fix it free"
Fuel: Zippo lighter fuel (sold separately)
The Zippo Matte Pocket Lighters are widely popular and not just because they are made in the USA. The brand is literally the gold standard when it comes to lighters. So, little wonder it tops our list of the best survival lighters.
The lighters are constructed from brass material with no plastic parts, making them highly durable. In addition, they are windproof options, so the flames won't go out easily, even in windy conditions.
Zippo Matte lighters are available in 35 different colors grouped into four distinct styles. You can be sure to find a Zippo lighter that fits, regardless of your color and style preference.
Specs
Fuel Type: Lighter fluid
Reusability: Replaceable flint and wick, refillable, lifetime warranty
Proofing/Resistance: Windproof, impact-proof
2. Blazer PB207CR Butane Torch Lighter
Side panel locking switch to lock flame on, for ease of use
Flexible, detachable rubber base, for hands-free, continuous use
Clear base, for easily viewable fuel gauge
Piezoelectric ignition system, requires no electrical connection
2,500-degree F, wind-resistant, blue-torch flame, for more precise flame tip
Constructed from acrylic material, the Blazer lighter is a rugged survival lighter with a transparent viewing window at the bottom to easily monitor the fuel level.
This high-quality lighter features a piezoelectric ignition system. In simple terms, it can produce an extremely hot blue-torch flame that reaches a temperature of 2,500oF.
One of the great things about this option is its ability to create a spark even when the reservoir is empty. The spark can ignite any other fuel to start a fire.
The butane fuel-powered Blazer lighter with its piezo ignition is a great choice if you don't mind the relatively high price tag.
Specs
Fuel Type: Butane
Reusability: Refillable
Proofing/Resistance: Windproof
3. Tesla Coil Lighter
1 – Tesla Coil Lighters Arc Lighter
Size: 3" x 1.75" x 0.5" / Weight 3 oz (Arc length: 5mm)
USB Rechargeable
Safe and easy to use, lights at the click of a button
A full charge can last up to a week or 100-300 uses
Known as a leading brand in the world of electric cars and clean energy, Tesla is unsurprisingly a manufacturer of eco-friendly lighters.
This electric lighter option makes it to our best survival lighter list because of its impressive performance and sleek, modern design. It runs on a rechargeable battery, eliminating the need to stock lighter fuel or splash refills every now and then.
Of course, there is no extinguishable flame making it a windproof flame. However, this Tesla lighter is not water-resistant, so you want to keep it away from splashes.
Specs
Fuel Type: Electric/arc
Reusability: Rechargeable
Proofing/Resistance: Windproof
4. ICFUN Plasma Lighter
Waterproof Lighter – waterproof lighter,metal-ring sealed lighter cover and locking clasp,water does not seep inside,no fear of rain,this waterproof lighter is your best choice when you go camping,travelling or hiking,arc lighter waterproof.
Lighter With Flashlight – flashlight has three modes,low light,highlight,flash mode.windproof and flameless, usb rechargeable arc lighter. It is a perfect outdoor lighter,camping fire starter tool,an emergency fire starter tool and more.
Economic & Eco-Friendly – build-in rechargeable lithium battery,no gas or butane required,no more refilling,save you money,clean and convenient.About 2 hours full charged.
Safe & Durable – 7 seconds automatic power off protection,short circuit protection and leakage protection,windproof arc ignition,ABS+Zinc Alloy,more safe and durable lighter.
After-sale Service – 60 day guarantee,if you aren't love your lighter or any questions,please free to contact us,we are ready to help,we will provide a perfect solution.
Consider ICFUN's survival lighter if you want a model that gives you a taste of modern technology in primitive circumstances.
This option is made from durable ABS and zinc alloy materials. It is powered by plasma, which means it ignites without producing flames. That's to say, you'll not need to worry about wind or splashes.
It comes with a built-in rechargeable battery that takes about two hours to fully juice up. The lighter features a 7-seconds auto switch-off function that protects battery life. It also has leakage and short circuit protection.
You can see dark or low light conditions with this reliable lighter, thanks to its powerful flashlight. You can use the light in low, highlight, and flash modes depending on the lighting condition.
Specs
Fuel Type: Plasma
Reusability: Rechargeable lithium-ion battery
Proofing/Resistance: Waterproof, wind-resistant, moisture-resistant
5. True Utility FireStash Lighter Multi-Tool
This small key ring canister houses a fully working lighter that is ready to ignite at your command
Miniature waterproof lighter that perfectly fits on you key ring with a neoprene 'O' ring keeps water out
An essential for camping or smoking
Fueled by petrol refillable lighter (no fluid supplied)
Measures 1.8 x 0.6 x 0.6 in; 2.9 oz.
Constructed from durable zinc material, this miniature key ring lighter from True Utility is an excellent choice if you prefer something discrete and convenient. Weighing only about 3 ounces (without fluid), you'll hardly notice you're carrying it in your pocket or attached to your keys.
Don't be fooled by its tiny size, though. This survival lighter can withstand pretty challenging scenarios due to its outstanding build quality. In addition to a waterproof feature, the neoprene O ring protects it from dust, debris, and scratch.
It is refillable, but you have to buy that separately.
Specs
Fuel Type: Lighter fluid
Reusability: Refillable lighter fuel
Proofing/Resistance: Waterproof, impact-proof
6. Soto Pocket Torch XT (Extended)
ELECTRONIC IGNITION – Strong wind-resistant burner
SMALL AND POWERFULL – This burner is compact, refillable and comes with telescoping burner head to reach further. The flame reaches temperatures up to 1300℃ (approx., 2300°F)
REFILLABLE – Refill the Pocket Torch XT with SOTO's Fill adapter or a gas lighter cartridge. (Gas is not included)
SPECS – Size: 3.5 x 1,8 x 11 to 18.5 cm (1.38 x 0.71 x 4.33 to 7.28 inch). Weight: 50g (1.8 oz.). Flame shape: Superfine centralized flame. Compatible Fuel type 1. Normal butane 2. Outdoor canisters sold commercially that contain a combination of butane, isobutane, and propane (commonly known as 110g, 250g, and 500g)
IMPORTANT CAUTION – The torch may not ignite under freezing temperatures or high altitudes above 5,000 ft. / 1,500m. WARNING: Never fill the Pocket Torch XT with 100% propane. Use of any fuel other than what is listed above may cause an explosion
This fantastic pocket torch lighter from Soto comes with a telescoping burner head, allowing you to start a fire without getting too close. This option is great for starting a fire in windy conditions, thanks to its wind-resistant capability, making it a great addition to your emergency fire kit.
It is compact and weighs a negligible 1.8 ounces, but it runs on butane fuel, so the flames can get pretty hot. It can reach extreme temperatures of about 2,300oF.
Specs
Fuel Type: Butane
Reusability: Refillable
Proofing/Resistance: Impact-proof, windproof
7. Everstryke Match Pro Lighter
The all new Everstryke Pro has been completely redesigned, with new features like a replaceable flint, the wick lasts 10x longer and is even replaceable!
Contains the flint and wick in one all-inclusive fire starting kit that fits conveniently in your pocket.
Strikes hot, burns hot: Flame burns at over 600 degrees fahrenheit
Long Lasting: Each match is capable of 15,000 long burning strikes. Built in O-Ring keeps fuel from evaporating indefinitely
Easy to use: If you can strike a match you can start a fire (and this one won't burn your fingertips). NOTE: Lighter fluid is not included…you must add your own.
This tiny option from Everstryke is specifically designed for survival and emergency use. It is incredibly lightweight and can fit into your pocket without bulging. A keychain attachment makes it easy to strap it to your backpack if you prefer not to put it in your pocket.
This lighter is not exactly what you'll consider wind-resistant – a small wind can easily put out the flame. In other words, this might not work well if you're trapped outdoors in a windy situation.
On the good side, it doesn't consume too much lighter fuel. Plus, the built-in O-ring is extremely tight, sealing the fluid and making it last for a good while.
It doesn't come with fluid, so you'll have to add yours. Make sure not to overfill it, though, as that can wet the flint and make it difficult to start a fire.
Specs:
Fuel Type: Lighter fluid
Reusability: Refillable, replaceable wick, and flint
Proofing/Resistance: Waterproof, impact-proof
8. Saberlight Sparq Plasma Lighter
From Saberlight comes this chic and fairly popular battery-powered plasma lighter. It is compact and lightweight, making it very convenient to bring along for hiking, camping, or emergencies.
The dual-beam is powerful enough to start a fire each time, as long as you remember to charge the battery. Of course, there is no need to worry about wind or splashes since it doesn't produce any flames. That means there are no extra expenses on buying fuel, too!
Specs
Fuel Type: Plasma
Reusability: Rechargeable
Proofing/Resistance: Windproof Lighter
9. Single Jet Flame Torch Lighter
If you're running a shoestring budget, you may want to consider this insanely affordable set of lighters. The product comes as a pack of 5 in different colors, including red, orange, black, blue, and green.
You are less likely to run out of gas with these options because of their large-capacity reservoirs. They hold more gas than regular lighters, so you don't have to worry about frequent refilling in a survival situation.
These single jet flame torch lighters come with levers that allow you to adjust the flames. Plus, they are pretty simple to use.
Specs
Fuel Type: Butane
Reusability: Refillable
Proofing/Resistance: Windproof Lighter
10. UST Floating Lighter
DIMENSIONS: 2.6" H x 1.6" W x .6" D and weighs 0.8 oz empty with a fuel capacity of 0.04 fl. oz. of Quadruple-refined butane
RELIABLE: The piezo-electric ignition lights up to 30,000 times, even when wet with a zinc die-cast wind guard and lever
DURABLE: Features an impact-resistant, waterproof ABS plastic design with an O-ring sealed cover with a locking clasp closure and a windproof flame that can withstand winds up to 80mph
CONVENIENT: Buoyant design allows for the lighter to float when dropped into water
EASE OF USE: Small and easy to use design allows for one handed operation
Whether it is an emergency or you're camping, the UST floating lighter can be a great lifesaver.
As the name suggests, this waterproof lighter can float on water. That means you don't have to panic if you accidentally drop it into a pond or puddle. The casing is made with lightweight ABS material with impressive buoyancy, allowing it to float even with a full reservoir.
You can use this lighter in wet conditions, and with an estimated 30,000 strikes, you can count on it to provide steady ignition for a long time.
Specs
Fuel Type: Butane
Reusability: Refillable
Proofing/Resistance: Waterproof, buoyant, impact-proof, windproof lighter
Choosing the Best Survival Lighter: Buyer's Guide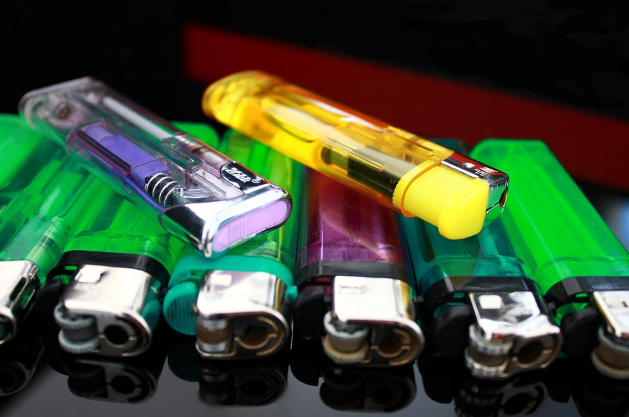 Survival lighters can produce extremely hot flames that can reach up to 2,300oF. But as you probably already know, not all lighters are created to stand up to the harsh conditions in a survival situation.
For example, a disposable lighter without a windproof feature won't do you much good if you're trapped outdoors in a storm. Therefore, we strongly recommend considering the following before choosing any survival lighter:
Material
Your options when it comes to material quality for survival lighters include metal and polymers. These are more durable than cheaper plastic materials that come with disposable lighters.
Plastic is lightweight but will crack and shatter easily if you drop or step on it in an emergency. Metal might be slightly heavy, but it is your best choice in terms of durability. If lightness matters most to you, consider lightweight polymer lighters.
Proofing/Resistance
Survival situations are not ideal – just about anything can happen. This is why you need to consider how a lighter will hold up if you drop it accidentally in water or on the hard floor. You also want to be sure it will start a fire in windy conditions.
Keep an eye out for survival lighters that can resist impact, at the very least. This may mean spending a little bit more, but you have to be well prepared when it comes to emergencies.
Waterproof or water-resistance, windproof, and impact-proof are some of the features to keep in mind when choosing the best survival lighter.
Power Source
The type of fuel the lighter uses is another crucial consideration. The common options include:
Lighter fluid,
Electric or arc
Butane
Plasma
Lighter fluid is the most common and easily accessible type of combustion fuel for lighters. Tins of lighter fluid are readily available in most convenience and grocery stores. Wind can be an issue for the flame, though. Also, you need to refuel them quite often because they don't last as much as other types of combustion fuel.
Electric or arc does not depend on combustion. Instead, the lighters run on battery power, which can be rechargeable or disposable. There is no extinguishable flame with this option, making them typically water and windproof. However, electric lighters can become useless if you don't have access to power.
Butane is a combustible fuel that burns extremely hot and fast. The flames are usually windproof, so they are great for starting a fire outdoors. However, it is less accessible than the traditional lighter fluid.
Plasma is ionized gas or electrically charged gas. Lighters with this type of power source run on batteries. They work similar to electricity, so there's no worry about flames going out because of wind or water. They can start a fire in nearly all conditions.
In addition to the type, you also need to think about the availability or how easy it is to access the fuel. For example, while electric survival lighters don't require buying or stocking physical liquid fuel, it can be quite difficult to recharge them in extended blackout situations. Power banks can suffice temporarily but will eventually run out of juice, too.
Reusability
One of the major differences between a disposable and survival lighter is using the latter multiple times. If you can't refill a lighter somehow or add a new disposable component, it isn't much of a survival lighter.
Think about how reusable the option you want to buy is. Can you refill the fuel or recharge it? Is the wick or flint easily replaceable?
Extras
A survival lighter should start a fire even in the most unfavorable conditions – that's a given. But what if it offers a few useful functions? These extras make the survival lighter the perfect addition to your survival gear.
For instance, a built-in LED flashlight can come in handy in an emergency blackout situation. Some also feature keychain attachments or storage containers and are perfect for backpacking.
While these are not essential, a few extra features can go a long way to provide valuable functionality in an emergency.