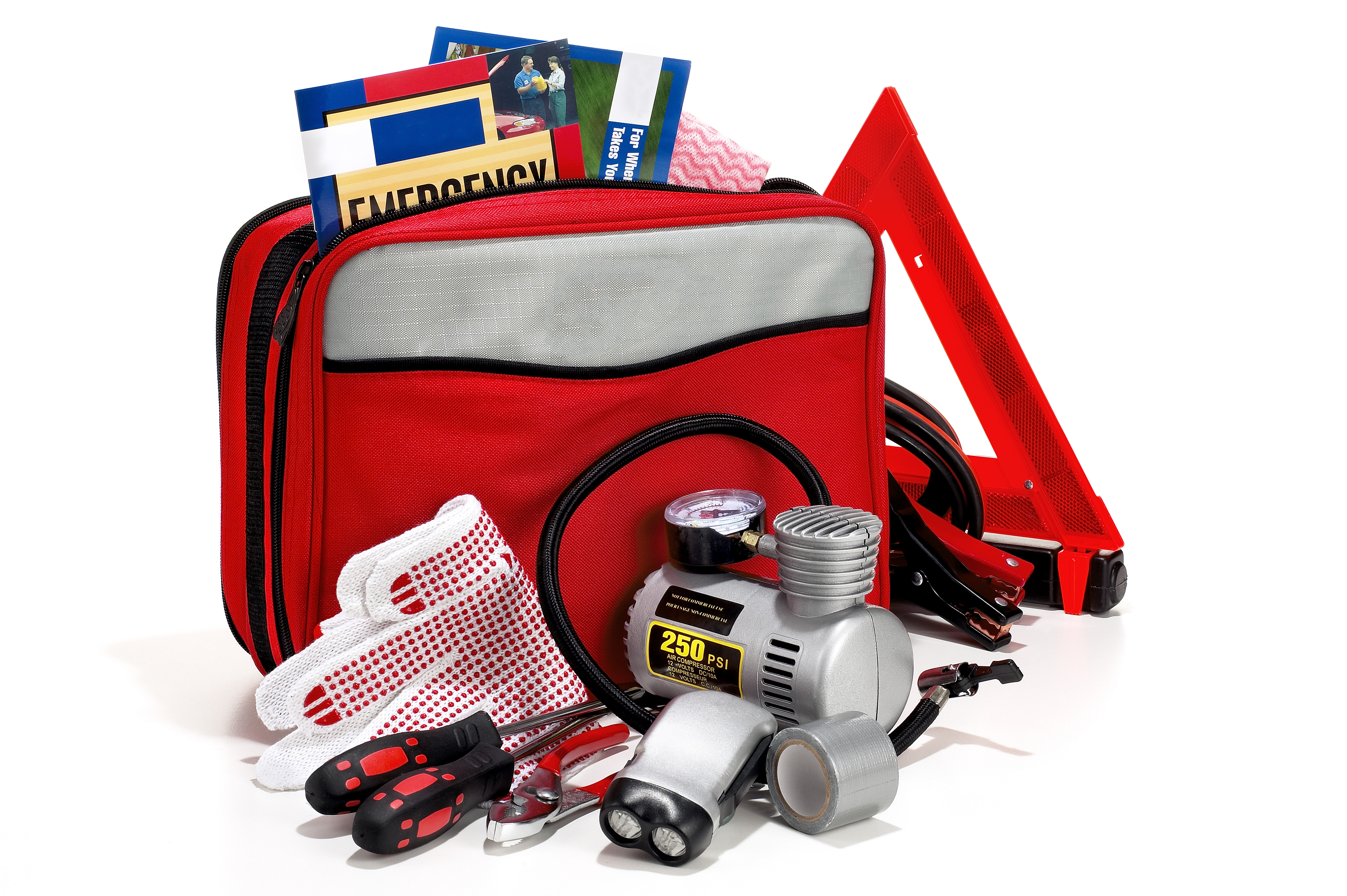 Best 3 Day Emergency Kits
Preparation is essential to survival in any dangerous situation. Having an emergency kit on hand, just in case, is an excellent idea to ensure your safety if there's an emergency of any kind where you live.
There are several resources to help you create a do-it-yourself emergency kit, but what if you don't have the time or ability to create your kit? We've compiled a list of the best three-day emergency kits on the market to take the burden of making your kit off of you and give you peace of mind.
Five Best 3 Day Emergency Kits
We've done the digging for you to help you find the best three-day emergency kits available. Our top five options will work for most individuals looking for more security in an emergency.
Ready America 70185 Deluxe Emergency Kit
Sale
Ready America 72 Hour Deluxe Emergency Kit, 1-Person 3-Day Backpack, First Aid Kit, Survival Blanket, Power Station, Multi Tool, Portable Go-Bag for Earthquake, Fire, Flood, Camping, Hiking, and Hunting
EMERGENCY KIT FOR DISASTER PREPAREDNESS: Stay prepared for emergency situations everywhere you go. Ready America emergency survival kits sustain 1 person for 3 days (72 hours). Basic essential emergency supplies recommended by the American Red Cross as well as a hygiene kit, masks, thermometer, survival blankets and ponchos
INCLUDES 33-PIECE FIRST AID KIT: Comes with first aid essentials for minor injuries like bandages and wound cleaning solution. Take care of medical emergencies with easy-to-use supplies. Great for a car emergency kit or boat accessories
FOOD AND WATER: Everything you need in case of an emergency. U.S. Coast Guard approved food and water pouches with a 5 year shelf life, water purification tablets and a BPA free water bottle
FOOD AND WATER: Everything you need in case of an emergency. U.S. Coast Guard approved food and water pouches with a 5 year shelf life, water purification tablets and a BPA free water bottle
FOOD AND WATER: Everything you need in case of an emergency. U.S. Coast Guard approved food and water pouches with a 5 year shelf life, water purification tablets and a BPA free water bottle
Best for a Single Person
If you're a single person and looking for a reliable but inconspicuous emergency kit, then look no further. Ready America uses Red Cross guidelines to help build their kits, which means you'll have all the essentials to keep yourself safe and healthy.
Pros
Five-year shelf life
Multi-tool versus pliers only
Small enough to store in a car or at the office
Relatively inexpensive
Cons
Emergency Zone Urban Survival Bug Out Bag
Urban Survival Bugout Bag 2 Person/Go Bag for Earthquakes Hurricanes and Other Disasters | Discreet Black Backpack
Protect Yourself and Your Family- A multi-purpose 72-hour survival kit designed to prepare you and your family for any emergency event or disaster, whether you are bugging out to a shelter or staying indoors. This 72-hour emergency kit will prepare you for a HURRICANE, EARTHQUAKE, FLOOD, CIVIL UNREST, PANDEMIC, WILDFIRE, WINTER STORM, EVACUATION and more. Disasters are unpredictable, prepare today and have peace of mind in knowing you've done all you can to protect the ones you love.
Food & Water- During an emergency, water is vital and access may be limited, skip the trouble of boiling water or wasting any of your precious supply to reconstitute freeze dried meals. The USA MADE SOS BRAND FOOD RATIONS AND WATER included are US Coast Guard approved and have a 5-YEAR SHELF LIFE from manufacture date. The food ration bars are great tasting and calorie dense, require no extra water to rehydrate, no reheating, and were developed to be non-thirst inducing.
Emergency Guidebook- Not only does this emergency go bag have the survival tools and emergency gear you need to survive in a disaster, but also included is our Emergency Preparedness Guidebook that will give you the knowledge and confidence you need to as well. In it you will find crucial survival information from how to create an emergency plan, to administering life-saving first aid, to what to do during an earthquake, hurricane, wildfire, nuclear disaster, storms, pandemic, and more.
Discreet Black Backpack- All supplies are conveniently packed in a 19"x15"x10" nondescript, heavy-duty backpack that won't draw unwanted attention to you and your valuable emergency supplies during a disaster. We pack our kits to be as light weight and compact as possible, so it won't weight you down and you'll still have enough space remaining to include personal items such as medication, clothing, and important documents.
Best for Discretion
If you want to prepare without being conspicuous, this bug out bag by Emergency Zone is a great option. This kit comes in a discrete black backpack and contains everything you'll need for two people to survive in an emergency, whether you have to evacuate or shelter in place.
Pros
Five-year shelf life for food and water
Discrete appearance
Comes with emergency guidebook
Contains tent and toothbrushes in addition to essentials
Cons
Heavier than some less inclusive options
Contains more than you may need
EVERLIT 42L Tactical Backpack Survival Kit
EVERLIT 42L Tactical Backpack Survival Kit Bugout Bag Assault Pack Rucksack with Hydration Bladder and Survival Gear 3 Day Rucksack Molle Outdoor Hiking Daypack Hunting (Tan)
✅【Tactical Backpack + Hydration Bladder + 1st Aid Kit + Survival Tool Kit, Everything You Need for Your Next Adventure】Customized by U.S Military veterans, more than 23 unique accessories and survival tools are packed into this 900D 42L tactical backpack to get you well prepared.
✅【2L Hydration Bladder/ Tactical Shovel/ Molle Pouch】BPA free 2L (68 oz) hydration pack. Made from High-Carbon steel, the survival shovel has an open length of 18.5''. The kit also comes with a 600D heavy-duty utility molle pouch that has a size of 8.3'' x 4.7'' x 2''.
✅【100 Pcs First Aid Kit/ 100Ft Paracord/ Tactical Flashlight/ Survival Kit】The mini first aid kit contains more than enough supply to treat minor injuries/wounds. The 100 Ft paracord is ideal for outdoor emergency needs. The high lumen tac flashlight offers 3 modes (high/low/strobe) and adjustable focus. The included survival kit will get you covered under emergencies.
✅【900D Water Resistance Heavy Duty Tactical Backpack】Size: 13'' x 20'' x 11'', Capacity: 42L. The backpack features: molle system, double-stitching, heavy-duty zippers, padded back and should strap, load compression system, and multiple compartments/pockets to organize your gadgets.
✅【Best Value for Money / The Perfect Gift for Outdoor Enthusiasts/ Veteran Owned Company, A Name You Can Trust】The truly meaningful gift idea for your loved one. The kit covers all your needs for hiking, camping, travel, and hunting.
Best for Bugging Out
Created by military veterans, the EVERLIT 42L Tactical Backpack Survival Kit comes stuffed with the extra necessities you'll need to survive if you have to leave your home. Not only does this kit contain the basics like a hydration pack and first aid kit, but it also includes a heavy-duty shovel, fire starter, and wire saw.
Pros
Lots of heavy-duty extras
Water-resistant backpack storage
Extra space in pack to customize
Cons
Doesn't include food
All the extras make it heavy
Sustain Supply Company Premium Family Emergency Survival Kit
Premium Family Emergency Survival Bag/Kit – Be Equipped with 72 Hours of Disaster Preparedness Supplies for 4 People
72-HOUR SUSTAINABILITY FOR FOUR PEOPLE - With this premium family emergency bag, you'll have all the supplies needed for 72 hours of survivial for four people, including 4 Sustain Survival water straws, a portable stove, food and more.
SUPERIOR QUALITY SUPPLIES - All of the items provided in your basic emergency bug-out bag (BOB) are premium. All items included, from 4 Aqua Literz 33.8oz Emergency Water to 1 fully stocked First Aid Kit, are top-of-the-line quality, giving peace of mind.
ALL YOU NEED IN ONE PLACE - With this emergency go kit, you'll have the peace of mind that your family has all the premium supplies needed for survival during an emergency. Save yourself hours of searching for individual products and money from purchasing them seperately with one bag that's ready to go.
BASIC FIRST AID - After an emergency, health care providers may not be able to reach you for some time. Be prepared to administer minor first aid with the first aid kit with a variety of basic supplies and guide in this basic emergency survival bag.
LIGHT SOURCE OPTIONS - Extreme darkness during a power outage can make even the most steadfast nervous. With this family emergency survival bag, you'll have multiple light sources, a fire-starting device and tinder. Kit includes: a flashlight, Ferrocerium rod, SnapLights and an LED lantern to help illuminate the night.
Best for Families
This premium survival kit from Sustain Supply Company has everything you'll need to keep your family safe in case of an emergency, from food and a portable stove to premium lighting and tools. This kit has both the basics and the extras covered to give you optimum peace of mind.
Pros
Four filtering water straws so you never run out of clean drinking water
Includes a fire starter and tinder
Wet wipes and emergency blankets for cleanliness and comfort
Collapsible mess kit
Cons
Heavier than most kits because of included portable stove
Includes food that you must rehydrate or cook
GETREADYNOW 72-Hour Grab and Go Emergency Survival Kit
Best Overall
If you're looking for all of the basics in an emergency kit in a compact, travel-friendly design, then GETREADYNOW has you covered. This kit has all the essentials, including masks, water, food, and several lighting options, but it can easily fit under the seat of your car. It even comes with a clear, waterproof bag so that you won't have to worry about damaged supplies.
Pros
Waterproof carrying case
Ultra-small size and low weight
Contains all the essentials, including food rations
Hand and body warmers included
Cons
No extras like stoves, shovels, or multi-tools
Pricier than simple backpack kits
Buyers Guide: How to Choose the Best Emergency Kit for Your Needs
There are several features you'll want to consider if you are in the market for an emergency kit. The most vital information is what you need in your kit and what type of carrying case your kit has.
Know Your Needs: What Should an Emergency Kit Include?
The list of items to include in your emergency kit is long, and it gets longer if you need to pack for an entire household, if you have a baby, or if you're caring for an elderly individual. Every emergency kit should include at least one gallon of water per person per day, non-perishable food items, a battery-powered or hand-crank radio, flashlight, and a first aid kit.
In addition to the items we discussed above, you should also include the following items in your emergency kit:
Extra batteries
Loud whistle
Several masks (for dust and to avoid disease spread)
Duct tape and plastic sheets
Moist towelettes or baby wipes
Garbage bags and ties
Pliers
Can opener (battery-operated or manual)
Local maps
Cell phone chargers, extra batteries, or portable charging stations
Medications (prescription or non-prescription)
Spare glasses, contacts, and contact solution
Hand sanitizer and disinfectant wipes
You might need to add lots of other things to your emergency kit if you have babies, pets, or older adults living with you. For instance, you might need diapers and wipes in your equipment if you have a baby. You might also need to include non-perishable pet food if you have pets. Sleeping bags, clothes, or a mess kit might be other items to include based on your needs.
Carrying Case or Storage
When you buy an emergency kit, you'll likely purchase a carrying case along with it. If you create a DIY emergency kit, you can choose your case and customize it to your needs. Some people prefer a bag to hold their emergency kit because bags are easy to grab and go with if an emergency arises. Still, others prefer a tote because of their durability.
Regardless of what your kit comes with, you can always add a tote to the situation if you're worried about storing your kit in a basement, attic, or garage. A bag is an excellent option if you'd like your kit to stay in your car with you, however, so it's really up to your individual needs.
Final Thoughts
Preparing for an emergency before it happens can help keep you safe and healthy under almost any circumstance. A proper emergency kit is an excellent start to surviving in the event of a tornado, earthquake, hurricane, or another natural disaster. Not every emergency kit is created equal, but our top five has something for everyone.
We love the GETREADYNOW kit because of its waterproof bag, variety of lighting options, and compact design, but any of our top five kits will help to get you by until help can head your way.