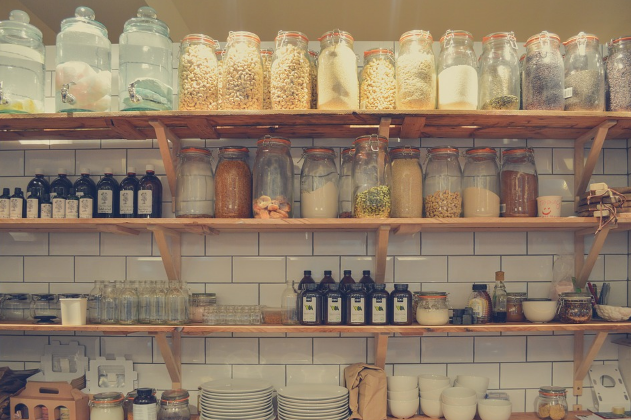 The Best Survival Food Storage Containers
Nowadays, everyone seems to expect the unexpected. No one wants to be taken unawares by unforeseen situations, such as the COVID-19 pandemic. Fortunately, with a little bit of planning and preparation, you can still have basic supplies for emergencies, including food and water, in times of disaster, at least for the short term.
You don't have to consider yourself a survivalist or prepper to plan for emergencies. For this reason, we've curated practical survival food storage containers that can come in handy during emergencies.
But before we delve into our unbiased review, here are a few tips on how much food to stockpile.
How Much Survival Food Should You Store?
Consider these basic questions to help you figure out how much food to store during emergencies:
1. What type of emergency are you preparing for? For example, you need to stockpile lots of different foods that will last for a month or more if you prepare for pandemics or natural disasters. On the other hand, a power outage may last for only a couple of days in worse cases and won't require stockpiling plenty of survival food. Storing survival food that will last for up to seven days is a good start for short-term emergencies.
2. Do you plan to feed extra mouths? You probably already figured out how much food your family needs for a week or even a month. But do you anticipate helping one or more people? Perhaps an elderly or a neighbor? It is a great idea to store survival food that will last for about a month or thereabout if you intend to share it with a few people during emergencies. It doesn't matter whether it is a short-term crisis; having more than enough food will ensure that your family won't go hungry while you share with others.
3. Do you have pets? You want to make plans for your pets, too, if you have them. Consider stockpiling pet foods with a long shelf-life, even if you are preparing for short-term emergencies. That way, your animal companions will have a dependable source of good food for a long time.
Unbiased Review of Survival Food Storage
With that out of the way, let's get into the review. Here are some of the best survival food storage containers currently on the market.
1. MCIRCO Large Food Storage Containers
Large Food Storage Containers 5.2L (175oz), MCIRCO 4 Pieces BPA Free Plastic Airtight Food Storage Containers for Flour, Sugar, Baking Supplies, with 4 Measuring Cups and 20 Labels
LARGE STORAGE FOOD KEEPER: M MCIRCO cereal containers set comes with 4pcs 175oz containers with 20 pcs chalkboard labels and 4 pcs measuring cups. They are good to keep cereal, snacks, flour, nuts, sugar, coffee, tea, baking supplies, cookies, protein,nuts, dry pet food or anything else you need to store.With wide enough openings, you can scoop directly using our measuring cup.
FOOD GRADE PLASTIC & AIRTIGHT LID: These flour containers are made of high-quality food grade plastic, which is BPA-Free,without weird plastic taste, non-toxic and safe from any harmful materials. Four Side-locking airtight lids seal these containers firmly, protect your food from pests, as well as moisture and air oxidization and help you keep your food dry and fresh all the time. Please make sure the lid is is lined up correctly, it becomes a snap to close.
Stackable Design: These Durable Square Containers have been especially designed to save space, they are STACKABLE and will easily fit into your refrigerator, freezer or cupboard which allows you to make full use of every inch of your home kitchen, get your pantry organized and an elegant look . These clear containers are also easy to clean and ready to use.
SEE THROUGH DESIGN: The containers are clear, so that you can identify and locate content easily without the need of tags and notes. In the meantime, we are also considerate enough to send you 20 pieces of chalkboard labels and 1 marker. No worries about look alike food like milk powder and flour.
100% CUSTOMER SATISFACTION: If you receive cracked products or you are not 100% satisfied with our products, please feel free to contact our customer service. We will provide the best solution for you within 24 hours.
If space is not an issue and you're in the market for fairly large food storage solutions, you may want to consider the MCIRCO Large Food Storage Containers. These canisters are great for storing sugar, flour, cereal, and more.
MCIRCO made this a set of four square-shaped containers constructed with BPA-free plastic material. The vessels are transparent. But for good measure, each set comes complete with 20 pieces of chalkboard labels and one marker for labeling. There are also four measuring cups to help you measure out the right amount of food.
While the containers are sturdy and stackable, be careful not to put one inside another during cleaning or washing. They can be difficult to pry apart since they have exact dimensions.
What we like
Transparent design for easy content identification
Airtight lid
Sturdy design with ample storage
What we don't like
Can be very difficult to pry apart if you put one inside another
2. Chef's Path Airtight Tall Food Storage Container Set
Pasta Storage Containers for pantry - Ideal for Spaghetti, Noodles - Kitchen & Pantry Organization - Airtight Tall Food storage containers with Durable Lids, All Same Size (4pc) - Chef's Path
✮ Superior bundle - Your complete Bbundle comes with 4 air tight premium canisters, a chalkboard marker, 2 pasta measurers & 8 bonus reusable chalkboard labels allowing you to organize your pantry like never before. This set comes in a beautiful box which makes it an ideal gift for any family. Nobody else in the market provides more value to you than us
✮ Elegant same size containers - Give your kitchen or pantry an upgrade with our 4 elegant same size air-tight containers. Each one has a 2.8-liter capacity (2.46 QT/ 11.83 cups/ 0.74 gallons). Your kitchen will never look the same again
✮ Versatile containers - many great uses: These air-tight food-safe Keepers are not only ideal for storing dry foods such as pasta, spaghetti, noodles, flour, sugar, rice, grain, cereals, nuts, beans, snacks, pasta, coffee and tea and but they are also perfect for holding liquids such as water, juice, soup, and more. The 4 sided-locking lids with silicone seal ensure that no air or water enters in, keeping your favorite snacks super fresh and dry
✮ Space saving design - These durable bins have been especially designed to minimize space, they are stackable and will easily fit into your refrigerator, freezer or cupboard which enables you to get the kitchen organized and frees up space in the pantry. These clear containers are also easy to clean, extremely user friendly and ready to use.
✮ Our promise - We are completely confident that you will love our containers, if you don't love it or don't feel it was worth every penny of your investment today, we'll give your full payment back no questions asked and you can keep the containers as well
Chef's Path survival food storage containers are your best bet if you're looking to store raw pasta, noodles, and spaghetti. These tall containers come in a set of four, allowing you to store more food.
Like other containers on this list, this option is also made from high-quality BPA-free plastic. The storage vessels are transparent, eliminating the need to label them because you can see the content of each container.
While they are tall, their use is not limited to pasta only. Of course, you don't have to break noodles or spaghetti to store them, but you can also store different types of cereals.
Organizing your pantry is easy with these containers because they are the same size. You can even stack them to save space.
What we like
Airtight storage containers
Four-sided locking lids silicone seal
Space-saving design
What we don't like
The tall designs mean it can get knocked over easily
3. Blingco Cereal Food Storage Container
Blingco Cereal Container Food Storage Containers, Set of 8 (2.5L/84.55oz) Airtight Dry Food Storage Containers with Lids - BPA Free Plastic for Flour, Cereal and Pantry Storage Containers
🍒【PREMIUM QUALITY & CLEAR CONTAINER】: Cereal storage containers are made of BPA free durable plastic and shatterproof material can also guarantee the safety usage. The storage containers's body is clear like glass but not as heavy as glass, you can quickly see what inside just at a glance. More convenient to find what you needed and replenish your supplier.
🍒【MULTI USE】: Includes 8 (2.5L/84.55oz--Length/width/height: 5.3inch/5.3inch/6.3inch) Airtight Containers Cereal Containers. Store your favorite foods safely into these efficient containers. Perfect for baking supplies, cereal, rice, sugar, flour, pasta, grain, snacks, coffee, tea, nuts.
🍒【SECURE SEALING 】: Protecting your food from air and water while keeping it fresh. The spill proof covers prevent sauces or dressings from spilling. Provides maximum freshness and prolonged food storage .
🍒【SPACE SAVING & CLASSIFIED STORAGE】: With a stackable and modular design take up less space and will easily fit into your cupboard or freezer which enables you to get the kitchen organized and frees up space in the pantry. These clear containers are also easy to clean, dishwasher safe!Please hand-wash the lid.
🍒【SET INCLUDES】: 8 PCS airtight cereal storage containers with locking lids(2 red/2 blue/2 yellow/2 green), 20 pcs chalkboard labels and 1chalk marker. We are confident that you will LOVE this complete container set ! !
It's difficult to beat Blingco when it comes to high-quality, affordable survival food storage containers. The brand's Cereal Food Storage Container comes as a set of eight transparent equal-sized plastic canisters.
The containers are made with high-quality, lightweight, and shatterproof materials that look like glass. This allows you to quickly see what's inside each food storage container at a glance without opening the lid.
Whether you plan to store food in the freezer or pantry, this stackable set with a modular design makes it easy to save space when storing your emergency food supply. The containers are dishwasher safe, but it is best to hand-wash the lids.
What we like
Excellent build quality
Spill-proof covers
Colorful lids (two each of green, yellow, blue, and red covers)
What we don't like
Small food storage capacity
4. Re-sealable Stand Up Mylar Bags/Pouches
Resealable Stand Up Mylar Bags/Pouches - 7.5 Mil 5"x7"x3" - Genuine Odor-Proof Aluminum Foil-Lined Gusset Bag for Long Term Food, Freeze Drying, Herb, Survival Storage Container (50 and 100) (50)
MULTIPLE USES: Ideal storage solution for grains, beans, rice, pasta, dried herbs, spices and flowers, coffee, tea, candy, snacks, powders, pet food, supplements, electronics and much more.
MORE SPACE, BETTER VALUE: Gusset allows bag to expand 3 inches at bottom, almost doubling the storage capacity of our competitors' regular 5x7 bag for much less than they are charging.
THICKER IS BETTER: These bags are the thickest you will find; 7.5 mil. of mylar provides greater puncture resistance and stronger odor, light, moisture protection for your products that thinner competitor mylar (or plastic) bags are unable to offer. These are guaranteed to keep your product safe and fresher for 25+ years.
SHORT OR LONG TERM STORAGE: Secure ziplock top provides convenient short term storage (with or without oxygen absorber) or top can be heat sealed to protect your products long term.
BETTER THAN OUR COMPETITORS: Most competitors' bags are made with only 2.5 - 3.5 mil. of mylar. Ours offers 7.5 mil. of mylar protection for less than what the competitors are charging for similar sized (but thinner) bags. And we provide a 100% money back satisfaction guarantee.
If dried herbs, spices, powders, coffees, and supplements are among the food items you want to store, consider buying pouches for this type of storage.
Mylar Bags are an excellent choice of small food bags. They are reusable, giving you plenty of value. The bags are the best in class when it comes to thickness. Constructed using 7.5-mil polyester film, the bag offers impressive puncture resistance. The thick Mylar ensures greater protection against moisture, odor, air, and light.
You can use this for both short and long-term food storage. Add food items to the bag and seal it using the zip lock for short-term use. If you prefer long-term storage, apply heat to the zip lock top to re-seal the bag. You don't need any special equipment to re-seal the bag; any hair straightener or regular clothes iron will do.
These pouches measure only 5-inch x 7-inch x 3-inch, meaning they won't hold much food. But the good thing is that the product comes in a pack of 50, so your purchase gives you plenty of pouches to store dry or freeze-dry foods.
The gusset design also means that you get extra 3 inches at the bottom, offering better value.
What we like
Top-opening zip lock closure
Reusable and re-sealable pouches
Thick and durable design
What we don't like
Only available in packs of 50
5. Wildone Airtight Cereal & Dry Food Storage Container Set
Airtight Food Storage Containers - Wildone Cereal & Dry Food Storage Container Set of 6(Black Lid), Leak-proof & BPA Free, With 1 Measuring Cup & 20 Chalkboard Labels & 1 Chalk Marker
🍔 [SET INCLUDES] - This set Includes 4 small containers(54.1 fl.oz/1.6L), 2 medium containers(121.8 fl.oz/ 3.6L), 1 measuring cup(8.5 fl.oz/0.25 L), 20 chalkboard labels and 1 marker pen, allowing you to organize your kitchen and pantry like never before.
🍔 [AIRTIGHT SEALING] - Each storage container features an airtight 4 sided-locking system resulting in an airtight seal, keeping your cereal super fresh, help you get prolonged food storage.
🍔 [HIGH QUALITY]- Made of high-quality food grade plastic, BPA free, contain no harmful substances. The durable plastic containers can be used for a long time, good for you and safe for your family.
🍔 [MULTIPURPOSE] - These containers are suitable for storing flour, sugar, rice, nuts, beans, cereal, snacks, pet food, or anything else you may need to store. Plastic storage container can be used as bakeware containers or be refrigerated. Microwave(Less then 212F), freezer & dishwasher safe.
🍔 [SEE THROUGH & STACKABLE] - The clear storage containers body are durable enough for long-lasting use, you can quickly see what inside just at a glance. These containers also have a stackable and modular design, will save you a ton of space in your pantry fridge, freezer or cabinets for better kitchen organization.
The previous sets on this list are same-sized containers. If you prefer a set with different size canisters, you may want to check out the Airtight Cereal & Dry Food Storage Container Set from Wildone.
This airtight container option comes as a set of six – two medium and four small containers). It features a marker, 20 chalkboard labels, and one measuring cup. These allow you to easily organize your pantry.
You can conveniently store about three pounds of flour or two bags of snacks in medium containers, while the smaller ones can hold about one and a half bags of cereal. One set might not be enough for long-term food storage, but it will do for short-term emergencies.
What we like
See-through design
Side-locking system on lid
Space-saving design
What we don't like
Limited food storage capacity
6. Bergan Smart Storage
Bergan Smart Storage Food Storage, Navy, 50 lbs (Large)
Gasket seals on each lid to keep food fresh and to keep insects out
Lid snaps into place for easy pouring and, with an access handle on the bottom
Allows easy access for scooping or pouring
Made of durable plastic that is BPA free
Enjoy convenient stackability in multiple sizes
Got pets? You need to include them in your plans for emergency food storage, too! The Bergan Smart Storage is one of the widely-used survival food storage containers among pet owners, and for good reasons.
First, the plastic containers come in three different sizes: 10 lbs, 22 lbs, and 50 lbs, so you can easily find an option that fits your cabinet or wherever you store pet food. The multiple sizes also mean you get to choose the most suitable capacity to hold the ideal food bag for your pet.
Next, the stackable design means you don't have to worry about extra floor space if you plan to get a few of these bins. Place one on top of the other if you need to stockpile food for your pet in case of emergencies.
Conveying the bin is a breeze, thanks to the lightweight construction. Although the container is lightweight, it won't cave in or break because of excess weight when you stack them. It is made from high-quality, durable plastic. Plus, it is BPA-free, so it is completely safe to store food for your pet.
The lid is not airtight, but it shuts snugly, and these plastic containers are decent enough to keep insects out and food fresh for several weeks.  An opening in the lid allows easy access to pour in or scoop out the food.
What we like
Excellent build quality
Available in multiple sizes
Opening in the lid for easy access even when stacked
Stackable design
What we don't like
The lid is not airtight
Not ideal for storing food for several months
There you have it. These are some of the best survival food storage containers you can purchase as you begin stocking up on emergency supplies  and emergency food storage.
In addition to the emergency food supply containers above, you should also consider purchasing oxygen absorbers, shelves for canned food and dried food, plastic buckets, mason jars, plastic buckets, and a water storage container.
Following the information in this article will certainly help you on your food preservation journey and allows you to better prepare for whatever may come your way.