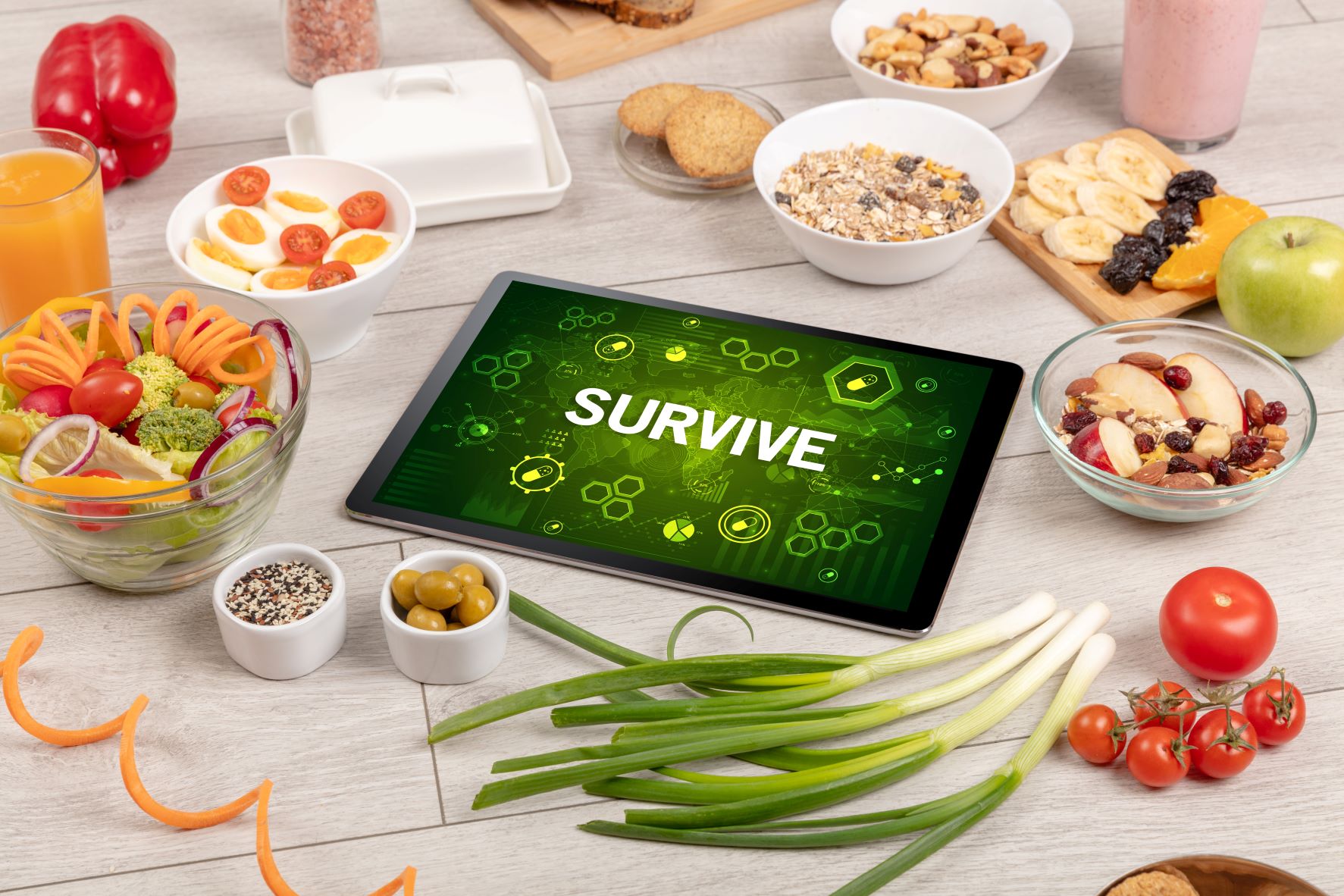 Best Survival Foods of 2022 
What to stockpile to survive disasters and doomsday
No one wants to be caught off guard when disaster strikes. Natural disasters like tornadoes crash through towns leaving grocery stores and homes without resources and necessary items to survive. 
You can stockpile and buy survival foods and essential items now, and should disaster strike, everyone will be grateful for your pessimistic preparedness. 
The Covid crisis has also shown how people panic-purchase items (especially essentials like toilet paper), so it's wise to have a small stockpile ready for unexpected pandemics, natural disasters, and the unthinkable. 
But where do you begin when planning for the worst?
Below we've compared and compiled a list of the essential survival foods you'll need and be grateful you bought. 
Not only do you need to make sure basic needs are taken care of, but there are other things to consider when surviving through the 'end times.'
Things To Think About When Stockpiling
Buying and storing survival foods and items is only half the issue. You  should buy each of your survival foods with these four things in mind:
Shelf life

–

Stockpiling foods for survival will be pointless if everything is perishable and non-edible by the time disaster strikes. Always check the shelf life of your food items; some products only last several months, so you may need to rotate and replace those items.

Nutrition

–

A balanced and nutritional diet is still necessary even in apocalypses and disasters. Stockpiling only carbohydrates and basic canned foods will not be enough to keep adults and children alive and healthy. Make sure you collect beans, rice, fruits, vegetables, meats, and proteins.

Calorie count

– '

Survival food' means that it contains enough energy and calories to sustain adults. You should plan to have 2000 calories available for an adult per day. This will be enough to feed each person.

Cost

–

Survival preparations should not put you in financial jeopardy – after all, you need to survive today first. You don't have to purchase everything at once. You can slowly create your stockpile or buy the survival foods that suit your budget. Either way, your stockpile needs to be rotated, and if you have expensive items you cannot replace when they expire, you will have an issue come doomsday. 
Basic Survival Foods to Store
Canned Fruits 
Dole Canned Mandarin Oranges, All Natural Fruit in Light Syrup, 15 Oz, 12 Count
Naturally Gluten Free: DOLE Mandarin Oranges in Light Syrup are a good source of Vitamin C and are made from All Natural Fruit and non-GMO ingredients. They're naturally gluten free and Kosher, and great for recipes like orange cakes or jello salads
Healthy Snacks and Juices: From packaged shelf stable fruit, to dried fruit, fruit juices, and frozen fruit, Dole is a world leader in growing, sourcing, distributing, and marketing packaged fruit and healthy snacks to brighten your day
Refreshing Flavor: Try the refreshing bright flavor of Dole's packed fruit, fruit juice, and other pantry staples in all your favorite recipes
Perfect Snacking Size: Everything you love about sweet Satsuma mandarin oranges, in a convenient pull-top can. Perfect for topping salads, snacking at home, or on the go
Delicious Mandarin Oranges: With Dole's shelf-stable mandarin orange products, you can have the refreshing taste of Satsuma mandarins anywhere & anytime. For a delicious snack try Dole canned fruit or fruit in a cup
This product is gluten-free and kosher, with an ideal shelf life for a prepper. 
The Dole brand has many canned fruit options, so if oranges aren't your favorite, try their pears, pineapple, or cherry products. These fruits are canned with syrups, so they are high in sugars.
Dried Fruits
ONETANG Freeze-Dried Mixed Fruit, 14 Pack Single-Serve Pack, Non GMO, Kosher, No Add Sugar, Gluten free, Vegan, Holiday Gifts, Healthy Snack 0.35 Ounce
CONTAINS: 14 convenient single-serve bags high-quality, hand-sliced delicious freeze-dried fruit with NO ADDED SUGAR
100% ALL NATURAL - made with real fruits and contains zero artificial colors or preservatives
Health AND CERTIFICTION: Non-GMO Project Verified, Vegan, Paleo, Gluten Free, Dairy Free, Allergen Free and Kosher
DELICIOUS TASTE:It's crispy and fruity, giving you everything you'd want from a fresh fruit
CONVENIENT, PORTABLE AND MESS-FREE: Perfect for lunches, backpacks, purses, glove compartments. Great on-the-go snack for travel, hiking, biking and active lifestyles.
This pack has single servings of natural and non-GMO fruits. 
With a long shelf-life and plenty of nutrients, this kind of product is a must-have for a survival food stockpile.
Canned Vegetables
Buying a pack of canned vegetables like Green Giant offers will provide nutrition and variety to your survival food store. 
Canned vegetables are a must-have, no matter the brand or product
Cereals
Cheerios Breakfast Cereal, Honey Nut Cheerios with Oats, Gluten Free, 10.8 oz
CEREAL: Whole grain oats cereal with real honey and natural almond flavor
GLUTEN FREE: Gluten free and simply made without artificial flavors or colors; Good source of iron and calcium.
WHOLE GRAIN: First ingredient is whole grain and fortified with 12 essential vitamins and minerals.
HEART HEALTHY: Three grams of soluble fiber daily from whole grain oat foods, like Honey Nut Cheerios cereal, in a diet low in saturated fat and cholesterol, may reduce the risk of heart disease. Honey Nut Cheerios cereal provides .75 grams per serving
CONTAINS: 10.8 oz
There's a temptation to buy Lucky Charms and Frosted Flakes, but rather buy cereals that are high in fiber and whole grain. 
Having cereal in your stockpile means you might want to collect some long-life milk as well, but dry cereal is also perfectly acceptable. 
Flour
King Arthur, All Purpose Unbleached Flour, Non-GMO Project Verified, Certified Kosher, No Preservatives, 10 Pounds
Our all-purpose flour is an essential ingredient for every baker yielding exceptional results. Unbleached and unbromated, this flour is milled to be versatile: strong enough for bread, and gentle enough for tender, delicate scones and cakes
Milled from the finest American wheat, our flour is prized by chefs, bakeries, and culinary schools around the country for its consistency and performance. This all-purpose flour is also 100% US hard red wheat grown on American farms
King Arthur All Purpose Unbleached Flour is Non-GMO Project Verified; Certified Kosher and has 11.7% protein content. Safe handling instructions: Raw flour is not ready-to-eat and must be thoroughly cooked or baked before eating to prevent illness from bacteria in the flour. Do not eat or play with raw dough
King Arthur Baking Company is a 100% Employee-Owned Company and a founding B Corporation
We are King Arthur Baking Company. Our name and logo reflect who we've always been and always will be: bakers who are committed to spreading the simple joy of baking
Flour truly is 'all-purpose' as it forms the basis of so many recipes. 
With just a few other ingredients like yeast, water and sugar you can make doughs for bread, pizza and tortillas. 
Flour has many minerals and nutrients and does not expire for several months, making it a great survivalist product.
Pasta
Pasta is cheap, long-lasting, and high in carbohydrates/calories, so it is ideal. 
Pasta usually lasts for years beyond the dates on their boxes and only require boiling water and simple sauces to enjoy.
White Rice
Nishiki Medium Grain Rice, 80 Ounce
5 lb. bag
When flavor and texture of the rice is crucial in cooking, Nishiki is the brand people look to.
This along with consistent quality has made Nishiki the most popular rice brand today. Sushi experts agree that Nishiki is their number one choice.
If you have leftover rice, put it away by saran wrapping it and refrigerating until it is time to eat again. When reheating, adding some water to the rice will fluff it up
White rice (not brown) has a very long shelf life and also a wide variety of recipe options. 
Not to mention white rice is fairly cheap and can be bought in bulk for a good price.
Canned Beans
Van Camp's Original Baked Beans, Canned Beans, 15 OZ (Pack of 12)
Twelve 15 oz cans of Van Camp's Original Baked Beans
Delicious baked beans recipe is ready to heat and serve for a convenient option
Slow-cooked canned beans with a savory blend of spices and a hint of brown sugar for a delicious taste
Serve as a side dish with pulled pork, grilled chicken and other favorites
Heat these canned baked beans on the stove or in the microwave
Cheap, rich in protein, and nutrients and easy to prepare – beans are an essential item for survivalists. 
Canned Beans like Van Camp's also don't have the hassle of dried beans do (long soaking periods and prep work required)
Canned Meat
Cheap, rich in protein, and nutrients and easy to prepare – beans are an essential item for survivalists. 
Canned Beans like Van Camp's also don't have the hassle of dried beans do (long soaking periods and prep work required).
Nuts and Seeds
Fisher Chopped Macadamia Nuts, 2 Ounces (Pack of 12), Dry Roasted, Unsalted, Naturally Gluten Free, No Preservatives, Non-GMO, Keto, Paleo, Vegan Friendly
Sweet Flavor and Velvety Texture – With 4 grams of plant-based protein and 4 grams of fiber per serving, Fisher Chopped Macadamias adds a sweet flavor and creamy texture texture to almost any savory or sweet dish including breakfasts, appetizers, salads, meats, fish, and desserts
Fisher Fresh – Our macadamias are packaged fresh in our frustration free bags with an easy open tear notch
Tropical Macadamias – Grown in warm climates including Hawaii, Australia, Guatemala, Malawi, Kenya, and South Africa, our dry roasted and unsalted chopped macadamias are naturally gluten free, Non-GMO Project verified, vegan, paleo, and keto friendly
Macadamia Portioned Pack – Contains 12 - 2 ounce bags of unsalted chopped macadamias. 2 ounces = 1/2 cup
About Fisher – we are committed to bringing you the Fisher quality you trust. We have been delivering quality nuts for 100 years and we oversee the whole journey, from the farm to your kitchen
Nuts aren't the cheapest, but they last up to a year in storage and have high protein and fat value. 
Buying peanut butter is also a great idea, especially if you have children to prepare for.
Foods That Will Improve Your Survival 
While the above foods will guarantee your survival, bland and flavorless food can make you wish you were dead. 
You can purchase these items after the basics are gathered and have your family and friends thank you when the time comes.
Frequently these items have long shelf-lives but just check each product to be sure.
| | |
| --- | --- |
| Product | Examples and Products |
| Condiments | Mayonnaise, Ketchup, Mustard, Hot sauce, etc. |
| Drinks | Coffee, Cocoa mix, Gatorade powder, Tea, Juice mix |
| Basic Ingredients | Baking powder, Cooking oil, Sugar, Salt, Yeast, Spices, etc. |
| Instant Meals | Canned chili, Canned Soup, etc. |
| Snacks | Pickles, Popcorn, Cookies, Crackers, etc. |