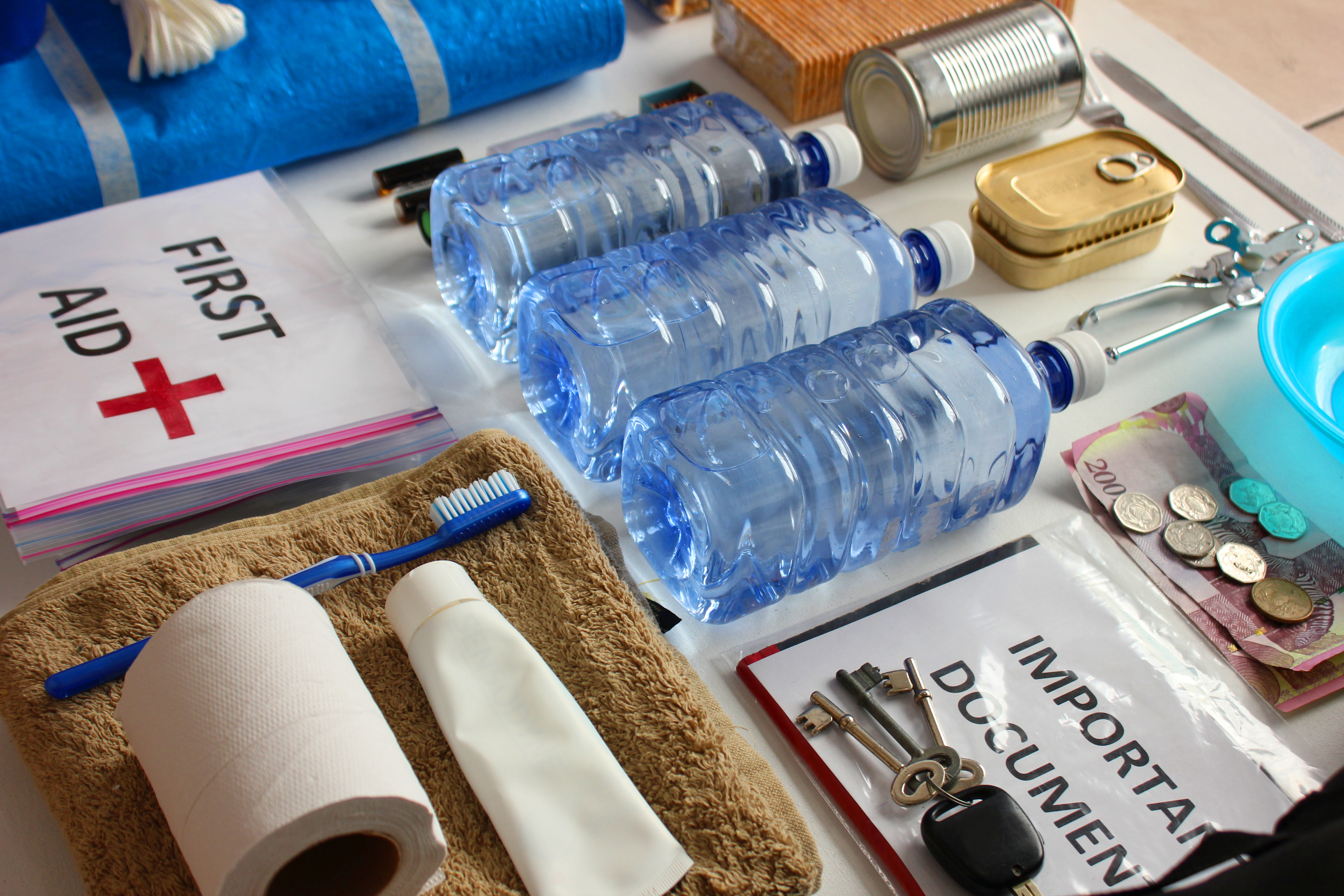 Must Have Survival Items For a Pandemic
As millions of Americans are sheltering in place and the COVID-19 pandemic continues to get worse, many people are beginning to panic, worrying that they will run out of the essential items they need to survive. Now, here's the thing; America has survived worse disasters, and we'll survive this one too.
That being said, it doesn't hurt to be prepared for the worst, especially if the pandemic ends up lasting longer than we all expect. For that reason, we've put together a list of the Top 17 Must-Have Survival Items for a Pandemic.  Get these items now and stock up so that you and your family will be prepared for whatever comes next.
Top Food Items To Stock Up On
Of course, one of the most important things you're going to need is food and plenty of it. We're not talking about Ho-Hos and Ritz crackers either, but nourishing food filled with protein, vitamins, minerals, and the other ingredients your body needs to stay healthy. (OK, so a few snacks are fine too.) Canned, dried and jarred foods are the best because they will last much longer than fresh foods and don't need to be refrigerated or frozen.
Below are some of the best foods in terms of both nutrition and shelf-life. We've also chosen foods that are organic when possible and the highest quality so that you get the nutrition you're going to need.
Coconut Oil- Highly nutritious and a fantastic source of energy, coconut oil also has antibiotic and antibacterial properties and can be extremely helpful during a crisis. It also has a very long shelf life, tastes great and has a wide variety of uses.
Apple Cider Vinegar– A natural preservative and antibacterial, apple cider vinegar can reduce cholesterol, lower blood pressure and can be used on the skin to treat eczema and other conditions. It can also be used to treat cuts and small wounds and lasts, like, forever on the shelf.
Chickpea Pasta- More protein and fiber with fewer carbs than regular pasta and no gluten, chickpea pasta is delicious, nutritious and can stay on the shelf for years and still be edible. Plus it's super-filling so you won't have to eat as much to be satisfied.
Dark Chocolate- Rich in minerals and antioxidants, dark chocolate is also an anti-inflammatory and has a massive amount of raw energy because it's so calorie-dense. It can last for 1 to 2 years in a cool, dry cupboard and can soothe those chocolate cravings you're bound to get when cooped up in the house.
Lemon Juice- Loaded with vitamin C, lemon juice (bottled preferably) prevents scurvy and helps the body absorb iron. It's great for disinfecting wounds too and can help your kidneys during times of great stress. Plus, it lasts for ages even if unrefrigerated.
Protein Powder- As we mentioned earlier, your body needs plenty of protein and protein powder is a great way to get it because it's easy to use, fills your belly and can be mixed with a wide variety of foods. It's a great alternative to fish and meat and won't spoil for years.
Matcha Tea- Able to detoxify your body as well as calm you down naturally, Matcha Tea (green tea) is packed with fiber, chlorophyll and antioxidants and has a semi-sweet taste. It also boosts your metabolism so that, if you're stuck at home, you can at least drop some pounds.
Naturally Fermented Sauerkraut- A true superfood, raw, unpasteurized sauerkraut delivers a nutritious gut punch that you'll need during any crisis. Packed full of vitamins C, K, and B6 plus magnesium, calcium, phosphorus, iron and potassium. Sauerkraut is also a probiotic that supports the "good" microorganisms in your gut. And yes, it's great on hotdogs!
Multi-Vitamins- During any crisis your body will be more stressed than usual and, if you're not taking a multi-vitamin, now might be a great time to start.
Canned Meat- Protein powder might be all good and well but nothing beats real meat. Canned it will stay edible for a lot longer too and, if the electricity goes out, it won't go bad.
Pickled Vegetables- Another good food to stock is pickled veggies. They last on the shelf and won't go bad if the power goes out and the fridge doesn't work. There are a lot of different types of vegetables so be sure to stock up on more than one.
Top Non-Food Items To Stock Up On
If things are bad enough that you need to stock up on food then you should stock up on other essentials also, just in case. If the electricity goes out in a storm, for example, the power company might not have the people to get to it right away. There are a million other scenarios also so, without wasting time talking about them, below are some of the must-have items you should have ready at home.
First Aid Kit- Hospitals are already over-stressed so, if you have a small accident or incident, you need to be prepared to handle it yourself.
Solar Power Charger- In a crisis you'll need your laptop, smartphone and other devices. If there's no power a solar power charger is your best bet and can be a lifesaver.
Fresh Water Filter- Fresh, potable water is essential to life. If the source of your home water is somehow contaminated, you'll need to clean it before you drink it, so keep one of these on hand no matter what.
Large Water Bottle- If you get the filter and want to stock up on water, you'll need some big bottles to do it. Get two or three (or more) depending on the size of your family. Keep in mind that the average person drinks 3 liters of water per day, which is a little less than one gallon.
Spray Disinfectant- During a crisis like COVID-19 keeping surfaces clean is a must. A potent spray disinfectant is thus a must also.
Dehumidifier- This might seem like something you don't really need but, especially during a pandemic, dehumidifiers are very useful. It will help alleviate symptoms, keep nasal passages dry and may help to decay viruses faster.
Conclusion
So there you have it, 17 must-have items that you should stock up on during this pandemic and for the others that might come in the future. (Hey, it never hurts to be prepared.) We wish everyone well and hope that this list will see you and yours through these dark days. Wash your hands, stay home and together, as one nation, we'll all get through this.