Last Updated on November 22, 2022 by admin_hunter
Finding the best solar generator for off-grid living makes all the difference between enjoying life unplugged from the world and loathing every second of it, especially if you are on the move and need a reliable renewable energy source.
A renewable electricity source is required for camping, van-living, and off-grid homes. Each requires a suitable solar generator that caters to your needs while considering portability, electricity generation capacity, energy storage capacity, and discharge dynamics.
This article compiles a list of reliable solar generators for off-grid living in an RV, off-grid home, and even when camping outdoors.
Since establishing its portable power station product line over a decade ago, Goal Zero has successfully launched several power stations for the off-grid market and has even won an award for its innovations.
The Goal Zero 6000X portable power station is a power horse, given its 6,071 watt-hours capacity, which is enough to power a whole house with a sizable load of electronics and electrical appliances.
The generator comes with seven versatile power ports capable of serving different consumer devices and means, including a USB-C port, multiple USB-A ports, two 120-volt AC ports, and regulated 12-volt ports.
The downside to the generator is that it doesn't come with a solar panel. You'll have to buy them separately, which can be challenging because not all solar panels are compatible.
As a consolation, you can recharge the Yeti 6000X in three ways—for 12 hours through a 600-watt wall outlet, from your car using a 12-volt adapter, or using solar panels bought separately.
The Yeti 6000X is an excellent choice for off-grid living where vast amounts of renewable electricity are required, such as for powering an entire house. But you could also use it on the move since it has wheels for easy portability.
At 2200 watts, 120 volts, and 2048 watt-hours capacity, the Bluetti AC200Max is a reliable power source for living off the grid.
The AC200Max comes with 16 ports, including DC and AC ports, USB-A ports, and a car port. It also features wireless chargers for charging compatible devices wirelessly.
Besides being a fast-charging station, the Bluetti AC200Max leaves a mark as an expandable power generator with up to 8192 watt-hours with two Bluetti 3072 watt-hour panels or up to 6144 watt-hours with two Bluetti 2048 watt-hour panels.
Like the Bluetti AC200Max, the EF Ecoflow Delta Pro is a handy expandable solar power generator ideal for outdoor camping, RVing, and home use.
The Delta Pro has a capacity of 3600 watts and 120 volts. You can expand its capacity using extra batteries to provide more power as the need arises.
Although it doesn't come with its own solar panels, the Delta Pro is unique as it allows up to five different charging methods. You can charge it using solar panels bought separately, through wall outlets, and even with a car outlet.
No products found.
Unlike most other solar generators that require buying solar panels separately, the Wagan e Power Cube has its own onboard solar panels. This makes it a plug-and-play utility with no required assembly, saving you time.
You can charge the generator using its five attached solar panels or the included car DC and home AC adapters. Additional batteries and solar panels bought separately will be ideal for increased power capacity.
The Wagan 1500 Plus Power Cube is suitable for light-load applications like camping and tailgating.
A solar generator with a power output capacity of 120 volts, 4800 watt-hours, 3500 watts continuous usage power, and up to 7000 watts in peak power is certainly desirable.
The capacity of the Renogy Lycan 5000 is also expandable using Renogy lithium-ion batteries purchased separately to provide more power for full-fledged off-grid homes.
Moving the generator around the house is easy using the attached wheels, but you must consider the location and connectivity of the solar panels, which you'll need to purchase separately.
If you plan on an off-grid life outdoors in RVs or camping sites, the Jackery Explorer 1000 is a good bet. It has only three power outlets, but it makes up for this with a reliable lithium battery pack and two 100-watt solar panels.
The portable generator is ideal for lightweight power for lighting bulbs and running small appliances like a coffee maker or a portable refrigerator.
The Geneverse 1000-2000 watt solar generator can offer up to seven days of lightweight power supply to small home appliances and devices on a single charge, making it an ideal backup power system.
The portable solar generator features three power outlets, USB-A and USB-C ports, and a 12-volt car port. You can charge it in three ways: using its solar panel, a wall AC outlet, or your car outlet.
What Size Solar Generator Do You Need For Off-Grid Living?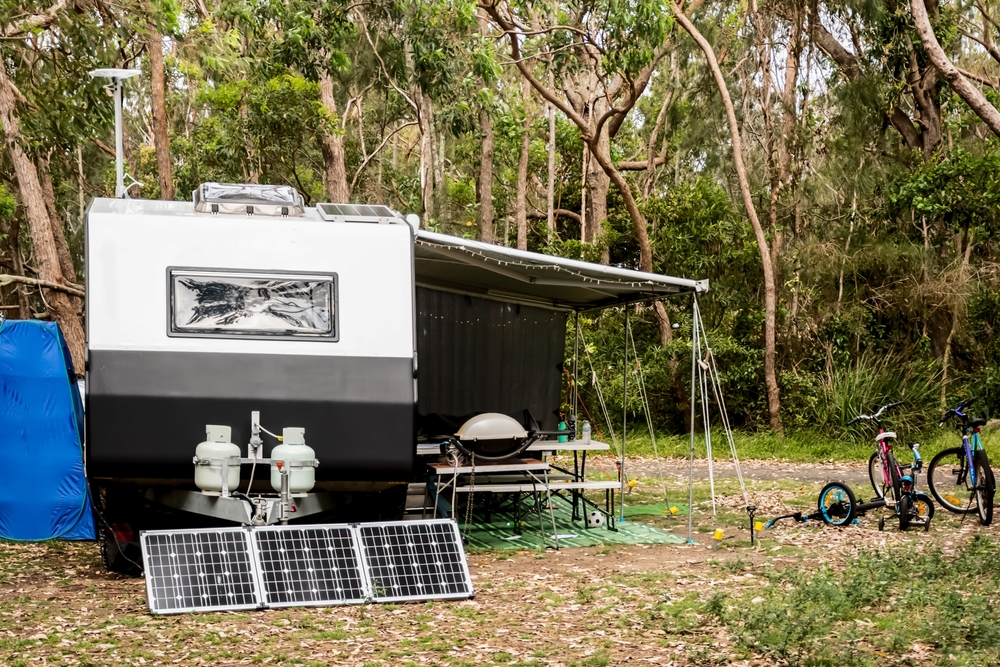 There's no way to easily tell the size of the off-grid generator you'll need for a comfortable life off the grid without first estimating how much electricity you'll need.
The required amount of electricity will vary from one use case to another, depending on the type of off-grid life you lead, the appliances you use, and the duration for which you need a power supply.
A full-fledged off-grid home will require more electricity than a camping RV or a temporary camping site in the woods. Homes have more appliances that use more electrical energy and may also need to maintain longer hours of lighting.
To determine the size of the solar generator you'll need, you must first estimate how much power you'll need. You can obtain this number by checking the wattage of each device you'll use and adding up the wattages. The off-grid generator's wattage should exceed the number you get from your calculation.