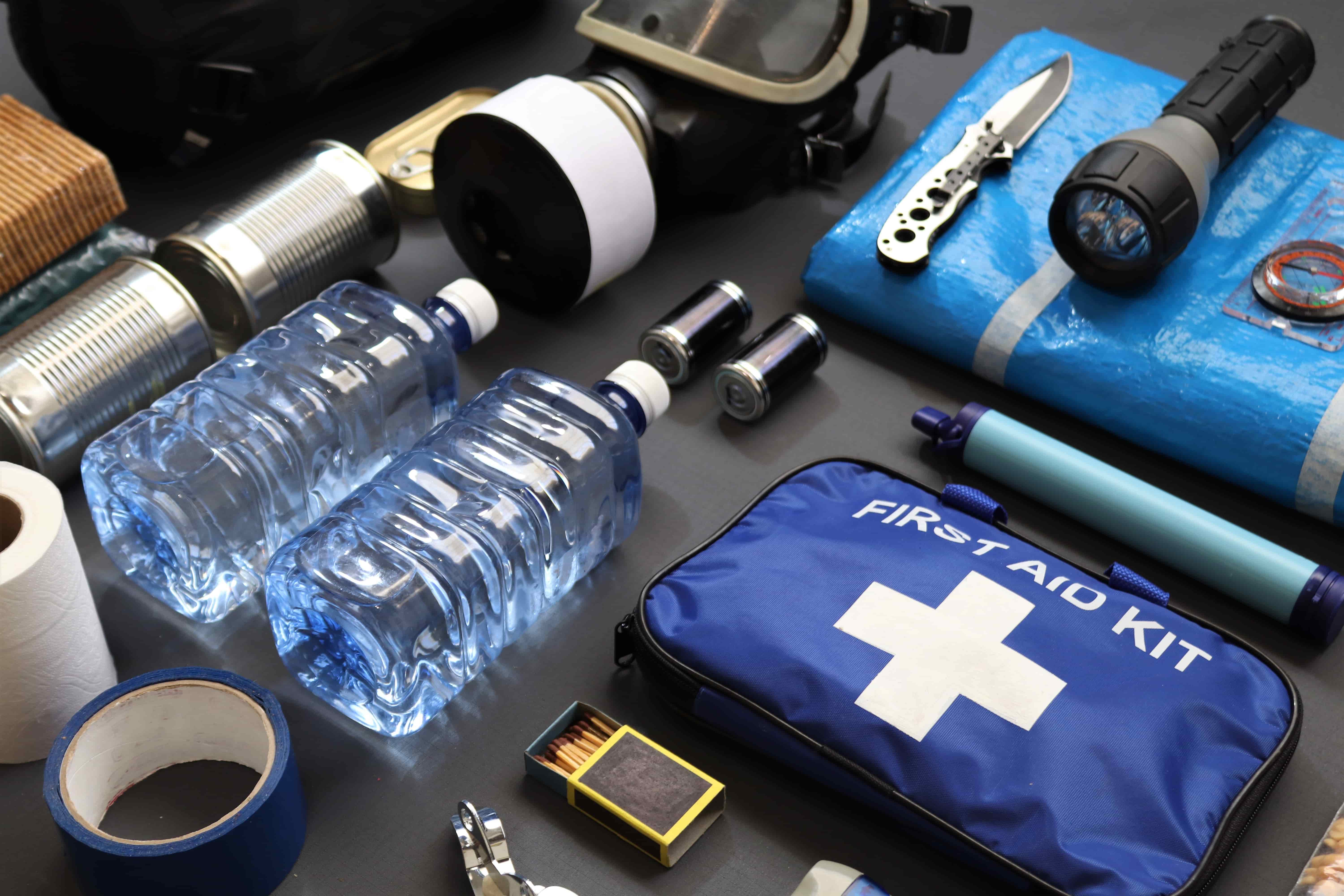 Must Have Items for Your Emergency Bunker
Hundreds of thousands of people across the world are self-isolated in the face of an escalation in the Covid-19 crises. When the crisis comes, it was just like the movie producers have imagined it: world's elite sheltered into luxury disaster bunkers, supply chains crumbled, grocery stores run out of food, and millions around the globe lost their jobs.
In fact, nowadays there isn't only the threat of Covid-19, the threats of climate disasters and political conflicts have prompted out either at the beginning of the 2020s.
So, when there is a chance that you already have a neighbour ready for this pandemic and is sheltering, stress-free, at home, there is nonetheless to say that people have been worried about the doomsday for centuries.
As disasters strike without warning and being prepared is the key to ensure that you and your family can make it the best of a bad situation, some basic shelter features, like a shelf-stable food ready to eat, or medical supplies with an effective emergency plan comes in handy.
Where should your emergency shelter be located, and what should it include?
Here are our tips on where on your propriety should a proper emergency shelter be located. Let us start with areas far from large bodies of water, and far from high trees. The ideal place is on a high altitude. Besides, if it is possible, you choose a remote location that is far from main roads, entrances, or other easily accessible areas. In addition, more and more survivalists use their subterranean shelters as pandemic self-isolation homes.
How to prepare and store baseline items?
Read ahead to find out how to prepare and store your baseline items when the pandemic panic, and bad weather seasons are approaching around the world.
Generally, it is important to keep enough supplies in your emergency bunker to meet the needs of your family for at least three days. Store emergency supplies in sturdy, easy to carry containers. The basic supplies are water and food. Store water in plastic containers, such as soft drink bottles or plastic milk jugs. The normal amount is at least two gallons of water per person per day. In fact, you should store one gallon for drinking, and another gallon for food preparation, and sanctification. A normally active person needs to drink at least 2 gallons, or 2000 liters of water each day, but different circumstances can double the amount. Keep at least a three-day supply of water for each person in your family and do not forget about your pets. Like water, store at least a three-day supply of non-perishable food. Select foods that require no refrigeration, little or no water, and easy preparation. The best option is ready-to-eat canned meats, fruits, vegetables that are lightweight. It is important to store high energy and comfort foods either. Keep shelf-stable food for your pet, too.
Store your kit in a convenient place of your emergency bunker, which is known to any family member. Keep a smaller version of it in your car or truck too.
6 additional must have items for your emergency bunker to consider, and you can easily find on our site
RoverTac Multi-tool Hatcher contains 14 different tools, including a hammer, an ax, pliers, a knife blade, a saw, assorted hex wrenches, a Phillips screwdriver, a bottle opener, and more. All have a safety lock and are children safe. This multi-tool is made of stainless steel with a durable black oxidation for the handle and the principal part of fourteen tools. They design it to tackle almost all jobs in every situation.
Sale
RoverTac Multitool Camping Accessories Survival Gear Ourdoor Multi Tool Gifts for Men Women 14 in 1 Hatchet with Knife Axe Hammer Saw Screwdrivers Pliers Bottle Opener Durable Sheath
100% Satisfaction Guarantee: WE STAND BEHIND OUR PRODUCTS AND WARRANTY. Your satisfaction is our top priority. We offer lifetime warranty and no reason return policy to guarantee you the BEST purchase experience.
Compact Toolkit: Contains 14 different tools including Hammer, Axe, Pliers, Knife Blade, Saw, Assorted Hex Wrenches, Phillips screwdriver, Bottle Opener, File, Fish Descaler and more with a Safety Lock.
Heavy Duty: Full stainless steel with durable black oxidation for the main part, special red color oxidation for the handle. Strong enough to cut, pry, twist the screw, open fire hydrant, saw wood etc.
Easy to Carry: This camping accessories multi tool applies a 2020 UPGRADED SOLID NYLON POUCH THAT FULLY COVERS THE BLADE, holding the item tight in position, guarantee a safe & lightweight carrying and convenient to takeout for use.
A Fantastic Gift for Adventure Seekers: If you are looking for a special gift for your loved ones who like exploring, camping, hunting, hiking, fishing or backpacking, then our Multitool Hatchet is a perfect choice!
Ancher rechargeable bolder LC90 is an extra-hard anodized aluminum torch. It is resistible to scratching, chipping, and it enhances grip. The high-performance 3350 mAh batteries give you the highest capacity, efficiency, reliability, and safety. The extra-long handle provides tactical support. This torch works in freezing temperatures, down to 14F (-10C) degrees, and in pouring rain. Multiple light modes come in five different settings. They are a single button, easy to turn on. This torch offers you 50000 hours of intense brightness, and auto-protects itself from overheating.
Sale
Anker Super Bright Tactical Flashlight, Rechargeable (18650 Battery Included), Zoomable, IP65 Water-Resistant, 900 Lumens CREE LED, 5 Light Modes for Camping and Hiking, Bolder LC90
SUPER-BRIGHT: 900-lumen (max) Cree LED sweeps bright light over the length of about two football fields (660 ft / 200 m) and reaches nearly 1000 ft. Fully zoomable from wide to narrow beam. Features 5 adaptable settings: High / Medium / Low / Strobe / SOS.
LONG-LASTING: Up to 6 hours (Medium-beam mode) of powerful, non-diminishing brightness from the included premium rechargeable 3350mAh battery. LEDs boast an extended 50000-hour lifespan. Recharge in just 6 hours with a 1A adapter (not included) and the included Micro USB cable.
TOUGH & RELIABLE: IPX5-rated water resistant and designed for use in heavy rain. Its durable aluminum body and shock-resistance endure rough handling.
SMART DESIGN: A pocket-friendly compact chassis with an anti-slip finish holds fast in your hand or stands on-end as an emergency lamp.
WHAT YOU GET: Anker Bolder LC90 Flashlight, 18650 3350mAh rechargeable battery, Micro USB cable, wrist strap, welcome guide, and our worry-free 18-month warranty and friendly customer service.
Emergency NOAA weather crank solar powered portable radio is a must in every emergency. It is always ready thanks to its four charging methods. We can charge it by solar energy, hand crank method, micro USB cable, or three AA batteries. You can be sure that it maintains power anytime. With seven NOAA Weather Radio channels, it will broadcast the latest weather, or emergency alter in your region for up to 10 hours of playtime on a full charge. Handy and equipped for severe conditions, it serves also as a USB charger for your smart devices. It provides 4000 mAh power for charging your phone and a white light.
Sale
Emergency NOAA Weather Crank Solar Powered Portable Radio with 4000mAh Battery Power for Cell Phone, Bright Flashlight for Household Emergency and Outdoor Survival (097-Orange)
【No Electricity? No Worries】 Thanks to its 4 charging methods, the emergency radio is always ready to go! it can be charged by solar, hand crank,Micro USB cable or 3 * AAA batteries (not included), which makes sure that you can maintain power anytime and anywhere, even if you have a power outage.
【A Must Have Emegrency Radio】 With this AM/FM & NOAA weather radio around, it will broadcast the latest emergency weather alerts in your area such as hurricanes, tornadoes and severe storms, emergency radio keep your household prepared for the unexpected weather emergency, up to 10 hours of playtime on a full charge.
【Don't let the dark get you down】 Our high quality crank weather radio is ideal for disaster preparedness and severe weather conditions. This handy tool emergency radio comes equip with white lights give out bright light when power outages hit hard and a built in 4000 mAh lithium battery so you will never be left in the dark, easily to catch people's attention with SOS Alarm.
【A dead phone can be life threatening】Don't let your phone die when you need it most, such as power outage. Our weather radio with 4000 mAh can be powered your phone more. Simply plug your phone or other USB devices into the USB port of this emergency radio for some extra juice.
【Latest Design In 2019】Big LCD display reminds you the low battery, upgrade 4000mAh rechargeable battery, comes with AUX music player, is ideal for outdoor activities, such as camping, hiking, kayaking, etc. We provide a 100% refund guarantee and friendly customer service. If you are not satisfied with the emergency weather radio or have any question about the product, you can contact us for a refund or a new one anytime.
UCO Stormproof MNatch kit includes 25 waterproof matches, 3 strikes, and a storm-proof container. Its storm-proof case can store 40 matches of different sizes. UCO matches are easy to light, water and windproof, durable. They will burn up to 15 seconds each and will relight after being submerged in water. Their plastic case floats on water, dirt, and puddle. They can be dropped in dirt or puddle too.
UCO Stormproof Match Kit with Waterproof Case, 25 Stormproof Matches and 3 Strikers - Orange
Includes 25 windproof and waterproof matches, 3 strikers and match case that can hold up to 40 matches
Matches are easy to light, will burn up to 15 seconds each and will relight after being submerged in water
Waterproof, durable ABS plastic case floats and keeps contents dry and protected; external, integrated, and replaceable striker for easy lighting
Extended length of match allows for added safety to keep from burning fingertips
Length of matches: 2.75 inches (7 cm); Kit weight: 1.7 oz. (48 g)
Sutmerry three seasons sleeping bag
With their waterproof, weatherproof, sun, and wind resistible design this 3 seasons sleeping bags are a must for your emergency bunker. They will keep your family warm, or cool in extreme conditions too. Their lightweight design makes them easy to carry, store, and clean in temperatures from 41 F, or 5 C degrees, up to 25 C, or 77 F degrees.
Sleeping Bag 3 Season Warm & Cool Weather - Summer, Spring, Fall, Lightweight,Waterproof Indoor & Outdoor Use for Kids, Teens & Adults for Hiking,Backpacking and Camping (Navy Blue, Single)
DESIGNED FOR COOL/COLD WEATHER - Our sleeping bags have a waterproof, weather-resistant design to keep you warm even in extreme conditions - this is achieved through double-filled technology.
USED FOR 3 SEASONS - Rated temperature 41-77℉/5-25℃. Comfort temperature is 50-68℉/10-20℃. Lightweight & compact design which is convenient to carry along for any outdoor adventures, and its ability to withstand extreme weather conditions – certainly the best sleeping bag for adventures
EASY TO CARRY AND CLEAN – The Gold Armour sleeping bags are also extremely easy to clean as they are safer for machine wash too. Moreover, each sleeping bag comes with a travel-friendly carry bag, a compression sack with straps, which makes it quite convenient to store and carry the sleeping bag along. The bags are not only ideal for cold conditions but even for warmer weather.
DESIGN: Separated zipper at the bottom can also make your feet often come out through the wind.
Material - Outer Cover Material:210T Nylon,Waterproof and Breathable Fabrics;Lining Material: 190T Polyester Pongee; Fill-Material: 100% hollow fiber.
Little straw personal water filter is a must tool in an emergency condition. It filters up to 1,000 gallons (4,000 liters) of contaminated water without iodine, chlorine, or other chemicals. Without batteries, it removes 99,99 % of waterborne bacteria, parasites, micro-plastic, and other microorganisms. Their hollow fiber membrane technology keeps you safe and never expires.
Sale
LifeStraw Personal Water Filter for Hiking, Camping, Travel, and Emergency Preparedness, 1 Pack, Blue
Removes bacteria & parasites: The microfiltration membrane removes 99.999999% of waterborne bacteria (including E. coli and salmonella), and 99.999% of waterborne parasites (including giardia and cryptosporidium)
Removes microplastics: Removes the smallest microplastics found in the environment (down to 1 micron), and reduces turbidity down to 0.2 microns
Rigorous Testing: All claims are verified with laboratories using standard testing protocols set by the US EPA, NSF, ASTM for water purifiers
Long Lifetime: The microbiological filter will provide 4,000 liters (1,000 gallons) of clean and safe drinking water with proper use and maintenance
Make an Impact: For every LifeStraw product purchased, a school child in need receives safe drinking water for an entire school year.BPA Free materials
Conclusion
In conclusion, do not forget the most important item in your shelter. You can find a first medical aid kit that suits your family the most in a near pharmacy. Act wise, be safe.