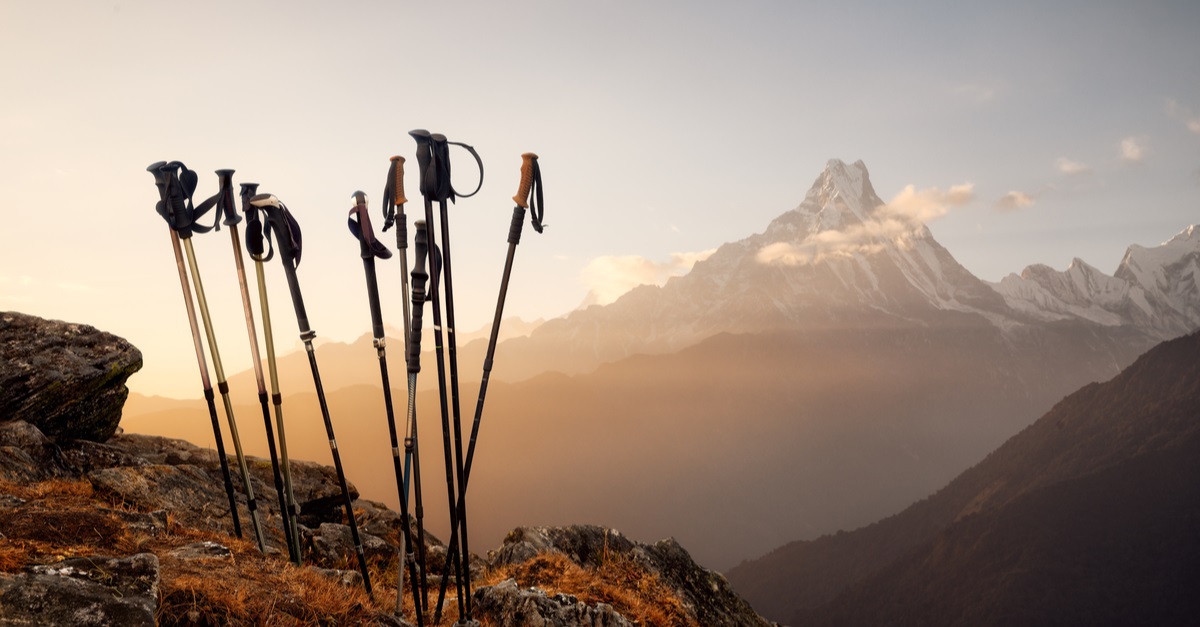 Top 5 Hiking Pole Accessories You Should Consider Upgrading
Picking the best hiking pole accessories can be difficult. If you're reading this article, chances are you've already figured out which hiking poles are the best for you.
Whether you want to use hiking poles because they'll help you hike efficiently to feel less fatigued or because you have knee problems or sore joints, we're sure that you'll find this discussion on the top 5 hiking pole accessories valuable.
When you go shopping for hiking poles, they might come with hiking pole accessories – much like the ones we discuss below. But what hiking pole accessories should you continue to upgrade?
This article will talk about what hiking pole accessories you should consider upgrading to make your hiking trip easier. These accessories include rubber tips, baskets, mud baskets, snow baskets, and Nordic tips.
Do You Need Hiking Poles?
The most significant reason people use hiking poles is that they reduce the impact and stress on your joints as you hike. Some studies show that using hiking poles regularly on your hikes can lessen the force of impact by around 30 percent on even terrain and up to 40 percent on steep inclines.
This is huge if you hike regularly because you won't have to stop hiking as much for pain. Plus, using hiking poles will increase your overall average speed because you'll be using your arms to propel you forward as you walk.
You can think of using hiking poles much like walking on an elliptical – your arms do some of the work to make your walking stride easier to maintain and will give you a full-body workout.
Rubber Tips
Rubber tips will fit over the end of the metal tips of your hiking pole and help with two things: 1) prevent wear and tear of the metal tip when they come in contact with hard surfaces such as concrete and rocks and 2) give you extra traction on concrete and rocks when the metal tip would typically slide.
This is one of the most important hiking pole accessories to upgrade because they're wear items. This means that they're going to wear down, like tires and shoes, over time.
Most hikers find that rubber tips are the most commonly used hiking pole accessory because they are essential on hard surfaces and extremely beneficial on rocky terrain. We recommend that you always have an extra set on hand if you lose one while on your hiking trip.
Pole Baskets
What are pole baskets? Pole baskets were developed originally for ski poles. They're used to create a much larger surface area to spread your weight over – the small tip of the hiking pole means that all of your weight is concentrated in a small area.
A basket, much like snowshoes, spreads your weight over a much larger area to prevent the hiking pole from sinking into the ground.
So, you can think of a pole basket as a small snowshoe for your hiking stick. These are nice hiking pole accessories to have because they prevent your hiking pole from becoming a hindrance instead of a help.
Mud Baskets
Now that you understand the concept of what hiking pole baskets are, we can take a look at a couple of different versions of hiking baskets. A mud basket can typically support more weight before it gives than a snow basket, and they are generally stickier than snow baskets.
A mud basket is smaller than snow baskets and will be attached to your hiking pole a few inches from the tip. What this does is allow the tip of your hiking pole to sink into the mud to give you extra traction while preventing the tip of your hiking pole from sinking even further into the mud.
What's nice about mud baskets is that they're designed to prevent the mud from sticking to them, which would increase the overall weight of your hiking poles.
Snow Baskets
A snow basket hiking pole accessory are developments taken from skiing. You could use your hiking poles in a pinch for skiing if you needed to!
Hiking poles with snow baskets are necessary when hiking in snowing conditions because they make it easier for you to balance, thus making walking more efficient. A snow basket hiking pole accessory is larger than a mud basket, making them better for softer surfaces.
The baskets are also more open, making it, so snow doesn't stick to them. They often look like snowflakes!
Nordic Tips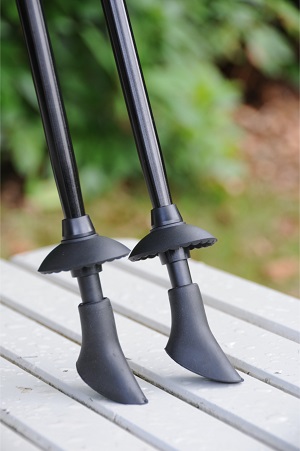 Nordic tips are used when you do Nordic walking. What is Nordic walking? It's an exercise that utilizes hiking sticks in a specific way that benefits from having a treaded, rounded tip because of how you push off the pole. Not every hiking pole is fit for Nordic walking, and because of this, very few come with these hiking pole accessories.
Final Thoughts
Hiking poles can improve your balance and significantly cut down on the wear and tear in your legs, especially when walking downhill. Hiking poles can also make walking an even healthier exercise because they get your upper body involved and help cut down on injuries.
You should consider using and upgrading five hiking pole accessories with your hiking poles. These hiking pole accessories include rubber tips, pole baskets, mud baskets, snow baskets, and Nordic tips.
Each of these accessories has its purpose and is used to make your hiking trip easier on your body in certain situations. For example, snow baskets make walking safer in snowy conditions and mud baskets keep you safe on muddy paths. ,
Consider upgrading the hiking pole accessories listed above – your body and hiking poles will thank you.