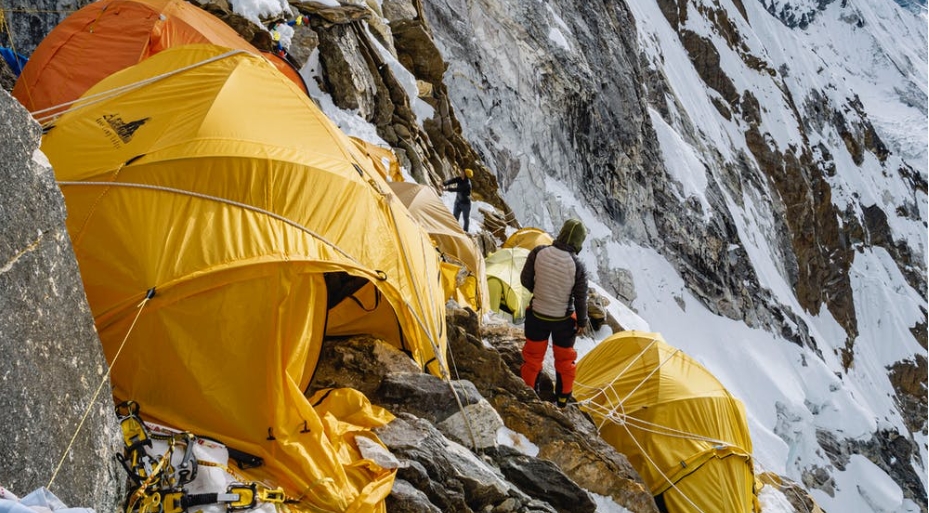 Winter Camping Gear – The Ultimate Checklist for Winter Camping
Whether you're camping for one night or have a week-long expedition planned when the harsh winters roll around, it pays to have the ideal equipment. That will ensure your comfort and safety while reveling in a memorable experience.
After all, although snow-capped landscapes can be magical, things can quickly take a turn for the worse with inadequate preparation. Whether you're a seasoned camper or looking to tick off an adventure that's been on your bucket list for the longest time, this guide will walk you through a thorough winter camping gear checklist.
Besides granting you much-needed peace of mind, the checklist will ensure all goes smoothly during your trip.
At the top of the winter camping gear checklist, a four-season tent protects you from the elements and serves as your shelter. Besides freezing temperatures, it's no secret that winter storms cause heavy precipitation coupled with strong winds. Your tent has the uncanny ability to withstand all of it.
The GEERTOP portable two-person tent is a worthwhile investment. The exterior of the tent is constructed from PU 8,000mm water-resistant coated nylon whereas the inside is made from PU 5,000mm water-resistant polyester (including the tent floor).
Therefore, it can resist snow and wind in high-altitude camping areas. The sturdy aluminum poles ensure stability in heavy rain, strong winds, and the heaviest snow. When it comes to usability, setting up the tent is a walk in the park as it only requires one person and a few minutes, allowing more time for the camping trip.
Geertop Portable Ultralight 2 Person 4 Season Tent Waterproof Backpacking Tent Double Layer All Weather for Camping Hiking Travel Climbing Mountaineering - Easy Set Up
【Waterproof Camping Tent】Geertop 2 person 4 season tent made of 20D PU8000 mm waterproof coated nylon for Outer tent & 210T PU 5000 mm waterproof coating polyester for tent floor, be able to resist strong wind or snow in high altitude camping situations
【4 Season Tent】This 4 season tent built in snow skirt around + breathable nylon mesh which makes it great for cold, snowy or warm weather; Double stitched, tape sealed seams ensure a waterproof seal in cold weather ; With strong and stable Aluminum poles
【 Easy to Set Up 】DOUBLE LAYERS tent - Inner tent + Outer Tent Fly, please note that the inner tent color is yellow,please set up the outer tent first, one person can easily set up the tent & flysheet in a few minutes, to save more time for the camping trip
【2 Person Tent 4 Season】Height - 39.4 in; Floor - (83+39) x 47 in; Enough room for 2 adults. and will keep you warm and dry even in the strongest wind, heavy rain, or the coldest snow , perfect for camping climbing hiking in winter spring summer autumn
【Lightweight Backpacking Tent】Only weight 6.17 lbs, Packed size only 6.3 x 6.3 x 18 in,Small compact and lightweight enough to be carried in your backpack, Reduce travel burden effectively, enjoy your camping mountaineering hiking backpacking trip well
Let's face it. There's no greater feeling than crawling into a cozy and toasty sleeping bag after a tiresome day of slogging through the snow. When selecting a winter sleeping bag, it's worth noting that the conditions you'll be sleeping in coupled with the temperatures can differ significantly. Although the lowest sleeping temperature rating for a mild winter escapade would be 20℉, a multitude of winter sleeping bags is rated at least 0℉.
A great example is the Rioyalo. Crafted from 100% 450GSM polyester fiber aligned with an excellent shell, the sleeping bag guarantees additional warmth during winter camping and other exhilarating outdoor activities.
Given that it only weighs 5 pounds, the lightweight nature of Rioyalo ensures it doesn't add excessive weight to shoulders that are already sore. The easily foldable design coupled with compression sack and straps makes it a breeze to reuse, store, and carry.
0 Degree Winter Sleeping Bags for adults camping (350GSM) -Temp Range (5F – 32F) Portable Waterproof Compression Sack- Camping Sleeping Bags for Big and Tall in Env Hoodie: Hiking backpacking 4 Season
% Lightweight and Highly Portable: Top Line 100 percent polyester fiber 450GSM aligned with top-notch shell provide extra warm comfort during outdoor activities without adding extra weight to already sore shoulders (only 5 lbs). Easy Fold-able design along with a compression sack with straps makes it extremely convenient to carry, store and reuse. A perfect travel mate for camping, hiking, backpacking, as well as other outdoor activities
% Ultra Comfortable and Design for COLD/WARM Weather (temperature range from 5F - 32F degree): Rioyalo sleeping bags are designed to ensure you get a good and relaxing night's sleep after a tiring day of trekking, hiking, travel or any other exploration. It is not only good for warm weather, but also good for extremely cold weather. Thoughtful design of Wind Buffer prevents heat losing, while the detailed anti-pinch Grosgrain Ribbon prevents zipper from snags
% Skin Friendly and Super Comfy: The first-rate 190T Pongee lining is skin-friendly. What a soft silky and awesome cozy feeling you will have when completely immersing yourself into this warm, comfy peapod.
% High Quality and super Durable and Waterproof: Top quality 210T Nylon ripstop on the shell, 190T Pongee Lining in 100% Polyester, as well as premium 450GSM 100 percent polyester fiber filling. The ingenious workmanship precisely emerged all of these seamlessly to boost the durability to a higher level without compromising heat lost. The waterproof design keep you warm in even extreme weather and prevent you from dampness
% 100% Satisfaction: Your satisfaction is our ultimate goal. With 30 days' hassle-free return policy, we want to ensure our determination and attitude of happiness toward you.
Your sleeping pad is the buffer between you and the snow-capped ground. Therefore, it's nearly as essential as your sleeping bag. For that reason, you should invest in a pad with a high R-value of at least 4 that delivers enhanced insulation from the ground. With an R-value of 4.5, the Hybern8 delivers four-season comfort and warmth, allowing you to get the much-needed shuteye.
Whether you're breaking down or setting up camp, the last thing you need is a sleeping pad that's a hassle to pack up or blow up. Hybern8 has a rapid one-way valve that makes stow and setup a walk in the park (up to 10 breaths). Weighing about 25 ounces and compressible to a one-liter bottle, the sleeping pad is the bee's knees when it comes to getting a good night's rest.
ECOTEK Outdoors Insulated Hybern8 4 Season Ultralight Inflatable Sleeping Pad with Contoured FlexCell Design - Easy, Comfortable, Light, Durable, Hammock Approved - Sub Zero Temp Rating [Fire Orange]
EASY TO USE RAPID INFLATION & DEFLATION - Whether you're setting up camp or breaking it down, the last thing you want is a sleeping pad that takes forever to blow up or pack up. Our innovative rapid one-way valve design makes both setup and stow a BREEZE (less than 10 breaths) unlike any air mattress or sleeping pad you've ever tried. We're confident that the Hybern8 in your backpack will be one of the easiest to use camping accessories you'll ever own.
4 SEASON COMFORT IN ANY SLEEPING POSITION - Every body is designed as uniquely as the landscapes we love to explore, and the conforming sleeping pad we've developed is uniquely designed to support you however you like to catch your Z's.. whether it's sleeping on your side, back, stomach, or curled up like a lamb's back while you count sheep. With 2.5 inches of loft and an R Value of 4.5, the Hybern8 provides 4 season warmth and comfort you can count on to help get you the shuteye you deserve.
HAMMOCK APPROVED VERSATILE DESIGN - Getting a good night's rest away from your own bed shouldn't limit where you lay your head at night when you travel. Our patent-pending FlexCell honeycomb design not only contours to any sleeping position, but wherever you prefer to call it a night - whether that's in your tent in a sleeping bag, or hammock camping under the stars. Unlike the countless 'rigid' sleeping pads on the market, ours is flexible, comfortable, and supportive without compromise.
LIGHTWEIGHT, COMPACT, AND ULTRA DURABLE - Weighing in at 24.5 ounces and packable to roughly the size of a 1 liter water bottle, the Hybern8 sleeping pad is the bee's knees when it comes to getting a great night's sleep without having to strap extra gear to your pack and haul it for miles. Just as important, the custom blend of 70 denier woven polyester is built to last with a softness you won't find in a nylon pad. Wear resistant, weatherproof, and built-to-last with zero compromise on quality.
It's a no-brainer that meals are essential not only as fuel on the high-output days but also when the harsh winters roll around as your body works harder to keep you warm. For winter camping, a stove can be a lifesaver in enhanced warmth and comfort, particularly if you opt for one that's reliable enough to withstand the harsh elements and boil water in a jiffy. An all-in-one canister stove, for instance, the MSR Wind Burner System is a worthwhile investment.
As a cookware solution, this stove features a secure east-and-drink mug or locking pot. The heat exchanger and radiant burner provide quick boil times and optimum fuel efficiency compared to the traditional counterparts that rely on convective heat.
For windproof performance, the MSR Wind Burner System has an internal pressure regulator and enclosed design that function concurrently to make the unit impervious to external conditions. It also solely relies on air combustion.
MSR WindBurner Personal Windproof Camping and Backpacking Stove System
Integrated System: Compact, all-in-one stove and cookware solution features a secure-locking pot/personal eat-and-drink mug with cozy.
Maximum Efficiency: Radiant burner and heat exchanger deliver faster boil times and more fuel efficiency than conventional stoves that use convective heat only.
Windproof Performance: 100% primary air combustion, enclosed design & internal pressure regulator work together to make stove virtually impervious to outside conditions.
Compact Design: Conveniently packs the stove burner, 4 oz. (110g) IsoPro fuel canister (sold separately), folding canister stand, and PackTowl inside the 1.0L Pot. Extra full-sized bowl snaps onto the outside.
Modular Versatility: Customizable system works with optional cookware accessories, including the WindBurner 1.0L accessory pot, hanging kit and coffee press.
With the better quality of dehydrated meals, a multitude of campers rely on an all-in-one stove to boil water and eat their food right from their backpack. In such instances, a pot isn't required. With a mug or cup for hot beverages coupled with a Spork, you're good to go.
If you opt for a liquid-fuel stove, you'll require purchasing a pot separately and we recommend choosing a lightweight option made of aluminum or titanium. Although cookware varies from budget to ultralight, there's a wealth of middle-of-the-road alternatives from reputable manufacturers such as Snow Peak, GSI Outdoors, and MSR.
It's no secret that when the harsh winters roll around, the days are short. Resultantly, campers find themselves snowshoeing or skiing back into camp as the sun sets or at times in full darkness. Therefore, a headlamp such as Dan Force is your holy grail.
Manufactured in the US, this lamp is of unmatched quality with IPX-45 resistance to damage, water, dust, and corrosion. With a high 1080 lumens, this headlamp has different light modes such as medium, high, and low.
Designed with tactical use in mind, Dan Force is adjustable at a 90-degree angle and includes a carabiner, user manual, 18,650 USB rechargeable batteries, a carry bag, and a USB cable. It allows you to effortlessly change the focus lights for searching the outdoors when camping. The zoom feature provides optimum lighting precision for work. The headlamp operates impressively as a hard hat light and includes red lights that are perfect for hunting and fishing.
Besides being durable, Dan Force was designed with optimum comfort in mind. You can revel in temperature control courtesy of the headband that has unrivaled resistance to any type of moisture including sweat. Its adjustable sizing makes it a custom-built light that's a snug fit for your head.
Dan Force headlamps are designed to withstand anything Mother Nature throws from bone-chilling cold to sweltering heat. Additionally, for excellent dependability, the air-right rubber sealing safeguards the lamp against water, ice, snow, and dust.
Sale
DanForce Headlamp. USB Rechargeable LED Head Lamp. Ultra Bright CREE 1080 Lumen Headlamp Flashlight + Red Light. HeadLamps for Adults, Camping, Outdoors & Hard Hat Light. Zoomable IPX54 Headlight
Designed in the US, DanForce headlamp is a HIGH QUALITY LED HEADLAMP. IPX45 water, dust and damage resistance. Bright headlamp, high 1080 lumens produces 4 light modes: high, low, medium, strobe. Red light head lamp & adjustable 90-degree head flashlight makes it ideal for any tactical use.
MULTI-FUNCTIONAL GEAR - Easily change focus lights for searching the outdoors when camping. Zoomable focus providing maximum lightning precision for work. Functions perfectly as a hard hat light. Tactical headlamp with red lights for fishing, hunting and any other heavy duty.
CUSTOM MADE COMFORT – This head lamp isn't just tough, it's also designed for maximum comfort. Enjoy temperature control, thanks to the sweat-resistant headband. Its adjustable sizing makes it a custom made head light for your head.
ALL-WEATHER READY – DanForce head lamps are built to withstand all work and weather conditions, from extreme heat to bone-chilling cold. Plus, the air-tight rubber sealing protects the LED headlamp rechargeable battery from dust, ice, and water, for ultimate dependability.
OWN THE BEST– Gain the confidence to joining the DanForce family! Get the best Headlight Flashlight, 2 18650 USB Rechargeable Batteries, USB Cable, Carry Bag, Carabiner & User Guide.
It ushers unmatched versatility. You can throw it on whenever the snow becomes rain and sleet or the wind begins seeping into your clothing and you require an extra layer of warmth and protection. Furthermore, it's essential to add a waterproof layer during winter camping to avoid frostbite or hypothermia.
The Suokeni waterproof ski jacket is perfect to bring along on your trip alongside other winter camping gear. It's constructed from breathable and waterproof fabric to curb rainwater from seeping into the jacket while getting rid of sweat.
The ski coat shell comes with an easily detachable and adjustable hood coupled with significantly dense textiles to prevent bone-chilling wind from penetrating. Warm and lightweight cotton locks on the jacket effectively trap body heat and build an excellent windbreak system.
Constructed from polymer blending material, the shell diminishes the likelihood of sustaining injuries on your winter camping trip by protecting you from being scratched by branches and rocks. Suokeni has two zippered pockets, a zippered liner pocket, and a water-resistant pressing glue pocket.
Sale
Men's Waterproof Ski Jacket Warm Winter Snow Coat Hooded Raincoat
Waterproof:Mens winter coat made of waterproof breathable fabric, and all the zippers are in waterproof design, waterproof fabric can prevent rainwater permeating into the ski jacket and meanwhile eliminate sweat in time.
Warm:The windbreaker jacket shell with the adjustable and detachable hood, has a high density of textiles, which can prevent the cold wind entering inside.Lightweight warm cotton filled locks the body heat effectively and builds a perfect windbreak system.
Anti-scratch&Wear Resistant:The Ski coats shell is made of the polymer blending material. The strong textile fiber fabric shell, which can reduce the risk of accidental injury, avoids being scratched by rocks and branches and at the same time protects your body.
Multi Pockets:2 zippered side pockets, 1 waterproof pressing glue breast pocket and 1 zippered inner pocket.
Size Note:The winter jacket offers a standard fit.True to size. Please order usual size.
It's a no-brainer that an excellent pair of winter pants will be thicker, more resistant to the elements, and warmer compared to generic hiking pants. For winter camping, we recommend mountaineering or ski pants such as Tofern.
Crafted from 400T 20D nylon that's not only soft but also skin-friendly, the compact and lightweight nature (500g) of these pants makes them easy to bring alongside the rest of your camping gear. Their compact structure makes them resistant to moisture, snow, ice, and water, keeping you clean, warm, and cozy on your trip.
Tofern ski pants are puffed with white goose feathers that have a fluffiness rating of 700, making them perfect in locking the warm layers. You can revel in the warmth and the exhilaration that winter camping ushers in, even in extreme temperatures of -20°F.
Donning the pants and taking them off is a walk in the park courtesy of the unique-sided zipper on each leg. Resultantly, you can avoid unnecessary energy loss during your trip and channel it towards your activities.
The adjustable elastic closure that sits at the bottom of the pants is a beast at trapping the heat and keeping your legs warm throughout. The waterproof oxford materials at the hem pave the way for you to stride without the concerns of wetting your pants. For portability, the natural and white goose-down filler is easy to compress and pack. That cuts down on the storage space in your backpack.
Tofern Winter Puffy Down Pants Warm Lightweight Compression Ski Pants Windproof Water-Resistant Outdoor Camping Pants Men Women Snow Trousers, Black, XL
Material and Liner: Made from 20D 400T nylon. Skin-friendly and soft. Compact structure makes it water repellent and down penetration resistance, and keep you stay dry and clean in the damp environment like rainy, snowy and foggy.
Premium Filler: Selected quality white goose down, lightweight without long feather and inclusion. 95% white goose down rate with 700 fluffiness to lock the warm layer upon layer. You can enjoy the warmth and explore the fun of winter sports even in the minus 20 degrees.
Unique Sided Zipper: Easy to put on and off without taking off your shoes to avoid unnecessary energy loss during winter sports. You can take off the pants conveniently when you feel a little bit hot in exercising to continue your activities.
Humanized Detail Design: For your winter outdoor sports like skiing, skating, camping and mountain-climbing, we thicken the buttock and knee of the down pants. Adjustable elastic closure at the bottom of trousers can lock the heat and keep your legs warm at any times. Water resistant oxford materials at the hem let you stride without worrying about wetting your pants.
Lightweight Package: Natural white goose down filler is easy to be compressed to save your storage space. Packed size diameter 4.7"x12". Weight: 500g.
To Wrap Up
Although winter camping can be enticing, it calls for particular essentials to make it a success. Otherwise, the lack of preparation means that what should be a snowy trip will quickly become unsafe and uncomfortable, and that's the last thing you need. Fortunately, with the camping gear checklist discussed in this article, you can have a memorable trip.