Last Updated on October 11, 2022 by admin_hunter
Finding an emergency bag shouldn't be difficult since there are tons of them on the market. However, not all sleeping bags will work for every situation. For example, you don't want to use a regular sleeping bag when faced with a survival situation where you may be vulnerable to hypothermia or a lot of moisture in a colder environment.
This guide will show you the best options for survival situations. But first, let's set the ball rolling with factors to consider when choosing the best emergency sleeping bag.
How to Choose an Emergency Sleeping Bag – Buyer's Guide
Purpose
There are different emergencies where a sleeping bag will be necessary. The type of bag you choose will depend on the situation you are preparing for.
Are you in the market for something that will come in handy if your car breaks down in the middle of nowhere? Or are you prepping for a situation where you may have to bug out unexpectedly? Perhaps you want a sleeping bag for your at-home emergency kit when the power goes out, and you need to stay warm.
It will be easier to narrow your choices when you figure out the purpose of getting a sleeping bag.
Temperature Rating
Think about the average temperature of where you live before choosing an emergency bag.
Sleeping bags with temperature ratings of -40oF to +4oF are ideal for extremely cold conditions, such as ice or snow. Also, this type of bag will do for mountaineering expeditions.
The recommended temperature rating for warm weather or summertime is anything from +30oF and above. Consider ratings between +5oF to +29oF for a varied climate.
Size
Sleeping bags that are too big or small for you won't do much good, no matter the quality. Sleeping bags that fit your body traps heat better, and one with plenty of space causes heat to escape.
Choose an emergency sleeping bag that is snug yet with enough room to allow air pockets for proper insulation. Double-check the measurements on the sleeping bag to make sure it's the right height and size before making a purchase.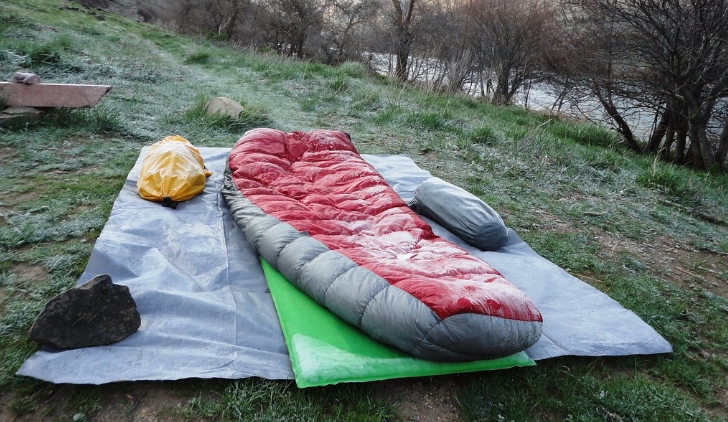 Shape
Sleeping bags come in rectangular, double bag, and mummy shapes. These all have situations where they shine, but a mummy shape is an ideal choice for survival. It will trap body heat better than a rectangle or double bag shape.
Filling
Another crucial consideration is the type of fill. A bag's fill traps body heat and insulates you from the cold environment. Your choices include down (natural) and synthetic fills.
Good quality down offers the most insulation and is the preferred choice if you plan to spend the night out in very cold weather. It is durable, has remarkable compressibility, and has the best warmth-to-weight ratio.
However, down fill needs to be fluffed and is a poor choice for damp conditions. Also, it can be quite expensive and not exactly easy to care for. It can lose most of its insulation if it gets wet.
On the other hand, synthetic fill is easier to clean, more affordable, offers insulation even when wet, and is less expensive. Consider an emergency sleeping bag with synthetic fill for your car emergency kit or bug-out bag kit.
The downsides to this survival sleeping bag option are poor warmth-to-weight ratio, shorter lifespan, and heavier weight.
Now let's take a closer look at some of the best emergency sleeping bags for survival. These sleeping bags will make a great addition to your survival gear kit.
Top 10 Emergency Sleeping Bags
1. Klymit KSB 0°F Large Dual Fill Sleeping Bag
650 fill-power white duck down that delivers exceptional warmth for its weight; WEIGHS ONLY 3.7 LBS!
SLEEP COMFORTABLY ALL NIGHT LONG: A draft collar, over-stuffed foot box, insulated mummy hood and flexible baffles at the body's core all work together to minimize heat loss for greater thermal efficiency
EXPANDED CHEST AREA and FLEXIBLE BAFFLES provide room to move; STASH POCKET keeps small items right at hand; Pair it with one of our INERTIA or STATIC pads for a lightweight, packable backcountry sleep system
HIGHLY DURABLE fabrics are tough, light and comfortable; INCLUDES: Compression Stuff Sack
Product Overview
Fill Material: Down
Closure Type: Anti-snag 2-way zipper with drawcord
Size/Dimension: Large (82 x 30 x 3 inches)
Weight: 3.9 lbs
Best for: Extreme cold weather
Klymit's sleeping bag will get you through single-digit temperature nights with its innovative dual fill design and double layer batting underneath.
This emergency sleeping bag has some useful features, including flexible stretch baffles that ensure the down fill is near your body as you toss and turn while you sleep. It also comes with adjustable length locks that allow you to adjust the bag to suit your height.
2. Kelty Cosmic Sleeping Bag
20 Degree Temp Rating, Women's Size: Fits sleepers up to 5ft 8in, fill weight 46oz, total weight 3lbs 12oz, stuff size (non-compressed) 16×9 inches. Color: Deep Teal/Smoke
Packability: Integrated compression stuff sack, coupled with the premium packability of the synthetic fill allow the Cosmic synthetic to reach minimalist standards of backpacking gear. Trail weight varies by temp rating, from 2lbs 6oz to 4lbs 11oz.
Insulation: Cirroloft synthetic insulation provides reliable warmth in cold and damp conditions, maintains loft for even coverage with no cold spots. Temperature ratings from 0 degrees to 40 degrees, to ensure your time on the trail is comfortable.
Tailored Fit: Natural fit spacious footbox gives more room to wiggle your toes, and length options range to fit sleepers 5'8" to 6'6". A handy stash pocket on the exterior of the bag for your overnight goodies and essentials in the tent.
Kelty Craftsmanship: Kelty is synonymous with quality in the outdoor community. Kelty gear is built for play, and built to last. The Cosmic Synthetic bag is ready to be put through the ringer on the trail, campground, and everywhere in between.
Product Overview
Fill Material: Synthetic
Closure Type: Zipper
Size/Dimension: Women's (7.6 x 15.8 x 11.6 inches)
Weight: 3.85 lbs
Best for: Moderate to cold weather
Although this Kelty's sleeping bag is designed for women, it can fit 5ft 8in tall sleepers, regardless of gender.
The synthetic cirroloft insulation provides consistent warmth both in cold and damp conditions. In addition, it features a spacious footbox and a stash pocket on the exterior that lets you store items, such as your flashlight.
You will want to choose this option if you are looking for something very affordable without compromising quality and comfort.
3. Western Mountaineering Ultralite Sleeping Bag
20° F temperature rating and 5IN loft
Made with very breathable and weather resistant 20 denier shell fabric and filled with 16 ounces of 850 plus fill power goose down
Full-length #5 YKK zipper with an insulated draft tube and a full down collar to keep the warmth in
5 1/4IN spacing/continuous baffles which encircle the bag from zipper to zipper and allow you to shift the down insulation to fit your ideal temperature
1 lbs. 13 oz. total weight and 59IN/38IN shoulder/foot Girth
Product Overview
Fill Material: Down
Closure Type: Zipper
Size/Dimension: 6ft 6in (17 x 11 x 12 inches)
Weight: 1 lb 13 oz
Best for: BOB
This is arguably the best emergency sleeping bag when it comes to Bug Out Bags. At only 1 pound and 13 ounces, the bag is incredibly light, making it an excellent choice to haul even when you have to trek for long miles.
This option has a lower temperature limit of 20oF, meaning the weight-to-warm ratio is great, thanks to its high-quality down. It doesn't come cheap, though, but it is worth the price.
4. Therm-a-Rest Space Cowboy
Ultralight and compact 45F/7C synthetic mummy-style sleeping bag for warm weather summer camping and backpacking
Eraloft hollow-fiber synthetic insulation is light and compressible, insulates even when wet, and provides maximum warmth without added weight or bulk
Reflective ThermaCapture lining Traps body heat, and zoned insulation concentrates fill at the top of the bag to capture rising warm air
Removable connectors integrate the sleeping bag with a sleeping pad to eliminate cold spots and prevent shifting and sliding during sleep
Regular left-zip bag fits heights up to six feet, weighs 1.2 pounds, and packs down to 16×9 inches; includes stuff sack and storage bag
Product Overview
Fill Material: Down
Closure Type: Zipper
Size/Dimension: Regular (72 x 61.5 x 6 inches)
Weight: 1.19 lbs
Best for: BOB
If the price of the previous option is too steep for you, Therm-a-Rest's sleeping bag is another great lightweight option you may want to check out.
It provides maximum warmth and insulation even when wet, and the reflective thermal lining effectively traps body heat and prevents heat loss.
5. US Military 4-Piece Modular Sleep System
Warm weather Sleeping Bag
Intermediate Cold Weather Sleeping Bag
Gortex Bivy Cover
Stuff Sack
Product Overview
Fill Material: Down
Closure Type: Drawstring
Size/Dimension: 25 x 21.1 x 8.8 inches
Weight: 9.5 lbs
Best for: Extreme cold weather
Rated up to -50 degrees F, this original US Army modular sleeping system is one of the best emergency sleeping bags for extremely cold weather.
This system uses two mummy-style sleeping bags that can be used together or separately, depending on the weather.
It comes with a Gore-Tex bivvy cover for waterproofing, a patrol bag rated at +30oF, a cold-weather bag rated at -10oF, and a compression sack to make it one of the most complete modular sleeping systems anywhere in the world.
At 9.5 lbs, this isn't the ideal sleeping bag for your BOB kit, but it is great for staying warm at home during power outages or for bugging out by car. It is also a great addition to any camping gear.
6. Wenzel Windy Pass Sleeping Bag
Product Overview
Fill Material: Down
Closure Type: Drawstring, hook-and-loop, zipper
Size/Dimension: 33 x 34 inch (12 x 12 x 16 inches)
Weight: 4.2 lbs
Best for: Extreme cold weather
Rated for 0oF, this emergency sleeping bag has an off-set quilt design that reduces cold spots to keep you comfortable and warm in freezing temperatures, while preventing heat loss.
In addition to a drawstring hood, an internal shoulder collar plus a full-length draft tube keeps the cold out and radiated body heat in. It comes with a good-quality zipper, which saves you the headache of trying to unstick a zipper in near-zero temperatures.
7. Hyke & Byke Quandary Sleeping Bag
15 Degree Sleeping Bag for Camping: Perfect cold weather sleeping bag features WR 650 fill power duck down insulation with a revolutionary microscopic ClusterLoft base to keep you warm from 15 – 50 F
Hiking Gear: Designed for thru-hiking, backpacking and camping, this ultralight sleeping bag boasts superior weight-to-warmth ratio at only 2.56 lbs for Short; Sleeping bag stuff sack included
Hydrophobic Water Repellent: DWR-Coated camping sleeping bags for adults feature 400T 20 D ripstop nylon fabric liner, 2 large YKK zippers with anti-snag sliders, velcro, drawstring & vertical baffles
Save Space & Weight: Don't sacrifice comfort! The short mummy sleeping bag will fit a 5ft 6in person; Warm but ultralight, 3 season winter sleeping bag
Hyke & Byke Sleeping Bags: USA-based brand offers premium quality camping gear collection of adult & kids sleeping bags, camping tents & sleeping pods for all your adventures in the great outdoors
Product Overview
Fill Material: Down
Closure Type: Zipper, hook-and-loop
Size/Dimension: Short (10 x 7.5 x 7.5 inches)
Weight: 2.95 lbs
Best for: Moderate to cold weather
Hyke & Byke's sleeping bag comes with hydrophobic down insulation and waterproof material, making it suitable for both damp and cold weather conditions of up to +15oF.
The light and durable sleeping bag feature a double zipper, anti-snag slider, large foot box, and a compression stuff sack for storage.
8. Coleman 0°F Mummy Sleeping Bag
Mummy-style adult sleeping bag for camping in temperatures as low as 0 degrees Fahrenheit
Can accommodate most people up to 6 feet 2 inches in height
Semi-sculpted hood tightens with a drawstring to seal in heat
Quilting construction, insulated footbox, and Thermolock draft tube for warmth and heat retention
ZipPlow system plows away fabric to prevent snagging during zipping
Product Overview
Fill Material: Synthetic
Closure Type: Drawstring
Size/Dimension: 33 x 34 inch (17.1 x 12.35 x 12 inches)
Weight: 5.8 lbs
Best for: Extreme cold weather
You'll probably want to check out Coleman's 0oF sleeping bag if you are on the tall and big side and looking for a synthetic bag designed for freezing conditions.
This bag will comfortably fit sleepers up to 6ft 2in height, and the semi-sculpted hood will help keep the cold out. You can get extra ventilation on warmer nights by unzipping the bottom.
9. WINNER OUTFITTERS Mummy Sleeping Bag
High-quality material: 350T Polyester with coating shell makes the sleeping bag ultra soft, waterproof and rip-stop, So it can keep you warm even in extreme weather and prevent you from any dampness. Comes with 200G/㎡ Hollow Fiber fill which enhances non-allergetic, pro-environmental and better insulating performance. You'll feel comfortable when temperature is between 35F and 40F. But these are designed to keep the average sleeper warm even at near-freezing temperatures(20F).
Two Sack Note:Our compression sack and sleeping bag load in one random color stuff sack,when you get the sleeping out, you will find the compression sack.Skin-Friendly & Easy to Clean: The bag has 350T polyester lining which is skin-friendly and soft, you feel very comfortable and sleep like kids or baby when you lie in it.Our sleeping bags are also extremely easy to clean as they are safer for machine wash too.
Lightweight & Portable: Thanks for the Mummy design, this sleeping bag weighs only 2.8 pounds. Mummy sleeping bag not only fit adult body very well, but also reduce extra weight. Moreover, each sleeping bag comes with a travel-friendly carry bag, a compression sack with straps, which makes it quite convenient to store and carry the sleeping bag along. It's really perfect for camping, hiking, travel & Outdoor Activities.
SBS zipper: With SBS double slider zipper, it can adjust the temperature according your demand. So the camping sleeping bag could be used in 3-4 season. SBS is the famous zipper company like YKK. Every zipper takes 120,000 times stretch test to make sure the performance. The bag has draft collars and zipper draft tubes, which could prevent warm lose and cold come in. Finally it enhance insulation performance with the draft tubes.
Holiday Gift Choice for Christmas, We provide detailed instructions for use and maintenance procedures in the pictures and description, if there are other problems, we will reply you in the first time.
Product Overview
Fill Material: Synthetic
Closure Type: Zipper
Size/Dimension: 87 x 32 x 4 inches
Weight: 2.8 lbs
Best for: Moderate to cold weather
This emergency sleeping bag is very popular, and that's not only because it is insanely affordable. It is light, portable, and works for varied weather conditions.
The lining is soft and skin-friendly, making the bag very comfortable to sleep in. Cleaning is a breeze since the product is safe for machine wash.
10. TETON Sports Altos Lightweight Mummy Sleeping Bag
STEP UP YOUR COMFORT: This roomy bag provides more shoulder and leg room; Built-out footbox provides more room for your feet; Breathable and warm
STEP UP YOUR WARMTH: Lofty, lightweight, and highly compressible; Enjoy the unrivaled warmth of this water-resistant down sleeping bag that you can take anywhere
STEP UP YOUR ADVENTURE: You can take this mummy sleeping bag anywhere; From backyard to backcountry, this is the bag you need to have a worry-free adventure
NEVER ROLL YOUR SLEEPING BAG AGAIN: TETON provides a great compression sack for stuffing your sleeping bag; Start at the bottom and stuff the bag in, then tighten the heavy-duty straps
TETON SPORTS PROMISE: Reach out to our AMAZING product support team if you have any questions or concerns; YOU CAN COUNT ON US to get you taken care of and back OUTDOORS with TETON Sports
Product Overview
Fill Material: Down
Closure Type: Zipper
Size/Dimension: 84 x 33 x 17 inches
Weight: 3.4 lbs
Best for: Extreme cold weather
The -10oF down bag from Altos is another excellent choice for survival in subzero weather. Besides the high-quality down fill, the low price tag is another reason to get this sleeping bag.
It features a built-out footbox to keep your feet comfortable, interior pockets for storing essentials, and a hood for added warmth.