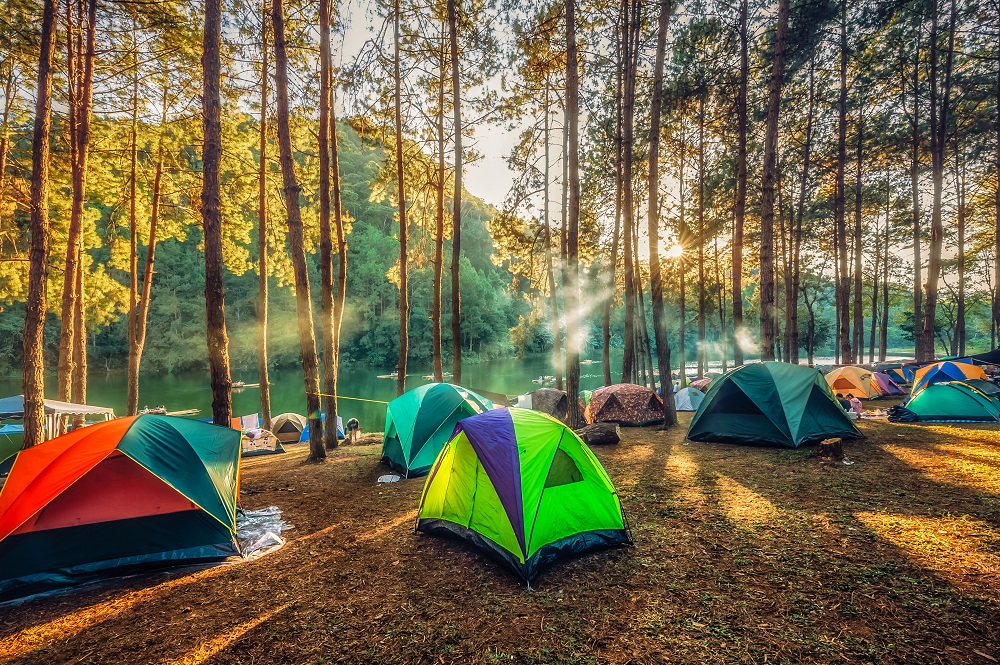 How to Keep a Tent Warm – 10 Tips to Keep the Cold at Bay
The knowledge of how to remain warm in a tent ushers in amazing adventures. Winter camping can be spectacular. Afloat on a sea of white, encompassed by snow-capped peaks, you delight in the late afternoon suns that make a white canopy of clouds appear pink. As the cool wind rides in after the light seeps away, you're unbothered and reveling in the sensation.
That's because you know how to keep warm even when the gnarl crops up on the exterior of your tent. With the lack of this knowledge, a multitude of potential cold-weather campers steers clear of this majestic season. Without further ado, here are 10 tips to help you keep the cold bay if you choose to camp in autumn and winter.
1. Carry the Ideal Gear
Investing in gear that is designed with cold weather in mind is paramount to keeping warm when camping. That entails buying:
2. Dress Appropriately Warm
Before you hit the sack after an adventurous day, we recommend changing out of your hiking attire and throwing on an insulated jacket after pitching your tent. After all, the last thing you need is losing body heat through the sweat (cooling moisture) in your hiking duds as that could trigger hypothermia.
3. Pitch Your Tent Wisely
When you pitch your tent, you can take a few measures to boost the likelihood of keeping warm. For instance, positioning your tent downwind to curb drafts and pitching on an area that's enclosed by natural features ranging from, ridges, hillocks, and boulders to trees. Nevertheless, it's important to ensure you pitch your tent where there's exposure to the morning and evening sun for additional warmth.
4. Carry Hot Water Bottles
Granted, these might not be a badass camping accessory. However, you're less likely to care at the slightest when you hit the hay and you're all cozy as you bask in the warmth emanating from your hot water bottles on those chilly nights that would otherwise be unbearable.
5. Carry a Sleeping Bag Liner
As a lightweight and compact camping accessory, a liner can infuse much-needed extra warmth into your sleeping bag (from 5°F to 15°F). Additionally, cleaning it is a breeze. While you may not realize, buying a sleeping bag liner will save you the hassle and cost of buying and carrying two sleeping bags on your camping trip. After all, your goal is to travel as light as possible.
6. Opt for a Smaller Tent
It's a no-brainer that an overly large tent means you'll have more room to heat. Contrarily, a smaller tent is a breeze to heat. Therefore, if you're camping in cold weather, we recommend choosing a tent that's sufficiently large for you and those on the camping trip. Smaller tents have less surface area for condensation.
7. Heat Rocks
Hot rocks can be the Holy Grail when it comes to heating your tent. With a campfire, you can heat a few rocks after which you can bring them into your tent to emanate adequate heat and keep a tent warm. Nevertheless, don't throw caution to the wind when implementing this method. After all, the last thing you need is to accidentally melt or burn your tent. To avoid this predicament, wrap the rocks with towels to make them easier to handle when they are hot.
8. Engage In Activity before Bed
If you engage in minimal activity before you hit the hay, it's a no-brainer that your body will produce heat that will in turn warm your sleeping bag and tent for the night. A surefire way of engaging in useful physical activity before bed is to change clothes while you're tucked away in your sleeping bag. Ding so will compel you to wiggle around and squirm to take your clothes off and put them back on. The struggle will be up to snuff to get you, your sleeping bag, and your tent warmed up.
9. Utilize Unused Clothes
Rather than leave your extra attire tucked away in your backpack at night, put them to good use by laying them under your pad or sleeping bag to create a buffer against the cold ground.
10. Prepare for the Next Morning
Let's face it. Getting out of a cozy sleeping bag is one of the biggest annoyances in life. Nevertheless, you can alleviate the hardship by preparing for the next morning the night before. That entails stuffing your attire for the next day in your sleeping bag (including your boots) to keep it toasty for the next day. Furthermore, source water the day before for your morning cuppa Joe to avoid a chilly, bleary-eyed wander at 7 a.m. or earlier.
To Wrap Up
Camping during winter or cold weather can be a boatload of fun. However, to make it more thrilling, adequate warmth is crucial. Armed with the tips on how to keep a tent warm, you can enjoy your adventures in the great outdoors regardless of whether it's snowing. Frostbite or hypothermia will be the least of your concerns.