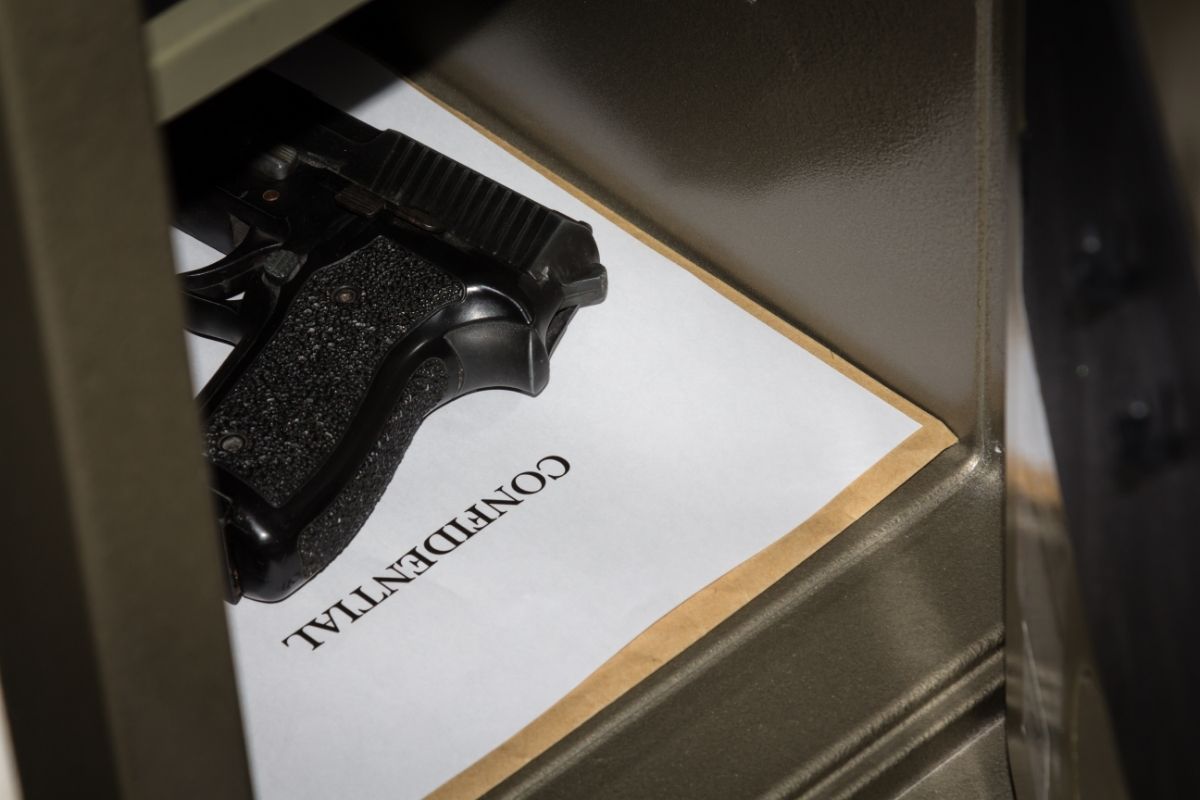 Best Bedside Gun Safe
Keeping any firearm safe is extremely important, particularly when you have kids or visitors come to your house often. 
Any responsible gun owner will understand the value of safety when it comes to owning a firearm, but many argue that they don't see the point because in an emergency situation – you can't quickly get to your defense.
This is understandable, but there is a solution – and that is having a strong, reliable and fast access gun safe by your bed. Don't leave your guns in a drawer or under your pillow, it simply is not safe and it prevents anyone you don't want getting hold of your gun at bay. 
With a good gun safe, you can put them anywhere and ensure that the contents are fully protected and easily accessed by you only. So, in this guide – that's what we're going to look at. 
We're going to explore the best bedside gun safes, their pros and cons and a buying guide for you to understand what you'll need to look for and what suits your needs the best. 
The ONNAIS gun safe is definitely what you need when you're looking to keep your family safe. Its unique biometrics system means that only you have access to your firearms. 
The biometrics mean that after you've set up the gun safe to your specifications, it only recognizes your thumbprint, so why is this good for you?
Well, not only does it allow you quick access to your gun in an emergency situation, but it also means that any other person including your kids or burglars cannot open your safe and threaten your safety. 
This safe is durable, protected, quick and easy to use. It's much better than a typical coded system where you need to type in a password or passkey. In a situation where you might be woken in the middle of the night and still kind of asleep – your mind isn't functioning quick enough to type in the code. 
Want another reason why this is better than a code? We forget codes! As a result, people tend to write them down somewhere – and this is not good for security, and security is paramount. This is what this gun safe gives you. Security. 
Its nifty design means that it is simple and easy to mount pretty much anywhere, including your vehicle! So, if you've got multiple places where you might need a gun safe – look no further than the ONNAIS gun safe. 
In terms of size, it is deceptively large on the inside. You can fit at least 2 full sized pistols including attachments and some ammunition, including some other small items. 
If you're worried about the biometrics for any reason not working – ONNAIS has covered this too. They have a handy 3 way access system and an override key – easy and massively useful! 
Pros
Strong and durable 

Easy to access 

Has backup access in case of a problem including override key 

The safe warns you when the batteries are low 

Easy to set up 

Can go anywhere you like 

Large inside 

You can mute sounds if you wish to remain stealthy
Cons 
Batteries last around 8 months 

Does not fit larger weapons like rifles or shotguns 
Sale
ONNAIS Gun Safe - Biometric Gun Safe for Pistols, Quick-Access Pistol Safe Firearm Safety Device with Fingerprint Lock or Key Pad, Smart Handgun Safe Gun Lock Box for Home Bedside Nightstand Car
Fingerprint Gun Safe: Quick-access gun safe is absolutely important for a family. No matter to protect your handguns from your children or just to keep your items unaccessible while unsupervised. It's responsible to store them securely in this handgun safe and right where you need them. Biometrics keeps your contents secure with immediate accessibility. ONNAIS gun safe helps you access the handgun safe quickly when you need it most and bring you more time when in danger.
Advanced Biometric Technology: ONNAIS gun safes for pistols are equipped with biometric fingerprint technology which is a proven method that is accurate and more secure than a traditional keypad lock and ensures single-handed access to your firearm device. A high-resolution fingerprint scanner allows access to your contents quickly. The fingerprint lock can store up to 30 user fingerprints for access by multiple users.
Tough and Large Capacity: Our handgun safe has solid steel construction and anti-corrosion for increased durability and ultimate protection. This gun safe lid is also pry-resistant and is powered by 4 AA batteries. Also, there is enough space to hold two standard size regular frame pistols or many small items. The interior is padded with soft foam to prevent scratches.
Portable and Three-Way Access: With portable design, you can keep this gun safe in a drawer, cabinet, luggage, or nooks and also place it at home, car, nightstand, or some other spot that's easy for you to use as a bedside handgun safe. ONNAIS biometric gun safe for pistols offers convenient 3-way access. Apart from the biometric option, you have keypad locks and 2 backup override keys which will make sure you can always access your guns.
Protect Your ONNAIS: We are committed to satisfying our customers with quality products and great customer service. If you have any concerns, please feel free to contact us directly. We're dedicated to giving you a satisfactory solution. Exterior Dimensions : 11.49" x 9.17" x 3.07", Interior Dimensions 10.63" x 6.69" x 2.91"
If you've got an idea for a specific design with your gun safe – look no further than this mounted gun safe. It has a hanging design that makes it easy to mount in your bedroom or on desks – perfect for your bedside tables. 
Due to this design, it has a great discretionary value – meaning unauthorized people cannot be attracted to try and open the safe as it won't be in open view. Of course though, you'd need to weigh up discretion versus quick access. 
It has a strong, durable design and is unlikely to rust up for many years, even if you keep it close to open windows or doors. 
So, safety wise – you've got a discrete, strong and secure safe with protective padding on the inside. That's all you need right? 
It holds one full sized pistol, which its design does perfectly. You put the pistol into the designed area and it allows you to pull it out in the right direction immediately after opening the safe.
Speaking of opening the safe – is that easy? You bet. It uses a keypad that you program with up to 6 digits which allows the drawer to drop down and you quickly access your firearm. 
Luckily, the safe informs you when the batteries are low and the buttons can be silenced if you wish to remain even more discrete. 
So, if you're looking for an easy to set up, easily installed, easily accessible, strong and highly secure gun safe – you're looking at the RPNB gun safe. 
Pros
Strong and tough design 

Doesn't easily rust 

Design means quick access to your gun 

Low battery warning 

Plenty of room for a full sized large handgun 
Cons 
Some people's hands might not be able to reach the battery area 

Cannot be mounted in your car 
RPNB Mounted Firearm Gun Safe with Auto Open Lid 4-Digit PIN Keypad Lock Handgun Safe
Handgun Safe : If you have young children who don't understand the potential danger of firearms, it's essential that you keep them safely stored. Placing them in this Pistol Safe is a responsible way to properly secure your small firearms at home or on the go
Desk Mounted Design : Slim Vertical Design stores great under a desk or nightstand, discreetly on a bookshelf, or inconspicuously in a vehicle. For added convenience, mountable from right, left, or top side, depending on desired preference
Tough & Rugged : Expertly crafted using sturdy steel construction, the RPNB handgun safe will provide long lasting strength and use for years to come. It also features a prevents corrosion, black finish for a durable, professional appearance, making it easy to incorporate into any interior space
Quick Access To Your Firearm : Programmable electronic keypad with PP materials buttons for single handed operation, fast activation drop down drawer and presents a stored firearm in the ready position in fractions of a second
If you have any questions or difficulties, please contact us, we'll be glad to help you
Awesafe's brilliant design has the perfect mix of safety, durability and convenience – you can place this safe in most areas of your bedroom, or house for that matter! 
Due to the interior design, the size allows you to store two fully sized handguns in opposite directions. It has a strong hinge system which can keep the door of the safe open in times of emergency – or when you need to access the inside and cannot keep holding the door open. 
It is made with solid steel, which makes it pretty much impossible to open without being authorized to do so. You'd never be able to open this safe with things like a crowbar or hammer – forget it! So, if you have an unwanted guest with some tools creeping around, you've got nothing to worry about.
The same applies to your kids or guests who think they can break into your safe with some normal hardware tools – nope. Not gonna happen!
A great feature with this gun safe which is absolutely crucial for your bedroom is that it has an LED lighting system when opened. So, if you're woken in the middle of the night and need to find your gun – you'll be able to see what you're doing. 
It's more portable than some other gun safes on the market, meaning if you normally keep your gun safe in your closet or under the bed and you need to take it to work or on a local vacation with you – that's no problem at all! 
The fantastic design means it will likely fit anywhere that you need it to. Under the seat in your car, in the bathroom, in the bedroom, under the sink – there's little in the way of limits with this gun safe. 
To open the safe, you'll be the only one. It uses your fingerprint as access authorization with an override system if something goes wrong, or you may opt just to use the combination system – the choice is yours. 
One feature this has over other biometric safe systems is that you can set this safe to allow up to 30 users, but you as the primary user must authorize this – meaning you can't have just anyone allow themselves access. 
So, if you want your partner to open the safe or a close friend or other family member – you've got them covered too. 
Pros
Unique systems 

Fantastic design 

Strong 

Safe 

Easy to access your firearm 

Can go anywhere 

Portable 

Has a unique lighting system for the dark 

Fits two firearms 
Cons 
The spring hinge system is a gas spring which means it can be, in rare circumstances, a fire hazard 

If you get water on the safe or leave it in humid conditions, it can rust 
awesafe Gun Safe with Fingerprint Identification and Biometric Lock
Gun safe provides secure storage for two standard handguns or one larger pistol and extra ammunition; pistol safe with digital keypad for advanced protection. If you have young children who don't understand the potential danger of firearms, it's essential that you keep them safely stored. Placing them in this Pistol Lock Box is a responsible way to properly
Handgun safe is constructed with solid steel and a pry resistant door for strength and handgun security; reliable high-strength locking mechanism, and precise fittings that are virtually impossible to pry open with hand tools
Pistol safe features a gas strut and LED lighting to instantly and quietly open safe door for single-handed access to your handgun and interior light for increased visibility; ideal for use as a bedside gun safe, you also store your safe box in a closet, an office, a basement, the bedroom or any other location which is convenient for you to use
Portable design: For added convenience, the safe is compact and lightweight for use whether you're home or on the go. Its small size makes it easy to conceal under car seats, in spare tire wells, between mattresses and other out-of-the-way locations.
【Excellent Customer Service】: If there is any questions or problem with our product, please feel free to contact us, our customer service team have to provide a satisfying solution for you.
Another gun safe from RPNB, but unlike the previous one on our list – this one isn't specifically mounted. Certified by the California Department of Justice, you're going to be certain that this gun safe is doing what you expect it to do. 
It also operates completely differently from the rest of the gun safes on our list. Instead of biometrics, this gun safe has a key fob entry system or the option to open it via a standard key or digital keypad. So, if you're more inclined to the classic entry systems of a safe – this is more suited to you. 
It has added protection with anti-theft impact connectors that know when someone is trying to force it open, rather than open it as they should. This means that if anyone is trying to pry it open or smash it open, they'll have no luck. 
When opening the safe, the hinge is strong and keeps the door open for use in a situation that requires both hands. 
It's made from a tough carbon steel and has little chance of rusting, so the security of the safe is extremely high. 
It fits a standard sized handgun including clip and added ammunition, along with any other valuables you might wish to include in the safe. 
Pros
Reliable 

Handy design 

Easy access 

Many methods of entry 

Anti-theft protection 

Strong design 

DOJ certified 

Conforms with travel laws for airplanes 
Cons 
Added entry methods mean the possibility to lose the keys, have keys copied or stolen 

Can only fit one gun 
Sale
RPNB Gun Safe,California DOJ Certified Gun Safe, Smart Pistol Safe Handgun Security Safe with LED & RFID Quick Access,11" x 7" x 1.8"
Fast & Dependable 3 Methods of Entry : RFID activated by key fob that instantly opens the lid. Up to five RFID tags can be programmed. It is also accessible by 3-digit keypad or conventional key lock
Anti-Theft Protection & Tamper Proof : Featured on safes includes anti-impact latches and seamlessly welded pry-proof steel body for the ultimate prevention against break-ins and the unique hinge design holds the top lid open
Tough and Rugged : Heavy-duty 16-gauge carbon steel construction with a durable powdercoat finish prevents corrosion and ensures long lasting protection
Mobile Security : Included cable allows the safe to be secured in virtually any location. Meets TSA requirements for handgun safety in checked luggage
If you have any questions or difficulties, please contact us, we'll be glad to help you
The BILLCONCH gun safe has many different features that are unique, which you will find difficult to replicate with other models. 
One of the best features this gun safe has is that it connects with modern technology – your cell phone. Smartphones are often used as a HUB for other larger devices like smart speakers or video doorbells – so they thought, why not a gun safe?
The advantage this has is, if you have a problem with access for any reason or you're planning to give the safe away to somebody else, you can reset the safe's system from the ease of your smartphone. 
As it uses biometric technology, you can open the safe using your smartphone too. You can also check the records of when your safe was opened. Extra safety features if you decide to give multiple access. Which also helps law enforcement if necessary!
This safe has plenty of room which can fit two handguns opposite one another, along with ammunition or other items you want to place within it. Due to its lightweight frame and design, you can easily move it from your bedroom and put it wherever you like. 
Don't like the idea of a safe with disposable batteries? They've got that covered too. It will still inform you of when the power is running low, but you can charge the safe with a USB charge connection. Perfect for your bedside. 
Not only is the outside of this safe designed with powerful carbon materials, but the inside has protective materials too, and what's more – they've included a light for use in the dark! 
Effectively, this gun safe is among the best that a bedroom can have but you have the option to move it away from the bedside if you wish. Perfect. 
Pros 
Easy access with 4 different methods 

Connects to your smartphone allowing for 20 users, records of use and changes as required 

Portable

Rechargeable with USB connection 

LED light in the safe 

Large size that fits two handguns 

Great design 

Powerful shell 
Cons 
If you have no smartphone security, your app can be used by unauthorized people

Has been bypassed by previous users accidentally, but the manufacturers work to change issues frequently 
Sale
BILLCONCH Gun Safe,Biometric Gun Safe for Pistols 4-Ways unlock Safe | View log, Manage & Unlock by APP | Fingerprint | Digital PIN | Key Unlock
BIOMETRIC ACCESS: The pistol safe is a biometric access/PIN access portable metal . gun safes for pistols is ideal for Pistols, cash and other valuable items. Top of the line biometric chips and Bluetooth capability brings high security and access control system together and makes it safe and user friendly.
SMART PHONE CONTROL: The handgun safe has added the function of connecting phone. Biometric gun safe can be unlocked by smart phone. Fingerprint safe can also manage unlocking fingerprint, change password and view unlocking record on phone.
PORTABLE SIZE AND SPACE:The space of this gun safe, Can store valuables such as jewelry. The light and small size can also let you put it in the car, or the bedside table, drawer and other places, which is convenient to carry.
HIGH-QUALITY MATERIALS AND PRACTICAL INNER: The shell of the biometric gun safe for handgun is made of hard carbon steel, built-in strong spring steel, the coating is made of metal paint, thick and does not fall off. When on the night the biometric safe is opened, there will be light inside the gun safe , and you can clearly see the contents of the gun safe.
USB CHARGE WITH LOW BATTERY REMIDER: The safe for pistol has a durable battery, can use USB cable to charge, and low battery reminder, flashing red when the battery is 20% remaining, although it reminds the battery that the battery is low, but can still use hundred times.
Buyer's Guide 
When it comes to choosing the right bedside gun safe, you'll likely have some needs and wants in your mind before you start – but maybe some of the above products have made you think of features that you might not have thought you wanted. 
This is when you need to think carefully about certain things that a gun safe might have included. So, you'll need to consider the following:
It Needs To Be Safe!
As their name suggests, a safe has to be… well, safe. So, how do you ensure that a gun safe is safe. You consider the design first. If a safe is designed with strong metals like carbon or steel, you can be sure that the safe is going to be strong and durable.
However, with additional features within a gun safe like electronics or biometric technology, manufacturers might change the interior design process leading to a much simpler way to break in using tools. 
Most safes on this list will be near impossible to break into, but if you have the right tools and the right know-how, nothing is impossible. You just need to reduce the risk as much as possible! 
Accessibility 
As we spoke about earlier, if you're looking for a bedside gun safe – the chances are, you're going to want the peace of mind, knowing that in an emergency situation, you can quickly open the safe and access your firearm. 
The quickest possible way to open your safe and in the most secure way is through fingerprint biometric systems. However, technology is prone to trouble (just look at smartphone fingerprint technology!). 
The easiest way to open your safe is using a key – but keys can be lost, stolen and copied meaning that they are not a very secure method of safe entry. Deciding whether or not you want to go for these will depend on your circumstances. 
There's nothing necessarily wrong with using a keypad or smartphone, but if you're in an emergency situation during sleep – you might not be alert enough to use the systems correctly. 
Additional Features 
Additional features make a great gun safe into the perfect gun safe. Additional features like LED lighting on the safe buttons and within the safe are ideal for bedside gun safes, just in case you need access during the night. 
The ability to mute the buttons is another feature to think about – if you don't want to alert a potential intruder of your presence or the fact you're opening a gun safe! 
Storage 
Depending on how many or what sort of firearm you're hoping to store within your safe, this will be a top priority in your line of questioning. For some people, one handgun is enough – but others would prefer two, one for them and one for their partner. 
The advantage of that is, if you both have different preferences for firearms with weight etc., you may prefer the peace of mind knowing your more preferred firearm is available over one that you cannot use as well. 
Additionally, you might be hoping to double up the gun safe with a general safe – so does the safe have enough room for your things like jewelry or family photo albums? 
Mountable Or Not?
This will be entirely up to you depending on where you plan to store your gun safe, but it is something you should be thinking about. Sometimes it might be better to opt for a standard design, but if you have a particular area in mind – mountable safes might be the way to go. 
Frequently Asked Questions 
Is Buying a Gun Safe Worth It?
It's always worth considering if you own a firearm. It protects you and your family.
Is It Easy to Break into or Hack a Gun Safe?
No safe is impenetrable, but they can be near impossible to open. When it's in your home, you need to think of the practicality. Is someone going to break into a small gun safe using explosives? Probably not. You need it to prevent your kids getting a hold of your weapons. 
Could I Buy a Regular Safe?
Regular safes are extremely heavy, obvious in the room and not easy to access in times of emergency. We recommend getting a gun safe if you're wanting to store a gun in your bedroom.
Summary 
Protecting yourself and your family is paramount to your life, so ensuring your home is safe is the first step. Keeping your firearms in a safe is extremely important – so when you're shopping for your gun safe to stay by your bedside, keep all these tips in mind. 
Happy shopping!