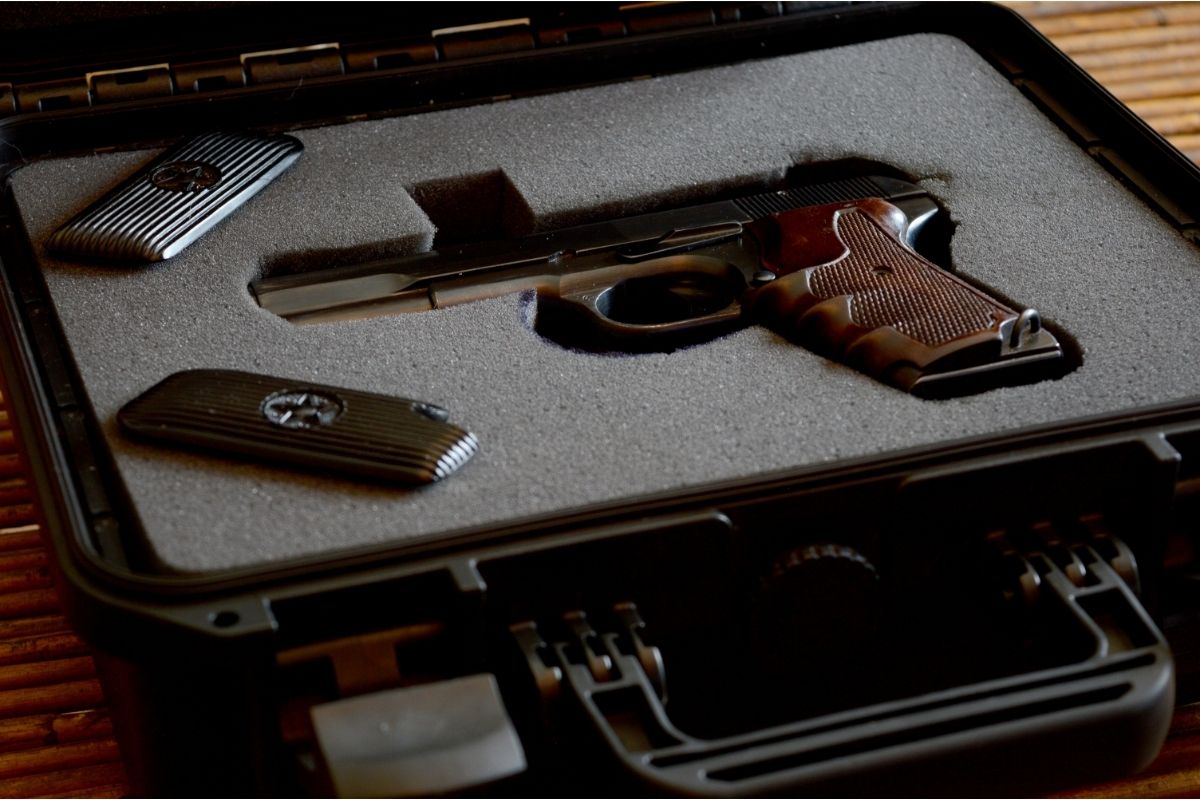 Vaultek VE10 Handgun Safe Review
The perfect handgun safe is secure, large enough to store your gun and has some extra magazines, but also easy for the owner to access. 
The Vaultek VE10 Handgun Safe has undeniably been designed with these things in mind.
Want to know more about this fantastic safe? Keep reading to find out about the key features and the main advantages of having this safe, all to help you find out if this safe will suit your needs. Spoiler alert: we think it will.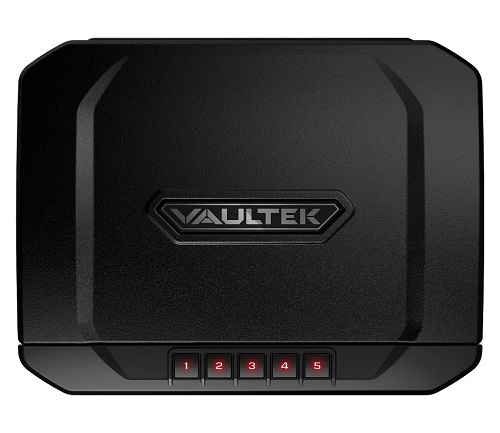 Quick Overview
Having experienced this safe first hand, we think that it is up there with the best safes available at the moment. It is certainly secure but does not skimp on design. Motion sensors light up the keypad when you get near, and the LED interior looks cool and illuminates the safe so that you can see everything.
Our verdict? The Vaultek VE10 Handgun Safe should be the next safe you buy.
Design Features
As with all Vaultek products, the VE10 Handgun Safe comes with some super cool design features.
Keep in mind that this is one of the more basic models of Vaultek safe so there are not a lot of 'frilly extras' to get in the way of safe and efficient gun storage. That said, the VE10 is not so basic that it feels stale.
Security
We think that security is by far the most important feature of any gun safe. 
This safe comes with a set of two manual master keys but its main lock is a number keypad. Five numbers allow for 40 000 possible keycode combinations. Most other keypad safes tend to have a few more numbers, allowing for more possible combinations. 
If you are looking at security from just the keypad perspective then the VE10 is not as secure as others that are widely available. However, it does not have any WiFi or Bluetooth connectivity options. The VE10 is also very resistant to force. It features anti-impact latches and anti-pry bars to keep it securely locked even under extreme pressure. 
The final thing to address security-wise regarding this safe is the overall design. The VE10 is made with Vaultek's famed unibody design. This gives superior strength and incredible durability. The safe is constructed with 18-gauge carbon steel for excellent security without cumbersome weight.
We think that these security features are more than enough to make up for having a five-number keypad. Just be sure to choose a strong code to access your safe. Doing this will help keep your guns as secure as they would be in a safe with a ten-key lock.
Capacity
When buying a gun safe, you need to make sure that it will be large enough to hold all of your guns. The VE10 Handgun Safe is a good size and can hold either two small sub-compacts or one full-size firearm as well as some other bits and pieces – think a phone, some cash, passports, and any other important documents.
The interior of the VE10 safe will be large enough to suit most people's gun storage needs. You also have the option of fitting foam inserts into the safe to help keep your guns in place. Opting for inserts will help prevent damage, especially during transport.
Portability
Speaking of transport, the VE10 Handgun Safe weighs in at just over 5lb (2.3kg) when it is empty. It is super lightweight and the perfect option for those who travel with their guns secured. 
Vaulktek has fitted this safe with mounting holes and you can get some mounting gear for it. This means that you can fit this safe into your desk, car, or just about anywhere you need. 
On vacation? This safe is perfect. It comes with an extended steel security cable that is about 4ft (1.2m) long for easy temporary mounting. Keep in mind that this security cable is not ideal for long-term use and should only be used as a temporary measure. It is by no means a replacement for a secured lock. It is, however, an excellent additional deterrent for any prospective gun-safe-snooper. 
Who doesn't want that little bit of extra security?
Access
The first things to mention about access are the LED lights and huge keypad buttons.
The VE10's keypad is backlit by LEDs that come on when the motion sensors are activated. The keypad buttons are huge and easy to locate and depress. Once opened, the interior light is bright enough that you can see everything in the safe clearly.
These design choices mean that you will always be able to locate, open, and take out your weapon quickly and easily, even in the dark. If you are worried about security and think you may need your firearm at some point in the night, we think that this safe is for you. You are always going to be able to easily locate, press, and access everything in your safe super quickly. 
Don't forget that the interior light is adjustable. You can choose between a few different brightnesses to find your perfect balance between visibility and stealth.
These LED lights do need access to some sort of power source. The VE10 gives you the option of using a rechargeable lithium-ion battery that will last around 4 months between charges. The battery will be fully charged in around two hours using the included micro-USB cable. 
There is no downtime associated with charging the batteries in this safe. You could even leave it plugged into a power source at all times if you wanted. 
The VE10's 'sleep mode' will kick in for four minutes if the code is entered incorrectly too many times. During sleep mode, you can only access the safe using either of the master keys. This additional layer of protection makes it more challenging for a potential thief to break into your safe without you knowing.
As with anything electrical, there is a chance that it will fail. That is why we love the two master keys that come with the VE10 Safe – you are guaranteed to always have access to your weapon at all times.
Aesthetics
We know that aesthetics are not important when it comes to gun safes but having a piece of equipment that looks this sleek is always going to be an extra incentive to buy it.
The VE10 is available in Alpine White or Stealth Black. These contrasting colors mean that you can choose between having your safe stand out or blending in a little with the surroundings.
Finally, the VE10 Handgun Safe's aesthetic design has been heavily influenced by gaming tech. The backlit keypad in particular gives this safe a sleek and polished look. Combine this with the minimalist design and you have a brilliant piece of kit that gets the job done whilst looking slick.
Compatible Guns
Not sure if your gun will fit? The VE10 Handgun Safe will fit all of these models, with enough additional room for some magazines and important documents.
Glock 23

Glock 19

Glock 17

HK VP9 + TLR-3 Mount

Kimber 1911

Sig P238 (x2)

Sig P320

Sig P360

Full Size 9mm Sig, 5" Barrel w/ Light + Laser 

Smith & Wesson M&P PRO

Smith & Wesson M&P M2.0 

Smith & Wesson Shield + Box of 20 Hollow Points

Smith & Wesson Shield (x2)

Springfield XDS 3.3″ 9mm 

Springfield XDS 45 

1911
Quick Summary
Still not decided? Use this quickfire list to help conceptualize the VE10 Handgun Safe and cut through the noise to make your decision.
Pros
Secure:

No WiFi or Bluetooth connectivity options

'Sleep mode' after too many incorrect attempts

Over 40 000 combinations

Vaultek's famous unibody design

Cable for temporary mounting

Access:

The backlit keypad comes on when motion is detected

Interior light

No downtime when charging

Battery lasts up to four months on a single charge

Master keys so you can always get into your safe

Easy to transport::

Lightweight design

Ideal for taking on vacation or leaving in the car

Temporary cable mount for additional security

Capacity:

Versatile storage space – ideal for guns or documents

Large enough for most sub-compact handguns with room for extra magazines

Manufactured by Vaultek:

Vaultek make some of the best gun safes at the moment – the VE10 is no exception
Final Thoughts
In the market for a portable but super secure handgun safe? Look no further than the VE10 Handgun Safe from Vaultek.
It is large enough to comfortably hold a subcompact firearm with some room left over for additional magazines or important documents. This safe is ideal for any concealed carry firearm that needs to be kept in a small area – like a desk drawer or under the car.
It is not too heavy so is easily portable. Be sure to use the included cable to temporarily mount the safe if needed. If you are looking to transport your guns in this safe – for example during vacations – look into getting some foam inserts so that the contents do not get damaged.
The LED-backlit keypad is activated by motion sensors and the interior LED light comes on automatically once the safe is opened. We recommend that you opt for this safe if you are focused on quick access during the middle of the night.
Finally, we love the additional reassurance that comes from the two master keys. This safe truly feels like it was built with subcompact firearms owners in mind.