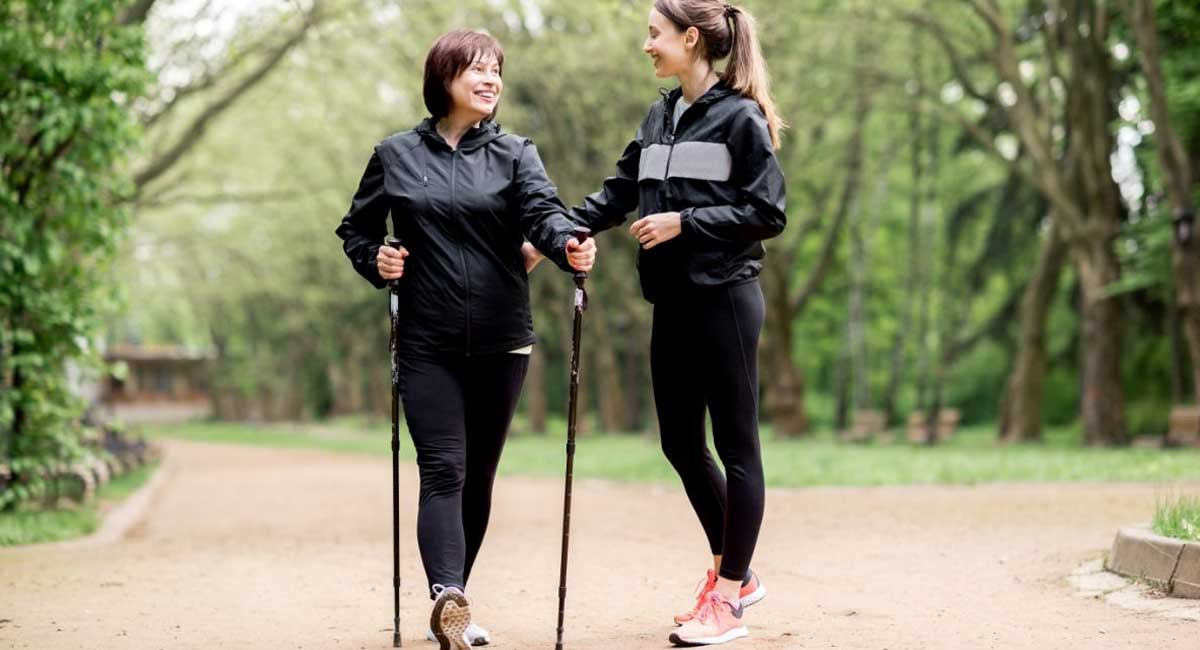 Best Walking Stick for Self Defense: A Buying Guide
If you get caught up in a dangerous self-defense situation, having a combat walking stick could be useful.
Indeed, a great self defense walking stick can save your life when you can't access any other weapon in an emergency situation. There are several different models available on the market, and choosing the right one can be challenging.
In this article, we review the best walking sticks for self defense to simplify your buying decision.
Review of the Best Walking Stick for Self Defense
We understand how tough it can be to choose the perfect self-defense walking stick due to the different features of the many models available. Hence, we've compiled a list of the best five self defence walking sticks in different categories.
The Nagina Premium Chromed Stick is suitable for those who love a stylish design.
The cane is designed with nickel-plated/premium chromed handles, buffed wax finish, and top-quality rosewood material, giving it a fashionable, corrosion-free look.
The walking stick is three-foot-long with a pointed handle that makes the stick efficient as a protective cane. The base features a rubber tip that provides support to keep the stick from slipping while used for support.
It effectively improves mobility and perfectly balances the weight with the painful or weaker leg. It can aid stability by increasing the support base and providing tactile details about the ground, which helps to improve balance.
The walking stick is made with top-grade brass, making it heavier and extremely sturdy with more capacity to handle your weight.
One of the most outstanding features of this Nagina Walking Stick is its portability and light weight. All these features make the Nagina Walking Stick a great mobility aid.
Features:
Weight: 1 pound
Dimensions: 19.3 x 3.3 x 2.6 inches
Chromed top quality brass bars/handles
Solid top-grade brass metal handles
Stick Material: Solid Rosewood
Pros
Extremely sturdy
Designed with a solid superior-grade brass handle
Made of high-quality rosewood
Elegant decorative look
Great mobility and assistive aid cane
Cons
Does not come in one piece
Tiny rubber tip isn't high quality
Sale
ZAP Hike N Strike 950,000 Volt stun Gun Walking Stick
Great for camping, hiking or just walking
Secure, rubber coated, non-slip molded grip
Weight 18 oz. with batteries
Includes 3 lithium CR123A batteries, wrist strap, extra end cap and removable reflective band
"EXTREME" Spike Electrodes
The Zap Stun Gun Self-defense Cane combines a walking cane and a taser and includes an LED ultra-bright flashlight and spike electrodes. This electric cane is made of aluminum, which is sturdy enough to withstand a hit.
If you are rusty with your self-defense skills, you will love this cane. You can shock an attacker by simply pressing a button on the stick. The shocks are very strong and can penetrate clothing. The shocks are also loud to scare off a would-be attacker.
This shocking cane is one of the best tactical canes on the market. You can also use it to protect yourself from animals like rabid dogs.
A single charge cycle can last up to twelve weeks, producing up to 500 shocks. To recharge it, simply plug it into a wall socket.
Features:
Weight: 3 pounds
Material: Aluminum
Charges: 500 (with 950,000 Volts)
Grip: Top-rubber
Length: 32 to 36 inches (adjustable)
Handle: Straight
Extra Features: Built-in flashlight, removable reflective band, extra end cap, wrist strap, and 3 lithium batteries
Pros
Suitable for hiking, walking, or camping
Single charge can last up to 12 weeks and produce 500 shocks
Features a safety switch to keep it safe from children
Adjustable
Water-resistant
Rubber-coated, secure, molded grip (non-slip)
Great for scaring and shocking attackers or aggressive animals
Light is bright for using at night
Cons
Not strong for a walking stick
Zapping length is not as long as the stick
Sale
Carex Health Brands Soft Grip Walking Cane - Height Adjustable Cane with Wrist Strap - Latex Free Soft Cushion Handle, Blue Marble
COMFORTABLE WALKING: A derby style walking cane in blue pattern. The walking cane features a soft grip latex-free handle to decrease shock and hand fatigue. Easily adjustable height with the push of a button and includes a convenient wrist strap.
SOFT GRIP HANDLE: The derby grip handle features innovative technology that decreases shock and reduces fatigue in the hand and upper body. The ergonomic cane handle is adaptable for right- & left-handed users
ADJUSTS EASILY: The Carex walking cane features an easily adjustable, latex-free handle that adjusts with a simple push of a button
ANTI-SLIP WALKING CANE: Ergonomically designed, the walking cane has an anti-slip tip to provide extra traction and stability. This cane is a walking cane for men or walking cane for women
TRUST CAREX, Carex has been a leading manufacturer of canes for women and canes for men for over 30 years with one goal: to let our consumers live healthier more independent lives. Trust our brand in your choice for walking sticks and canes.
If you are searching for a walking cane that's sturdy enough to offer maximum support for your weight and mobility while doubling as a self-defense weapon, this is an ideal option.
This derby-style walking stick features a latex-free soft grip handle that helps reduce hand fatigue and shock. The grip handle has an innovative technology that minimizes shock and fatigue in the upper body.
You can also easily adjust the height by pushing a button, and it comes with a wrist strap.
The cane handle is convenient for both left-handed and right-handed users. The handle is designed with soft grip rubber to reduce pressure on your wrist.  It is ergonomically designed with an anti-slip tip that provides stability and extra traction, making it perfect for both women and men.
The Carex Walking Stick is a great choice for a self-defense walking cane. It is suitable for individuals with a height of 5.2 ft to 6.2 ft, and up to 250 pounds in weight.
Features:
Weight: 11.4 ounces
Dimensions: 1.5 x 5.4 x 29 inches
Handle: Soft grip rubber
Cane Adjustment: 31 inches to 30 inches
Material: Aluminum
Extra features: wrist strap
Pros
Wrist strap for maximum comfort
Soft grip rubber handle reduces pressure on your wrist
Adjustable height
Can support large weights of over 250 pounds
Latex-free derby grip handle for comfort
Innovative technology reduces shock and fatigue in the upper body and hand
Anti-slip tip provides stability and extra traction
Ideal for women and men
Handle features non-bending and non-flaking mechanisms for a tighter grip
Screw cap to lock height adjustment for extra safety
Plenty of color options
Finish holds up well
Cons
Base rubber tip wears off quickly
Walking Sticks for Men/Women Wooden Walking Cane for Balance Rubber Tips Walking Sticks for Hiking Self Defense Canes and Walking Sticks Handmade Walking Sticks Made from Indonesian Agate Vine 39"
【Natural environmentally friendly wood & Handcrafted】 This walking stick is made of the best natural agate rattan in Indonesia. Indonesian agate vine is a dense, rugged wood that can withstand the most strenuous conditions. This walking cane is carefully handcrafted to preserve its natural beauty. This cane is handcrafted from a single piece of Indonesian agate vine, making it superior to other poles and walking sticks that may have moving parts or breakable pieces.
【Ergonomic Handle & Scientific and unique shape design】 The round handle will give you the confidence to grip it securely without fail. When support is needed, the curved arc can reduce the impact on the body. Unlike most walking sticks, this cane solid structure and slick finish were designed to be functional and elegant.
【Lightweight and easy to carry & Cuttable and adjustable height】 This walking cane only 0.9 pounds, 39 inches high, and can support 300 pounds. The round handle can be easily hung on the arm, railing, bags, and any place where it can be hooked. This walking stick 39″ high,you can cut it down to a specific length if you need it. Remove the rubber tip, shave off an inch or two off the bottom, then re-attach the rubber tip.
【Rubber tip anti-slip, anti-scratch】 The rubber tip at the bottom of the walking cane provides traction on multiple surfaces with a firm secure grip. The slip-resistant rubber tip at the bottom can prevent the cane from sliding off and scratching the floor. Get this cane while it's still in stock! Don't miss this opportunity !!!
【Powerful & Thoughtful gifts】 This walking cane is the ideal companion for nearly any occasion. This cane is very strong and reliable fits for everyday use. This wooden cane is your ideal outdoor camping or hiking companion. Tested to meet the needs of self-defense. Canes for men/women, walking canes for seniors. Daily walk, hiking stick, walking sticks for balance, after surgery, walking stick self defense.
This unique lightweight walking stick is one of the best wooden canes on the market.
The cane has a fancy hardwood design made with Indonesian agate vine, a rugged, dense wood that withstands the roughest conditions. It features an ergonomic handle with a unique round shape design that provides a tight grip to give you confidence when walking.
This is a great cane for beginners. The curved arc decreases the impact on your body for optimal support. Unlike many walking canes that tend to have finishes that wear off, this stick's slick finish and solid structure are made to last.
There's an anti-slip rubber tip at the base of the walking stick to provide traction with a firm grip on different surfaces. It also prevents the walking stick from scratching the floor and sliding off.
The stick is 39 inches high, lightweight (about 0.9 pounds), very easy to carry, and can support individuals weighing up to 300 pounds. You can also reduce the height to your preferred length. Simply remove the anti-slip rubber tip, cut one or two inches off the bottom, and replace the rubber tip.
Plus, you can easily hang the round handle on your arm, railing, or any place that has a hook.
Features:
Weight: 0.9 lbs
Material: Wood (agate vine)
Handle: Wood
Size: 39 inches
Anti-scratch and anti-slip rubber tip
Pros
Made of natural, eco-friendly wood
Can adjust the height to your preferred length
Has an anti-slip rubber tip to prevent the stick from sliding and scratching your floor
Ergonomic and unique round-shaped design provides confidence while handling it
Curved arc reduces the cane's impact on your body
Lightweight, easy to carry, and can support individuals weighing up to 300 pounds
Curved handle so you can hang the stick on your arm, railings, etc.
Slick design and solid structure give it an elegant look
Cons
Wood handle can degrade over time
These self-defense walking canes are excellent for protection when hiking.
The poles are designed for comfort. The ergonomic, anti-slip cork grip handle conforms to your hand, keeps your hands comfortable, and absorbs sweat throughout your hike.
Additionally, there is a padded strap to ensure a more comfortable grip, as well as extended foam handles for convenience in shifting terrain.
The height is adjustable, so the pole is suitable for people of various heights. The built-in shock absorber reduces impact on the wrist if you've had injuries to your joints.
The stick is made of sturdy and lightweight aluminum alloy (aircraft Grade 7075) and can withstand impact and pressure better than carbon fiber, ensuring successful hiking on rocky or steep terrains.
The most outstanding feature of these Wrzbest hiking poles is the use of a combination of twist locks and flip locks for balance, ease of use, and strength.
The lock mechanism ensures a faster and secure hold while adjusting the pole. You can extend the pole from 19.5 inches to 43.5 inches.
Features:
Material: Aluminum
Handle Material: Cork
Weight: 7.8 oz
Height Range: 19.5 to 43.5 inches
Extra features: Small rubber feet, boots, snow basket
Pros
Ergonomic cork makes it easy to hold while hiking
Wicks away sweat and reduces stress on the knees
Compact and easy to collapse to put in a carry bag
Aluminum alloy (aviation grade) material lightweight and strong
Cons
Not compact enough
Could be a little sturdier
Buying Guide
There is a wide range of walking stick models on the market, from adjustable poles to stun guns with several attachments. The options on our list all have excellent features. While some are designed for individuals who engage in outdoor activities like hiking and camping, others are suitable for seniors with back problems.
Additional features such as a flashlight enhance the usefulness of this type of self-defense weapon during the night. We'll help you further by listing our top choices to help you find the best walking stick for self defense.
Best Overall Walking Stick for Self-defense
The Zap Stun Gun Walking Stick is the best overall self-defense cane. This cane features all you need in a cane to defend yourself. Its 56-inch length allows you to avoid direct contact with your attacker, and you can also collapse it when necessary.
If the attacker gets too close, you can use the 950,000-volt charge to ward them off. The handle features a rubber grip and a built-in bright flashlight for illuminating at night and drawing the attention of anyone passing by.
Best Self-defense Walking Stick for Hiking
The Wrzbest Hiking Pole is the best cane for hiking. This cane is ideal for outdoor activities because of its ergonomic, anti-slip cork grip handle that perfectly conforms to your hand and absorbs sweat throughout your hike.
Plus, its built-in shock absorber reduces any forceful impact on the wrist. It also uses twist locks and flip locks for balanced weight, ease of use, and strength.
Best Budget Self-defense Walking Stick
If you're on a budget and need a sturdy walking stick for self-defense, the Carex Soft Grip Walking Cane is a perfect choice. It has several features that make it sturdy enough to provide maximum support for your weight and mobility.
Best Self-defense Walking Stick for Seniors
If you need a self-defense walking stick to help with your back and for physical therapy, the Heart in Home Wooden Walking Cane is your ideal model. It's made of natural eco-friendly wood that withstands the roughest conditions, and its curved arc handle provides support by decreasing the impact on your body.
Best Styled Self-defense Walking Stick
The Nagina Premium Chromed Stick is the best-styled self-defense walking stick on our list. It's made with top-grade brass and designed with nickel-plated/premium chromed handles, buffed wax finish, and top-quality rosewood material. All these give the cane an elegant look and make it free from corrosion.
If you would like to protect yourself while walking in style, the Nagina Premium Chromed Stick is your best choice.
Final Thoughts
Now that you understand all you need to know about the best walking stick for self defence, you are prepared to make an informed buying decision. Although it can take some time to pick the ideal one, since the features mostly depend on your personal preference, physical ability, and the law, the problem is half solved. You now know what to look for.
If you pick one of these walking sticks, any battle you encounter later can end pretty quickly.