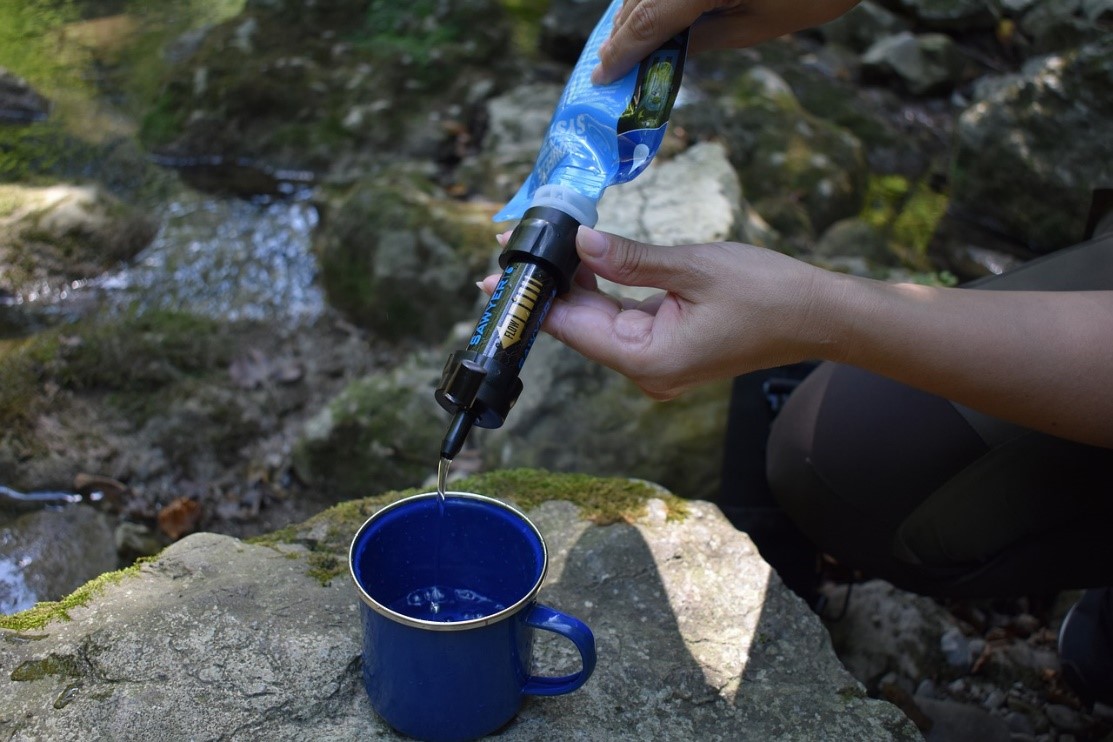 7 Best Survival Water Filter Models On the Market Today
In survival mode, you rely on the available source of water. It could be a muddy puddle, algae-filled ponds, livestock tanks, rainwater harvesting from rooftops, or river runoffs.
Filtering is the fastest way to get drinkable water from wild water. This is why a water filter is a mandatory inclusion in your survival kit.
Water filters work in different ways to make the water drinkable to be useful during those emergencies. Today we shall explore how the different models work to determine the best survival water filters in these categories.
To protect you from entanglement in the trade jargon, we will start by clarifying the difference between two popular terms used hand in hand in water cleansing.
Water Filters
These are mechanical devices used to remove unwanted particles from the water using different kinds of media. They are rated according to the largest particle size that can pass through them while the water is being cleaned.
This size is measured in microns. A micron is one-millionth of a meter. The lower the micron rating, the purer the water output.
They can block bacterium, waterborne protozoa, and any other sediment that may be contained in the water from the source because they are smaller in size.
Water Purifiers
They also remove the same contaminants that are removed by filters in addition to eliminating minerals and rendering dangerous contaminants inactive. They kill even the smallest of viruses that are capable of passing through the filters.
Water purifiers employ different techniques to do this, like mechanical filtration, the introduction of chemicals, and UV light.
Survival Water Filter Models
In-Line Water Filters
Sale
LifeStraw Personal Water Filter for Hiking, Camping, Travel, and Emergency Preparedness, 1 Pack, Blue
Removes bacteria & parasites: The microfiltration membrane removes 99.999999% of waterborne bacteria (including E. coli and salmonella), and 99.999% of waterborne parasites (including giardia and cryptosporidium)
Removes microplastics: Removes the smallest microplastics found in the environment (down to 1 micron), and reduces turbidity down to 0.2 microns
Rigorous Testing: All claims are verified with laboratories using standard testing protocols set by the US EPA, NSF, ASTM for water purifiers
Long Lifetime: The microbiological filter will provide 4,000 liters (1,000 gallons) of clean and safe drinking water with proper use and maintenance
Make an Impact: For every LifeStraw product purchased, a school child in need receives safe drinking water for an entire school year.BPA Free materials
They are hollow tubes inside of which filter mediums are fitted. You use them like a straw to suck filtered water straight from the water source. The filter medium removes all harmful contaminants as the water passes through the tube.
They are simple to use, lightweight, portable and packable and are ideal for a single person.
Vestergaard's LifeStraw Personal Water Filter has a -0.2-micron filter membrane pore size. This traps bacteria, microplastics, and parasites. It also traps all debris, reducing the water turbidity, and can filter up to 1000 gallons of water in its lifetime.
Hand Pump Water Filter
Survivor Filter Pro - Hand Pump Camping Water Filter - Emergency Water Filter
Independently Tested in the USA to show 99.999 percent filtration removal of tested Virus, bacteria, parasites and reduces heavy metals, unpleasant tastes and odors
Proven protection against any unwanted objects in your drinking water; Reduces Heavy Metals and Improves taste, thanks to Dual Hollow Fiber Membrane (Ultra Filters) and Carbon Filtration - 20 times more efficient than the competition at 0.2 microns and none of the Competition Comes Close with Our Heavy Metal Removal
Shell is ABS Material (Same Material Used on Car Bumpers), Polysulfone Medical Grade Ultra Filter (Same Material Used in Visors of Apollo Astronauts), Food Grade Activated Carbon and Handle Contains Steel Bar Inside for Extra Support. BPA Free
Super Fast Flow Rate of 500 Milliliters (17 Ounces) per Minute; Can be used directly from fresh water source, pumped into attached cup, or pumped into any portable hydration pack; Perfect for filtering large jugs of water for the whole family
Lifetime Warranty - We cover all manufacturing and other defects with our lifetime warranty
A hand pump water filter is a tube fitted with a water filtering medium inside, albeit larger than in-line water filters.
Due to their larger size, sucking is not applicable. They come fitted with hand pumps used to pull water through the filtering medium so that contaminants can be cleared.
They make up for their slightly bigger size and weight by pulling more water faster than in-line filters to serve a small party of people.
The Survivor Filter Pro portable water filter pump is one of the best hand pump water filters with a -0.01 micron protection enforced by three water filtration stages, including a carbon filter that will trap heavy metals and get rid of chemicals. It is good for up to 2000 liters of water.
Gravity Fed Water Filters
Waterdrop Gravity Water Filter Straw, Portable Water Purifier Survival for Camping, Hiking, Backpacking and Emergency Preparedness, Blue
💧 【Premium materials】: Effectively Reduces 99% of harmful substances. The adoption of high-grade coconut shell activated carbon fiber improves odor and taste, ensures the water safety and delivers better drinking experience.
💧 【Versatile uses】: Use with water bags or connect to water bottles to filtrate water for drinking. Both ends of it can be disassembled and connected with water bags and water bottles to offer you clean drinking water anywhere, anytime.
💧 【Outdoor water needs】: Fulfill all your outdoor water demands: hiking, camping, domestic and international travel, emergency preparedness (tornadoes, rainstorms, earthquakes, floods, etc.) to meet the emergency water demand in a variety of situations.Each straw only weights 0.19 pounds, and each bag only weights 0.29 pounds.
💧 【Innovative super-wash design】: No need for the extra syringe to backwash. It eliminates cumbersome fittings and saves space, brings you pure water with the greatest convenience and comfort.
💧 【Smaller frame】: Smaller frame but bigger capacity, Waterdrop Filterstraw can provide safe drinking water up to 100,000 gallons. It is easy to absorb water and can quench your thirst instantly. Match with water bags or bottles for the ultimate drinking experience.
A gravity filter is not the fastest when you are on the move and is more applicable if you are camping out or staying put for a while because it requires a bit of setup.
Instead of sucking or pumping the water through the filtering medium of a gravity filter, they are more passive and rely on gravity to pull the water through.
You fill water in a reservoir that will then be suspended above the water filter so that gravity can force the water through it and into another reservoir that is below the water filter.
Their best selling point is that they can hold a remarkably high water capacity at once, which can serve a large group without having to go for constant refills. You adjust the size of the gravity bag to fit the amount of water you intend to use.
Waterdrop Gravity Water Filter Straw is simple to use and versatile because the threads on the filter straw are standard, and you can use it with a water bottle when you don't need to fill the gravity bag, like on a solo mission.
Electric Water Filters
Survivor Filter Pro X - Electric Camping Water Filter - Emergency Water Filter
World's First Portable Electric Water Filter - Produces up to 100, 000 Liters of filtered water even in poor conditions
Convenient And Easy To Use - Simply tap the button and watch as it produces 17 ounces per minute of clean water, removing 99.999 percent of tested virus, heavy metals, bacteria and parasites
Backwashing Syringe System Included - BPA free and comes with all internal filters, tubing, detachable drinking cup, travel bag, details instructions and how to use manual
Weighs only 13.5oz – Has a super fast flow rate of 500ml (17 OZ) per minute. Can be used directly from fresh water source, pumped into the attached cup, OR pumped into any portable hydration pack. Perfect for filtering large jugs of water for the whole family!
Survivor Filter Lifetime Warranty - Survivor Filter is based in North America and we cover all manufacturing and other defects with our lifetime warranty. If you ever run into any problems with any of our products simply contact us and we will work to make it right.
They also pump water through a filtering unit, but in this case, the pump action is electric. This frees your hands to do other things as your water is cleaned.
All you need to do is push the on button, and the process begins. The self-powered versions come with batteries, while the rest can derive their power from many sources like the car battery, wall sockets, or power banks.
The Survivor Filter Pro X Electric Water Heater can be plugged anywhere, and you can charge it with a mobile phone charger or a power bank. It also has provision for AA batteries and comes with two of its own high-energy alkaline batteries with which it can produce up to 96 gallons of purified water.
Dual Technology Filters
These are water filters that allow you to switch from one filtering mode to another, depending on the water contamination.
This facilitates optimal usage of the water filter's capabilities, ensuring it is not strained unnecessarily, thereby prolonging its lifespan.
The best illustration of this concept lies in the Katadyn Vario Multi Flow Water Microfilter. It has three filter levels: a pleated glass fiber primary filter, an adjustable silver-impregnated ceramic filter, and active charcoal or carbon granule for removing odors. The ceramic filter disc protects the micro primary filter, increasing its lifespan.
You use the fast flow rate method when the water is relatively clean with minimal debris. In this mode, you bypass the ceramic pre-filter. The pleated glass fiber and charcoal can handle this load effectively. It produces clean water faster.
If you select longer life mode, the pace will not be as fast, but the ceramic filter comes back in play, and the water has to pass through all three elements. This shields the primary filter from impact.
Multiple Filtration Systems
Water filters can remove impurities from water using physical barriers, chemical processes, or biological processes. Sometimes the quality of water is beyond purification by the primary water filtration method. Quality water filters institute a secondary means to complement it.
Activated charcoal is the most common medium. It is used to absorb toxic compounds from organic contamination and addresses issues such as taste and odor. Many of the Survival water filters we have reviewed here have an activated charcoal component.
While a water filter straw, this water filter straw for survival has a patented design allowing for multiple filtering options. It has a hollow ultra-filtration membrane and can easily transform contaminated water into safe and clean drinking water. It also allows for a hand pump option and has a water bottle attachment.
Water Filter Bottles
This is a version of in-line water filters where the tube is fitted in the bottle, and you don't have to suck the water from the water source directly.
You fill up the bottle and proceed on your way with clean drinking water. The filtering medium cleans the water as you take a sip from the mouthpiece.
LifeStraw Go Water Filter Bottle has an activated carbon capsule for extra cleansing, which removes any remnant odors and organic chemicals.
Classes of Water Impurities
Bacteria
These are mainly byproducts from animal and human fecal waste and come in many forms; E. coli, Salmonella, cholera, shigella, or coliform. The major harmful bacteria diseases transmitted via water are cholera, typhoid fever, and bacillary dysentery.
Protozoan Parasites
These are single-celled organisms that feed on organic matter and use the water to get into their host. They are larger and more advanced than bacteria.
Different protozoan parasites make you sick in different ways. The most common in water are Cryptosporidium, Giardia, and Entamoeba histolytica. They will live and feed off our intestines, causing diarrhea.
Cysts
They are resistant walls that form around the parasites, protecting them from harsh environments. The bacteria and protozoa can sit in dormant form, ready to activate inside your body.
Viruses
Some viruses found in water, such as the adenovirus, astrovirus, rotavirus, norovirus, Hepatitis A and E viruses, and others are classified among those with the ability to impact human health significantly by the World Health Organization (WHO).
Most are associated with gastroenteritis which causes diarrhea and other abdominal disorders. They can also lead to more severe illnesses such as Hepatitis A, SARS, polio, and HFMD (hand, foot, and mouth disease).
Heavy Metals
They are called heavy because they have a high atomic weight. Their density is approximately five times that of water. They are scattered all over the environment due to their many applications and often find their way into the water.
Over-ingestion can cause organ damage, and they have also been classified as carcinogens. Lead, mercury, arsenic, cadmium, and chromium have high toxicity levels and are given priority when purifying water.
Society Wastes
This category generalizes all contamination that arises courtesy of human activity and eventually finds its way into the water.
These include microplastics, pesticides, cleaning agents, industrial runoff, paint, and acid rain. The water is laced with chemicals, making it unfit for human consumption.
Sediments
These are solid pollutants collected by water runoff and deposited in nearby creeks, streams, and rivers. They are made loose by a combination of erosion, decomposition of plants and animals, and construction activities.
The contaminants include dirt, sand, silt, microplastics, plant and animal matter, and all kinds of debris. They degrade the quality of water for drinking.
Algae
Industrial waste and climate changes have led to the blooming of harmful algae in our water, which produce toxins that can cause illness or even death when ingested. These are the greenish brownish slime seen in waterbeds.
Water Cloudiness
The technical term for this is turbidity. It is usually an indicator of the presence of harmful bacteria, viruses, and other pathogens in the water.
Water in this state provides an environment for the growth of microbial that may be disease-causing. It also hinders disinfection.
How to Determine Which Survival Water Filter Is Suitable for Your Needs
When it comes to survival, you can never be too sure what your needs will be at the point of emergency. The safe move is to have a couple of options to choose from, but we need to factor in budgetary constraints as we make the selection.
Below are some of the considerations you should be pondering over when it comes to what emergency water filter you should have on hand.
Quality of the Source Water
If you know what contaminants you are removing from the water, you can concentrate on survival water filter models specifically designed to combat those impurities.
Try and keep up with the local water analysis reports from reliable sources like county health departments and the Environmental Protection Agency (EPA).
They usually include the concentration of contaminants, which should help in making your preparation relevant.
The closer you are to the water source, the less treatment the water will need because it hasn't had a lot of exposure to contamination.
The further it flows downstream and the closer it comes to human activity, the more contaminated it becomes. You will need more than a basic filter to clean this water.
The Size of Your Party
A basic in-line water filter will suffice for your individual survival. You may be forced to consider other options for a group of people unless everyone has their own water filter.
This reduces efficiency as you will spend a lot of time getting water as opposed to serving everyone with the faster hand-pumped water filter.
Gravity-fed filters are also ideal for larger groups camping in one place as the setup will be faster, and they have a larger holding capacity.
Portability of the Survival Water Filter
The lighter you pack, the more agile you are and the further you can move before fatigue sets in. if you are alone, the small in-line water filter will suit your purposes.
In a group, you need to weigh the convenience of a water purifier against the speed with which you will purify the water and prioritize.
Think about how much weight it could be if you could only carry bottled water instead of a smaller and more convenient emergency water filter for safe drinking water.
The Budget
The ideal situation is to have survival water purification for every perceivable scenario. That may not be possible because you need more gear to complete the full survival kit while covering your everyday expenses.
Prioritize your requirements and make a checklist in that order. Then you can go for the portable water filter that checks the most boxes.
You can build your water filter collection over time using the same criteria but changing priorities to cover the gaps left by the previous filter.
Having at least two diverse filters in your backpack gives you access to more water options. You will have covered all your bases so you can adapt to the situation at hand.
At about 8.3 pounds per gallon, water is considerably hefty. Adult humans need about a gallon of water per day, so it is impractical to think you can carry all the water you need when required to be on the road for days. You should be prepared for fetching water on the go.
This does not take away from the sense of having at least 24 ounces of water in your survival pack at all times as a safety measure. This will be your initial water source before you can identify others.