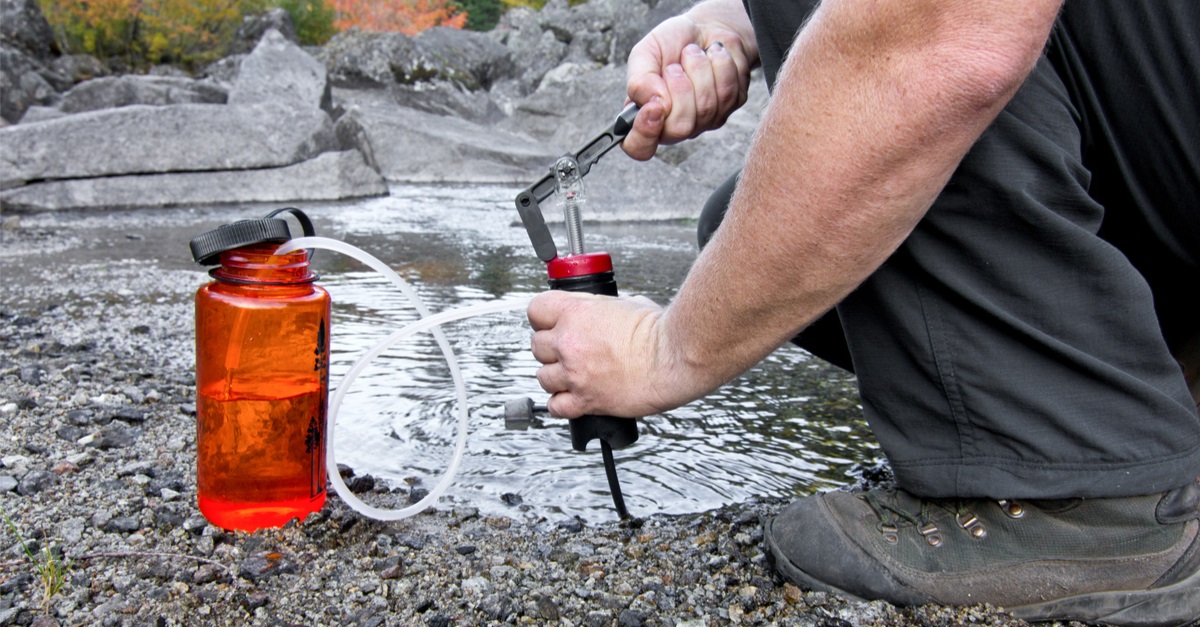 The Best Portable Water Filtration System for Camping, Survival, and More
Regardless of whether you're hiking, traveling, backpacking, or camping, there's no denying that being prepared for any emergency that may crop up is the key to having utmost peace of mind. Here's where a portable water filtration system comes into play. It is important equipment you'll require for survival.
You'll enjoy safe drinking water that lacks protozoa and bacteria. For international travel, you'll also need to be keen on viruses. With that being said, if you're wondering about the best portable water filtration system that will give you value for your money, you've come to the right place.
Buying Guide
Let's explore a few factors to consider when choosing the best portable water filtration system to permit an informed decision.
1. Quality of Water
It's no secret that water filtration in the wilderness boils down to the elimination of protozoa and bacteria. Viruses are a non-issue in North America unless you reside in a commonly visited area. While virus protection is a factor to consider, particularly in developing countries, tropical areas, and when natural disasters occur.
Therefore, why not get rid of the pathogens lurking in water until they become the least of your concerns? After all, some viruses are microscopic and difficult to catch for most portable water filters.
When it comes to the removal of protozoa and bacteria, ultrafiltration or submicron membranes and ceramic filters will get the job done effectively. Using an activated carbon filter is unnecessary as it isn't as durable nor is it effective.
2. Portability and Weight
You want a filter you can carry on the go when you embark on your camping or hiking trip. That means it should travel light and pack small. Here's where sterilizing pens and straws come in handy. Carrying a portable water filtration system is a breeze because of its collapsible nature.
3. Speed
It's essential when traveling as a group. Nevertheless, a portable water filtration system that gets the job done quickly even when you're alone is the epitome of convenience. Gravity filters can be a lifesaver in addition to water filtration pumps. There's a close similarity between a straw filter and a filter bottle as they have a standard purification mechanism.
4. User-Friendliness
A portable water filtration system that utilizes a straw is the easiest to use. Once you submerge one end of the filter, you can suck purified water through the opposite end. A UV sterilization pen is self-explanatory. Upon submerging the UV lamp stir until the device goes off.
It's worth noting that a gravity bag filter coupled with a filter pump calls for preparation. For instance, each must be assembled. Furthermore, a portable gravity filter must be hung strategically. A container will also come in handy for collecting filtered water.
5. Maintenance, Durability, and Filter Capacity
It's a no-brainer that you gravitate more towards a portable water filtration system that can withstand impact without falling apart. Moreover, the quality of materials and a model with fewer moving parts is an ideal choice.
Maintenance should be straightforward without requiring a boatload of tools. For instance, a water filter that's easy to clean by sucking out the remaining water after each use. You also need to factor in the cost of replacement filters for your system. Cartridges with a long lifespan can make all the difference.
Best Portable Water Filtration System
Now that you know the factors to consider when choosing a portable water filter, let's explore the most ideal options in the market that will give you the best bang for your buck.
Designed with international and domestic travel, outdoor recreation, camping, hiking, emergency preparedness, and scouting, the Sawyer Mini portable water filter system is a worthwhile investment. The 0.1 absolute inline micron filter that's a snug fit in your palm and weighs 2 ounces ensures the impressive performance of the unit.
Sawyer Mini includes water bottles, a drinking pouch, hydration packs, and a drinking pouch. Nonetheless, you have free rein to drink directly from your water source. The unit eliminates up to 99% of E. coli, salmonella, cholera, and other harmful pathogens that lurk in water such as cryptosporidium, giardia, and other protozoa.
It also gets rid of microplastics. With a filter requires replacement after 100,000 gallons of water, you get value for your money. Sawyer Mini includes a 16-ounce reusable squeeze pouch, a replaceable filter, a drinking straw (7 inches), and a cleaning plunger.
Pros
Best suited for camping and other outdoor recreation activities.
Impressive performance
Affordable
Lightweight and compact
Eliminates 99.9% of all bacteria, protozoa, and microplastics
Cons
Malfunctioning O-rings
Leakage when squeezing the pouch
Sale
Sawyer Products SP103 MINI Water Filtration System, Single, Orange
Ideal for outdoor recreation, hiking, camping, scouting, domestic and International travel, and emergency preparedness
High-performance 0.1 Micron absolute inline filter fits in the palm of your hand and weighs just 2 ounces; 100% of MINI units individually tested three times to performance standards by Sawyer
Attaches to included drinking pouch, standard disposable water bottles, hydration packs, or use the straw to drink directly from your water source
Removes 99.99999% of all bacteria (salmonella, cholera, and E. coli); removes 99.9999% of all protozoa (such as giardia and cryptosporidium); also removes 100% of microplastics
Filter rated up to 100,000 gallons; includes one Sawyer MINI filter, 16-ounce reusable squeeze pouch, 7-inch drinking straw, and cleaning plunger
As one of the best-selling and most popular products that have littered the market, the LifeStraw portable water filtration system has exceptional customer feedback. The unit was constructed to allow outdoor lovers to consume water directly from lakes, rivers, and other water sources while they're on the move. Alternatively, you have free rein to fill up a water bottle or container and use the filter straw while you're out and about.
Besides affordability, the weight, size, and thorough filtration of the unit are perfect for backpacking adventures, camping, and backcountry hiking. LifeStraw gets rid of up to 99.9% of parasites and bacteria lurking in the water, ranging from salmonella, cryptosporidium, and E. coli to giardia. Furthermore, it eliminates the smallest microplastics (1 micron) and diminishes turbidity to 0.2 microns.
The portable water filtration system has undergone rigorous testing by reputable bodies such as the ASTM, US EPA, and NSF. Moreover, with ideal maintenance and use, the unit's filter provides 1,000 gallons (4,000 liters) after which a replacement is due.
Pros
Constructed from BPA-free and durable material
No shelf life. The unit is a lifesaver as long as there's water flow
Measures 9 inches and weighs 1.62 ounces, making it compact and lightweight for portability
Impressive flow rate of 0.8 gallons per minute
Cons
Sucking water from the system is no easy feat and can be exhausting
Sale
LifeStraw Personal Water Filter for Hiking, Camping, Travel, and Emergency Preparedness, 1 Pack, Blue
Removes bacteria & parasites: The microfiltration membrane removes 99.999999% of waterborne bacteria (including E. coli and salmonella), and 99.999% of waterborne parasites (including giardia and cryptosporidium)
Removes microplastics: Removes the smallest microplastics found in the environment (down to 1 micron), and reduces turbidity down to 0.2 microns
Rigorous Testing: All claims are verified with laboratories using standard testing protocols set by the US EPA, NSF, ASTM for water purifiers
Long Lifetime: The microbiological filter will provide 4,000 liters (1,000 gallons) of clean and safe drinking water with proper use and maintenance
Make an Impact: For every LifeStraw product purchased, a school child in need receives safe drinking water for an entire school year.BPA Free materials
As a high-capacity and gravity-fed portable water filtration system, LifeStraw Mission has a hollow membrane, making it perfect for outdoor activities, family and group camping, and emergency preparedness.
The unit effectively gets rid of up to 99.9% of the viruses and bacteria that contaminate water in lakes and rivers. The compact roll-bag serves as a water reservoir that can house 1.3 gallons (5 liters) or 3.1 gallons (12 liters). It's made of long-lasting TPU laminated nylon.
LifeStraw Mission is user-friendly with little maintenance and features a stuff sack coupled with a carrying strap for portability and storage. It lacks batteries, chemicals, and other moving parts for safety. The unit can filter water at the rate of 2.4 to 3.4 (anywhere between 9 and 12 liters) gallons hourly which translates to a capacity of 4,755 gallons or 18,000 liters.
Pros
Lightweight for easy transportation in a backpack
Reduces turbidity to 0.2 microns
Constructed solely from food-grade materials
Contains a pre-filter to get rid of coarse dirt particles and curb membrane clogging
Cons
Slower filtration compared to other units
The filtered water has a slight aftertaste that some people may find unappealing
LifeStraw Mission Water Purification System, High-Volume Gravity-Fed Purifier for Camping and Emergency Preparedness, 5 Liter
Gravity-fed, high-capacity, hollow membrane water purifier; ideal for group and family camping, outdoor activities, and emergency preparedness
Removes virtually all bacteria (99.9999%), protozoa (99.99%), and viruses (99.999%) that can contaminate water; easily fillable in lakes and streams.Bag is made of durable, TPU laminated nylon
Compact roll-bag reservoir available in 5-liter (1.3 gallon) or 12-liter (3.1 gallon) size; can be suspended from tree or other support for easy access
Simple to use and maintain, without chemicals, batteries, or moving parts; features carrying strap and includes stuff sack for storage and portability
Lifetime filtration capacity of 18,000 liters (4,755 gallons); produces flow-rate of 9-12 liters (2.4-3.4 gallons) of purified water per hour
Independently tested in the US, the Survivor Filter Pro portable water filtration system is a beast at eliminating up to 99.9% of heavy metals, viruses, parasites, and bacteria. Resultantly, the unit removes unpleasant odors and tastes, courtesy of the ultrafilters (double-sides hollow fiber membrane). With a carbon filtration feature, the Survivor Filter Pro has superior efficiency (up to twenty times) lowering turbidity to 0.2 microns.
The shell of the unit is constructed from ABS material that's popularly used on car bumpers, food-grade activated carbon, a medical-grade ultrafilter that's commonly used in Apollo Astronauts Visors, and BPA-free material. The handle contains a steel bar in the interior for enhanced support.
Survivor Filter Pro has an impressive flow rate of 17 ounces (500 milliliters) per minute. You have free rein to use it from a freshwater source, pump it into an attached cup or portable hydration pack. If you're looking for a filtration system that can filter large jugs of water for you and your family or friends during a camping trip, then Survivor Filter Pro is your holy grail.
Pros
Contains an additional outlet to easily flush out dirt
The red bulb is a lifesaver for cleaning the membrane
Perfect for family use and emergency preparedness
Constructed from BPA-free and food-grade materials
High filtration capacity means the clean water can last two to three days
The filter bag can be folded up and tucked away in your backpack for portability
Cons
Slower filtration rate than expected
Slight filter leakage at the red bulb
Sale
Survivor Filter Pro Water Purification System for Survival - Lightweight Hand-Pump Portable Water Filter for Backpacking Hiking Camping Water Filtration - Removal of 99.999% of Tested Virus Bacteria Parasites
Independently Tested in the USA to show 99.999 percent filtration removal of tested Virus, bacteria, parasites and reduces heavy metals, unpleasant tastes and odors
Proven protection against any unwanted objects in your drinking water; Reduces Heavy Metals and Improves taste, thanks to Dual Hollow Fiber Membrane (Ultra Filters) and Carbon Filtration - 20 times more efficient than the competition at 0.2 microns and none of the Competition Comes Close with Our Heavy Metal Removal
Shell is ABS Material (Same Material Used on Car Bumpers), Polysulfone Medical Grade Ultra Filter (Same Material Used in Visors of Apollo Astronauts), Food Grade Activated Carbon and Handle Contains Steel Bar Inside for Extra Support. BPA Free
Super Fast Flow Rate of 500 Milliliters (17 Ounces) per Minute; Can be used directly from fresh water source, pumped into attached cup, or pumped into any portable hydration pack; Perfect for filtering large jugs of water for the whole family
Lifetime Warranty - We cover all manufacturing and other defects with our lifetime warranty
To Wrap Up
While a first aid kit, excellent footwear, a tent, food, and other camping essentials will enhance your comfort, nothing beats clean water to drink. After all, water is life, quite literally which means you can die of dehydration within 3 days. Fortunately, armed with insight into selecting a portable water filtration system and the best options to buy, you don't have to resign yourself to this fate.