Last Updated on November 24, 2022 by admin_hunter
Camping can be a fun and exciting way to connect with nature, but that does not mean it is without its dangers. Without the right equipment and supplies, a weekend in the wilderness can quickly change from relaxing to stressful, miserable, and even dangerous.
To help you prepare for your next successful camping trip and ensure you know how to survive camping, we have come up with the ultimate packing list. We will cover everything from essential equipment and tools to the type of food and clothing you should bring!
Stop worrying if you have packed the right things and start focussing on getting out there and taking in everything nature has to offer!
The Ultimate Camping Packing Checklist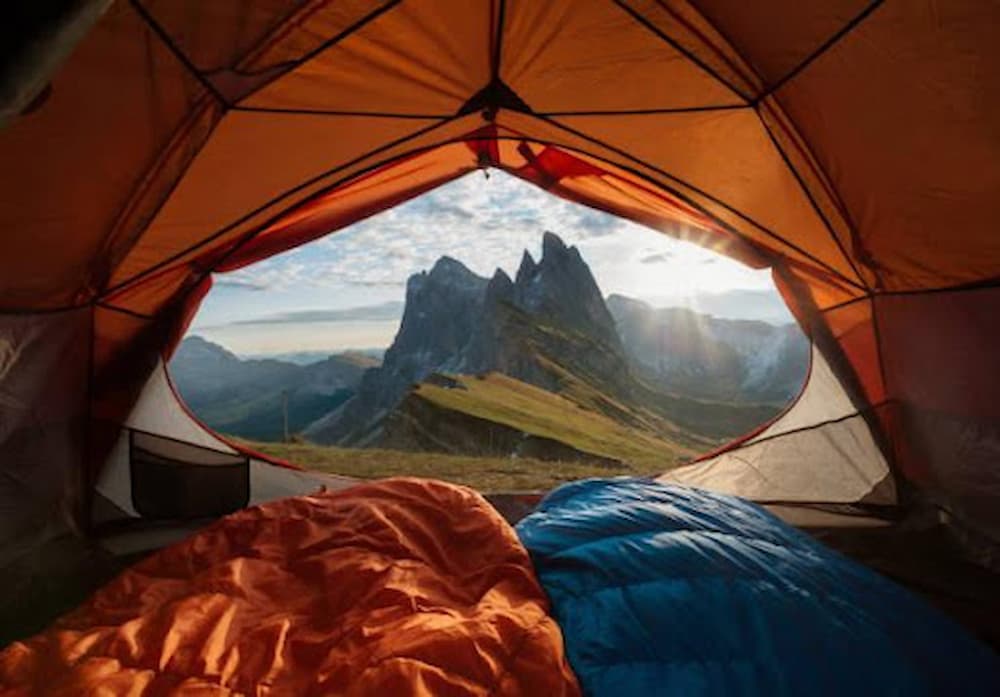 We have broken our camping survival checklist into several categories to make things easy. If you make sure that you check each of the following items off, you can rest assured that you will have a comfortable and safe camping trip:
Shelter & Sleeping
A season-appropriate waterproof and wind-resistant tent. For help choosing the right type of tent for when and where you plan on camping, consider reading Outdoor Gear Lab's guide to Choosing a Camping Tent.
Enough pillows for each member of your camping group
Temperature-rated sleeping bag
Insulated ground pad for the sleeping bag
Extra blanket if you are camping during colder months
LED light for your tent
Campsite Items
An axe with a flat poll (back part) for chopping wood and hammering in tent stakes
A tarp for extra rain protection
Flashlights, headlamps, and lanterns
Extra batteries for your light sources
A spacious cooler and ice packs
Refillable water cooler
Waterproof matches, a reliable lighter, and a flint striker
Citronella candles or lanterns
Firewood approved for safe use in that region (non-approved firewood can contain invasive insects, fungus spores, and more). For more information, read How to Choose the Best Campsite Wood to Get Your Fire Started.
Kindling and firestarter
Tablecloth and tablecloth clips (only if your campsite comes equipped with picnic tables)
A first aid kit that contains essential medications and medical equipment, such as bandages, topical disinfectant ointments, and pain relief medication
Camping Tools
Campsite Extras & Furniture
At least one camping chair for each person in your camping group
A fold-out, pop-up table if your campsite does not feature a picnic table
A pop-up shelter or canopy shelter with mosquito netting for dining and shade during the day
A small mat for shoes and hiking boots (helps to keep mud and dirt out of your tent)
A hammock (optional, but very relaxing)
A bear canister for storing food overnight (only necessary if you are camping in bear country)
Cooking Essentials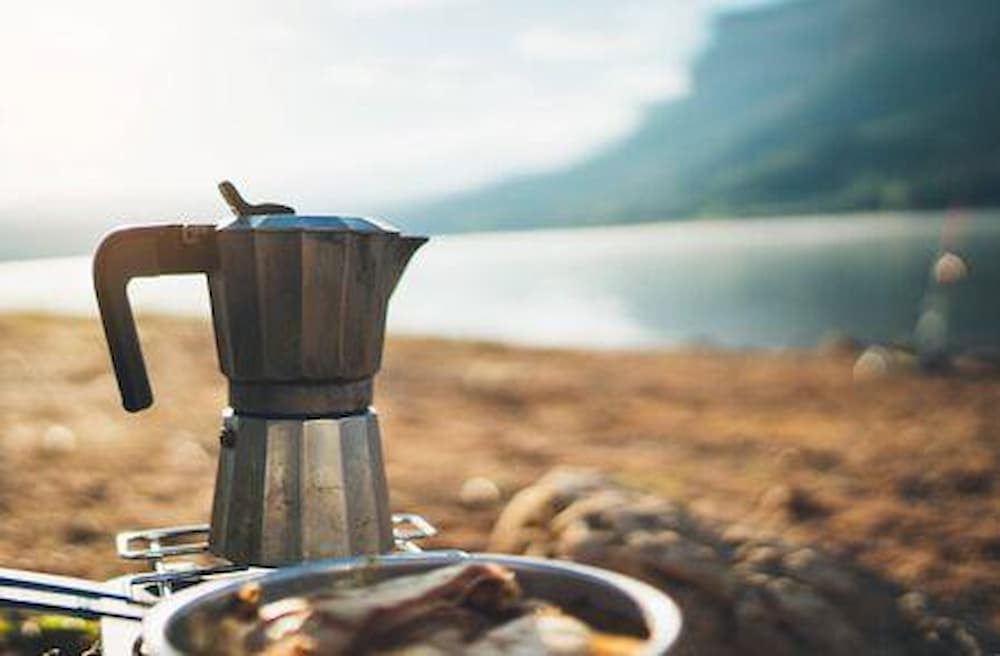 A portable camp stove and extra fuel
A grate to cook over your fire pit
A cast-iron pan for cooking over the fire, as well as a smaller pan for using over your camp stove
Fire-safe coffee percolator and a kettle (boiling water is helpful for cooking, as well as washing your cookware and utensils)
A roasting stick for cooking items over the fire
Plates, bowls, shatterproof camping mugs, eating utensils, spatula, and tongs
Can opener and botter opener (only necessary if your multi-tool does not have these items)
Washable cutting board
Food storage bags and containers for leftover food
Biodegradable dish soap and a scrub brush
Paper towel
Trash bags for food scraps and other garbage
Camping Food
Non-perishable food items (the bulk of your food should not need to be kept cold, as the ice required to keep it fresh is heavy and will melt if you are camping for more than a few days). For more information, consider reading What is Considered Non-Perishable Food? – The Ultimate Guide for Stocking Up.
Your favorite perishable food items that can fit in your cooler. You can get creative here, but popular items include bacon, eggs, hot dogs, steak, salad ingredients, fresh fruit, milk/coffee cream, fresh vegetables, etc.
Salt and pepper, as well as other spices you enjoy cooking with
Camping snacks like popcorn, s'more ingredients, beef jerky, trail mix, and energy bars. Read our guide to Making Homemade Survival Bars if you want a nutritious, affordable, and non-perishable camping snack
Personal Hygiene Items and Toiletries
Hand soap
Sunscreen
Toothbrush and toothpaste
Toilet paper (pack in a waterproof bag if you are camping in rainy weather)
Deodorant
Biodegradable shampoo, conditioner, and body wash
Sanitary wipes
Camping Clothing & Footwear
What you wear will depend on the climate and season when you are camping. To save space in your pack, roll clothes rather than fold them.
Moisture-wicking T-shirts and long-sleeve shirts
Light layering pieces for wearing at night and during cold mornings
A good raincoat
Sweaters, hoodies, and fleece pullovers
Thick hiking socks made from a good wool-blend
Loose and comfortable hiking pants
Enough underwear for the number of days you are camping
A cap for keeping the sun off of your face
Sandals or flip flops for wearing to communal showers or just around your campsite
Gloves and a winter hat if you are camping during colder off-seasons
Pajamas and sleepwear
Swimwear
Comfortable and sturdy hiking boots or shoes
Sunglasses that offer UV protection
A supportive, well-fitting backpack that you can use to carry your gear
For More Information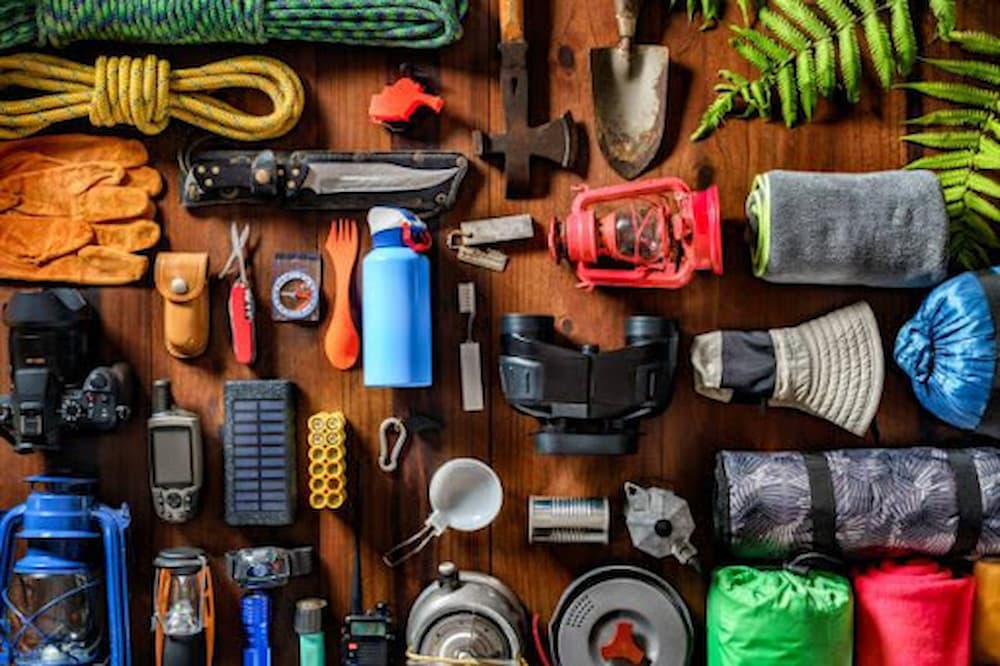 If you are looking for more information about how to survive camping, we recommend reading KOA's informative 10 Tips for Tent Camping, which covers some practical tips and tricks for having a comfortable and enjoyable camping experience.
The National Park Service also offers its own guide to Staying Safe While Camping, which is a handy resource, especially for those new to camping and the backcountry.