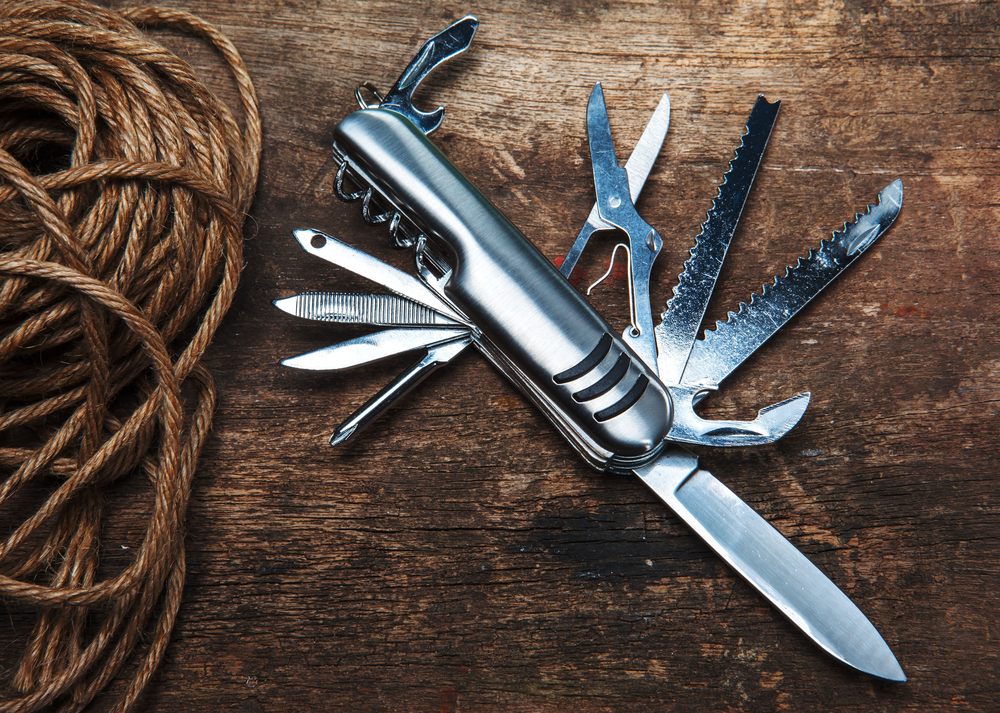 Best Multi-Tools for 2022
Remember MacGyver? The man could make an exploding pen from a rock/paper/scissors game. Just one click after you've signed your name, and BOOM! the baddies are blown to smithereens. Not one bit of them soiling his hair, his shirt, his rugged good looks.
Do you want a multi-tool? Don't waste your time on posers. Buy a multi-tool that gets the job done; the first time, it threatens to. Then you'll never have to buy another multi-tool again.
What Makes for a Great Multi-Tool?
Straight-up convenience makes for a great multi-tool convenience that looks like this:
As close to lifetime guarantee and quality as possible.

It does everything, and by everything, we mean that the components have been well-thought-out for the average person who might need to screw or cut something. Even the above-average tool user needs a nifty multi-tool to keep handy.

Size. Size does matter, and not in the way you might think. You're not a jailer. You don't need a bull-ring size keyring jangling at your hip with your myriad of tiny tools. You need one compact, foldable, powerful multi-tool that can fit in a pants pocket or purse.

And last but not least; safety locking, because when you say that you almost bled to death, people don't expect that it would be at the hands of your multi-tool blade.
Do I Really Need a Multi-Tool?
Yes, you do. Nothing screams satisfaction like independence. Nothing compares to the sense of achievement we get from fixing something or building something. Especially when it's something you weren't sure you could. 
Multi-tools are versatile and have many functions, like you. Multi-tools are cool. And having a good multi-tool is invaluable to helping you level up your inner Handy Man and maintain your super-useful status. 
We like people with multi-tools. They help us. We want to be them.
The best multi-tools for every situation (the top 5 choices)
Utility, utility, utility. What exactly do you need your multi-tool for? Will it become a permanent part of you from this day forward? Is it necessary for your work? Or do you just want the convenience of independence and "can-do" when the time comes? 
Either way, we've rounded up what we think are the action heroes of what's available out there.
Victorinox Swiss Tool X Plus
The Tony Stark of multi-tools. You've gotta love the Swiss. Not only do they make a tool with 37 functions, but they make it fit into a sleek leather pouch!  The price is a bit plus also at $ 221.53, but considering  you'll probably have it for life; it's worth the investment. Weighing in at just over 290 grams and only 115mm long, it proves that dynamite does indeed come in small packages. What's more, is that it holds the Popular Mechanics title for Editor's Choice. Oooh.
Check out the Victorinox website for full specs, details, and where to buy.
Leatherman Surge
Leatherman is like the Apple of multi-tool design. Always striving for better functionality, without compromising quality and  looks.  The Surge is available in either stainless steel or black with a sleek Molle Black Nylon sheath.  This multi-tool boasts 21 tools and is one of their two largest  multi-tools with the largest pliers and longest multitool blades. It is specifically built for tough jobs and a lifetime of use and is available to buy straight off their website at $129.95 (what are you waiting for?).
The Caliber X
Hold onto your seats for this one! The Caliber X guarantees audible gasps of awe and wonder  each time you crack it open.  They've reincarnated MacGyver into a  multi-tool, a tool that fits perfectly into your lifestyle. Designed for modern men and women. It even  comes with a firestarter! A firestarter?! And would you believe that it's available for a mere $85.00? Take my word for it and go check out the rest of the mind-blowing details on their website:
SOG Powerlitre
Did you know that SOG is the knife-maker choice for the U.S Navy Seals? Do you know why? Utility. Single-handed utility. Gone are the days of someone needing to hold your beer or
baby, while you go about making the world a better place. The SOG Powerlitre is a powerhouse mini multi-tool with 19 tools compacted into rugged efficiency.  And for $65.95, this little precious can be yours! Small enough and light enough to store anywhere, like Lara Croft's bra. It has a magnetic bit holder, and wait for it…a jewelry driver. Go check it out on their website:
Gerber Dime
I love this little guy because it's not just a pretty face. Available in 3 different colors, sporting 12 tools and all as a keychain.  Being so compact makes it extremely useful as your daily companion so that you're always prepared. In fact, some reviewers report having even used it to fix some motor parts.  Also, that the bright color makes it easy to spot amongst the myriad of other things you have lying around. And at $24.00, it's not about to break your budget either. Check it out on their website:
Bob the Builder! Can He Fix It?!
Yes, he most certainly can! And now you can too. Owning a dependable, handy multi-tool has never been easier. No household should be without one. The key to choosing is ultimately deciding what you want yours for. 
Keep in mind that you're probably not going to be able to build an entire house with one of these, but you will most certainly be able to construct some furniture, even IKEA furniture.
Whether you're a seasoned DIYer or a hardened tradesperson, go forth in multi-tool independence and fix something like you mean it.