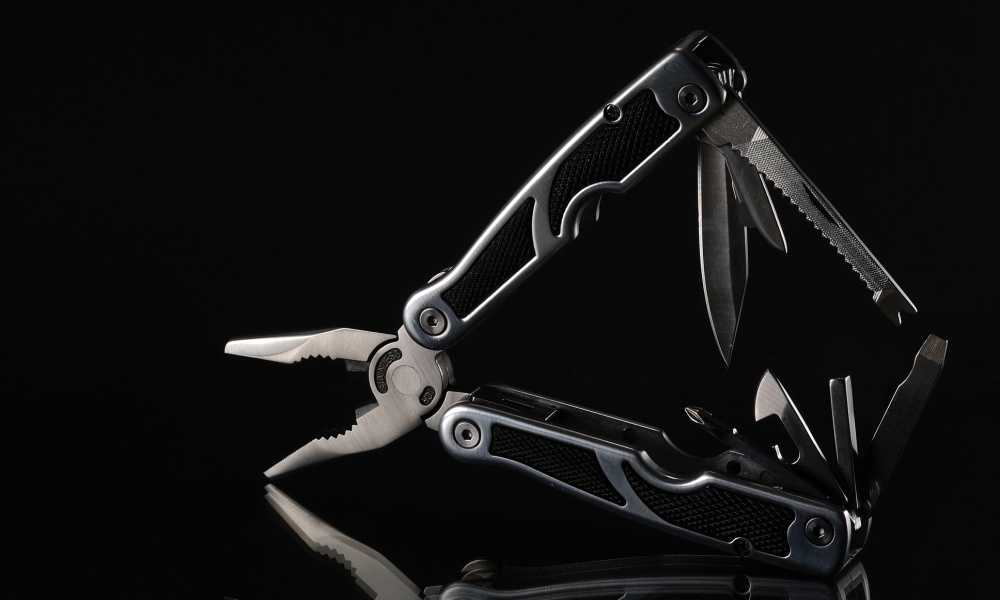 Best Multi-tool of 2019: Complete Reviews with Comparisons
When most people think about the best multi-tool, they often think of the Swiss Army knife or Leatherman. One pioneered the multi-tool itself while the other pioneered multi-tools that include fully functional pliers.
Manufacturers of multi-tools have come a long way since the first Swiss Army knife was designed.
The quality of the accessories is a lot better these days and the variety is much greater.So, what makes a multi-tool best in its class? There are many features to consider. But it all starts with what the multi-tool is designed for.
The type of activity you do or the type of lifestyle you prefer is what should steer you towards a specific design. Here are some of the best multi-tools to get you started.
Top 5 Multi-tools Comparison Chart
Victorinox Swiss Army Classic SD Pocket Knife
Gerber Suspension Multi-Plier
LEATHERMAN – Wingman Multitool with Spring-Action Pliers and Scissors
Tactical Pen for Self-Defense
Wallet Ninja- 18 in 1 Credit Card Sized Multitool
Best Multi-tool Reviews
1. Victorinox Swiss Army Classic SD Pocket Knife
Although labeled as a pocket knife, this compact multi-tool also comes equipped with a keychain ring. It also has the size to work as a slightly larger keychain, which makes carrying it everywhere a lot easier.
Product Highlights
This unit has six functions. It includes a knife blade, nail file, screwdriver, foldable scissors, tweezers, and toothpick. The knife blade is surprisingly good for its size, but it may need sharpening more often, which the manufacturer specifies to be done at a 20° angle.
At just 2.25" in length, the Classic SD is one of the smaller pocket knives. It weighs just 0.74 oz. which is barely noticeable.
Although Victorinox makes multi-tools with up to 33 functions, the quality of the Classic SD is perhaps superior in a few areas. Fewer tools incorporated means that there's more room to add impactful tools. The knife blade is thus a bit thicker and more durable than some other models.
What's to like about the Victorinox Swiss Army Classic SD Pocket Knife
The Classic SD has the basics of a true Swiss Army knife in terms of functions. This makes it a good buy for an experienced survivalist, outdoorsman, and handyman.
What's not to like about the Victorinox Swiss Army Classic SD Pocket Knife
The spring used on the scissor would probably be the first piece to fail. It's been known to fall out of alignment and although it can be fixed, too many interventions might ruin the mechanism permanently.
2. Gerber Suspension Multi-Plier
Either bought separately or as a package with the Gerber Paraframe I fixed blade knife, the Gerber Suspension Multi-Plier is a field-tested multi-tool for everyone's pocket.
Product Highlights
The butterfly design provides easy access to every tool. The selection of 12 tools includes pliers, a fine edge knife, saw, scissors, can opener, and more. What's really nice is having both small and medium flat-head drivers.
The Suspension Multi-Plier is no longer than 3.5" when closed. It weighs 9 oz. which makes it quite easy to carry. It comes with its own nylon sheath that protects the tools from the elements to some degree. The sheath can be attached to a belt or backpack.
The open-frame design makes it easy to look for the right tools. This comes in handy during an emergency.
What's to like about the Gerber Suspension Multi-Plier
The tool selection is really good. You have everything you need for quick fixes around the house. There are also enough tools to help you during a camping or fishing trip.
What's not to like about the Gerber Suspension Multi-Plier
Although the butterfly design facilitates the incorporation of 12 tools, it can also make it difficult to use some of them efficiently.
3. Leatherman Wingman Multi-tool
Leatherman multi-tools are known for their material quality and craftsmanship. As such, the Wingman is one of the best pocket-sized stainless steel multi-tools on the market.
Product Highlights
The design is fairly straightforward but well-executed. The main blade is easy to deploy without worrying about the scissors. The tool is compact, easy, and safe to carry in a pocket.
The build quality is also quite impressive. The Wingman already uses superior quality stainless steel for the blades and tools. On top of that, it also features tungsten coating in order to achieve better lifespan and water resistance.
The full-size pliers are nothing short of great, as you'd expect from Leatherman. They're the main highlight of this multifunction tool. The scissors are also surprisingly good, not just because of the sharpness but also because of a well-built inner lock.
14 tools in total are combined into the Wingman. The deployment on each tool is easy enough that you can use just your dominant hand. The blade comes with a locking mechanism which gives you more control and leverage when cutting.
What's to like about the Leatherman Wingman Multi-tool
The material quality is the main highlight. From the use of stainless steel to the tungsten coating for extra durability and protection, Leatherman did a great job. If the goal was to make the Wingman last a lifetime and provide plenty of utility, and further evidenced by the 25-year warranty.
What's not to like about the Leatherman Wingman Multi-tool
The ruler is an odd choice. It's not big enough for other than measuring tool and bolt head sizes, and its presence takes up a lot of space. Better tool spacing could be achieved without the ruler as part of the design.
4. Take Flight TF02 Tactical Pen for Self-Defense
You probably did not see this one coming. While it's true that it's a lot different than most multi-tools that the majority of people are accustomed to, this tactical pen is an interesting alternative.
Product Highlights
First of all, the pen is built for heavy duty work and rough conditions. Aircraft-grade aluminum is used for the housing.
The pen is 6" long and has a diameter of around 0.6". Because of its size, weight, and specific design, the pen can be clipped to your pocket, MOLLE system, bug out bag, etc. It's one of the best multi-tools for rescue or emergency situations because it's something you can carry anywhere anytime.
The pen comes with four important accessories, one of which is built-in. At the top of the pen is an LED flashlight. The pen also has the following: glass breaker tip, bottle opener, ballpoint pen.
The glass breaker and the flashlight are the only two exposed tools. You have to unscrew the glass breaker to expose the bottle opener and unscrew the bottle opener to use the pen for writing.
Based on utility and design, this is one multi-tool that takes up no space at all.
What's to like about the Take Flight TF02 Tactical Pen for Self-Defense
The pen's durability, portability, and concealment factor are its most important features. They make it an EDC multi-tool that you're allowed to take with you anywhere, including on flights.
What's not to like about the Take Flight TF02 Tactical Pen for Self-Defense
The flashlight is not as powerful as you may think. It has a decent output if you need to work in small tight spaces but the battery runs out fast regardless.
5. Wallet Ninja 18-in-1 Credit Card Multi-tool
Credit card multi-tools occupy a weird spot in the multi-tool market. Some people love them because of the slim design while others point out the obvious lack of functionality. Whichever the case may be, it's hard to deny that for some people, a credit card multi-tool provides a lot of utility.
Product Highlights
What we have here in the Wallet Ninja is the pioneer of credit card multi-tool and the most well-known. This 18-in-1 tool has, guess what, 18 functions.
The top of the wallet is also a 2" ruler. The portion where the ruler meets the wallet body is used as a box opener. The opposite corner features a can opener and a larger bottle opener.
A cell phone stand is also included, as are six hex heads for nuts and bolts between #2 and #12. A flat head screwdriver head is located at the bottom right corner and an eyeglass screwdriver at the opposite corner.
A series of intricate machine cuts created roughly 8 or 9 distinct tools. The multiple hex head sizes give the Wallet Ninja multi-tool even more utility.
What's to like about the Wallet Ninja 18-in-1 Credit Card Multi-tool
What's truly amazing is that the tool is absolutely flat. It's perhaps the easiest of its type to carry and to use.
What's not to like about the Wallet Ninja 18-in-1 Credit Card Multi-tool
The flat design may also pose some problems. When working with very tight screws, the hex heads wrench segments may prove to be less efficient.
BUYER'S GUIDE
Types of Multi-Tools
Multi-tools can be categorized as either manual or battery powered. However, market demand is much higher for manual multi-tools. Here are the most common designs you can find:
Belt Multi-tools
Belt multi-tools are sometimes designed with more than 20 tools in a single unit. They tend to be made of high-quality stainless steel alloys. They have superior durability to other multi-tool designs and they can handle heavy-duty work.
Belt multi-tools are highly sought after by survivalists and also military and law enforcement personnel. Explosive ordnance disposal units (or EODs) are known for carrying specifically designed belt multi-tools.
Pocket Multi-tools
Pocket multi-tools are medium-sized. They fit in a pocket or they could be carried in a tool bag, purse, backpack, etc.
They're considered more versatile than traditional Swiss Army knives since they tend to come with pliers that you can actually use. What's nice about pocket multi-tools is that their size also comes with the added benefit of extra tool strength.
Keychain Multi-tools
Keychain multi-tools are as small as they come. They're designed for maximum portability rather than amazing utility. Still, the more high-end keychain multi-tools should have wire cutters, nail files, a small blade knife, foldable scissors, a screwdriver head, etc.
One-piece Multi-tools
These are very basic multifunction tools but multi-tools, nonetheless. They come in slim flat designs and are generally carved from a single piece of steel. The most common uses are tightening or loosening nuts and bolts of various sizes.
Materials
The majority of multi-tools are made from tool steel or stainless steel. There are some plastic multi-tools too but almost no one buys them these days.When it comes to handles or other accessories, the materials vary as much as the price.
If you get a multi-tool with a flashlight, you shouldn't expect extra durable plastic polymers or metal alloys for the housing.There are some on the market but they may not be worth the price. It's best to balance out the pros and cons of the specific tools included rather than fancy accessories and materials.
Number of Tools
The number of tools varies a lot depending on the size of the multi-tool or the niche it's designed for. One-piece multi-tools tend to have the lowest numbers. Sometimes you may see as few as two or three tools incorporated into the design.
But, between keychain multi-tools and belt multi-tools, the difference is not always so vast. A reliable multi-tool can have upwards of 20 tools. That doesn't mean that all of them are exceptional or necessary.
The number of tools is impressive if everything is fully functional. However, when buying a multi-tool, focus on the tools that you really need and find a multi-tool that has the most functional of these tools.
Weight
The weight may sometimes be indicative of higher quality steel alloy. For example, there are credit card multi-tools that weigh as much as a pocket-sized Swiss Army knife.But the weight may also affect portability. A multi-tool shouldn't just be useful but also easy to carry. Some multi-tools can weigh well over one pound.
Brand
Everyday multi-tools are available from many manufacturers. Some are known for their high-end product quality while others simply offer affordable alternatives. There's nothing wrong with buying a very cheap multi-tool as long as you aren't expecting to use it on a job site, for heavy-duty repair work, or in survival situations
Brands such as SOG, Gerber, Leatherman, and Victorinox are some of the most popular and most respected when it comes to multi-tools. Even their budget-friendly product lines carry a lot of weight in this niche. A couple of them may not have a budget line at all.
That being said, some multi-tools have custom designs that make them useful in specific fields. If you need one and can't find its type from any of the top brands, don't let that limit your selection.
Multi-tool F.A.Q's.
What is a Multi-tool?
A multi-tool is usually a portable hand tool that incorporates multiple tools in a single chassis which can perform different functions. They can be as small as credit cards or as large as hammers or small shovels.
The best example of a multi-tool that everybody has heard of is the Swiss Army Knife. The original version included a knife blade, reamer, bottle opener, can opener, screwdriver, and wire stripper all in a single holder. More modern versions may also include various grooming tools such as scissors, tweezers, nail files, etc.
Some multi-tools or multifunction tools are designed to be used in specific activities. Cyclists, hikers, fishermen, hunters – they all have specific tools made for them that may not have much value outside of these routine activities.
How to Use a Multi-tool?
Using a multi-tool is pretty straightforward. If you know how to use a knife, screwdriver, wrench, pliers, etc., then you know what each component of the multi-tool does.
But different multi-tools may have different release mechanisms and locking mechanisms. Usually they're mentioned on the packaging.
When using the knife blade, it's best to locate the locking system (if it's not automated) and secure the blade once deployed. This gives more leverage when cutting or chopping and prevents the blade from retracting or wobbling.
Folding scissors are available in almost any pocket-sized multi-tool that follows the standard army knife or butterfly pliers design. Although they may be sharp, they also tend to be fragile. Using the scissors for heavy-duty work is not advised.
Nor is tampering with the tension of the spring system too often. Of course, proper maintenance is also needed. Although some multi-tools are advertised as to "last a lifetime," but you'll see that the manufacturers would cover themselves in the form of a limited warranty, which doesn't cover abuse and the blades will need sharpening and the tool can't be kept in the elements all year round.
How to Choose a Multi-tool?
Choosing a multi-tool is all about counting the tools and determining how many of the lot are useful to you. Just because a tool performs 22 functions doesn't mean it's worth the money more than a truly useful 5-tool unit.
You should also consider buying from respected brands. There are many lessons learned in this field and the older top brands would know what works best and what users want. That is, of course, unless you need very specific custom configurations that you can't easily find or afford from the top manufacturers.
It's also important to consider the types of situations you may encounter that warrant the use of a multi-tool. If you're an avid or casual biker, a multi-tool is probably not for you since a trusty Allen wrench is easy enough to strap to the bike.
If you're a hiker, then you might need something like a Swiss Army knife or the like. You won't need a tool for heavy duty work but you do need something that can tighten some bolts, strip some wire, open a can of food etc.
A camping multi-tool lets you do all that without having to carry a couple of pounds of tools in your backpack. It may also give you some grooming options too.
What is a Multi-tool Used For?
A multi-tool can be used for a wide range of tasks. It really depends on what tools are incorporated into the build. Here are a few of the most commonly found tools:
Pliers
One or two knife blades
Scissors
File
Wrench
Screwdriver
Flashlight
Bottle opener
Can opener
Line cutter
Not all multi-tools are equally versatile. If you need a multi-tool that's ideal for fishing, you may value more tools. Concentrate on the tools that you really need, such as full-size pliers or a strong blade.
How Does a Multi-tool Work?
There are two popular multi-tool designs. One follows in the footsteps of the Swiss Army Knife. This means that the folding tools are released from one side of the main tool and usually require a manual release.
The second popular model looks a lot like a pair of pliers. Leatherman came up with that one when the founder set out to build full-size pliers into a multi-tool. The additional tools are deployed from both grips.
FINAL VERDICT
The best multi-tool may just be the one that has the most durable accessories. Finding the perfect combination of accessories or mini tools shouldn't be difficult, as there are so many options on the market these days.
As you can see from this list, there are several brands which offer superior tools. Do they also have the best designs or tool combos all the time? Most probably, but the price may not appeal to everyone. In a lot of cases, you will get what you pay for. But the decision may come down to how often you'll be using it.