Last Updated on October 17, 2022 by admin_hunter
If you do a lot of outdoor living, whether it be through your lifestyle or hobbies, you've probably wondered whether you're better off carrying a knife or multi-tool around with you.
Carrying both isn't ideal, and when you're trying to pack light for a long hiking trip, every ounce matters.
To help you decide which is better, we have pitched the knife vs. multi tool in a direct comparison to address their various attributes and failings. Keep reading to find out which is our recommended pocket companion.
Direct Comparison
Knife
Function: Limited
Ease of Use: One-handed, solid operation
Blade: Good choice of length and quality
Cost: Inexpensive
Multi-tool
Function: Varied
Ease of Use: Two-handed, fiddly operation
Blade: Limited length and quality
Cost: Expensive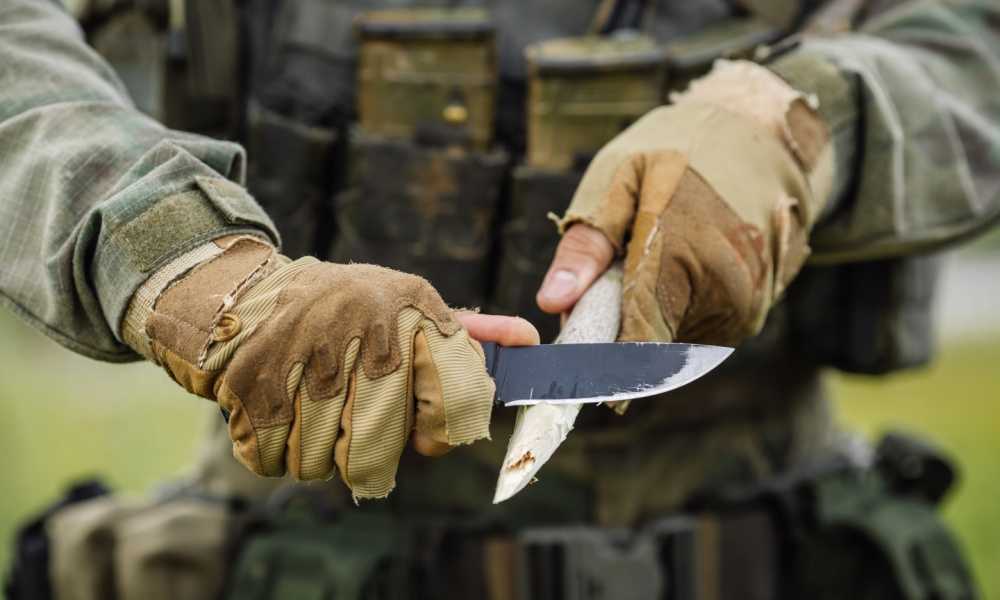 Breaking It Down
In order to compare the knife vs. the multi tool and help decide which one will be better for you, we've looked at both tools and considered their functions, ease of use, blade quality, and cost. We'll award a winner in each category to help us reach our final verdict.
Function
One of the biggest differences between a knife and a multi-tool is their spectrum of use, so let's address that first and go from there.
Knife
While it is convenient to carry a knife around, which can be used for many different applications in a variety of settings, it doesn't deflect from the fact that a knife really just has one function, which is to cut.
Multi-tool
A multi-tool has countless functions and depending on the model you buy, can include several blades, scissors, wire cutters, pliers, screwdrivers, corkscrew, and more. If you're out on a long bike ride, a multi-tool could help you fix your bike while a knife wouldn't necessarily be much of use.
Winner: Multi-tool
Ease of Use
Another factor we decided to look at when comparing the knife and multi-tool was the ease of using it.
Knife
A knife can be retrieved and opened with just one hand, making it extremely fast and easy to access. The single function and solid handle also make it safer to use, and you are likely to be able to make a more accurate and solid cut.
Multi-tool
Using a multi-tool is always a two-hand job, and some of the tools can be quite fiddly to access. If you don't use your multi-tool very often, it's also pretty hard to remember where specific tools are located. Thus, you might have to open up a bunch of them before you find the right one.
While it's great having all of these tools in one place, it can make using them a little tricky as you have to find the right angle to be able to access the tool's function.
Winner: Knife
Blade
If you choose to carry a multi-tool over a knife, you will probably still find that the blade is what you use the most, so let's have a look at the blades available on each.
Knife
Blades will obviously vary from knife to knife, but you do have a lot more choice when it comes to its quality and length. Also, the blade of a knife will always be stronger than those found on a multi-tool.
Multi-tool
A multi-tool may come with several blades offering more tailored use, which could come in handy. However, the length will always be limited, and the quality is often poorer.
Winner: Knife
Cost
Another factor to consider when purchasing either a knife or multi-tool to carry around is the cost involved in the investment. While prices of both can vary wildly, you'll want something of decent quality that lasts, so let's compare the cost of each.
Knife
Good-quality knives can be bought relatively inexpensively. Hence, they are price accessible for most and more easily replaced if lost.
Multi-tool
A good-quality multi-tool will set you back a fair amount of money, which makes sense considering they offer more functionality and cost a lot more to produce. The more tools it has, the more expensive and bulky it will be. Therefore, think about what kind of tools you will need before setting out choosing the right multi-tool for you.
Winner: Knife
Final Recount
Knife: 3/4
Multi-Tool: 1/4
Knife
Pros
Stronger blade
Easier and safer to use
Can be bought inexpensively
Lightweight
Cons
Multi-tool
Pros
Cons
Can be cumbersome to carry around
Fiddly to use
More expensive
Blade length is limited
FINAL VERDICT
Unless you're often in a situation where you don't know what to expect, then you'll probably find that a pocket knife is the most useful tool to carry around with you on a day-to-day basis. Whether you're hunting, fishing, hiking, or camping, a knife will help you out in many situations from cutting rope to gutting fish. As such, it's our overall winner in this knife vs multi tool battle.
When shopping for a trusty pocket knife, make sure it has a lock mechanism on it for safety, a good sturdy handle, and always keep the blade nice and sharp.