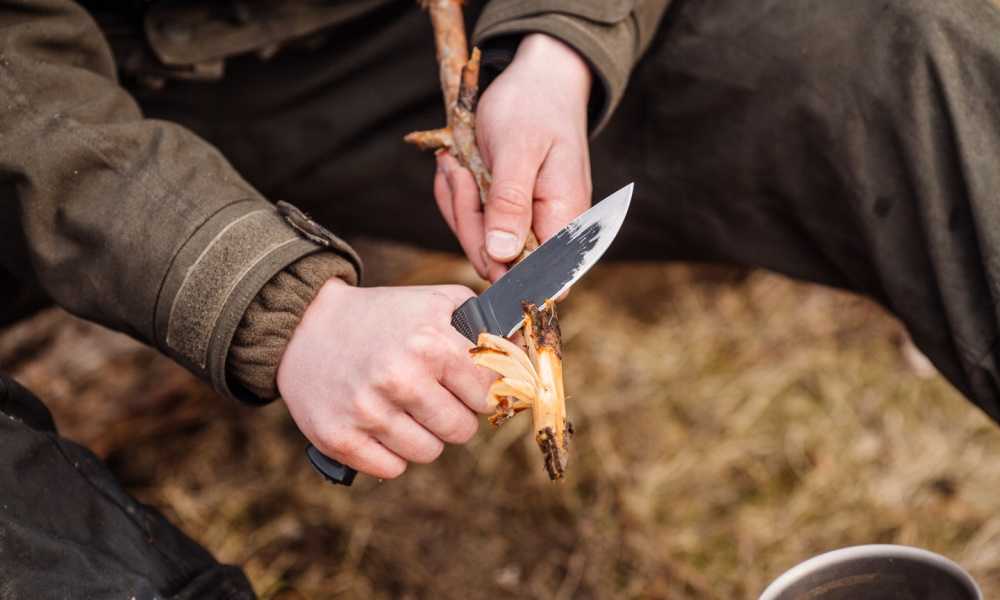 Kershaw Clash Black Serrated Pocket Knife Review
Plain-edge and serrated knives have long been handy, each in their own way. But does that mean you should have to select between them? If you are looking for a folding knife that has unique capabilities and style, you may want to consider the Kershaw Clash Black Serrated Pocket Knife.

This excellent offering from Kershaw offers you the best of both blades thanks to the partially serrated blade, allowing you to choose which suits the job best. This knife has been purpose crafted for use both indoors and outdoors – the perfect all-round knife.
Kershaw Clash Black Serrated Pocket Knife Review
Kershaw has been dominating the everyday folding pocket knife competition for years, making high-performance, high-quality, exceptional knives that are durable and affordable. Kershaw always uses top-notch materials and intensive craftsmanship to create their knives. Plus, their innovative designs and advanced technology combines to make a crafted, reliable, solid knife that you can be proud to carry.
Who is this product for?
This knife can be used for just about any task from cutting heavy rope and plastic to attacking boxes. It is for anyone that wants a simple yet reliable folding knife which can be used for just about any cutting need. It is the ideal knife for hunters, campers, hikers, and fishermen, as well as a great knife to keep in your glovebox for emergencies.
What's included?
The package comes with one Kershaw Clash Black Serrated Knife that has a heat-treated, durable stainless steel blade that offer excellent toughness and amazing edge retention.
Overview of features
This Kershaw Clash is a reliable, budget-friendly knife that is made using steel that has carbon and some nickel for edge retention and hardness. The blade has been heat treated and has wear resistance that is able to withstand any damage, whether adhesive or abrasive.
The head-blasted finished improves the end use and complements it aesthetics. The finish is high-tech and has been achieved through a combination of fine media under high pressure onto the steel blade. This makes a non-reflective, smooth surface. Fine media can include aluminum oxide and glass beads.
The drop-point blade has an ideal belly curve, giving this knife brilliant slicing capabilities. The knife's blade also has partial serration, allowing you to cut through tougher materials like ropes or webbing. The blade also has a strong black-oxide finish to enhance the corrosion resistance while giving it a non-reflective appearance.
The knife conveniently features a secure locking liner that gives you safe lockup, SpeedSafe opening for a smooth and easy opening, which makes the knife simple to use, and a pocket clip that is also reversible and adjustable that lets you easily carry it.
The handle is made from nylon that is textured and glass-filled. It gives you a solid grip that allows you to tackle any cutting task. The liner lock helps keep the knife open when you are using it. It also has a steel plate this it's attached to which gives it extra security and safety. Plus, this Kershaw knife is proudly made in the USA.
How to use it
This knife has a SpeedSafe open that allows for one-handed deployment. You can activate the instant open by pushing the flipper. This flipper can be operated by right and left hand users. Once the blade has opened and locks in place, the flipper remains as added protection or disappears for aesthetic purposes.
Alternatives
Ganzo Classic Folding Knife
This knife has a green G10 handle that has been crafted from fiberglass nylon and stainless steel. The blade is crafted from high quality, durable 440C stainless steel. The handle is ergonomic and comes with comfortable, well-positioned straps that are designed to keep your hand from slipping when you use the knife. Plus, this knife is very lightweight – perfect for hiking, camping, and hunting.
Kershaw Cryo Folding Knife
This knife is an affordable yet durable companion for backpackers, hunters, and hikers. It is crafted with precision and its sturdy all-steel build gives it good durability and strength. The knife has excellent corrosion and wear resistance, great edge retention, and good toughness. It is perfect for cutting zip-ties, stripping wire, animal defense, and opening packages.
Conclusion
The Kershaw Clash Black knife is the perfect mix of style and functionality, creating a knife that is well suited to outdoor and indoor tasks. Kershaw has been making high quality knives since 1970 which speaks to their expertise and quality of product. Offering an excellent set of features that innovatively blend together, this knife is an amazing option for even the most rugged of knife users. If you are looking for a knife to use for just about any activity, consider getting the Kershaw Clash Black knife.