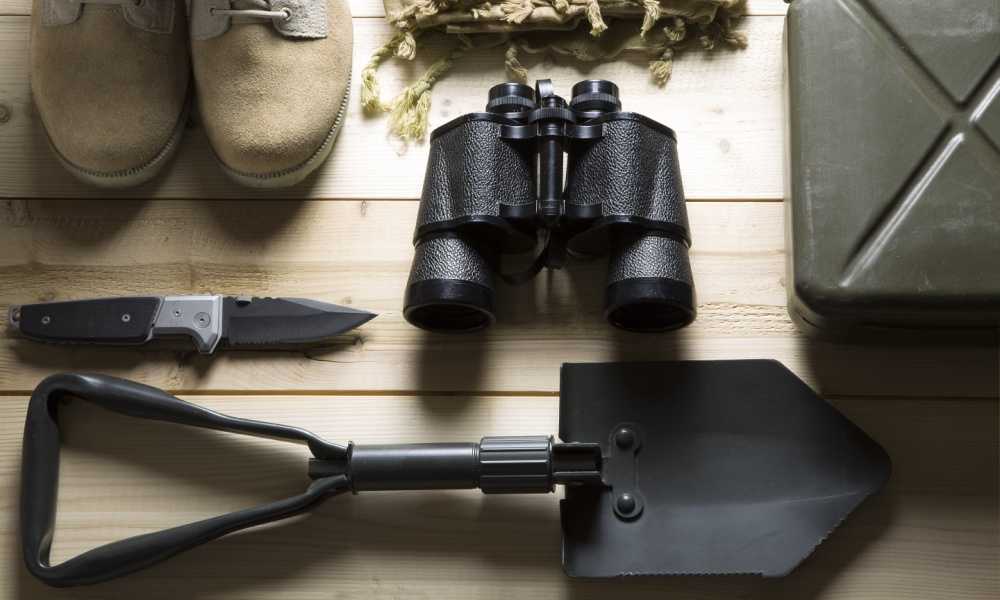 SOG Escape Tactical Folding Knife Review
Knives are one of the most important tactical and survival tools you can have in an emergency situation. A sharp blade offers utility and protection, and many knives include other benefits like a wire cutter, a glass-breaking point, and additional survival gear which can help save you during an emergency. Whether you're sitting around a campfire, walking down the street, or are stuck in a car, you'll be glad you have a knife when an emergency arises.
SOG Escape Tactical Folding Knife Review

Built to be reliable in emergency situations as well as useful for everyday carry, the SOG Escape Tactical Folding Knife is a versatile pocket knife and survival tool that fits in your pocket. Despite being incredibly light at just a few ounces, its military-grade metals make it sturdy enough to last through outdoor conditions and hundreds of cuts without failing you.

This model comes with a limited lifetime warranty from SOG so you can be confident in your investment.
Who is this product for?
This isn't your everyday knife – it is built for utility use in dangerous situations. Whether that is cutting rope, breaking a car window, self-defense, or something else, this knife is great to carry for those who spend time outdoors because of its ability to work for many tasks around a campsite. It is also great as part of a survival kit as your primary knife in the case of an emergency because of its easy one-handed use and reliability.
However, this knife is not for hardcore survivalists because its blade is slightly small for some tasks and it doesn't include other important survival gear like a fire starter.
What's included?
When you order the SOG Escape Tactical Folding Knife, you're simply getting the knife. It doesn't include a carrying case or additional tools, but instead is foldable for storage and comes with an attached clip to secure it.
Features
The SOG Escape Tactical Folding Knife weighs just 4.8 ounces but spans 8.2" (4.8" when closed) with a clip point 3.4" blade that has a partially serrated edge, making it incredibly easy to wield. The blade is made of a hard stainless steel with a black finish that folds into an ergonomic lightweight aluminum handle. It is incredibly sharp and strong enough to cut, while still being light enough to easily use one handed.
Included on the handle and blade are additional survival features like the cord cutter groove which works well for cutting seatbelts or other thin materials. There is also a glass breaker point at the bottom of the knife so you can easily crack open windows in an emergency situation without risking injuring your hand.
Unfortunately, this knife lacks some of the additional gear that would make it a more complete camping and outdoor knife. The foldable design doesn't allow it to include a hollow handle for storage, which means that it doesn't contain important tools like a fire starter that many survival knifes include. The blade is also a bit too small for some uses, which can be a problem for more intense survival tasks like chopping.
How to use it
It is a little bit harder to use the SOG Escape Tactical Folding Knife than non-foldable knives because of the lock back mechanism that holds the blade in place. In order to free the blade, you'll need to use the thumb studs to open the groove. This can be done with one hand after enough practice, so take some time to get used to the mechanism before you need to use it in an emergency.
Alternatives
Despite being a useful tactical and outdoor knife, the SOG Escape Tactical Folding Knife doesn't overwhelm you as a hardcore camping or survival knife due to a lack of extra gear and blade size. If you want a larger, more complete package in a survival knife, you should consider the Gerber Grylls Ultimate Survival Knife.
In addition to being 40% larger than the SOG Escape Tactical Folding Knife, this knife includes a sheath that houses a blade sharpener and fire starter while the blade has a glass breaker. It includes a lanyard to attach to the blade that includes an emergency whistle as well, which would come in handy in a true survival situation.
Conclusion
A knife offers an incredible amount of utility in just about any survival situation, making it a no brainer to carry one with you outdoors. The SOG Escape Tactical Folding Knife makes it easy to keep one by your side thanks to a lightweight design and portable size, and if you need to use it, the one-handed design makes it easy to pull out. The additional wire cutter and glass breaker help add more functionality to it as well, making it a great tool to keep in your car just in case.
It may not be the biggest or most intimidating survival knife you'll find, but you'll be happy it's by your side in case you ever need it.