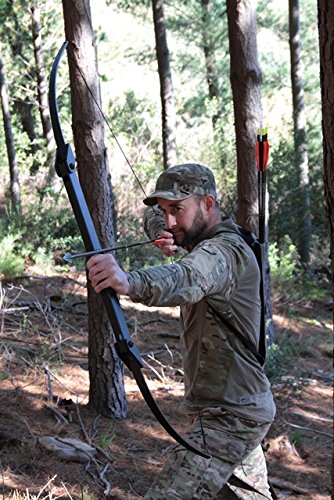 SAS Tactical Survival Bow Review
SAS Tactical Survival Bow
Bow type - Modern Longbow
Maximum draw length - 31 inches
Bow Length - 60 inches (strung), 21 (inches folded/stored)
Arrows speed - Up to 200 ft/s for 50 pound version and up to 210 ft/s for 55 pound version
Strung bow weight - 1kg (2.2 pounds)
SAS Tactical Survival Bow Review
Category: Safety & Survival
What we like
Affordable for a bow of its power
Ambidextrous
Non-reflective coating
Dependable – enough penetration power
Arrow storage inside the riser
Folds into a small package and transportable
What we don't like
Not as polished as a modern recurve
Arrows not included
The handle can get uncomfortable if held for long
SAS Tactical Survival Bow Review
A product of Survival Archery Systems, a company with 15+ years of design and development experience, the SAS Tactical Survival Bow is compact enough to fit inside most bug out bags. You can easily take it anywhere.
The quality of performance of this tool makes it the best for people who like to spend time hunting in the woods. You wouldn't want to take this bow for long range shooting because you will not enjoy the experience. That is because long range shooting practice requires you to make repeated shots.
The SAS Tactical Survival Bow should be considered a survival archery tool and not a weekend recreational tool. That is because it is sturdy and designed for serious business. Even if you draw less than 30'', you'll still get impressive results.
There are a few downsides. Because the grip is square, it may get uncomfortable to fire arrows continuously.
Also this bow only consists of the handle and arrow rest. there is no attachment for sight. This makes it a bad choice for practicing, especially if you are a newbie. Learning how to launch arrows with the SAS Tactical Survival Bow will be strenuous and time-consuming
Who is this product for?
If you are a prepper or survivalist looking for the perfect hunting tool, then the SAS tactical survival bow is the tool because it can be folded and carried easily. Carrying a heavy bow when hunting can be disadvantageous because, at some point, you will need to run to get the best shot.
If you want to learn how to shoot arrows or have fun with this bow, then it is good to know that this tactical bow has nothing much to offer more than a powerful thrust to your bows. Other than hunting, this should be a perfect tool to keep around if you are considering some protection against dangerous, life-threatening attacks.
It's durable to ensure that you get through whatever disaster or situation you may find yourself in.
What's included?
The package comes with the bow itself, a multi-cam carrying case that doubles as an effective quiver, an arrow rest, Velcro restraining strap, brass ring nock set and an owner's manual/warranty.
Overview of features
You can store up to 3 full arrows in the riser made from aerospace-grade T6 Aluminum. This makes this tool easy to carry and use. Remember that when hunting or defending yourself, you should be swift. With just a single snap, you can quickly unfold this tactical bow and draw the arrow within seconds.
There is minimal staging with the SAS Tactical Survival Bow, and this ensures an excellent performance consistently. If you wish to shift from using your left or right hand, all you have to do is add a stick-on arrow rest.
The best part about this tactical survival bow is that even if you draw less than 30'', you will still make a significant impact. That is because this bow releases arrows faster; hence, it qualifies as one of the most powerful bows in the market.
Since the SAS bow is designed for aggressive encounters, it is made from durable material so that it does not break in the middle of the hunt. You will need some good time to get used to using this bow if you want to become more accurate and enjoy your hunting.
You should, however, know that it will not be a walk in the park because there won't be any assistance like attachment parts for sight unless you get help from a professional.
How to use
All assembly functions are simple, quick and tool-free. Using the SAS tactical bow is easy because all you need to do is stretch it out from its folded position in a single snap.
Next, you will need to pull out an arrow from storage, which is most likely to be inside the riser.
However, you can decide to carry your arrows using other means that you prefer as long as you can reach them fast enough. With your arrow ready, place it on the arrow rest and draw it as you hold the bow in a targeting position. People have different ways of holding the bow, vertically or horizontally. This, however, does not matter as long as you get your aim right.
Avoid using this tactical bow while aiming at people or pets because as long as the arrow is released, it moves fast, and the impact can cause serious injuries. For safety purposes, practice shooting at wild animals in the woods rather than play with it around people.
Alternative
Xpectre Compact Takedown Bow is the closest alternative to the SAS tactical bow. It draws up to 27'' and the whole thing weighs 2.3lbs. It is also easy to use, and it's powerful, making it an excellent tool for hunting as well. It is good to note that the reason why this tactical bow is the best alternative for SAS tactical bow is that it is equally lethal and not something to use for fun. If you are looking for something efficient to use in place of SAS Tactical Bow , then you know what to pick from the shelves.
Conclusion
An excellent tactical survival bow should be able to perform at all times. That, therefore, means that it should be made from sturdy materials to prevent it from breaking. Keep in mind that there will be a lot of tension associated with using a bow. That's what the SAS Tactical Survival Bow offers you.
With tactical bows becoming more popular across the world, counterfeit manufacturers are taking advantage of the unsuspecting public.
You, therefore, need to ensure that you shop from an approved dealer if you cannot reach the manufacturers directly. Because there are different kinds of bows designed for different people, you have to be sure about what you need.