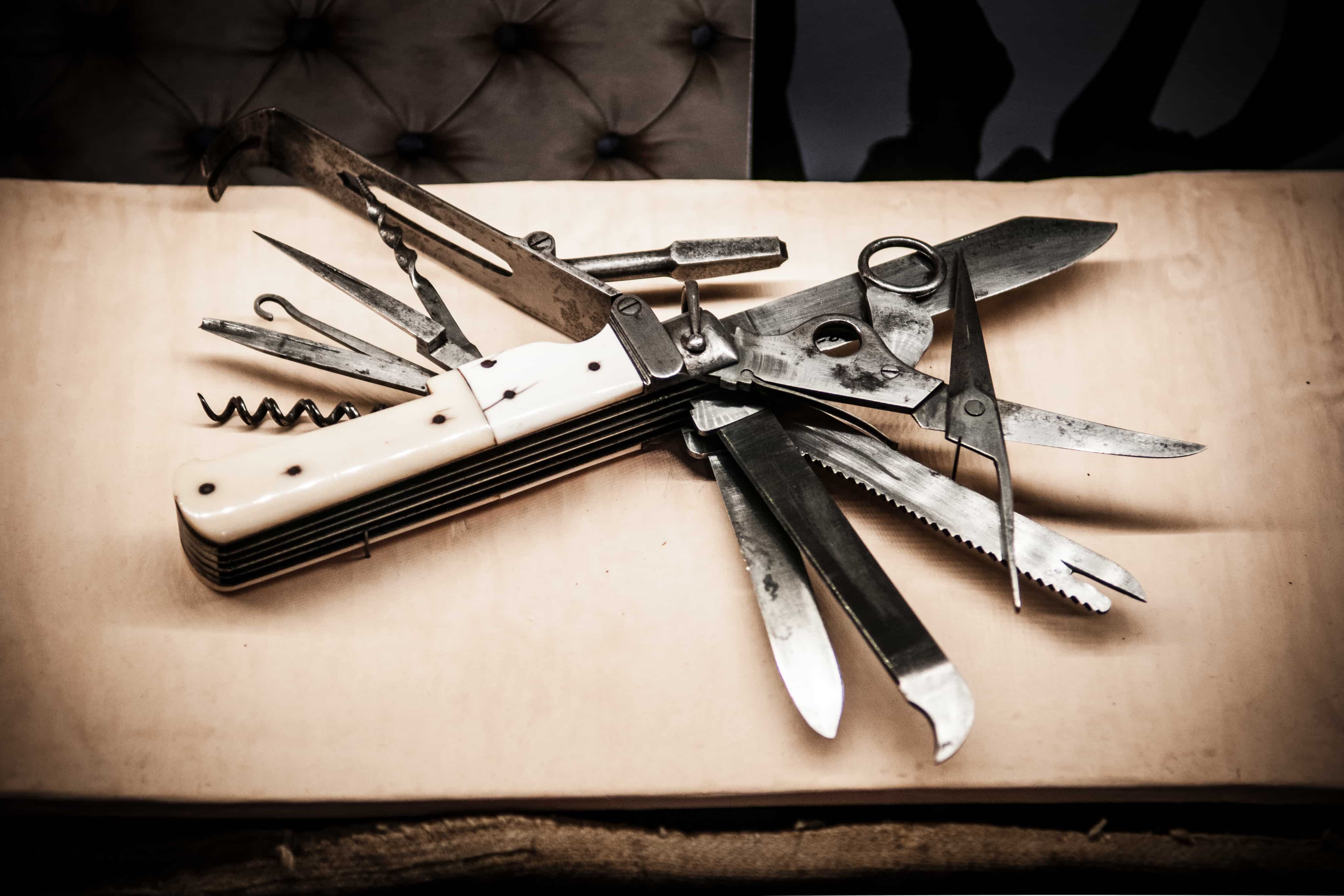 Best Camping Multi-Tool of 2020
Something that always comes in handy when camping, hiking, and for survival, is a multi-tool. There are plenty of these out there, so finding the right one can be a challenge. Here are reviews of the best camping multi-tools out there at this time.
Best Camping Multi-Tool of 2020
LEATHERMAN – Charge Plus TTi Titanium Multi-tool with Scissors
LEATHERMAN, Charge Plus TTi Titanium Multitool with Scissors and Premium Replaceable Wire Cutters, Stainless Steel, Built in the USA
PREMIUM DESIGN: This upgraded version of the original Charge combines some of our most requested features made with premium materials and upgraded, replaceable wire cutters
19 TOOLS IN 1: Get it all done with pliers, replaceable wire cutters, wire crimper and stripper, serrated and plain knives, saw, spring-action scissors, cutting hook, bottle openers, files and more
OUR GUARANTEE: We're proud to stand behind every product that leaves our factory in Portland, Oregon; That's why we offer our 25-year warranty, so you can be confident your Leatherman lasts a lifetime
ONE-HAND OPENING: The Charge TTi Plus only requires one hand to open and use all the tools, even the ones that aren't accessible from the outside; Cut with confidence using its all-locking blades
ALWAYS ON HAND: Equipped with a pocket clip and quick-release lanyard ring, your Charge TTi Plus is always within reach and ready to work
When it comes to durable and heavy-duty multi-tools for camping, this Leatherman Charge TTi Plus Multi-tool is an interesting option to look into. In terms of overall quality and durability, this model features a titanium handle, stainless steel blades, high-quality metal components, and more.
This is a more expensive multitool, but you do get what you pay for, and here you get a long-lasting tool that can withstand a lot of punishment.
The Leatherman Charge TTi Plus Multi-tool has a cool locking feature which allows all of the components (beside the pliers), to lock into place. It's a good safety mechanism and it also helps make using this tool a bit easier.
When it comes to usefulness, this is a 19-in-1 tool, and it comes with a variety of tools such as pliers, wire cutters, wire crimpers, scissors, files, various straight and serrated blades, screwdrivers, and more. The lightweight design of this multitool, combined with the pocket quick, and quick-release lanyard make it super portable.
Pros
19 tools
Safety locks
Very durable build
Lightweight
Cons
Gerber Truss Multi-Tool with Sheath
Sale
Gerber Gear Truss Multitool, Stainless and Grey with Multi-Position Sheath [30-001343, New
An evolution of the original Suspension chassis, the Truss includes the benchmark features: all outboard tools, all locking tools, and spring-loaded pliers
New features to the Truss include: wire stripper, medium flathead driver, awl, file, and ruler
The low-profile sheath can be mounted vertically or horizontally on belt
The sheath is also MOLLE-compatible for those operators that require MOLLE vest or pack mounting options
The handle is constructed from one single piece of steel, allowing for additional strength in a slimmer design
This is a much more affordable multi-tool than the one just looked at. It comes in at a great price, yet can still hold its own when it comes to camping and survival. This model comes complete with 17 tools which includes spring-loaded needle-nose pliers and normal pliers, wire cutters and strippers, a saw, various screwdrivers, a can and bottle opener, an awl, a straight blade, a serrated blade, and more.
What's nice is how the Gerber Truss Multi-Tool has a handle made out of a single piece of steel. It manages to be quite lightweight and slim while also maintaining a high level of durability. It's also worth mentioning that this tool also comes with a locking mechanism to ensure that the tools and blades stay open and secure while in use.
You do get a sheath included, which is convenient for portability, and this sheath can be mounted on a belt loop both horizontally and vertically for your convenience.
Pros
Good price
Lightweight
Durable
Features 17 tools
Comes with a sheath
Cons
Victorinox Swiss Army SwissTool Spirit X Multi-Tool
Victorinox Swiss Army Swisstool Spirit X with Leather Pouch
Features 27 robust functions to complete your toolbox including - Needle nose pliers, Phillips screwdriver, leather pouch, and spear tip blade (See product description for full list of functions)
Stainless steel construction provides lightweight and lasting durability for long term use
Unique design allows you to access each tool individually from the outside of the handle; tools lock into place when opened and fold away with a simple slide of the release button
Length: 4.13" (105mm), Height: 1.24", Weight: 9.75oz
Made in Switzerland; Victorinox provides a lifetime guarantee against defects in material and workmanship
This is an updated version of the highly trusted Swiss Army Knife. Victorinox still makes its products in Switzerland, they're still super useful and high-quality, and they're still some of the very best in the world.
One thing that stands out is how it is made with stainless steel, so it manages to be super durable while also maintaining a lightweight and sleek design. It should not get damaged from basic or even heavy use, and it's not too heavy or chunky to carry around.
What is also really impressive about this tool is that it comes with 27 different functions. We aren't about to list them all, but whether you need knives, saws, and other blades, or various types of wire tools, pliers, and files, or bottle/can openers, and more, this tool has it all.
The fact that all tools can be accessed from the outside is really convenient. Once open, all tools lock into place and can only be closed using the sliding release lever.
Pros
Superior durability
Lightweight and durable stainless steel
Portable design
Easy to access all tools
High quality sliding locking mechanism
Well over 20 tools
Cons
A bit pricey
Could do with a sheath
SOG Multi-tool Pliers Pocket Tool
SOG Multitool Pliers Pocket Tool – PowerAccess Deluxe Utility Tool and Multi Tool Knife w/ 21 Multi Tools, Hex Bit Set, Multitool Sheath (PA2001-CP)
21 STAINLESS STEEL MULTITOOLS: This large multi-purpose tool and pocket knife is ready for anything; includes pliers, scissors, 2 knives, a 1/4-inch hex bit driver and 12 hex bits and a wood saw
2X PLIERS POWER W/ PATENTED COMPOUND LEVERAGE: A tough indoor and outdoor multi tool with a small hex bit set; this tool with tools uses compound leverage to cut, crimp and tighten twice as easy
12-PC. HEX BIT KIT W/ TWO 2. 75-INCH BLADES: Comes with a hex bit set and magnetic holder unique to this multipurpose tool; blades featured are serrated and straight-edge
EDC MULTITOOL SHEATH IN BALLISTIC NYLON: Make your survival an everyday carry; handles tasks for outdoor survival tools with a screwdriver and knife
SOG MULTITOOL FOR LIFE: Take care of your and we'll take care of you; we consider repairs and replacements for properly maintained SOG multi tool knife and survival tools
Here we have a moderately priced multi-tool, one that comes in somewhere between the Swiss Army Knife and the Gerber. It might not be the most expensive multi-tool out there, but it still has a lot of functions and a high level of convenience.
The SOG Multitool Pliers Pocket Tool is made mostly of stainless steel, although it has some weaker components as well, which means that it's not the most durable. However, what it lacks in overall durability, it makes up for with sheer convenience and functionality.
What really stands out is that this multitool comes with a 12-piece hex bit kit for screwdriving purposes. It also features a variety of other blades, pliers, bottle openers, and more. What's cool is the compound leverage system for the pliers, which provides you with up to twice the force of other pliers in multitools.
Pros
Convenient design
Great for screwdriving purposes
Decent stainless steel
High level of functionality
Fairly portable design
Sheath included
Compound leverage system
Cons
Not quite as durable as other options
Gerber 30-000469 Dime Mini Multi-Tool
Sale
Gerber 30-000469 Dime Mini Multi-Tool, Black
Sturdy stainless steel construction
Compact, lightweight size fits perfectly in pocket - a daily companion for any task
10 tools: Needle nose spring-loaded pliers, Wire cutter, Fine edge blade, Retail package opener, Scissors, Medium flat driver, Crosshead driver, Bottle opener, Tweezers, File
Convenient, easily accessible butterfly opening
Overall length: 4.25 inches, Closed Length: 2.75 inches
Here is what is by far the most affordable and cost-effective multi-tool on the list today. The Gerber 30-000469 Dime Mini Multi-Tool is made of stainless steel, and it is very compact, lightweight, and convenient, although it's probably not quite as durable as some of the others reviewed today.
Due to its small and lightweight design, combined with the lanyard ring, it is very portable and great for being on the go.
This tool features 10 separate tools including spring-loaded needle-nose pliers, a wire cutter, a fine-edge blade, scissors, a file, a couple of screwdrivers, and a couple of other tools. Other than this, it really does not have many other special features, but it comes in at a rock-bottom price.
Pros
Very compact and lightweight
Convenient butterfly opening
Lanyard ring for portability
Decent little tool for basic needs
10 in 1
Great price
Cons
Not as durable as some others
Comparably few tools
No locking mechanism
Conclusion
The most important thing for you to pay attention to is that you get a multi-tool that has all of the features you expect to need for camping, so choose wisely!