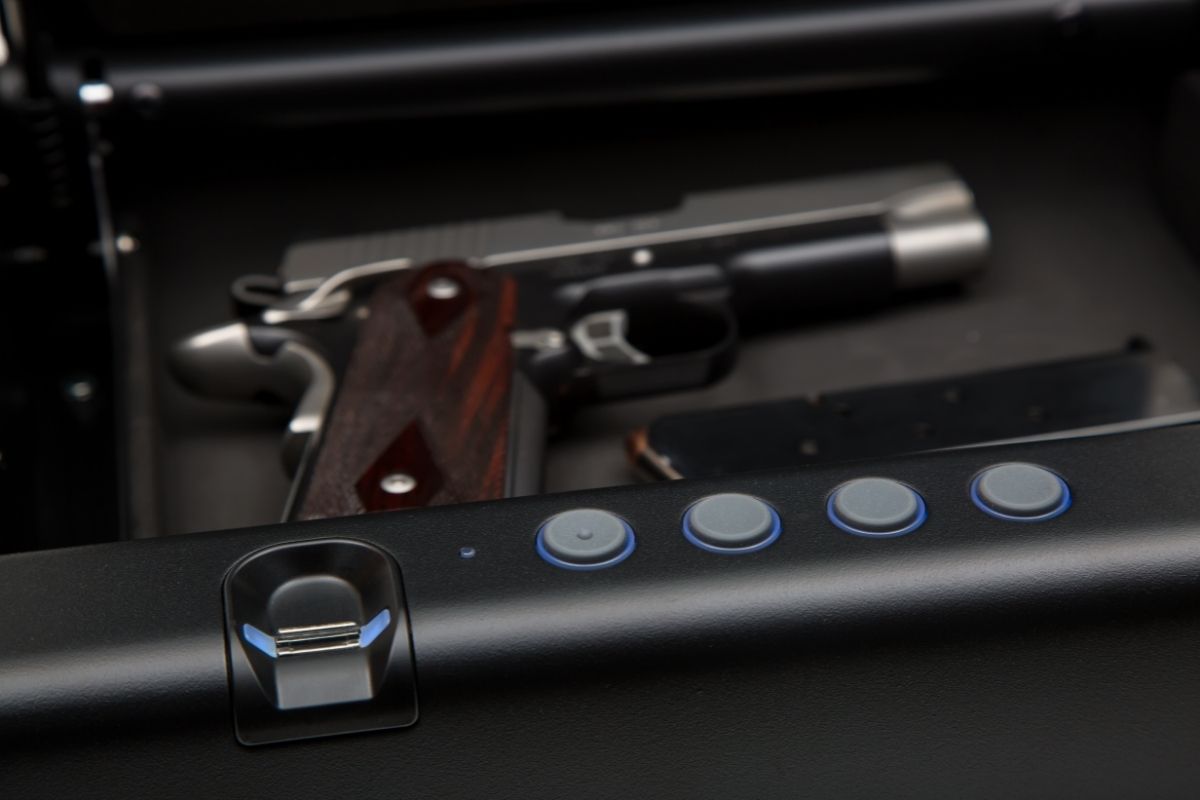 Best Pistol Safe For Nightstand
Keeping your guns safely and securely stored is a legal – and moral – requirement. But knowing where to place your safe can be tricky.
You need to find somewhere that you know you will definitely be able to access in an emergency. A place that is not too far away or the purpose of storing your firearms at home is defeated
We recommend that people who don't have a gun safe location in mind consider their nightstand. It is out of the way and you know that you will always have fairly immediate access in an emergency or if you ever need to investigate what goes bump in the night. 
Knowing which safe to get can also be a mammoth task. We have put together a list of the best pistol safes for your nightstand. These safes are a little more compact, making them the perfect size to sit on your nightstand or under your bed.
Vaultek's VR10 Smart Handgun Safe comes top of our list for the best nightstand safe. 
It comes with the impressive features that Vaultek is famous for – something rare to find on even a standard gun safe. The VR10 is also made from Vaultek's standard 18-gauge steel. This is an incredibly strong material that guarantees durability and strength. This security means that you can always be sure that your firearms are safe – either on your nightstand or whilst traveling.
We really cannot overstate the incredible security of this safe. Anti-pry reinforced bars, dual anti-impact latches, and interior mount hinges guarantee that this safe is not opening unless you want it to. Pairing this security with the quick-release cable makes this safe a great option for many gun owners. 
This safe comes with gamer-inspired backlit keys and an LED interior light with adjustable brightness. This means that you will always be able to quickly see, locate, access, and successfully grab your firearm even in the dark. Keep the brightness low on your interior light to stay a bit more incognito or keep it at the max to see everything in your safe – the choice is yours.
The safe is run on a lithium ion battery that is rechargeable. 2 hours and 30 minutes of charging will take the battery to 100% and last for around four months. If charging is not your thing, we love that this safe gives you the option of keeping it plugged in at all times. 
Pros:
Numeric passcode with a possible 40 000 combinations

Adjustable LED light in the interior

Compliant with TSA rules – ideal for vacations

Very secure with 18-gauge steel and multiple tampering protections

Compatible via Bluetooth to use the Vaultek app
Cons:
Ideal for the nightstand due to its compact design, but those with large handguns may find it a little small
Looking for something that looks cool? Look no further than the Mini Vault Quick Access Gun Safe from GunVault. This safe is one of the most style-conscious on the market today. But don't be alarmed by its aesthetic attention to detail – this safe is by no means style over substance!
The digital keypad is backlit and is perfect for easy access in the dark. This keypad is also touch-activated so it only lights up when you need it to – ideal for discreet gun storage that won't keep you up at night. The safe also comes with an interior LED light so you will always be able to see what is in your safe. 
Like to be prepared and ready for action? We know you will love this safe. The Mini Vault Quick Access does just that. Quick access and ready-for-action style storage come from the interior padding of the drawer. This door also opens automatically. All this means that you will be able to open the safe and grab your weapon around 20% quicker than you would with any other safe. 
This unit has been approved by the Californian DoJ and has a five-year warranty so you know that you are buying a quality product. This safe is the perfect size to fit in your nightstand and comes with tamper detection technology as standard. 
Pros:
LED-lit and padded interior 

Tamper detection

Approved by the DoJ

Quick and easy firearm access every time
Cons:
This safe will fit on your nightstand but can only store a single firearm.
Do you value portability? We recommend that you check out the Lifepod Case from Vaultek. It is a super affordable and portable option and is perfect for nightstand storage or carrying around with you so your weapon is always safely secured. 
Keep in mind that portable does not mean flimsy. This safe is actually compliant with all TSA guidelines and is manufactured from impact-resistant materials. The backlit keypad is in classic Vaultek gamer-style so you always have quick access to the case's contents.
The sleek design is perfect for your bedside, or indeed a car, office, or even luggage if it is appropriate. The watertight seal from the rubber gasket and compression latches means that you can expect this case to be dustproof and float. This is ideal for surviving the rough and tumble of any home or while you are out and about.
We love some accessories and this case happily provides some nice added extras. Foam to help prevent your firearm from moving, a steel security cable for temporary mounting just about anywhere, and even a nylon lanyard for easy transport. The case also comes with a manual key so you will always be able to access your gun – even if you forget your key or run out of power!
Pros:
Lightweight and compact so ideal for your nightstand 

No need for a battery thanks to the manual key

TSA compliant

Touch activated keypad 
Cons:
Some strength of construction is sacrificed by portability
Stack-On safes are a fantastic option if you prize value for money and don't want extra luxuries that other safes provide. This is a safe, standard option that will get the job done with no fuss. 
The safe features an easy-access design that is still sleek and quite stylish. It is also made from 9-gauge steel which is super secure and hard. This safe is very reliable and opens with a 3 to 8 digit code. You can also access this safe with one of the master keys – just in case your batteries run out of juice!
The interior is lit with LED lights – perfect for high visibility even at night – and fitted with an Alarm E lock. You can relax in the knowledge that your guns, documents, or other valuables are securely in place and haven't been tampered with. The padded interior also means that they won't get scratched or damaged whilst in storage.
Pros:
Pre-drilled holes for easy and secure mounting

Foam interior to protect your valuables and firearm

Unique, simple, but stylish design
Cons:
We found that the battery case was a little flimsy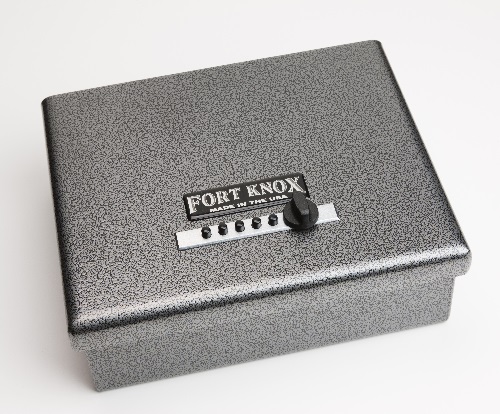 Are you super security conscious? Opt for this box safe from Fort Knox – it is as secure as the brand suggests!
This safe is made from 10-gauge steel with a 3/16 inch wrap making it just about impossible to break into. The safe is designed to be resistant to all kinds of different break-in attempts. The hinges, for example, are under the door and are tamper-resistant.
While this safe is outstandingly secure, it is by no means difficult to open. The door opens on a gas strut. This is ideal because you can open up the compartment with one hand. One hand inputs the combination while the other grabs your weapon – ideal for an emergency situation. 
The size of this Fort Knox safe is that it is large enough for a couple of pistols with extra magazines. We did find that this safe struck the perfect balance between spaciousness and being small enough to comfortably sit on a nightstand.
Pros:
Exceeds California's Firearms Safety Device Requirement rules

Very sturdy and secure

Gas strut for easy and quick one-handed access

Easy mounting procedure
Cons:
High security and quality steel mean that this safe is a little hefty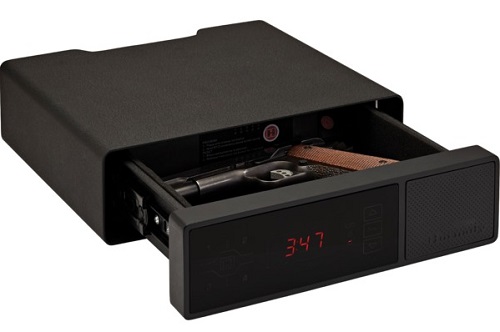 The Rapid Safe from Hornady has been designed with bedside use in mind. We found that this safe comes with Hornady's famously high-quality product design and finishes.
This safe features a tempered glass front panel. This panel has a digital clock display, a nearby RFID reader, and a keypad for code input. Access is a breeze thanks to the spring-assisted door with silent opening, making this an ideal choice if you want to be able to get to your weapon as silently as possible.
The RFID reader uses groundbreaking technology to unlock the safe much faster than a standard biometric or keypad lock. Don't be fooled – access is just about impossible without the correct fob. The interior is strengthened with some interconnectable lugs and the exterior has a rugged finish. 
The interior is padded so that you know your weapons and any other valuables are going to be protected from damage. The interior is also fairly sizeable – more than enough room for a large handgun and some extra bits and pieces. 
Pros:
Access is always guaranteed thanks to the dual power source – choose between batteries or plugging it into the wall

Tamper-proof construction

Security cable has a strength of up to 1500lb
Cons:
The features of this safe put it a little on the heavier side
On a budget? You are in safe hands with this classic safe from Browning.
The Portable Pistol Vault PVPORT is a classic option that is exceedingly reliable. It is also super compact and ideal for traveling or for storing on a small nightstand. 
Sleek design for quick access and a classic key-lock opening mechanism. It is made from 16-gauge steel and has a rugged finish for security and some impact resistance Where the outside is strong and sturdy, the interior is soft and padded to stop whatever you store in this safe from getting scratched.
Pros: 
16-gauge steel for security

Easily portable

Super reliable and classic key lock
Cons:
Perfect for storing your firearm near you on the nightstand, its capacity is limited to just one gun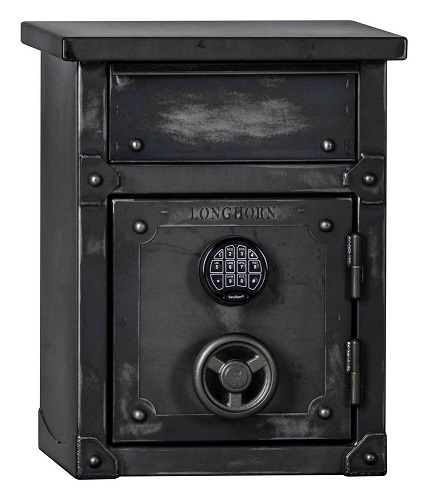 Why buy a separate safe for your nightstand when your nightstand can be your safe? That is the question that Rhino has answered with the Longhorn LNS2618 safe.
Its size and general robustness make it super reliable and tamper-proof. This nightstand-cum-safe will give you unmatched security for your guns or any other valuables you store in it – we think that the 14-gauge steel door may be impossible to break into.
As an added bonus, this safe can withstand extreme conditions. It is heat-proof up to 1400°F (760°C) for forty minutes. The door is also anti-punch and the bolt has been fitted with anti-drill technology for added security. 
Don't worry about access – the safe opens to 180°. This means that you can always reach and see into your safe.
Pros:
Shelves are adjustable to suit your needs

DoJ certified in California

Thick, tamper proof construction

Upholstered interior to keep your valuables protected
Cons:
You'll need to get two if you like having matching nightstands…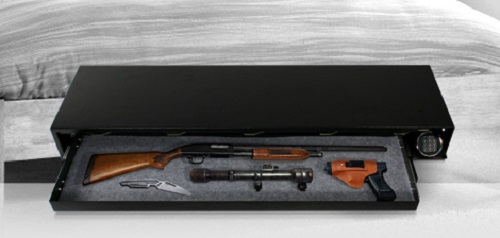 We may be cheating here, but this safe is too good to leave off this list.
The Underbed Gun Safe from Mesa allows you to store your firearms under your bed. Just make sure that there is nothing in front of the safe so you can always have easy access when needed.
This safe focuses on security – from its heavy construction to rugged security, you know that your items are safe and secure. The long steel piano hinge gives additional strength without making it difficult to open. We recommend that you keep the two master keys handy so that you are always guaranteed access.
We found the six anchor holes on this safe extremely convenient to securely mount onto any firm surface. Keep in mind that it is not recommended to mount your safe to your wall as things easily fall out and get damaged when opened.
The lock allows for two user codes to be stored at once but the locking bar is pry-resistant making the safe tamper-proof. The LED light above the lock makes it easy to access this safe at night.
Pros:
16-gauge steel body for security and durability

Carpeted interior to prevent damage to your stored items

Master key so you always have access
Cons:
Not

technically

a safe that would fit all nightstands but still great
Biometrics is an exciting, developing area of gun safe technologies. The QAP1BE safe from SentrySafe is an excellent place to dip your toes into this up-and-coming product range. The portability of this safe means that it is compact and therefore ideal for nightstand gun storage.
The fitted fingerprint scanner is advanced, reliable, and very accurate. It can store up to four fingerprint scans at one time, any of which will grant access to the safe. You also have the option of using the keypad to enter a code to open the safe.
The gas strut opens the door quickly once the correct information has been entered or detected. This will keep your items secure and protected until you need them. Then you have quick, easy, and silent access to them.
The door is pry-resistant and the whole safe is made of reinforced materials. Run out of power? Don't worry. The safe comes with an override key if you want to do things the old-fashioned way.
Pros:
Single-handed access process for speed 

Padded inside surface to keep valuables safe

Certified by the DoJ

Advanced biometric data detection system
Cons:
Unlike other safes, there is no LED light 
The Desk Mate Security Box is super quick and easy to install – perfect for secure mounting with easy access. Not happy with your placement? Simply use the quick-release mounting bracket. You can even use the bracket for moving your safe around which is perfect for vacationing.
The advanced lock system is super secure and does not require any batteries. Sometimes the old-fashioned way is best! 
The lock itself is a unique shape which is great for security as it will require special tools or keys to open. The anti-pry brackets along the door are great for added security and peace of mind. The sides are also reinforced so you can be sure that your safe's contents are secure.
Made in the USA from powder-coated materials that enhance durability and prevent corrosion and rusting, this safe is also California DoJ certified. 
Pros:
Large enough to fit any handgun

Secure lock that doesn't open with a traditional key

Lined tray to prevent damage to your goods

Anti-pry design for security

Powder coating for durability and protection of the outer materials
Cons:
We were surprised by how loud it can be to open!
Buyer's Guide
How do you know when you have found the perfect gun safe for your nightstand? How do you know when you have found a good gun safe anyway? These are questions that every gun owner has asked. These are also questions that we are more than happy to answer!
Everyone's preferences and needs differ slightly, but some common factors are universally applicable.
Access
A safe does need to be secure, but equally, you need to be able to get into it when you need it! The best safes are those that will let you have quick access as this is what truly matters in an emergency. 
To this end, we love safes that have doors that open on gas struts. These designs let you open the safe one-handed. Now you can have one hand inputting the required information to access the safe and the other ready to grab your weapon and go. Not only is this convenient, but it is quicker too.
Security
The best safe will be one that balances access and security. We highly recommend that you do some research into the various security features of a safe before you purchase it. Your firearms will be going in there – it needs to be secure.
Keep an eye out for anti-pry and anti-tamper designs as these will prevent people from gaining access without using the lock. You can also get theft detection or protection and these features tend to make it obvious that someone has tried to gain access. 
We recommend that you look at the lock of the safe as this will be the chief security feature. You can get a classic key lock, biometric locks, or advanced digital locks. Keep in mind that most biometric or digital locks will also have a traditional key lock and come with a master key – just in case!
Certification
We recommend that you opt for a safe that has some form of official certification. A safe that is certified by a federal body is a safe that has undergone rigorous testing and is a marker of quality. 
Try to get a safe that is certified by a recognizable firearms body. Certifications from the TSA or CA DoJ are some of the more prestigious options. 
Design
Is the design the most important thing about a gun safe? No. Do we still like having well-designed safes? Yes – especially if it is going on a nightstand!
Safes come with all sorts of different design variations so it is up to you what type you go with. Keep in mind that the best nightstand safes come with illuminated or backlit keypads with an interior LED light. We prefer LED lights because they are bright and extremely energy efficient. 
Keep an eye out for motion-activated keypad lights as these are less likely to keep you awake if you store the safe on your nightstand. 
Price
We know that everyone has a budget. We recommend that you do some research into pistol or gun safes so that you know what you can get for your money.
Keep in mind that nightstand pistol safes are generally cheaper than traditional gun safes – primarily because they are a little smaller. 
That said, try not to focus too much on the price tag. Remember that an expensive safe does not necessarily mean that it is the most secure. Whatever your budget, make sure that you opt for a safe that has good security features and is built of quality materials.
Frequently Asked Questions
Should I Keep my Gun Safe Near my Bed?
Keeping a gun safe near your bed is recommended if you are home security conscious. This way, you know exactly where your weapon is and you can access it before investigating if need be. 
A nightstand gun safe or under-the-bed safe is recommended as they are convenient and out of the way of high traffic areas.
What Gun Do I Need for my Nightstand Safe?
Keep in mind that pistol safes are better suited to the nightstand as they are more compact. This means that any firearm you store in it will need to be a handgun or similar. Be sure to do your research and make sure that your gun will fit!
If you have larger firearms, you may need to think about under-the-bed safes as this will give you more room.
Whatever safe you choose, make sure that it is secure.
Final Thoughts
Keeping a gun under your bed or on your nightstand is a good idea if you are concerned about home security. Keeping a gun here will make it quick to access but out of the way enough that visitors to your home may not know that they are there.
Opt for a pistol safe if you want to keep a firearm on your nightstand. They are smaller than other gun safes and usually hold one or two firearms. You may find that some pistol safes even have enough room left over for extra magazines or for some important documents. 
A pistol safe is an affordable option for gun owners. They are secure and highly durable – just be sure to do your research before committing!