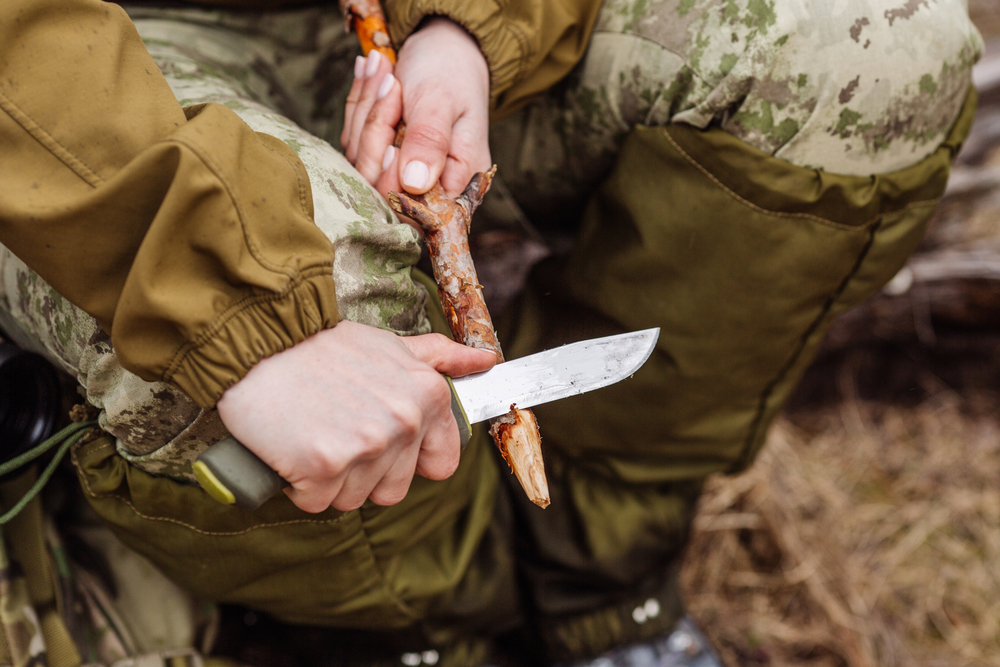 Best Survival Knives For 2022
What is the best survival knife for you? Identifying your intended survival knife use is the easiest way to find the superior knife for your needs. 
Tips On Choosing The Right Survival Knife
Finding the right survival knife is a daunting task. There are a myriad of aspects to consider. Here are a few tips to help you narrow down your search:
Blade Size
When deciding on the blade size for survival knives, the general rule is to go with a 4 to 5-inch blade.  A 6 to the 7-inch blade will work as a general-use blade.  There is the thinking amongst some survivalists that a large blade knife is best. This is due to its versatility.  A large blade makes tasks easier. It helps to eliminate carrying extra tools. On the other side, any blade shorter than 4 inches will be too small. It is easier to use a large blade for small tasks. But it is hard to use a small blade for larger tasks.
Blade Configuration
The blade configuration of a survival knife points to the shape of the blade. Different blade shapes are designed for specific uses. A drop point blade is a style that slopes on the spine. The blade will slope from the handle to the tip of the blade. This style lets the blade slope forward from the thickest and strongest point down to the tip. This style of blade is best suited to hunting. Another popular blade style used by survivalists is the clip-point blade.  This blade style looks like the last third of the blade has been clipped off. This part of the blade can be straight or concave. The drop point blade is the most popular for survivalists. The tip is stronger and more durable than a clip-point blade.  The clip point blade has a sharper tip and is more susceptible to breaking. A crucial feature is for the survival knife to have a robust grind. This feature makes the blade less susceptible to chips or breaks along the edge.
Materials
Blade steels are a rabbit hole that will consume hours of your life.  The basic thing to know is that two main types of steel are used for survival blades. Stainless steel has less chance of corrosion. But generally, it is softer. The other is carbon. Carbon is more prone to rust but keeps its edge better. The recommended hardness for a survival blade on the Rockwell scale is 58 to 60 HRC. The Rockwell scale is based on the indentation hardness of the blade material. This is a pivotal factor when choosing a survival blade. If the blade is too soft, it will not sharpen properly. And it will not hold its edge well.  If the blade is too hard, it will become brittle and break easily.  Stainless steel gained a poor reputation over the years as a metal used for cheap knives. That being said, a few survival knife companies are producing high-quality stainless steel knives these days. Grip material is essential. Once your hands become sweaty or greasy, you need a handle with many purchases.  Micarta handles are popular. They are made out of compressed linen, cotton, or paper layers. The rough texture offers excellent grip.  Leather and polymer handles are widely used. They have a high grip and are durable. 
Origin
Generally, blades manufactured in the United States, Europe, and Japan are of the best quality. Avoid brands that no one has heard of. These usually are also well priced.  These countries have a long history of blade production with traditions of smithing.  Countries like El Salvador, Brazil, and Taiwan are producing high-quality survival knives. 
Top 5 Survival Knives
Esee 5 
ESEE RC5POD-BRK Model 5
Overall Length: 11.0 inches. Blade Length: 5.25 inches Thickness: .25 inches.
Steel: 1095 Carbon, 55-57 Rc. Finish: Textured Powder Coat. Blade Width: 1.56 inches.
Grind: Saber. Weight (Knife Only): 16 Ounces.Handles: Canvas Micarta. Black Kydex Sheath w/ Clip Plate.
Thumb Jimping On Spine. Glass Breaker Pommel. Bow Drill Divot In Handle.
MADE IN THE USA
This is the best all-rounder survival knife.  
Overall Length: 11.0 inches

Overall blade length: 5.25 inches

Maximum thickness: .25 inches

Steel: 1095 Carbon (55 to 57 Rc.)

Weight: 17 Ounces (knife only)

Weight: 22 Ounces (knife with sheath)

Sheath: Kydex

Finish: 3D G10 / Micarta

Made in: U.S.A
Morakniv Kansbol
Morakniv Kansbol Fixed Blade Knife with Sandvik Stainless Steel Blade - Green
Versatile fixed blade outdoor knife with stainless steel blade; two versions available (sold separately): with plastic sheath or multi mount system
Top grade Swedish 12C27 stainless steel that features excellent edge performance, razor sharpness, high hardness, and exceptional corrosion resistance
90-degree square blade spine ground especially for use with a fire starter (sold separately)
Tough, Polyamide plastic handle and sheath includes click-lock to prevent knife from falling out of sheath
Total length 8. 9-inches (226 mm); blade length 4. 3-inches (109 mm); weight 4. 7 oz. (134 g); made in Sweden
This is the best knife if you are working on a tight budget.  
Overall Length: 8.9 inches

Overall blade length: 4.3 inches

Blade thickness: 0.1 inches

Blade Grind: Scandi

Blade finish: Semi-matte

Steel: 12C27 Swedish Stainless Steel

Weight: 4.7 Ounces

Handle material: TPE

Made in: Sweden
KA-Bar BK-10 Crewman
Sale
This is the best for a large-sized knife.   
Overall Length: 10-7/8 inches

Overall blade length: 5-1/2 inches

Steel: 1095 Cro-van steel

Weight: 2 Pounds

Polyester sheath

Made in: United States
Gerber Strongarm
GERBER StrongArm Fixed Blade Knife with Serrated Edge - Coyote Brown
StrongArm tactical knife features a coyote brown handle and a serrated edge, full tang steel blade
Durable survival knife has ceramic blade coating and rubberized diamond texture grip
Break through hard surfaces in emergencies with the tactical knife's striking pommel
Four mounting pieces and sheath can be used for mounting on MOLLE, belt, or in drop-leg fashion
Gerber gear is proudly made in USA at Gerber's Portland, Oregon factory
This knife has a military feel to it. It has much to offer and is highly versatile. The design is comfortable.   
Overall Length: 9.8 inches

Overall blade length: 4.8 inches

Steel: High carbon steel (420HC / BDZ-1)

Serrated edge

The ceramic coating on the blade

The striking pommel at the base of the handle

Kydex and Nylon sheath

Strap in MOLLE strap

Weight: 7.2 Ounces

Made in: United States
Tops Knives Baja 3.0
survival knife. It was built with versatility in mind. It has been tested outdoors.
Overall Length: 6.5 inches

Overall blade length: 3.2 inches

Steel: 1095 Carbon steel (56 to 58 Rc.)

Blade: Drop point

Blade thickness: 1.8 inches

Weight: 3 ounces (without sheath)

Weight: 5.1 ounces (with sheath)

Handle: Micarta

Sheath: Leather

Made in: United States
Conclusion
There are a plethora of survival knives on the market. It is a never-ending research hole that you can do to find the most suitable survival blade. The best way to overcome this is to determine your needs and requirements. Once you know how you will be using the survival knife, you will easily make a decision.