Last Updated on February 11, 2023 by admin_hunter
The unpleasant truth is a nuclear attack or radiological emergency can cause significant damage and casualties that stretch for miles surrounding the blast zone. Not only can the explosion and blast wave be extremely dangerous, but the radioactive fallout and electromagnetic pulse caused by the nuclear blast can also wreak havoc on people, buildings, and the environment.
To ensure that you and your family are safe from intentional nuclear attacks, accidental nuclear explosions, and power plant meltdowns, we have compiled this nuclear survival kit guide. We will explain what your nuclear survival kit should include and offer some tips for what you should do to stay safe and avoid significant radiation exposure!
What Is a Nuclear Survival Kit?
As the name suggests, a nuclear survival kit is an emergency kit that contains necessary items you and your family will need to sustain yourselves during the first 72 hours following a nuclear incident.
The items in a nuclear survival kit help you hunker down and stay safe from the many hazards of a nuclear explosion, including fallout and radiation. One of the most important things following a nuclear explosion is to hunker down and stay indoors. Once it is safe to do so, the government will issue an evacuation order and relocate you to a safe location.
Your nuclear emergency kit is designed to help you survive and stay safe until that evacuation order is issued.
What Should Your Nuclear Emergency Preparedness Kit Contain?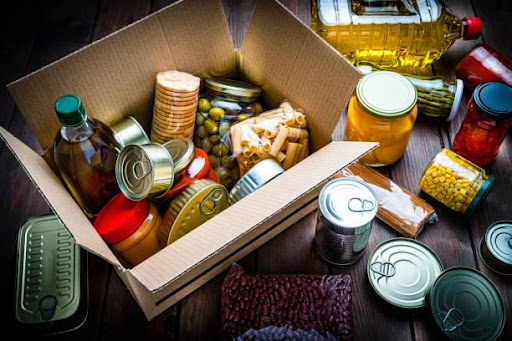 While you can make additions to your nuclear survival kit to cater to your unique needs, the following items are must-haves in any kit:
Potassium Iodide Tablets 130 mg EXP 10/2025 Kosher Iodine Tablets, Thyroid Supplement – 2 Pack | 120 Tablets Total
☑️ Pure Ingredients: Potassium Iodide is a stable form of iodine. Potassium Iodide 130 mg per serving is an essential supplement to keep in your medicine cabinet in case of emergency survival situation.
☑️ Thyroid Supplement: Potassium Iodide tablets are an affordable and effective way to support iodine deficiency. Ingesting small amounts of stable Potassium Iodide, or KI, can saturate the thyroid gland. We pack each tablet with pure potassium iodide to ensure maximum effectiveness and proper potency. Potassium Iodide is a must have in your survival gear bag.
☑️ Once Per Day Solution: Easy to swallow Potassium Iodide tablets are a quick once a day solution just like many other forms of KI pills but without the nasty after taste like liquid iodine, iodine tinctures, nascent iodine drops, liquid potassium iodide supplement, pure iodine salt, potassium iodide powder.
☑️ Suggested Use: Use only as directed. For short-term use only (up to 10 days). Adults and adolescents: up to 2 tablets once daily. For children ages 3-12 years up to 1 tablet once daily. For children 1-3 years 1/2 tablet once daily. For children under 1 year consult your physician before use.
☑️ EXPIRATION: 07/2025
At least a 72-hour supply of bottled water for each of the members of your household
A three-day supply of non-perishable food items for you and your family (energy bars, nuts, and seeds, canned vegetables and meats, canned beans, vitamin pills, etc.)
Emergency radio with a hand crank
A change of warm clothes and blankets
A basic first aid kit (alcohol pads, bandages, hold and cold packs, medical tape, sanitizer, tourniquet, gloves and eye protection, suture kit, medical scissors, tweezers, basic pain medication, etc.)
Soap that you can use to scrub yourself clean
Emergency masks for each of the members of your household (preferably tight-fitting N95 masks)
Flashlights and headlamps with spare batteries
Properly fitting hazmat suits for yourself and your family members
Sanitary items (toilet paper, toothbrushes and toothpaste, hand sanitizer, sanitary wipes, etc.)
A map of your city and the surrounding area, as well as a compass
Potassium iodide tablets, which you can purchase many places, including Amazon.com (protects the thyroid from absorbing radiation)
To learn more about appropriate foods for a nuclear survival kit, we recommend reading our food guide, which explains How to Build a Two Week Food Supply List for Any Emergency.
What Else Can You Keep in Your Nuclear Survival Kit?
4Patriots 4-Week Survival Food Kit — 192 Servings, Emergency Food Supply Survival Kit, Delicious Meals for Disasters and Camping, Freeze Dried Preparedness Food, Designed to Last 25 Years, Be Ready with Unmatched Variety Compared to Competition
UNMATCHED VARIETY — 192 SERVINGS: 11 Delicious family-favorite recipes like Grammy's Sweet Oatmeal, Fireside Stew and America's Finest Mac & Cheese. That's about 6 servings a day for breakfast, lunch, dinner and snacks! Each Kit has an average of 36,480 total calories (approx. 1,302 calories per day - you may want or need more+) for energy and nutrients to survive an emergency situation.
+YOU MAY WANT OR NEED MORE CALORIES PER DAY especially if you're pregnant, a child, elderly, or have health conditions. Your food kit is designed to provide energy & nutrients for 1 person in an emergency, not to be a complete caloric replacement during normal times.
"DISASTER-RESISTANT" PACKAGING: Triple-layer Mylar pouches help protect your food. This premium packaging works as a barrier to help protect against things that can harm your food: air, light and moisture. Then we use a high-tech, high-capacity oxygen absorber to suck OUT any excess air. Which seals IN your food's shelf life.
TASTE GREAT, NUTRITIOUS & EASY TO PREPARE: Simply add boiling water, simmer and serve. It takes about 15 minutes from start to finish. And with meals like Creamy Rice & Vegetable Dinner, Frank's Favorite Alfredo & Buttermilk Pancakes, you'll have a variety of things to try.
PROUDLY PACKED IN USA, NO ADDED MSG: Your food is packed at a family-owned facility in Utah, USA using the finest ingredients sourced from the USA & around the world. And the hard-working folks that make your food are experts in their field; nutritionists, chefs, engineers, & quality control inspectors. Our facility is SQF certified & registered with the USDA and FDA.
While the items mentioned above should be in any nuclear survival kit, yours can also include items unique to your needs. These could consist of specific prescription medications that you or a family member must take daily.
You could include items that are specific to the climate where you live. For example, if you live in a colder climate, you may want to put aside winter clothing in a sealed bag. Those in warmer climates might also require more bottled water than those in milder regions.
If you have pets, you could put aside non-perishable food for your animals in sealed and safe containers. Some will also keep a gasoline-powered generator in their designated shelter area and spare gasoline for the generator and their evacuation vehicle. A portable shower with an adequate supply of clean water can also be helpful, as it allows you to wash away potential contaminants from the surface of your skin.
As long as you have everything you and your family need to survive for at least 72 hours, you will be more prepared for a nuclear disaster than a significant proportion of the population.
For more tips, read our What Is in Military Survival Kits Guide, which covers additional items you may want to include in your own nuclear survival kit.
Where Should You Keep Your Nuclear Survival Kit?
Ideally, you would keep your nuclear survival kit and other supplies in a dedicated nuclear fallout shelter in an easily accessible location.
With that said, not everyone has the type of property or living arrangement that could accommodate a dedicated nuclear fallout shelter. In this case, the main thing would be keeping your nuclear survival kit in a safe location that you could access with minimal warning.
For many, this is a basement or a closet in their house or apartment. The last thing you want is to need to run outdoors to get your nuclear survival kit. This also means it should not be in your vehicle unless you spend significant time on the road.
It is also important that all of the items in your nuclear survival kit are protected from radiation, meaning they are in sealed containers. Even when using items in sealed containers, such as bottled water, you should still wash any portion of the container that will make contact with your bare skin.
What Should You Do in the Event of a Nuclear Incident?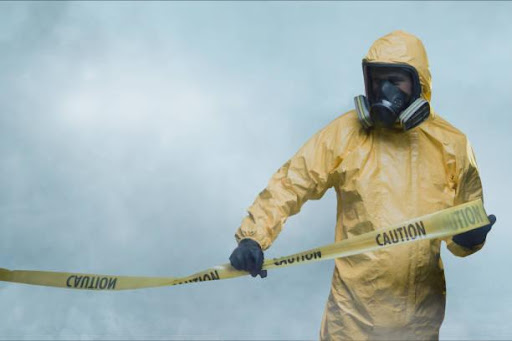 The first thing you should do if you are warned about an incoming nuclear emergency or attack is take shelter immediately. Even if you have no warning, you should get indoors as quickly as possible, as even people many miles from the explosion could be at risk of exposure.
Next, you should clean your entire body with soap and clean water. Do not use skin creams or conditioner on your hair. Simply use uncontaminated water and plain soap. Once you have changed into clean clothes and thoroughly washed, you must remain sheltered and await further instructions.
This is why it is so important to have an emergency radio in your nuclear survival kit. Government or military officials will update you with the most appropriate instructions, which could include relocating to a safer area within 24 to 48 hours of the incident.
When the evacuation order is issued, follow the instructions carefully, including where to travel. This is because the evacuation instructions will almost certainly account for wind direction to keep evacuees as safe as possible from radiation exposure.
Uncharted Supply Co The Seventy2 Pro 2-Person Survival System - 72 Hour Emergency Preparedness Kit - Ideal for Your Car, Home, Survival Readiness, and Camping (Orange)
Professional Grade | Made specifically for first responders, the Seventy2 Pro builds on the legacy of their signature design, with enough survival supplies for two, additional tools, and a redesigned carrying system.
Upgraded Materials | The 600D, waterproof tarpaulin is now situated on a soft-frame harness with redesigned shoulder and straps for a true all-day carry.
New Tools | Separating itself from the original Seventy2 Survival System, the PRO includes a full-tang and rubber grip knife, anti-fog ski goggles, upgraded first-aid kit, metal water bottle, and more.
Expanded Insert | Contains conveniently organized safety and survival gear for two including a first aid kit, emergency food rations, fire starters, an emergency shelter, a tri-band radio, water filter, multi-tool, and more.
The Blueprint | Screen printed onto the insert are step-by-step survival instructions that detail survival techniques like fire-building, administering first aid, and staying warm among other useful survival tips.
For More Information
We highly recommend reading and even printing off FEMA's Be Prepared for a Nuclear Explosion informational guide. It can prove to be a life-saving resource in a tragic nuclear blast.
For those with serious concerns, we recommend our guide to The Best States for Survival Preppers, as it covers some of the best locations to stay safe.

Ready.gov also offers a checklist of items you can include in any emergency survival kit, which can be another helpful resource while you are putting together your nuclear survival kit – How to Build an Emergency Survival Kit.
Finally, it is important to have tangible financial assets ready for any situation. Be sure to check out our Precious Metals Buying Guide for peace of mind and security in times of crisis.