Last Updated on January 30, 2023 by admin_hunter
If you have the correct gear and know what to do, winter camping can be an incredible way to get outdoors and enjoy the off-season. We're not talking about RV camping, either. We mean setting up a winter camp with a tent and firepit and braving the cold weather.
If you want to stay warm and enjoy the best winter camping trip possible, read on to discover our ten beginner-friendly winter camping tips!
The 10 Best Winter Camping Tips for Beginners
1. Dress in Layers
Not only is dressing appropriately important for your comfort, but it can also be a safety issue if camping in extreme winter temperatures.
One of the easiest ways to ensure that you are dressed appropriately for a winter camping trip is to dress in layers. Not only will this keep you warm, but it will also allow you to shed and add layers depending on the temperature throughout the day and what winter activities you're partaking in.
You should familiarize yourself with three main layers – the base layer, mid layer, and outer layer. Managing your body heat throughout the day is vital for your comfort and safety. Your base layer should wick away sweat and moisture, while your mid layer should help trap heat and keep you insulated. Finally, your outer layer should be water- and wind-resistant, which will help shield you from the elements.
For more information, read Backpacker's informative guide – Layering for Winter – How to Dress for Warmth on the Trails.
2. Bring Enough Food
Make sure you pack plenty of food, as you will burn more calories than you expect while camping, especially if you're doing a lot of winter activities, like snowshoeing or cross country skiing on the hiking trails. Not only is it physically draining to walk through deep snow, but your body will also burn calories at an increased rate to regulate your core temperature in the cold weather.
Choose calorically dense food that does not require difficult prep. Foods that are high in fat and protein are excellent choices, especially if you do not need to cook them to eat them. While you can certainly cook outdoors in the winter, you do not want to be unable to eat if you run out of fuel or cannot start a fire. Think canned meats, pre-cooked beans, beef jerky, energy bars, and trail mixes.
Energy bars are perfect for winter camping. If you would like to learn how you can save money and make delicious, nutritious energy bars, we recommend reading our guide – How to Make Homemade Survival Bars.
You can also read our breakdown of foods that are a good idea to bring on a winter camping trip – What Are Ready to Eat Foods?
3. Pack and Drink Plenty of Water
Hydration is also crucial for winter camping! Not only will you expel a surprising amount of water in the cold, but drinking a lot of water has numerous benefits for winter camping, such as reducing fatigue and helping your body stabilize its core temperature.
You should pack warm water in an insulated bottle, especially for the hike to your camping site. Once you have set up camp, you can boil clean snow and use that for drinking water, but it is still a good idea to ensure you have liquid water on hand at all times.
4. Make Sure You Put Down an Insulated Sleeping Pad
An insulated sleeping pad or mat will create a barrier between your sleeping bag and the ground in the cold weather. Even with the highest quality sleeping bag, the cold ground will draw heat from your body. A high-quality, four-season sleeping pad will keep you warm throughout the night.
Whatever you do, do not underestimate how much heat you can lose through the ground if you do not put down a barrier. Most people simply pile blankets on their sleeping bags and forget that insulating the space beneath them is even more critical.
Not only does Therm-a-Rest make some of the best camping sleeping mats, but they also have an informative guide you can read to learn more about choosing the right one – How to Choose the Right Size & Shape Sleeping Pad.
5. Take a Smaller Tent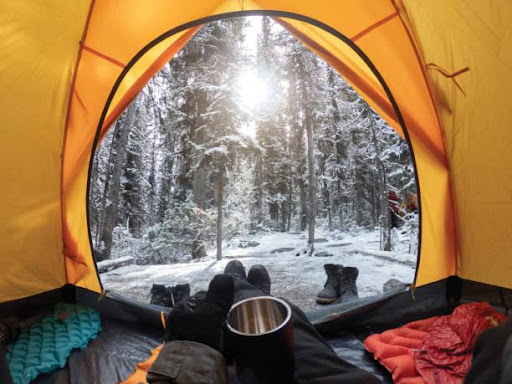 When you are winter tent camping, the size of your tent is essential. The smaller your tent is, the warmer you will be. Your body heat and breathing will warm the air inside a smaller tent much faster.
If you are sleeping alone, choose a one-person tent. If you are with another person, choose a two-person tent rather than a three-person or larger. Insulation and warming the air in your tent are far more important than extra space when winter camping.
6. Bring Hand Warmers
Naturally, hand warmers are very useful for keeping your fingers warm; however, they serve other purposes when you are winter camping. If you are cold at night, placing a few hand warmers in your sleeping bag can make a massive difference, especially if you are the type that gets cold feet at night.
Luckily, hand warmers are very compact, so it is easy to throw extras in your camping pack.
7. Wear a Wool or Synthetic Hat Often
You lose a significant amount of body heat through your head. While it might be somewhat itchy, wearing a winter hat as often as possible while you are winter camping will help keep your entire body warm.
Many experienced winter campers will wear a wool winter hat to bed, which goes far towards keeping you warm while you sleep.
8. Dig a Hole in the Snow for Your Fire
While it may seem strange, digging out an area of snow for your fire will help in the long run. Not only will this help protect the fire from strong winds that could put it out, but it will also stop the fire from collapsing when the snow beneath it melts away.
It is also essential to bring plenty of wood, as you will burn wood much faster than you would during summer camping, as the heat from your firepit will be used for warmth rather than just cooking.
Before heading out on your winter camping trip, we recommend reading our guide to Starting a Fire with Wet Wood, as this can be a common issue when camping during the cold and wet winter months.
9. Make Sure You Tell Someone Where You Are Going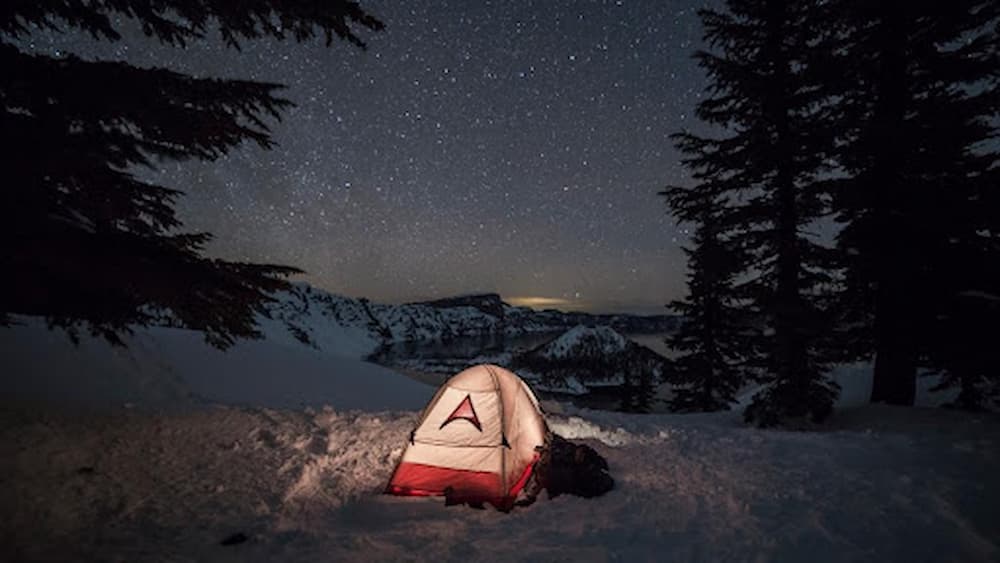 While winter camping can be completely safe if you do it right, being outdoors in the winter always poses some risks. It is incredibly important that someone knows where you are going and for how long you plan on camping.
If an emergency does occur, someone should know where to find you. Unfortunately, you cannot simply rely on your smartphone to call for help, as electronic equipment loses power much faster in the cold.
10. Wear Waterproof Insulated Boots with Good Tread
Your footwear is incredibly important when you are winter camping. Not only do your boots need to keep your feet dry and warm, but they also have to provide you with good traction, as compact snow and icy trails can be very dangerous. The last thing you want is to slip and become injured because you were not wearing appropriate winter footwear.
When combined with thick wool socks, a good pair of winter hiking boots can make your entire winter camping trip.
For More Information
If you're looking for a national park or state park to camp in the winter months, some of the best places in North America are Mt Hood National Forest, the Grand Canyon, Rocky Mountain National Park, and Tettegouche State Park or Wild River State Park in Minnesota.
If you want to know more about winter camping, we recommend reading Mountain Equipment Company's 26 Tips for Winter Camping Beginners, packed with valuable tidbits.
To make sure you pack all the right things to enjoy the best winter camping trip possible, we recommend reading our Ultimate Checklist for Winter Camping Gear.