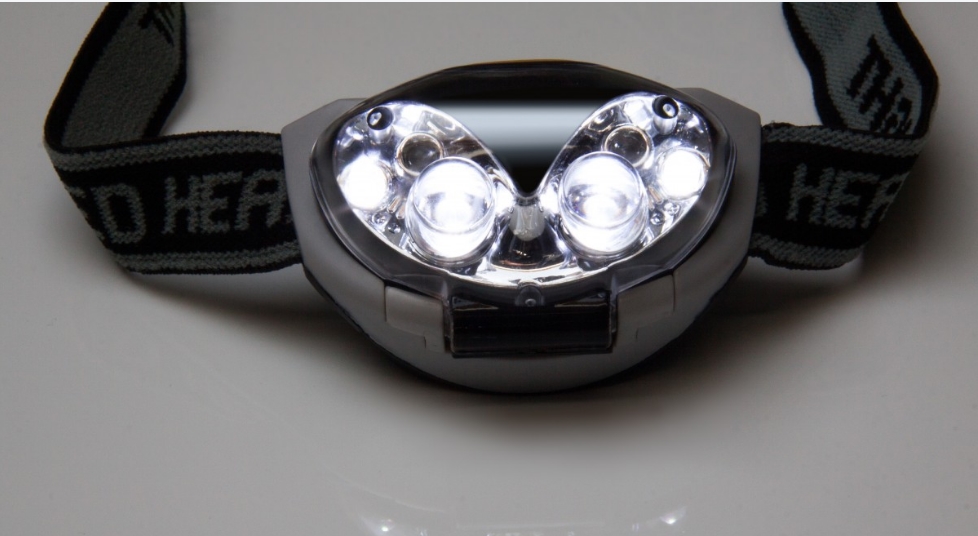 The Best Headlamp for Fishing and the Outdoors
Holding a flashlight in one hand and attempting to reel in a catch with the other is simply a no-no, even for the complete novice. But whether you are fishing, hunting, or camping, a headlamp is a must-have.
Unfortunately, there are plenty of junk headlamps on the market that will disappoint when you pitch jigs late at night or set up decoys very early in the morning.
This guide provides a list of the best headlamps for fishing and the outdoors currently available. But before you settle for one, make sure to read the buyer's guide at the end, so you can narrow your choice to what suits you best.
The Best Headlamp for Fishing and the Outdoors – Top Picks
1. OUTERDO Rechargeable Headlamp
Product Specs:
Power Source: Rechargeable batteries
Lumens: 13,000
Beam range: 650+ yards
Runtime: 4 to 9 hours
Waterproof rating: IP4
Outerdo's headlamp is a solid choice if you want a fishing and outdoor companion that won't disappoint.
The rechargeable lamp has eight LED bulbs that generate 13,000 lumens altogether – that's powerful enough to light up over 650 yards. It can work for up to nine hours before requiring a recharge, depending on the lighting mode. It features a USB port that is compatible with a variety of adapters, and it charges pretty quickly.
Control is easy with the accessible buttons, and the light can move over a 90-degree angle at the strap's front, making it one of the most user-friendly headlamps in the market.
It has a good waterproof rating, and on top of it all, the headlamp is lightweight with gentle and easy-to-adjust straps.
The major downside to this powerful headlamp is how fast it drains power. Brighter modes can run down the battery pack very quickly.
However, this model should be on your radar if you are planning a lengthy excursion because of how comfortable it is. Just don't forget to bring an extra power source.
2. Odear Super Bright Rechargeable Spotlight
Odear Super Bright Headlamp Rechargeable LED Spotlight with Battery Powered Headlight for Garden Outdoor Camping Fishing (Large)
Super bright light::LED bulbs deliver high lumens to give you the brightest illumination up to 100,000 hours.long shots 2600 feet(800 meters)
In order to ensure the visual field, angle adjustable (0-90°),elasticated adjustable headband,more stable and more comfortable
It's easy to wear on the head or put on the ground, great for job site work lighting/Camping/Fishing/Car Repair/Emergency situation/back-up for power cut
Two different light mode(High/Low),Built-in high capacity rechargeable 3*18650 lithium battery,Strong Mode can last for 6-8 hours when full of electricity illumination
The IP4 waterproof rating means it is protected against splashing water from all angles, suitable for outdoor environment, adverse weather conditions
Product Specs:
Power Source: Rechargeable batteries
Lumens: 5,000
Beam range: 870+ yards
Runtime: 6 to 8 hours
Waterproof rating: IP4
Odear's rechargeable spotlight is a fantastic option when it comes to a reliable, no-frills traditional headlamp. It comes with tiny LED bulbs encased behind wear-resistant and shockproof plexiglass.
With an estimated lifespan of about 100,000 hours, there won't be any need for replacing the LED bulbs for a long time. The spotlight design generates high lumens to deliver super bright, focused light beam that can illuminate over 800 yards.
In terms of utility, it has high and low light modes, so you can switch between them depending on your outdoor activity. It also has a 90-degree adjustable angle to increase the visual field. The elastic headband is comfortable, and the lamp itself is lightweight.
The headlamp has a good waterproof rating to resist light rain and splashes. That means you can wear it while during late-night fishing without worrying about the ambient sprays or dew.
The lamp is powered by a built-in, high-capacity rechargeable battery that connects to a USB cord for juicing up.
While this model is good and produces bright, white light, only two light modes may not cut it for some outdoorsy people. However, this is not a deal-breaker for many people, especially those who prefer a traditional headlamp style.
3. IKAAMA Ultra Bright Headlamp
Product Specs:
Power Source: Rechargeable batteries
Lumens: 6,000
Beam range: 540+ yards
Runtime: 6 to 9 hours
Waterproof rating: IPX4
Comfort is crucial, especially for someone who doesn't really enjoy headgear. If that's you, the IKAAMA Ultra Bright Headlamp might be worth looking at.
At only 12.5 ounces, this model is not only lightweight but features a super soft and comfortable headband that's easy to stop noticing it's on your head. Plus, it doesn't slip when you move around, although it is pretty easy to adjust the position.
The headlight sits nicely on your head and can rotate at any angle to light up your surroundings. Thanks to the three powerful and independent LED bulbs, the headlamp can illuminate your campsite or fishing site with up to 6,000 lumens, covering more than 540 yards.
With the strobe mode – one of its four light modes – you can easily catch the attention of passers-by and rescuers in an emergency.
IKAAMA's headlamp is powered by two high-power 3000mAh 18650 rechargeable batteries and comes complete with two DC charge cables.
You will want to charge this long before any outing, though. It can take an awful long eight hours to get the battery fully juiced up.
Overall, this is a solid choice for anyone looking for the best headlamp for fishing and the outdoors in terms of comfortability.
4. Lighting Ever LED Headlamp
LE LED Headlamp Flashlight, Headlight with Red Light, Water Resistance, Adjustable for Kids and Adults, Perfect Head Light for Running, Hiking, Reading, Camping, Outdoor and More, Batteries Included
4 Lighting Modes: 3 levels of white light brightness (2 leds, 10 leds and 18 leds) and a red flashing mode are available.
Adjustable & Lightweight: This headlamp is 90° tiltable for oriented lighting, weighs only 3.2oz for easy carrying.
IP44 Water Resistant: Prevents splashing water in all directions, but cannot be partially or fully submerged.
Batteries Included: Each powered by 3 AAA batteries, the discarge time of flashlight can reach up to 10 hours in the mode of red light.
Wide Applications: Perfect for outdoor scenarios such as running, jogging, camping, fishing, bicycling, reading etc.
Product Specs:
Power Source: Replaceable AAA batteries
Runtime: Up to 10 hours
Waterproof rating: IP44
Spending a couple of nights outdoors in a month may not require splurging on expensive gear. Something nice and simple that won't break the bank, such as Lighting Ever's headlamp, is great for the job.
The headlamp can fit into your pocket and is very affordable. Yet, it comes with many of the features available on pricier models, including an over and around headband design, good waterproofing, and adjustable angle lighting.
This model runs on three AAA batteries, which are included, and can last for up to ten hours in the lowest setting. It has a moderate brightness, so don't expect a powerful beam. The brightness level is ideal if you are camping, hunting, or fishing in groups.
At only 3.2 ounces, this is the perfect model to buy for your kids, too! Although it doesn't cost much, it does feature four lighting modes, including a red flashing mode for emergencies.
You don't want to rely on this model as your only headlamp if you do any serious outdoor activity at night or in low-light conditions. It is not the brightest headlamp out there, but the price is right, and it is a fantastic option if you need something to use once in a while.
5. HeroBeam Fishing Headlamp
HeroBeam Fishing Headlamp – USB Rechargeable Head Flashlight Designed for Fishermen – White and Red Lighting - Hands Free ON/Off Mode – Lightweight, Camouflaged and Weatherproof
DESIGNED FOR FISHERMEN – Our unique design features both a High Intensity Spot Beam plus a Broad Beam RED element. Functions include various brightness levels plus strobe and SOS modes, and our Easy-OFF feature removes the annoyance of having to cycle through modes to switch OFF
UNIQUE SPOT OR WIDE BEAM FEATURE – Combining two types of LED on the same unit makes it super versatile, perfect for threading hooks or soft lighting your site at night
WAVE ACTIVATION FEATURE – Convenient Hands-free ON/OFF motion detect mode for both LED elements. In this mode you just swipe in front of the lens to toggle ON/OFF - ideal for use with gloves or when your hands are likely to get wet and slimy
RECHARGEABLE from any USB port using the included cable. The 1200mAh internal battery provides up to 30 hours use between 4-hour charges
3 YEAR WARRANTY + 30 DAY SATISFACTION GUARANTEE – Our Superior quality construction gives us the confidence you'll love it!
Product Specs:
Power Source: Rechargeable batteries
Lumens: 168
Runtime: Up to 30 hours
Waterproof rating: IPX5
HeroBeam specially designed this headlamp for fishermen. That means you get light modes tailored to improve your fishing experience.
The lighting modes include a broad red beam suitable for lighting your fishing site without spooking the fish and a high-intensity spot beam for threading a hook or prepping your tackle. It also features strobe and SOS modes.
One of the special features of this model is the motion sensor that allows you to conveniently turn on and off the light by simply waving your hand in front of the lens. This is particularly useful when your hands are wet, or you are wearing gloves.
In addition to the wave activation feature, an easy-off button lets you quickly turn off the headlamp without having to cycle through all the modes.
Rated for only 168 lumens, it won't likely wow you with its brightness level, but it does allow you to adjust the brightness level to suit your fishing activity. Plus, you can tilt the lamp to a 45-degree angle for precision lighting.
Another plus for this headlamp is the runtime, which can last up to 30 hours for only a four-hour charge period. This gives you enough charge to carry on for a couple of days.
6. PETZL TACTIKKA Stealth Headlamp
Product Specs:
Power Source: Replaceable AAA batteries
Lumens: 300
Beam range: 200+ feet
Waterproof rating: Water-resistant but not waterproof
Petzl is known for making some of the best outdoor gear and equipment, and this TACTIKKA Stealth headlamp doesn't disappoint.
This model is a solid choice for hunting and fishing. It comes in three different colors, including black, camo, and desert, so it can easily blend with your environment.
It has a red-light mode for night vision and three brightness levels suitable for a variety of situations. The headlamp runs on three AAA batteries (included), but it is compatible with the brand's rechargeable battery sold separately.
The headband only goes around the head, but it is made from soft fabric that won't scratch or chafe. The adjustable band is detachable, so you can easily clean it without getting the headlamp all wet.
The only real downside to this option is that it is not waterproof. Instead, it is water-resistant, so you don't want to expose it to more than a few splashes. However, buying this model gives you a headlamp built with high-quality materials from a trusted brand.
What to Look for in Headlamps for Fishing and Outdoors
Consider the following parameters when choosing the best headlamp for fishing or any other outdoor activity.
Lights
Lighting is the most important feature in any headlamp. The best models use LED light bulbs because they generate less ambient heat.
Many LED light lamps come with several bulbs. Meaning you can choose whether or not to switch them all on at the same time.
This is a useful little detail to look for, especially if you want to contour the light intensity. Choose an LED headlamp with a strobe setting if you want something that can send out signals in an emergency.
Straps
Where the fishing headlight attaches to your head is essential to the lamp's performance. Straps are typically adjustable, with one of the bands going over the top of your head and the other around the circumference of your head. An adjustable headband is always welcome.
You want to choose a headlamp with strong but gentle straps. The last thing you want to carry around on your head when hunting or fishing at night is an uncomfortable headband.
Chaffing can occur if the strap's finishing is poor, especially if it keeps shifting as you move around. Make sure to choose straps with soft fabrics that won't scratch your skin.
Power Source
Your choices come down to rechargeable and replaceable batteries.
Headlamps that run on replaceable batteries are pretty easy to install when they die out. Also, they can provide adequate power to last you several nights.
However, the cost for replacement batteries can start to add up very quickly, especially with low-quality models. Perhaps the worst thing is the batteries running out at the most crucial and inconvenient moments.
A rechargeable model comes with a USB port for juicing up the batteries between trips. You can also carry a solar power source or power bank to recharge when you are out on the trail.  Of course, the extra equipment will cost more money and may add more weight to your backpack.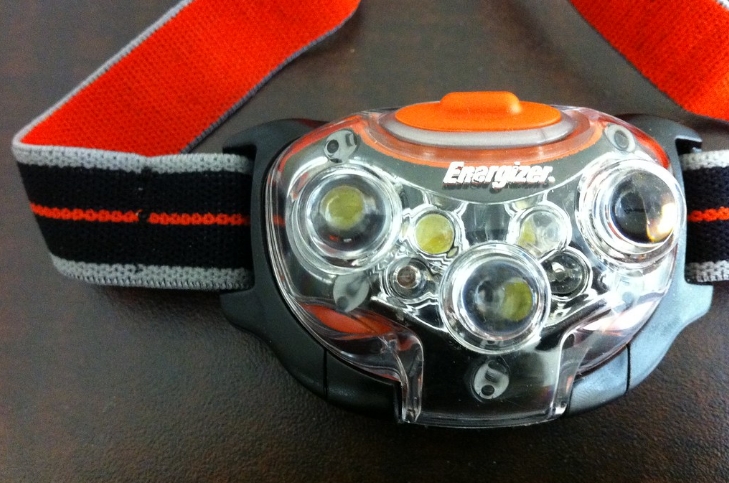 Lumens
Lumens refer to the amount of light given off by the lamp and can range anywhere from 15 to 500 or more.
Choose headlamps with a light output of about 200 to 500+ lumens if you want to light up large areas. On the other hand, lower-end lumens are an ideal choice for use in groups and campsites because they are not too bright to irritate those around you.
Runtime
Runtime refers to the number of hours a headlamp can produce usable light.
Make sure you know the runtime for the model you choose before heading out for a night hike. In any case, it is usually a good idea to carry extra batteries or a source of power in your pack.
Waterproofing
The best headlamp for fishing can resist water to some extent. Even if you don't use the lamp primarily for fishing, you want something that will work in wet conditions, such as in light rain or excess dew.
Keep an eye out for waterproof headlamp ratings when choosing a model. Pick a waterproof headlamp model that offers protection against circuitry damage that can happen from both freshwater and saltwater.
Weight
Heavy headlamps are not comfortable, regardless of their features. Light headlamps are your best bet, especially if you want to wear them for long hours. Fortunately, most models are reasonably lightweight, so it shouldn't be difficult finding one that suits your needs.