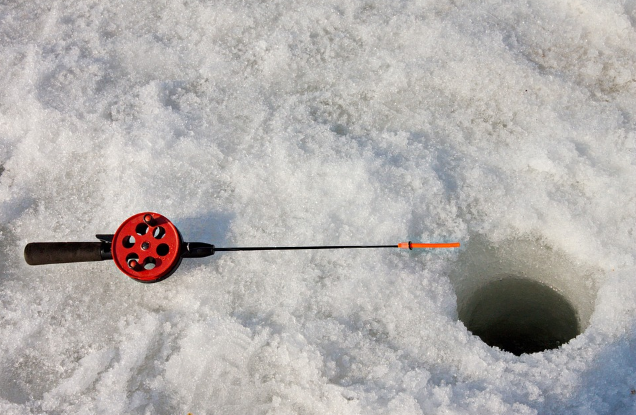 The 10 Best Ice Fishing Rods – Our Top Recommendations
Choosing an ice fishing rod is not rocket science – that is, if you know what to look for. Typically, an ice angler is looking for a simple, lightweight, and small size fishing rod with good sensitivity to register subtle bites.
You can spend countless hours scouring the internet and local shops for the best ice fishing rods or simply take the shortcut and check out our top recommendations.
Top 10 Ice Fishing Rods
1. Fenwick HMG Ice Fishing Rod
Targeting walleyes? You can't go wrong with Fenwick HMG's ice fishing rod, especially when you fish with lighter jigs.
Constructed from solid and very durable graphite, the rod is engineered to have a pointed design and a faster tip for increased action. The ergonomic real seat design increases blank contact, and the premium cork handle reduces discomfort even when you fish for a long time.
Fenwick offers plenty of size options, so you can take your pick from 26-inch to 30-inch rods and choose medium, medium-light, or medium-heavy powers. Regardless of the rod length, it can quickly detect the slightest nibbles due to its high sensitivity.
Features:
Solid carbon blanks
Stainless steel guides with aluminum oxide inserts
Premium cork handle with TAC trim
2. St. Croix Rods Mojo Ice Fishing Rod
St. Croix Rods Mojo Ice Fishing Rod
PRECISION-TAPER SOLID CARBON CONSTRUCTION: SC material blank provides superior performance
PREMIUM SPLIT-GRIP CORK/EVA HANDLE: Comfortable cork and EVA handle ensures you maintain a strong grip on your fishing rod
FEATURES: Custom reel seat ideal for all techniques; Sea Guide lightweight stainless-steel guides
SPECIFICATIONS: Length – 28"; Power – M
Sporting a carbon dust blank and flat finish reel seat, St. Croix Rods Mojo Ice Finishing Rod is designed for various fishing techniques. The medium-power rod can improve your fishing experience whether you are looking to catch a lake trout, walleye, or trout, or panfish.
The rod is constructed using solid carbon for superior performance. With a split-grip cork and EVA handle, you will have a firm grip on your fishing rod.
It features lightweight stainless steel guides and a custom reel seat that works great for just about any fishing technique. The moderately-priced rod is available in medium, medium-light, ultra-light, and medium-heavy. Plus, you can take your pick from four different rod lengths between 24" and 34".
Features:
Solid carbon construction
Custom real seat
Split-grip cork with EVA handle
3. Shakespeare Wild Series Ice Fishing Rod
Shakespeare's ice fishing rod is worth checking out if you want a small, ultra-light rod that can haul up to 27-inch walleye.
This rod features solid fiberglass medium rod action blanks and has a decent backbone for setting up the hook. Surprisingly, it has a very flexible tip, too. You can even add a spring bobber to quickly detect light bites if you want, but the sensitivity works just fine without the addition.
The handle features plastic wrapping around the cork, and the stainless steel eyelets are straight. On top of it all, the rod comes at an affordable price.
Features:
Solid fiberglass moderate action blanks
Stainless steel guides
Comfortable hybrid tech grips
4. Shakespeare Fuel Ice Fishing Reel & Rod Combo
Want a fishing reel that doesn't just look cool but also offers smooth rotation? This ice-fishing combo by Shakespeare might be worth getting.
This option comes with a gorgeous solid glass rod fitted with graphite rings and an EVA foam handle. Holding it during long fishing periods won't cause wrist or hand fatigue.
The rod is well balanced and strong, yet it has incredible sensitivity. It is a 28" medium-power rod with a pre-spooled ultra-light spinning reel that offers smooth rotation.
Features:
Red translucent solid glass
Stainless steel guides with inserts
Ultra-light spinning reel pre-spool with line
5. Abu Garcia Veritas 3.0 Ice Fishing Reel and Spinning Rod Combo
Abu Garcia Veritas 3.0 Ice Combo
Reel: 3+1 bearing System
Machined aluminum spool
Everlast bail System
Extended reel stem
Rod: 24 ton graphite blank, split grip high Density EVA handle design, micro click reel Hood, smoked SS guide frames with aluminum oxide inserts
If a glass rod combo doesn't cut it for you, perhaps this graphite option from Abu Garcia will do the trick. The Veritas 3.0 Ice Fishing Reel and Spinning Rod combo comprise a 1-piece, 27" medium-light rod with a reel that can stand up to a beating. Equipped with a 3+1 bearing system, the reel is all spooled up and ready to go.
The rod itself features a 24-ton graphite blank with a split-grip handle and EVA foam. It has smoked stainless steel guides upgraded with aluminum oxide inserts.
Features:
Graphite blank with split-grip EVA handle
Stainless steel guide with aluminum oxide inserts
Machined aluminum spool
6. Tinksky Telescopic Ice Fishing Rod
Tinksky's extremely affordable option is a great choice if you plan to get one of the best mini ice fishing rods on the market.
The rod has a length of only 23.5 inches, which is ideal for fishing enthusiasts looking to fish from inside a shelter not far away from the ice hole. Due to its telescopic design, Tinksky's ice fishing rod travels well too. It collapses to a compact 9.5 inches, which is small enough to fit into a typical tackle box or standard fishing backpack.
Constructed from durable hard carbon, the extremely lightweight rod features only two wear-resistant guides. You are not likely to catch any sizable fish with this rod, but it can come in handy for micro presentations with live bait. If you have your mind set on bringing in bluegills or any small fish species, this will be the rod to go for.
Features:
Durable hard carbon
Telescopic design
Two wear-resistant guides
7. St. Croix Rods Custom Ice Fishing Rod
St. Croix Rods Custom Ice Fishing Rod
UNRIVALED TECHNOLOGY & PERFORMANCE - Built with precision materials, the St. Croix Custom Ice Fishing Rod is engineered to reset the bar for performance on the ice
HI-VIS TIP FOR VISUAL BITE DETECTION - The hi-vis tip on this carbon ice rod provides visual detection, allowing you to see the tip react to bites
DURABLE CARBON BLANKS - These ice rods feature durable carbon blanks that provide unmatched strength and sensitivity so you'll feel every bite
REC RECOIL GUIDES - Recoil guides smoothly return to position after the rod bends for a fine-tuned performance
SPLIT-GRIP CORK HANDLE - With comfortable split-grip cork handles, the St. Croix Custom Ice Fishing Rods deliver all-day comfort and precision engineering to haul in more fish out on the ice this season
Finding a rod that checks all the boxes for you can be difficult sometimes. Fortunately, you can get a blank platform from St. Croix Rods and tailor it to suit your specific needs.
Engineered to withstand the harshest temperature, this rod provides unparallel sensitivity so you can feel even the subtlest bites. You can quickly see the tip's reaction to bites through the hi-vis tip.
Choose from solid glass, solid carbon, or carbon/glass combo – all of the versions come with recoil guides that allow for a fine-tuned performance.
You can fish all day and haul in plenty of fish out on the ice with this rod, thanks to the comfortable split-grip cork handle.
This option is one of the best ice fishing rods as far as custom options go. However, it is anything but cheap; buying it means you are getting a rod constructed using high-end materials that will last for a long time.
Features:
Durable carbon blanks
HI-Vis tip for visual bite detection
Split-grip cork handle
8. Fiblink Saltwater Fishing Rod
Sale
Braving subzero climates of the ocean might be your idea of ice fishing instead of cutting holes in a frozen pond. That type of fishing will require a slightly different kind of rod, and that's where Fiblink's fishing rod comes in.
The 2-piece 6-foot rod is designed to tackle even the most unyielding saltwater fish. It features a shaft made from solid carbon fiber. This accounts for its toughness and increased sensitivity.
It also comes with six stainless steel guide loops for long-distance casts. For added comfort, the rod has an EVA foam handle and fore-grips. The tip is flexible with a good backbone and a corrosion-resistant aluminum alloy reel seat.
The heavy-powered rod is surprisingly lightweight at a little under 12 ounces, making it travel-friendly. It is rated for 30 to 50 lbs line weight and about 4 to 7-oz lure weight.
Features:
Solid carbon fiber construction
6 stainless steel guides
Aluminum alloy reel seat with corrosion-resistant aluminum hoods
9. Berkley Cherrywood HD Ice Fishing Rod
New to ice fishing? It makes sense to spend as little as you can on gear. But whether that's the case or you just want something that won't break the bank, the Berkley Cherrywood HD is worth checking out.
The ultra-light rod comes at a very affordable price, yet it is made from 100% fiberglass with a full cork handle, which is comfortable.  It features three stainless steel guides and inserts with a nice graphite sliding ring reel seat.
You can easily haul in trout of about 10 or even 20 inches and crappies around 15 to 22 inches with these features. It's got some incredible flexibility with a tough backbone, so it can bend without breaking. Also, it is a sturdy little rod, and packing before heading out is easy, thanks to the small size.
Features:
Fiberglass blanks
Stainless steel guides and inserts
Full cork handle with graphite sliding ring reel seat
10. 13 FISHING – Tickle Stick – Ice Fishing Rods
13 FISHING - Tickle Stick Ice Rod - 27" UL (Ultra Light) - 1/64oz.-1/16oz. PC2 Blank with White Reel Seat - TS2-27UL
3A PORTUGUESE CORK HANDLE - 13 Fishing Tickle Stick Ice Rods are made with hand-selected 3A Portuguese cork handles that provide a comfortable grip in cold weather
PARALLEL COMPOSITE CONSTRUCTION - The 13 Fishing Tickle Stick Ice Spinning Rod is made with a PC2 (Parallel Composite Construction) featuring linear fibers that create a flat tip
FLAT TIP - The flat tip drastically increases the angler's ability to detect ascending and descending strikes and dds extreme rigidity to the blank by preventing the rod from rolling over resulting in perfect hook-sets every time
CUSTOM EVOLVE REEL SEAT - The Tickle Stick fishing rod has an Evolve reel seat which holds the reel in place
ALPS THIN WIRE GUIDES - This lightweght ice spinning rod incorporates ALPS thin wire guides that accumulate less ice than conventional guides
13 Fishing is relatively a newcomer in the fishing gear business, but that doesn't make its products any less innovative. In fact, this Tickle Stick is one of the best ice fishing rods you can lay your hands on if you want eyelets that won't freeze up too quickly.
Unlike most conventional guides, this one features ALPS thin wire guides that are less likely to accumulate ice.
The rod itself is made using a parallel composite construction and features linear fibers. This design creates a flat tip, which allows the angler to quickly detect ascending and descending strikes.
This is an extremely rigid rod fitted with a hand-selected 3A Portuguese cork handle. Even in the harshest weather, you can be sure of a very comfortable grip for long periods of fishing.
Features:
Parallel composite construction with linear fibers
3A Portuguese cork handles
Custom evolve reel seat
Choosing the Best Ice Fishing Rod – Buyer's Guide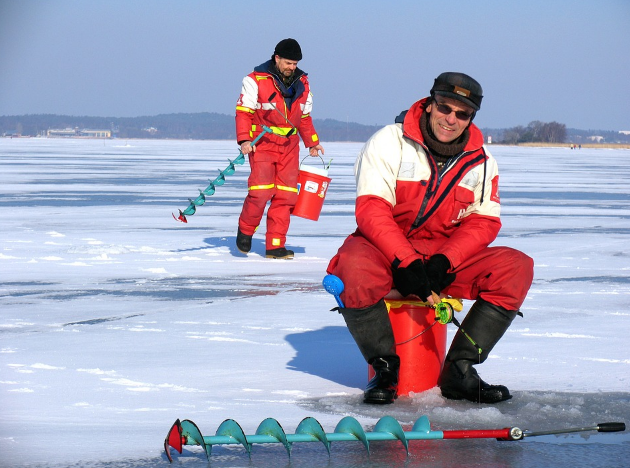 Material
Ice fishing rods come in graphite, fiberglass, or a combination of both materials.
A graphite rod is light, stiff, and has high sensitivity. Therefore, this is usually the better choice better for working baits.
Consider a fiberglass rod if you want a super-soft option that works extremely well with live bait and micro presentations. Fiberglass has incredible strength and durability, but because it is not as sensitive as graphite, you want to choose an option with spring bobbers. The bobbers will act as strike indicators.
Choose an ice fishing rod with composite construction if you want to get the best of both worlds.
Rod Length
Ice finishing rods are typically small with shorter rods compared to open water fishing poles. That's because there is no distant casting of lures involved when fishing out on the ice.
The lengths usually vary from 16" to about 42", depending on the fish species you're targeting. Shorter rods work well for smaller fish, while longer ones are great for pulling large fish species.
Also, you want to take your fishing spot into account when choosing a rod length. Rod lengths of about 16" to 30" are better suited for fishing in a confined space, such as a shelter. Pick a longer rod if you will be fishing outside.
Power
The rod's power means its stiffness or ability to resist bending under the weight of a catch. There are quite a few different options when it comes to power, including ultra-light, light, medium, and medium-heavy.
The best ice fishing rods to use in terms of power depend on the fish you are targeting. To keep things simple, choose ultra-light to light rods if you want to catch small panfish.
If you want to target lake trout, white fish, walleye, or pike, consider a medium to medium-heavy power rod.
Weight
Fiberglass rods tend to be heavier than graphite. You will be better off with a lightweight rod if you plan to spend long hours fishing because you won't experience fatigue too quickly.
However, you don't want to sacrifice durability and strength. Also, you want to factor in the rated weight of the rod's line and lure.
Guides
Choose ice fishing rods with smaller guides if you want a better rod bend. Note, though, smaller guides tend to freeze up if it's extremely cold outside.
Bigger guides are the better choice for fishing outside when it's super cold. But these are usually fewer on the rod and tend to be clunky, which results in not enough bend.
Ease of Use
The best ice fishing rods are easy to use, even for a newbie ice angler. For a rod to be considered easy to use, it should have a balanced feel and not be heavy. Also, the handle should be grip-friendly, so it doesn't leave your wrist and shoulders aching.