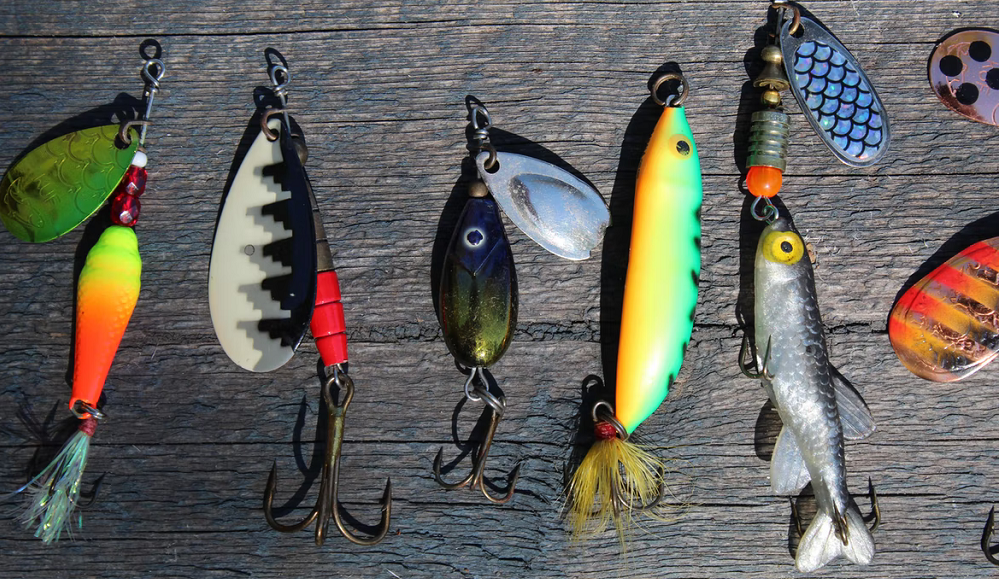 Most Common Types of Fishing Lures – When to Use Each?
Spoons, jigs, and spinnerbaits are some of the most common types of fishing lures, but do you know what they do, how they work, and when to use them?
You should have at least one of each type of fishing lure in your tackle box to attract different species in different types of weather.
Today, we're going to discuss the most common types of fishing lures so that you know which one will give you the best chance of catching fish.
The Most Common Types of Fishing Lures
1. Jigs
Sale
Facikono Lures for Bass Jig Head Soft Swimbait, 6-Pack 6 Colors Plastic Bait for Saltwater / Freshwater Fishing
Soft Swimbaits: Made of environmental friendly quality soft plastic, jig head fishing lures are soft, light but durable with fishy smell to attract freshwater / saltwater fishes.
Lifelike Culter Bait: Lead jig soft lure features realistic 3D laser fish eyes, plump trout shaped fish mouth, fish scale and fins to imitate the real culter fish.
Big Soft Tail: Soft and flexible big tail strongly swings and creates natural swimming action in water can easily attract bass, trout, perch, crappie, pike, walleye, mandarinfish, etc.
Jig Head Fishing Lure: A lead block jig hook inside the head; a triple hook with a squashed double connecting ring (an optional hook hanger)at the abdomen; reasonable counterweight designed for long casting, deep sinking and high catching rate.
What You Get: Package comes with 6 PCS lead jig fishing baits in 6 colors (blue, green, silver, white, red-white and black-red). Each bass lure is 3.54in long and weighs 0.31oz.
Jigs are one of the most common types of fishing lures because they attract many different species of fish and they are relatively easy to use.
A jig has a soft body with a weighted head on one end and a concealed hook on the other end. A jig is designed to resemble a grub or a small fish that is near or on the bottom of the water. Moving the jig is called jigging.
You should use a jig when you want to fish the bottom of the water. Jigs are best used when you know the terrain on the bottom of the water so that you don't get the jig hung or stuck.
2. Soft Plastics
Soft plastic lures come in a variety of shapes and sizes to mimic various bait. Soft plastic lures are often called rubber worms because many soft plastics are designed to resemble worms, but soft plastics can also resemble insects, grub, lizards, frogs, and small baitfish.
Some soft plastics include a built-in hook that is concealed in the body of the lure, but most of the time, you will have to rig the lure onto a hook.
Soft plastics can be used to target many different species of fish. To fish with a soft plastic, let the lure sink to the bottom of the water and begin to move the lure using short spurts to imitate injured bait.
3. Spinnerbaits
Booyah Pond Magic Small-Water Spinner, One Size (BYPM)
EYE-CATCHING LURE: Matching head and blade-color patterns, creating a totally different look while retaining the fish-catching action
ATTRACTING POND MAGIC: Find out quickly that these are fish-catching machines
BAIT DESIGN: Specializes in color and blade combinations that have been hand selected to match the forage base of smaller water
TAILORED HOOK: Mustart Ultra Point 2/0 Hook Size making it optimal for Bass fishing
EFFECTIVE SIZE AND COLORS: 60-strand ultra fine silicone skirts; 3/16 oz top water fishing
Spinnerbait is one of the most common types of fishing lures because they are easy to use and attract many large game fish like bass and perch.
A spinnerbait has many different components that all work together to create one fool-proof fishing lure. There is a skirted hook on one side of the spinnerbait with a metal blade on the other side. When reeled through water, the metal blade will spin like a propeller. This attracts fish and causes them to chase them from areas that they may be hiding within.
You should use a spinnerbait when you want to fish for bigger game fish like bass, perch, and pike. If there is a downed tree in a lake, throwing a spinnerbait beside the tree and reeling toward you can catch the eye of bass that have taken shelter beneath the tree. Repeat this process, especially in areas that have growth like downed trees and shade coverage.
4. Crankbaits
Sale
A crankbait is a hard plastic lure that resembles a baitfish. It has the body and coloring of a small baitfish like a minnow. On the body of the crankbait are two sets of treble hooks. Treble hooks are three hooks that share one single eye with each of the three hooks pointing in different directions.
One treble hook of a crankbait is located on the bottom of the body around the midway point of the lure. The other treble hook is located at the tail end of the crankbait. The front of the crankbait will have a lip that will help guide the crankbait to make it sink, dive, or swim side to side, depending on the design.
Crankbaits are great for top-water fishing. If you notice the fish are feeding on the top, you should use a crankbait to try to land one of them. The crankbait will dive momentarily and then float to the surface when the reeling has stopped.
5. Spoons
20 Pieces Fishing Lures Fishing Spoons Saltwater Treble Hooks Lures Hard Metal Spinner Baits 5 Sizes Casting Spoon Lures for Salmon Bass in 1/5 oz 1/4 oz 3/8 oz 1/2 oz 3/4 oz (Silver)
Package includes: you will receive 20 hard metal spinner baits, including 1/5 oz, 1/4 oz, 3/8 oz, 1/2 oz, 3/4 oz in different sizes (4 pieces each size), the hard fishing lures are packed in a plastic box, convenient to store and take, different sizes that can meet your multiple purposes
Wide application: the fishing hook lures are widely applied to many species of fish, such as catfish, perch, redfish, kingfish, walleye, bass, trout, bream, muskie and so on; The fishing spoon baits are also suitable for both freshwater and saltwater, really suitable for fishing lovers
Sturdy and smooth hook: the fish head jig is equipped with pointed carbon steel treble hooks, sturdy and durable, which will help grab and hold on fish firmly during the fight
Quality material: the fishing hook is made of zinc alloy material, which is more durable and rust-proof and can catch all kinds of fish; In addition, there are sufficient quantity for you to use and replace
More attractive: under the light, it can refract the light and better support the soft bait; The fish hook can increase the throwing distance; Due to its straight cut and large open hook, it can be more effective to attract fish
Spoons get their name from their design and their history. Fishermen would cut the handles off of spoons and use them as lures because their shape makes them easily dance through the water. Plus, their shine helps them catch the eye of nearby fish.
Today, spoons are designed with this same shape and color. They have a bright metal body that is usually silver or gold. When sunlight hits the metal body, it shines through the water, bringing attention to the lure.
At the end of the spoon is a treble hook that can easily pierce the mouth of a fish that strikes the lure.
6. Flies
Fly Fishing Flies Kit, 50/114Pcs Handmade Fly Fishing Gear with Dry/Wet Flies, Streamers, Fly Assortment Trout Bass Fishing with Fly Box (114Pcs/Set--11 Mixed Styles)
Anglers can never have too many flies. Qievcrme large selection of flies includes trusted patterns (such as Adams, Woolly Bugger, Elk Hair Caddis, Griffith's Gnat, Stimulator, Egg Fly, etc.) used by anglers around the world. Choose from Dry Flies, Wet Flies, Nymphs, Streamers, Steelhead Flies, Saltwater Flies and some others.
114pcs flies in total,11 kinds pattern is selected based on the choice of experienced anglers. Each fly is tied to exacting standards on chemically sharpened, high-carbon hooks; The hooks used are size ranges #10, #8, and #6.Vivid color and different styles feathers are to attract the fish.
Created by fly-fishing professionals and 100% handmade produced, these flies are exactly what you need to bring large trout, picky and high-pressured fish to surface. For Catching Trout,Grayling and Salmon,Steelhead,Pike,Carp.
Waterproof Fly Box--All the fly fishing flies come in a fly box to keep your flies organized and dry.Easy to carry variety of flies for days of fishing.
Can Be Fished In Various Conditions,Even In The Evening Or In Cloudy.Great gift to any beginner or addictive anglers.
Flies are typically only used for fly fishing. Fly fishing occurs in moving water like creeks, rivers, and streams. A fly lure is tied to a special lightweight fishing line so that it can be cast in the water and moved in natural motions that resemble flies or small insects.
Tying a fly onto a fishing line requires skill and technique. Some flies are designed to stay on the surface while others may sink into the water. Flies resemble a variety of insects, so it's important to use the right fly for the type of fish you're targeting.
Why You Should Use Fishing Lures
Fishing lures are great to use instead of live bait because they can often be reused, saving you money in the long run. You can also achieve different goals when using a fishing lure than live bait. Fishing lures can often be cast farther than live bait, allowing you to reach areas of the water that live bait may not let you reach.
Live bait can also die shortly after it's cast. Bait that is dead won't move in the water which ultimately won't attract the attention of the fish. Using an artificial fishing lure will perform the same way every time.
Conclusion
So, there you have it! These are the most common types of fishing lures that you should keep in your tackle box so that you know which one you need to choose.