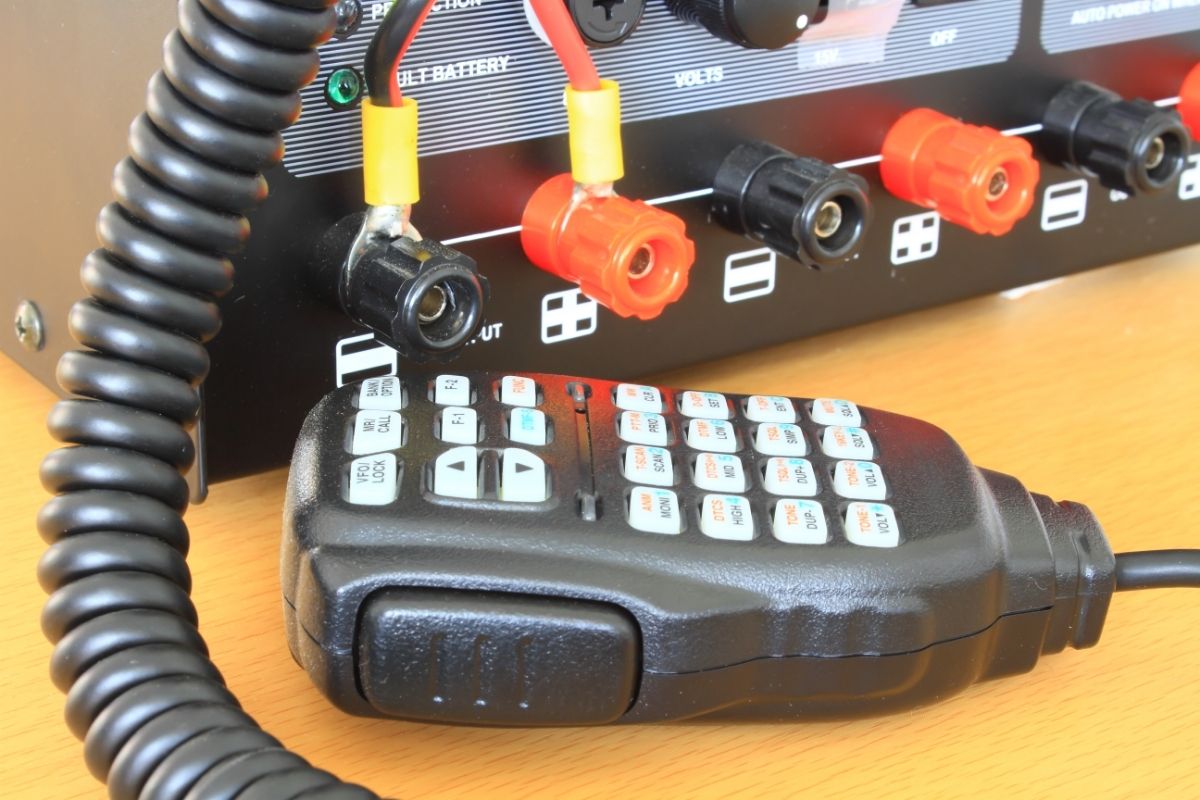 Best CB Radios Ever
CB radio (Citizen Band radio) is a two-way form of voice communication that can be used by the general population. It is a way of tuning into other CB radios near your area, that are also on the same channel as you. Most CB radios have 40 channels, though some of these are for specific purposes. For example, Channel 9 is for emergency situations, and Channel 19 is mainly used by truckers on the road. 
However, it can be tough to decide on which CB radio would be best for you. They all have different features and functions, and some of the signal-finding features and microphones may be better on some models than others. Not only this, but they vary greatly in size and weight – which can make it difficult if you are trying to find a portable radio. 
To help you decide which CB radio would be best for you, we have narrowed down some of the best CB radios currently available on the market! 
Best CB Radios Ever
This Uniden CB radio is one of the most varied and decked-out radios out there. It has a huge amount of controls, 40 channels, and an instant channel 9 function to call for help if anything goes wrong. 
Some of the controls include a microphone and RF gain, which will boost the signal strength while also making sure that no other noises will interfere with the sound you wish to receive, balancing out the supreme sensitivity of this CB radio. It also has volume controls, noise-canceling properties, and Hi-Cut which will ensure that the sound is as clear as possible. 
One of the most useful features of this radio is the SWR meter. This will keep you up to date with how your signal and antenna are doing, which will also help you monitor whether you can increase your connection and signal even further. It will allow you to check up on any problems the radio may be facing, so you can sort them as quickly as possible. 
A couple of small issues that were found with this CB radio were its size – it is quite large, so it might not be able to comfortably fit in all vehicles – and the fact that it doesn't have Bluetooth. While Bluetooth isn't a requirement for CB radios, it is handy to have, so this does slightly detract from the rest of its great control options. 
Pros: 
Contains lithium-ion batteries – These are some of the most effective batteries you can find for electric devices, ensuring the radio will run for a long time. This is especially important if you are spending time in the woods where you won't have access to any other power supplies. 
Integrated SWR meter

– This means that you will be able to accurately tune your antenna to the best available signal, making sure that your CB station is always at its best. 

Great microphone settings

– This means that you can make a huge amount of adjustments to match the sound and microphone to your needs. This includes the squelch control, ANL options, and mic sensitivity. 

Has a DC power cord – This means that if the batteries are running low, you can connect the radio to another power supply to make sure it's fully charged. 
Huge amount of controls

– This radio comes with 40 channels and a channel indicator, as well as a TX/RX indicator, dim control, RF gain control, and a Hi-Cut Function. 
Cons: 
Quite large

– Some users have said that it could potentially be too large to fit into a smaller car, so you will need to consider space if you decide to invest in this model. 

No Bluetooth

– This means that you won't be able to connect it to another source, which can be frustrating. 
Uniden PC78LTX 40-Channel Trucker's CB Radio with Integrated SWR Meter, PA Function, Hi Cut, Mic/RF Gain, and Instant Channel 9,Silver
Hit the road in trucker's style with the Uniden PC78LTX CB Radio. Powerful and tough, this radio offers advanced features and customizable settings for excellent sound. With this radio, you never have to miss another transmission, even when you are driving.
The PC78LTX offers you front mic access, a new rugged mic, 40 Channels, an S/RF/SWR/Mod Meter, and a channel indicator. Also included is a channel selector, a TX/RX indicator, instant channel 9, dim control, noise blanker, RF gain control, a PA mode, mic gain control, and a Hi Cut Function.
Microphone Settings for Best Sound: This radio's multiple adjustments allow you to fine tune the signal and sound, for excellent clarity. Change the squelch control settings and the ANL/Noise Blanker option to reduce static and enjoy clear sound. Adjust the microphone gain to control the mic sensitivity.
Integrated SWR Meter: Keep your CB station performing at its best using the CB's built-in SWR meter to precisely tune your antenna for best signal.
If you're looking for a proven radio that will stand the test of time, go no further. Package includes: PC78LTX CB 2-way mobile radio, Microphone, Mounting Bracket Kit, DC Power Cord, and Owner's Manual.
One of the best things about the Midland CB radio is its NOAA weather scanner, which immediately alerts you when something in the forecast changes. It gives you incredibly up-to-date weather information, so you can avoid any bad weather. It even has a storm tracker, to tell you when and where lightning will strike! 
This radio is particularly aimed at users who may not be too familiar with CB radios and want an easy-to-follow starter product, as it has fairly simple controls. This will help beginners get used to how the channels, squelching, and gains work. 
It has many handy features, including a backlit LCD screen to help you look at the radio information in the dark. As well as this, it has an ANL function to isolate your voice on the microphone. This is incredibly useful if you are trying to share important information and you don't want any other noise blocking your transmission. 
What I will say is that the microphone quality may not be the best you can find from a CB radio. When other users tried out this product, they found that they couldn't get a solid radio check from their microphone. However, when they switched the mic out for another model, it was very clear. This may have been a couple of anomalies for this radio, but it is something to bear in mind! 
Pros: 
Backlit LCD screen

– This makes the signal and channel information much easier to read, especially if you are in the woods at night-time! 

Has a weather scan

– This scanner automatically scouts for the local weather channel in your area, no matter where you are, so you will always be aware of what supplies to bring. 

RF gain control

– This control is adjustable, which means that you will be able to adjust the sensitivity range of the radio. 

Very easy to install

– It is a fairly small size for a CB radio, and it is simple to place it into your dashboard or as a window mount without interrupting the view from the window. 
Cons: 
Microphone quality

– Some users have said that they have had to update the microphone that comes with this radio. 

No Bluetooth

– If you are looking for a radio that can add other connections, this isn't the one for you. 
The President Electronics CB radio is a brilliant all-rounder to take with you on trips into the woods and other rural areas. Its tiny size means that it is easily portable, but this doesn't detract from the build quality. When I tested it out, I thought that the metal casing and tough build made for a super durable CB radio. 
To start with, the speaker is already very loud. You can hear it over almost every noise you could think of, which is impressive from such a tiny piece of equipment. As well as this, it has a great weather channel – with a great alert feature – in case there is some serious weather headed your way. 
One of the best features of this radio, which not too many other CB radios have, is the talk out timer. This means that you can't accidentally hold the button down on the microphone for a long period of time with it running constantly – it will automatically shut itself off after 3 minutes. As well as this, it has a scan function. This is extremely important for CB radios as you will need it to find other transmissions. 
Some users have commented on the squelch mode's efficiency. While it does have ASC (Automatic Squelch Control), this doesn't seem to be as effective at muting the unnecessary audio from radio frequencies as the Manual Squelch Control does. This is something to bear in mind before investing it, as you don't want to rely on the automatic setting before realizing that it may not work as well as you want. 
Pros: 
Weather channel

– The radio has a weather channel tuned in with easy access, and it also has an alert feature if there is bad weather coming your way. 

Talk out timer

– The radio has a timer of 3 minutes (when you are pressing the transmit button). This means that if you are accidentally pressing it, it will shut itself off automatically so you won't have to worry about it running for extended periods of time. 

Squelch Modes

– This makes sure that the radio will automatically mute any audio when the receiver fails to detect a radio frequency. This is great if you aren't a fan of the ever-present radio noise! 

Small size

– This means that it can be easily slotted into any part of your vehicle without it being obtrusive. The radio also comes with a mounting bracket to help you install it wherever you like. 
Cons: 
Automatic Squelch Control

– This control doesn't seem to be as efficient as setting your squelch mode manually. However, it is handy that it does give you the option between manual and automatic. 
This is one of the best CB Radios on the market. With a huge amount of patented technology and other features that many radios don't have, it certainly knows how to stand out from the crowd. One of the best parts of this radio is that it has Bluetooth! Not many CB radios use Bluetooth connectivity, but this one allows you to connect your phone to the radio, so you can pick up calls through hands-free communication. 
A great feature of this radio is its Nightwatch mode. The lit LCD screen is perfect for seeing how your signal is doing in the dark. This mode is also customizable, so you can choose which color will be best suited for your eyes. As well as this, it has called ID and NOAA weather alerts. This is especially important as you can check whether any serious weather issues will impact your trip. 
Cobra's Rewind-Say-Again is one of the most interesting features on this radio. This allows you to replay the last 10 seconds of sound that was transmitted through the device, in case there is important information to remember. It also lets you record your own 10-second memo to be played another time. A recording feature is incredibly rare on CB radios, and it certainly makes it one of the most advanced products available. 
As well as this, the radio uses iRadar App Integration. Similar to how the NOAA alerts work, this app allows you to receive alerts from other users who also have the app. This will let them share any important road information with you, and vice versa. This is great for being aware of road hazards. 
Something to be aware of is that the huge number of (newer) features in this radio means that it can be quite complicated to adjust to. The instructions don't help much either, so it might take some trial and error to learn how to use the radio. 
Pros: 
iRadar App Integration

– This means that you will be able to receive a series of alerts (and also report alerts to other users) that will make sure everyone is aware of what to expect in the surrounding area. This includes road hazards and speed traps. 

Rewind-Say-Again

– This handy tool means that you can replay the last 10 seconds of signals that you received through the radio. It also means that you can record a 10-second memo to be played at a later time. 

Bluetooth

– This is great for receiving calls through your CB radio and Bluetooth phones, which will save you time in the long run. It also includes a noise-canceling microphone, so you won't have to worry about your environment interrupting your call. 

Hands-Free Communication

– This means that you can pick up calls and communicate with others without risking losing your concentration while driving. 

NOAA Weather Alert

– This will make sure you are aware of what type of weather issues and emergencies are in your area, so you can plan ahead. 
Cons: 
Can be complicated to use

– The initial set-up of this CB radio may be quite difficult, as there are so many features to learn and tune. The instructions don't seem to be that easy to understand either. 
Cobra 29 LX MAX Smart Professional CB Radio - Emergency Radio, Travel Essentials, Bluetooth Legal Hands Free, iRadar App Integrated, 4-Color LCD, NOAA Alerts, Rewind-Say-Again, Black & Silver
Emergency Radio - CB Radios provide reliable communication which is not dependent on satellites and cellular networks that can be the difference between getting experienced help in an emergency and being left on your own when you need assistance.
iRadar App - Receive and report live police alerts including, speed traps, road hazards and red-light cameras based on the nearly 1 million iRadar users out on the road today.
Bluetooth - Legally use your smartphone to answer, place and terminate phone calls at the touch of a button while staying focused on the road. With a noise cancelling microphone, you can have quality conversations over the noise of the engine.
Rewind-Say-Again – Replay the last 10 seconds of a missed message that is automatically recorded with a digital voice recorder so you never have to miss valuable information and you can also record a 10 second memo to replay at anytime.
Nightwatch - Fully illuminated customizable 4-color LCD Display in Blue, Red, Green and Amber for easy viewing in day or nighttime conditions so you can stay focused on the road without distracting bright lights.
Are you still wondering which CB radio to choose? Take a look at this buyer's guide that outlines all of the main factors to consider when choosing the radio for you! 
Buyer's Guide
Squelch Control
A squelching feature is a great thing to look for in a CB radio. It essentially stops you from having to listen to constant static noise on the radio if you are waiting to receive a transmission. To do this, it informs you when you are getting a transmission – without the frustrating sound of white noise! 
ANL (Automatic Noise Limitation)
ANL is incredibly important for a CB radio. This means that all of your communications will be kept as clear as possible, without any interruptions from background noise.
This is important because if you are in trouble and are calling for help, you won't want anything to disrupt your emergency message. 
Weather Capabilities
If you are after a radio that has alerts to make your journey as easy and prepared as possible, you will want a radio with weather capabilities.
You will need to look out for access to NOAA channels, which automatically give you emergency warnings to do with weather issues. These are particularly important if you are traveling far from your home, and aren't sure what the standard weather conditions are like in a different area. 
Size and Weight
Some CB radios can be pretty hefty and difficult to slot into vehicles in a place where you can use them. If you aren't worried about the portability of your radio then the size and weight won't matter.
However, if you do have a smaller vehicle or you want to carry it around with you, then there are CB radios that are designed for this purpose. One of the best examples of a small, lightweight CB radio is the President Electronics BILL radio (see above). 
Visible Screen
If you are planning on using your CB radio at night, then you will definitely need a model with a backlit screen. It is possible to find these – the Cobra 29 LX MAX is a great radio with a Nightwatch mode.
You don't even need to have a backlit screen just for nighttime, it is also a good idea to have one during the day in case there is bright sunlight. The backlit screen will make the information on your radio much more visible, so you don't have to worry about concentrating on the communication screen when you are doing other things. 
Frequently Asked Questions
Are CB radios Still Used? 
CB radios are still being used! While some people may have chosen to move on from the radio to use mobile phones because they tend to have a better signal range, CB radio allows you to legally communicate with others while you are driving a vehicle. 
They also have a huge number of extra features like weather alerts and noise-canceling properties, which many other communication devices don't have. 
How Can I Boost my CB Radio Signal? 
The easiest way to boost the range of a CB radio is simply to raise your CB-specific antenna. The higher you lift it, the further the signal will be able to reach. Other than that, all you can do is establish a ground plane for your antenna, which will allow all radio signals to easily flow from the antenna to the receiver. 
You also need to make sure that your CB radio has an SWR meter (or manually add one) to optimize the radio performance.