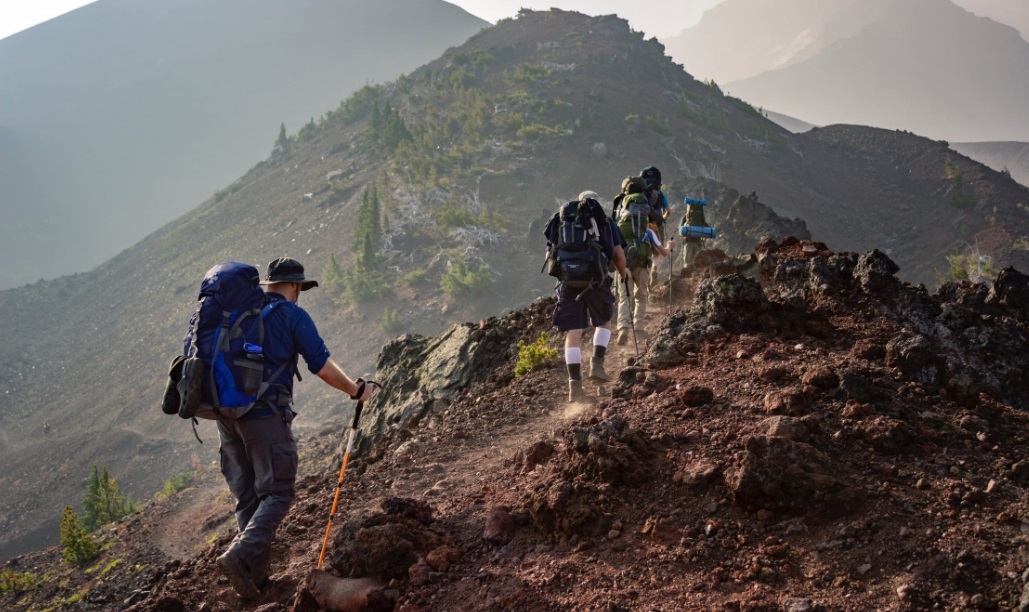 What Is Trekking – Everything You Should Know
With every step you take, you push yourself farther than before. Furthermore, you find a rhythm you find a trudge. While trekking is tiring and strenuous, if you power through, your efforts will be rewarded with an amazing feeling of gratification when you get to the end of your trek.
Whether it's a hidden waterfall tucked away in a jungle, a measly hill that overlooks the city, or a mountain summit, trekking can be described as an art that a wealth of people adores. Before you enthusiastically climb that hill or mountain that's been on your bucket for the longest time, let's delve into everything you need to know about trekking.
What Is Trekking?
It's an arduous outdoor activity that entails walking for more than a day. Trekking is undertaken to revel in and explore breathtaking sceneries. Furthermore, it can be a commitment, mission, motive, social gathering, aim, or objective. Trekking can be a journey where you find friends along the way. It can also be described as an opportunity to save future generations from losing lovers of nature and the beauty that mother earth has to offer.
Although trekking is usually confused for hiking, it tests your psychological capacity, ability, mental strength, and endurance. The activity can be done in various ways as trekking culture differs from one country or region to another. Additionally, it's typically done on trails in places with fairly preserved wilderness.
Tips for Trekking
Now that we've answered the commonly asked question, 'what is trekking?' let's explore a few tips to keep in mind before you begin your adventure.
1. Select Your Route Wisely
With each physical activity, you engage in, knowing your limits is crucial. Therefore, refrain from beginning your first trek with a difficult trail that's meant for seasoned trekkers. The trick is to get your groove and slowly build endurance and strength.
Physical fitness for trekking implies that you're not scampering and struggling with each step you take. After all, it's meant to be an exhilarating experience that leaves you amped up for the next one rather than painfully challenging which evokes feelings of dread for your next trek. We recommend conducting your due diligence before you commit to a trek.
2. Invest In Excellent Trekking Equipment
It's advisable to have good footwear that is designed with trekking in mind. Invest in pricier but excellent quality trekking boots to avoid blisters or sustaining ankle injuries. These are designed to endure different types of terrains and prevent you from slipping and falling.
Choose trekking boots that cover your ankles as they provide excellent support and comfort. Besides good footwear, we recommend buying a comfortable backpack. The last thing you need is lugging uncomfortable baggage. A trekking backpack has ideal hip straps, support, and back straps that will prevent discomfort.
3. Stay Hydrated
You can never carry too much water. Typically, trekkers underestimate the amount of water to carry. You'd rather have excess water than feel dehydrated long after you've finished your water supply. When embarking on a trek, carry a water backpack and a filter to ensure you remain well-hydrated. You can also carry energy bars and other light snacks, as well as a good radio, to help you power through the long trek.
4. Check the Weather Forecast
The last thing you need is to embark on a five-day trek with a storm approaching. Checking the forecast in the area you'll be trekking on will save you the hassle of dealing with snowstorms, landslides, or rain that snuffs out the fun.
That's especially crucial when crossing over bodies of water such as ponds and rivers. While trekking is a safe outdoor activity, it can be hazardous in adverse weather conditions. For your safety, you should be willing to take shelter or turn back as necessary.
5. Pack Lightly
One of the most common mistakes that beginners make is stuffing their backpacks with anything they deem as important for their adventures such as speakers, alcohol, and neck pillows. As incredible as it is to have these items, carrying them in a backpack for days on end is a different ballgame.
We recommend carrying lightweight food, water, snacks, and equipment such as a crockery set. Leave unnecessary items at home because each space in your backpack is critical. If you're trekking as a group, spread out the weight of the supplies.
6. Move at your Pace
Remember, trekking isn't a race. Therefore, you should always move at a pace that feels comfortable for you as you take in the breathtaking scenery. Furthermore, listen to your body and take as many breaks as need be. After all, trekking is meant to be a challenging but delightful adventure. Ensure you stretch your muscles as much as possible before embarking on an arduous trek. Your body will reward you by powering through till the end.
What to Pack
Let's discuss the essentials to pack when trekking.
Water
Lightweight food such as energy bars
Two pairs of sunglasses
A lightweight t-shirt
If you're trekking for a few days, here's what you'll need for the nights.
Warm clothing
A lightweight sleeping bag, tent, and other camping gear
Crockery set designed for long hikes or treks
The items you pack are largely based on your trekking destination and the expected weather conditions. It's a no-brainer that you'll require lightweight shirts for tropical climate, a rain jacket or raincoat if you're in a rainy area and winter essentials such as gloves and hats if you're in a cold climate.
How to Plan a Trek
Once you're ready for the challenge, begin by choosing the trekking destination. Next, share your travel itinerary with your family and friends coupled with a map as a safety precaution if you get lost. Lastly, go through your checklist to ensure you have everything you need for your trek.
The Bottom Line
Whether you're trekking to an exotic far-flung destination or up a mountain, enjoying the journey every step of the way (quite literally) is the key to a magical experience.