Last Updated on December 25, 2022 by admin_hunter
While there will be some variation depending on climate, the duration of your hunt, and your personal preferences, there are essential elements that you should find in any type of hunting pack.
These items are critical for your comfort, as well as your personal safety when deer hunting, elk hunting, or hunting any type of game. The further you venture into the bush, the more vital these items will be. To help you get all the right gear for your hunting pack, we have listed the top 10 essential items.
Use this guide as a checklist when you are putting together your hunting pack.
What Is a Hunting Pack?
Before we get into our packing list, we should pause for a few moments to quickly explain what a hunting pack is and why they are essential for any successful hunting adventure.
While it is critical to ensure you have all the right gear for your hunt, there are also various ancillary items you will need to bring for your comfort and safety. This is why it is essential to carry a hunting backpack.
These items will vary from navigation equipment to food and water supplies you will need while in the backwoods.
If you want to know more about hunting backpacks, we recommend reading world-famous hunter and outdoorsman Steven Rinella's informative guide – The Meat Eater: What You Need to Know About Hunting Packs.
Things to Consider When Putting Together Your Hunting Pack
Since you must carry the best hunting backpack on your back, you want to ensure it is balanced, relatively lightweight, and has comfortable features, like compression straps, an internal frame, a sleeping bag strap, a chest strap, and easy access. This is particularly important if you are traversing great distances on foot and carrying a heavy load.
This is also why it is crucial only to pack the essentials, as far too many amateur hunters overpack. You also want to ensure that nothing in your pack will make noise, reflect light, or even produce unnecessary smells, as these potential pitfalls could scare away game.
The Top 10 Essential Items for a Hunting Pack
Now that you know why hunting backpacks are essential, we can get into our checklist of the top 10 essential items you should have in yours.
While your pack can certainly contain additional gear and equipment, the following items should be in every hunting backpack:
1. First Aid Kit
No matter how much hunting experience you have, accidents can happen. Whether you are dealing with a painful blister or have sustained a serious injury, having easy access to a well-stocked first aid kit can be incredibly important when you are out in the bush.
Your hunting pack's first aid kit does not have to be overly bulky, but it should contain essential items, like band-aids, antibacterial cream, paracord, gauze, scissors, pain medication, and tweezers.
Rather than put together your own first aid kit, you can purchase a compact, ready-made kit for a budget-friendly price. We recommend this Protect Life Brand 200 Piece Camping & Hiking First Aid Kit.
2. A Headlamp
Even if you are just out for a hunting day trip, having the ability to illuminate the ground in front if you get held up after dark can be incredibly important. A good headlamp will allow you to navigate trails and perform hunting-related tasks with your hands free.
A headlamp can be an incredibly useful piece of equipment if you are working and walking in the dark, but it can be critical for emergency situations. Most have an SOS flashing setting, which can be life-saving if you and your party are lost in the outback, or someone has sustained a severe injury and needs to be evacuated.
Since headlamps are also highly compact and lightweight, there is no reason not to include one in your hunting pack.
We recommend this Petzl TACTIKKA Headlamp. It packs an impressive 300 lumens on its brightest setting and has a red LED setting, which can preserve your night vision for hunting at night. On top of all that, it is camouflaged and incredibly comfortable.
3. A Hunting Survival Knife
While you already know how vital a hunting knife is, it never hurts to pack a secondary backup knife in your hunting pack. Having this secondary knife is crucially important if you forget your primary knife or lose it while you are out on a hunt.
If you need help choosing the right backup hunting knife for your pack, we recommend looking at our guide to the Best Survival Knives for 2022, which is packed with useful information and product recommendations!
4. A Water Bottle
You will need water while you are out on a hunt. Hunting can be exhausting work, and having easy access to clean drinking water will help you stay hydrated as you traverse the terrain.
In fact, you should set most of the weight in your overnight or day pack aside for water. Collapsible water bottles can be a good idea, as they take up less space in your pack as you consume the water within them. You should also bring a large, solid water bottle, like a Nalgene, as these can be refilled from natural bodies of water easily if you find yourself in an emergency survival situation.
This Nalgene Sustain Tritan BPA-Free Wide Mouth Water Bottle is a great choice. Nalgene has a reputation for making near-indestructible water bottles. They are also plastic rather than metal, so they will make less noise in your pack, which is critical when you are stalking big game.
5. Rain Gear (Lightweight Rain Poncho)
Even if the forecast does not call for rain, the weather can turn quickly when you are in the backcountry. Not only is it essential to stay dry for your comfort, but you also want to avoid the risk of hypothermia.
If you are completely soaked, your risk of hypothermia skyrockets, especially if you find yourself lost in the bush at night. This is true even if you are wearing warm clothing, as your layering system will not be able to hold in your body heat effectively if wet.
While a well-made, lightweight rain jacket is always a good idea, you may need more room in your hunting pack to fit a full-sized jacket. This is why we recommend rain ponchos, which usually take up far less space.
Consider this Anyoo Waterproof Lightweight Rain Poncho. It is highly packable and available in a hunting-friendly olive-green color. Best of all, it is reusable and very budget-friendly.
6. Waterproof Fire Starter & a Lighter
The ability to start a fire for warmth, cooking, or signaling for rescue can be critical if your hunting trip takes you deep into the backcountry. Starting a fire is even more pressing if you plan an overnight hunting trip.
You do not want to take any risks when starting a fire, so it is essential to pack multiple sources of fire, such as a lighter, waterproof matches, and a flint and steel kit.
Luckily, these items are compact and lightweight, so they barely take up any space in your hunting pack. When putting your hunting kit together, make sure that your fire-starting equipment is separated from your water and other liquids. It is also a good idea to ensure that this equipment is in a watertight container.
In addition to a pack of waterproof matches and a reliable butane lighter, we recommend packing a flint and steel fire starter kit. This 4 Inch Survival Ferrocenium Drilled Flint Fire Starter is ideal for hunting and hiking trips. It also comes with a hunting-friendly olive-green paracord lanyard handle, which can be helpful for survival purposes.
7. A Satellite GPS
A handheld satellite GPS is one of the essential pieces of equipment you can carry when you are out hunting in the wilderness. This compact equipment can be vital for relocating camp if you have ventured far on the trail of a big game animal.
The best satellite GPS devices even allow you to put down markers to mark where your vehicle is, where you have set up camp, and where you have positioned your hide. They help you avoid getting lost and help you find old hunting spots where you had success in the past.
While there are numerous options, we recommend the Garmin eTrex 10 Worldwide Handheld GPS Navigator. It is entirely waterproof and has a rugged design that can withstand drops and scratches. It marks elevation points, has memory storage for previous hikes and hunts, and offers some of the most reliable signals for any portable GPS at its price range.
8. A Rangefinder
A rangefinder is a practical and helpful piece of hunting equipment that you should always carry in your hunting pack. Before you take your shot, a rangefinder allows you to measure the distance between yourself and your target accurately.
Not only will this allow you to make a more accurate shot, but it also helps you ensure that you can make a precise and ethical kill shot. If, for example, a target is slightly outside the range where you can accurately shoot, you can wait for it to come closer or try your luck with sneaking up on your target. This helps save ammunition and prevents you from scaring away game with a shot that would never hit its target due to the overextended range.
This Bushnell Bone Collector 850 Laser Rangefinder is a great option, especially considering its affordable price. Its fully glass optical system helps create a bright and highly visible image with a sharp display. Not only does this help you find your range, but it also enables you to get a better look at your target.
It ranges out to 850 yards with a highly accurate laser system. It is very user-friendly and compact, so it fits easily into any hunting pack, and it has a real-tree camo exterior, which is perfect for hunting applications.
9. Binoculars
While a rangefinder is incredibly useful for measuring the distance between yourself and a potential target, a good pair of binoculars will help you acquire targets before you find their range.
Most hunters know just how useful binoculars can be for everything from getting a better look at potential targets to scanning the horizon for a good place to set up camp. The best binoculars will also help you see far-off objects and targets in lower light conditions, which can be useful for hunting at dusk.
We recommend the Bushnell Power View 10×42 Bone Collector Binoculars, as they balance affordability and quality. They are compact, ergonomic, and offer outstanding magnification. They work well in all conditions and even have a camouflaged exterior, so you will not give yourself away as you use them.
10. A Multi-Tool
As the name implies, a multi-tool packs various tools into a small package. They are perfect for hunting trips, as you get numerous useful tools without worrying about your pack being weighed down or having tools jingling around in your bag.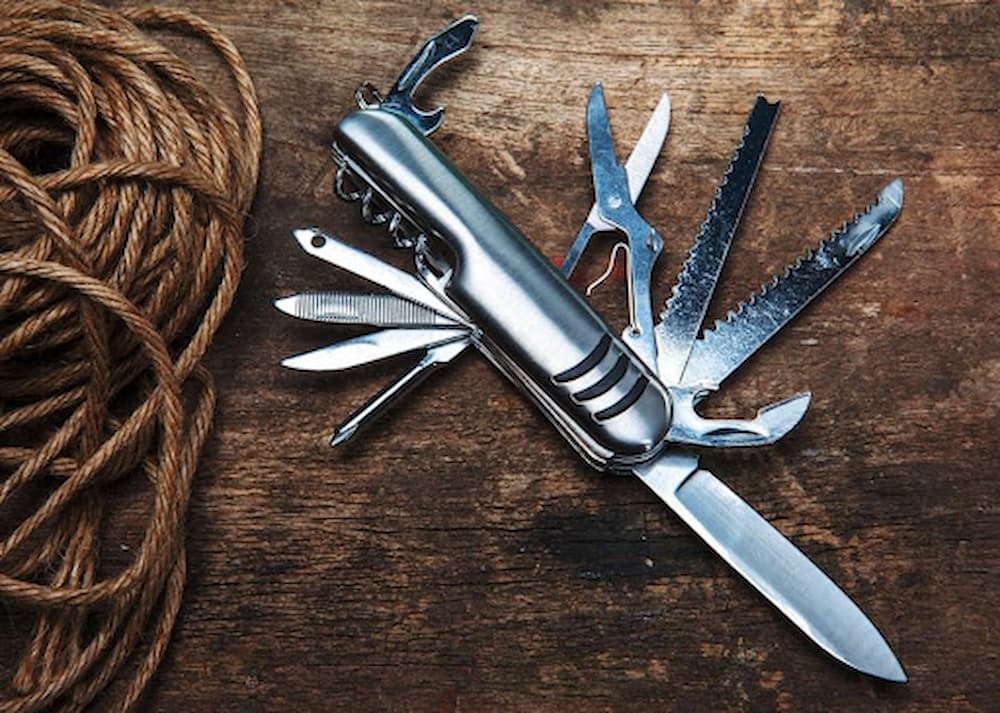 The best multi-tools will feature everything from knives, scissors, and saws, to files, can openers, and even screwdrivers. When you are hunting or simply setting up camp, there is no telling how many situations could present themselves where it would help to have some essential tools on you. You will be ready for anything with the right multi-tool in your pack.
If you need help choosing the right multi-tool for your hunting pack, we recommend reading our informative buyer's guide – The Best Multi-Tools for 2022.