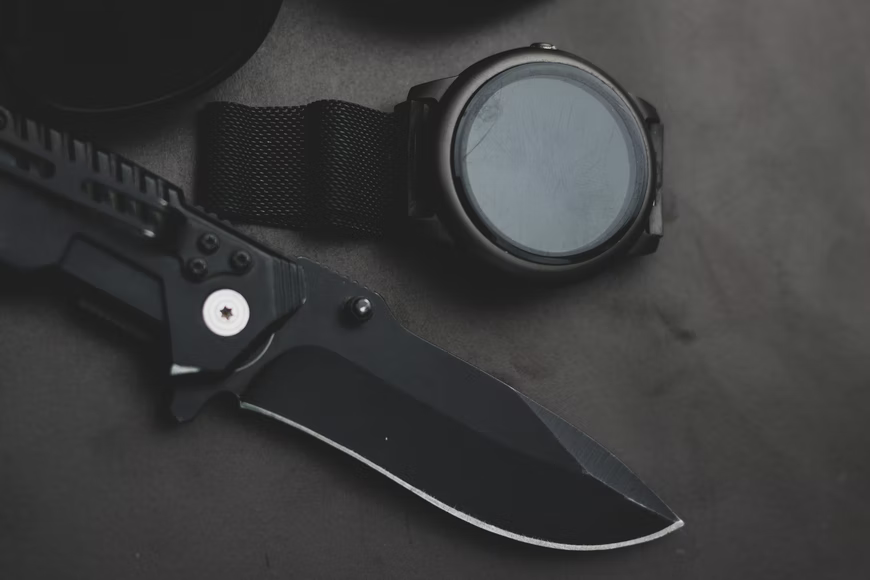 10 Survival Gifts That Are Both Useful and Fun as Gifts
Survival gifts are great for anyone in your life and they are more than just canned goods and firestarters. Survival gifts are personal and useful. Whether you have an outdoorsy person in your life or a prepper, we guarantee that at least one of these 10 survival gifts on our list are perfect for someone in your life.
10 Useful and Fun Survival Gifts
The Man Box has everything that the outdoorsy man in your life will love.
The Man Box includes the following:
Ferro rod with jumbo jute fire-starting rope
Rambo knife with sheath
Mini Ferro rod
All-natural coffee grit soap
Double-insulated coffee mug with lid
Charcoal cedar and sandalwood candle
This is our top pick for the best survival gift because it has a little of everything. We like that it includes an insulated coffee mug, soap, and outdoor tools all in one set. It's not just an outdoors gift, but a gift that the man in your life can use for different applications.
Man Box Gifts for Men | Unique Gifts for Him - Fun Birthday Gift Set for Men Dad Brother Son Husband Friend Camping Enthusiast Adventurous Outdoorsman
Looking for the perfect gift for him? Boxzie Man Box Gift Set is filled with fun and unique guy gifts that will make him feel extra special and keep him entertained!
Mens Gift Set Includes (1) Ferro Rod w/ Tinder Rope - fun fire starter (2) Rambo Knife w/ Sheath & Mini Ferro Rod - must have in the outdoors (3) All Natural Coffee Grit Soap - refreshing & exhilarating (4) Green Double Insulated Mug w/ Lid - keeps drinks hot & cold (5) Charcoal Cedar & Sandalwood Candle - earthy & relaxing (6) Man Card
Thoughtful Presentation. Our gift boxes for men are thoughtfully designed and assembled just for him, making gift giving exciting and easy for you! Packages include tissue paper, card and awesome men gifts!
Surprise him with cool man stuff! The perfect birthday gifts for men or any occasion! Let dad, your brother, husband, boyfriend, coworker, boss or any special guy know you're thinking of him!
🎈Don't forget to leave a message! Select "THIS ORDER CONTAINS A GIFT" at checkout and add a personalized gift message along with your name. We guarantee smiles or your money back!
Another gift set on our list is this 12-in-1 gift set that is filled with outdoor tools, gear, and equipment that the hunter, camper, or hiker in your life will love.
This survival gift set includes the following:
Pocket bellow
Wire saw
Water bottle clip
Emergency blanket
Flint stone scraper
Knife
Tactical pen
Survival bracelet
Saber card
Multi-use spork
Fishing tools
Flashlight
This is a great survival gift set to take hiking or camping or keep in your car in case you become stranded. It has something that can be used in both emergency situations and during a typical camping trip.
Sale
Gifts for Men Dad Husband, Fathers Day, Survival Gear and Equipment 12 in 1, Survival Kits, Fishing Hunting Birthday Gifts for Him Teen Boy Boyfriend Women Mom, Cool Gadgets, Camping Accessories
Unique Gifts for Men Who have everything: Christmas is fast approaching and we know it can be hard to choose the cool present for dad from daughter son who is outdoor lover. This Survival Gear will brings smile to their face and they are sure to love.
Must Have Survival Gear and Equipment: 12 in 1 Emergency Survival Kit contains: Pocket bellow,Wire saw, Water Bottle Clip, Emergency Blanket, Flint stone Scraper, Flashlight, Credit Card, Multi-use Spoon Fork, and Waterproof Box.
Prepared for Any Emergency: This Camping Accessories is the perfect companion to help keep you safe and have peace of mind while you're hiking, camping, hunting, Fishing, backpacking, travel or adventures.
Christmas Gifts Ideas: Cool Gadget for men, Birthdays Top Best gifts for man women him father best friend brother hunter and who has everything. Stocking stuffers, Fishing Gift Hunting Accessories for teenager boy teen boys scouts or family who interested in adventure.
Service: Quality and Customer Satisfaction are our top priorities. If fathers day gifts from daughter doesn't live up your expectations, contact us and we will solve it to make sure that you are happy with your purchase.
A solar power bank is a great gift for anyone. You don't have to be a survivalist or an outdoorsman to need a solar power bank.
A solar power bank uses sunlight to store energy so that you can charge your devices during a power outage. As long as there is sunlight for the power bank to absorb, it will store energy and charge the device that's connected to it.
This solar power bank has a 5-volt USB connector that you can use to charge any device that you have a USB cable for (USB Type-C, micro USB, etc).
On the back of the solar power bank is a compass. It also has a built-in dual LED flashlight, making it ideal for camping, hiking, and hunting.
Sale
Solar Charger, Durecopow 20000mAh Portable Outdoor Waterproof Solar Power Bank, Camping External Backup Battery Pack Dual 5V USB Ports Output, 2 Led Light Flashlight with Compass (Orange)
High-Quality Portable Solar Charger - water-resistant, shock-resistant and dustproof solar phone charger, featured with carabiner, compass, and 2LED flashlight. Solar power bank provides more convenience in your daily or on your trip. Awesome for outside activities such as camping, hiking, and other emergency use. The solar USB battery pack can be regards as a nice gift.
Two Charging Way - External battery charger with solar panel can recharge by solar or outlet. Compatible with your iPhone, Samsung, HTC, Nexus, Go-pro Camera, Tablets and other USB devices. More than 1000+ recharge lifecycle.
Dual USB and Powerful LED Light - It makes it easy to charge two smartphones simultaneously or a tablet at full speed. 2 led lights can be used as flashlight with Steady-SOS-Strobe mode. Five pilot indicators show the status of the battery charger timely. The green light on when charging by a solar, blue light on when USB charging.
Safety for Use - Made of eco-friendly silicone rubber and ABS PC material. CE, FCC, RoHS certified, reliable and durable. Solar charging is a charging way for emergency use, and solar panel charging efficiency will be influenced by natural conditions and random factors, such as day and night, season winter and summer, sunny, cloudy, rainy, and so on, so it may take a long time to be charged.
Best Warranty for Solar Phone Charger - 12 months Warranty, 24h online after-sales service, Friendly replace policy. We take pride in the quality of our products. Any related issues are guaranteed with friendly REPLACEMENT or REFUND, and also support 24h online after-service. Please CONTACT US if you have any problems with the items from HQT-US Store.
There's more to survival than just surviving the outdoors or a natural disaster. Surviving roadside emergencies or auto accidents shouldn't be overlooked.
That's why we've included this 7-in-1 emergency tool.
This emergency tool is great to keep in a glove box for those times that an emergency may happen while driving. It includes a flashlight, seatbelt cutter, and window breaker.
Paracord bracelets make a great survival gift because they can be worn all the time and can come in handy during an emergency.
This 2-pack of paracord bracelets has a built-in compass, emergency whistle, and firestarter, making it ideal for hiking, camping, and hunting. To start a fire, unbuckle the bracelet and strike the magnesia rod against the fire scraper within the buckle. The first fire you make with the firestarter will take between 7 to 10 strikes, but it will be quicker after the first time.
The bracelets come in a variety of colors for you to choose from, so you can choose the perfect color for the person you're buying it for.
Paracord Bracelet K2-Peak – Survival Bracelets with Embedded Compass Whistle EDC Hiking Gear- Camping Gear Survival Gear Emergency Kit (Black / Green 7.5" for Kids)
5-IN-1 SURVIVAL TOOL: K2-peak is a complete paracord survival bracelet - Disaster Preparedness Kit - that includes: High-Quality Compass. Emergency Whistle creates noise levels of up to 100db. Comes with a useful leaflet with instructions, survival tips & ideas.
SIZES THAT FITS EVERYBODY: We provide 4 Fixed Sizes + 1 Adjustable size. Fixed Size variations: 7.5, 8.0, 8.5, 9.0 inches. Adjustable Size variations fits all wrist sizes between 8 - 9,5 inches. Please check the size instruction image, measure your wrist & be sure that you selecting the right variation before ordering. Please notice both bracelets in each set are the same size.
UNMATCHED POWER & VERSATILITY yet FASHIONABLE & FUNCTIONAL: Wide Range of Colors, made of ultra-strong, military-grade 550 Parachute Cord, buckle with built-in Compass & Whistle. Emergency gear necessary for everyone.
LIGHTWEIGHT & COMFORTABLE DESIGN: Make the A2S Paracord Bracelet an indispensable survival accessory for any camping, fishing, hiking or hunting trip. MAGNESIA ROD gives you a secure solution when lighting a fire is a matter of an emergency. Rub the rod to get spark and fire under any weather conditions.
TESTED FOR EXCELLENCE: Has been tried & tested to a minimum breaking point of 550lbs/250kg. Deploy your 12 FEET OF PARACORD in any situation where an extremely strong rope or cordage is needed. Use it as a trap, make a shelter, or use one of the finer SEVEN INNER STRANDS as FIRE TINDER; FISHING LINE or SEWING STRING.
Knives make a great gift, but a knife set is even better.
This survival knife includes a 12" long knife with a nearly 7" blade. The handle of the knife has a lanyard hole for you to easily attach the knife to your gear. It includes a Kydex thermoplastic sheath that is durable and protective.
Included with the knife are an Allen wrench, 550 paracord, G10 scraper, and Ferro rod. When you need to start a fire and don't have a lighter, you can easily start a fire with this firestarter.
Bushcraft Survival Knife | Fixed Blade D2 Damascus Steel Hunting Knife K-Sheath Fire Starter, G10 Scraper & Paracord | Outdoor Chopping Knife Full Tang Large Survival Knife Kit In Gift Box (Silver)
✅ ALWAYS BE PREPARED FOR EMERGENCIES: This premium 12.32" long survival knife features a razor-sharp 6.92" blade made of D2 steel, guaranteed to cut easily wood, paper, plastic or aluminum without going blunt.
✅ MAX CONTROL IN USE DUE TO THE SMART DESIGN HANDLE: The silver G10 camping knife handle is 1.4" wide, to enhance precision use. Anti-slip & easy grip, it is designed for functionality.
✅ KEEP YOUR EDC KNIFE SAFE IN THE KYDEX SHEATH: The handy K-Sheath of your full tang knife features an upgraded Tek Lok + Lanyard hole, for easy attachment to your belt and safe & easy carrying everywhere.
✅GET YOUR HANDS ON A COMPLETE SURVIVAL KNIFE KIT: The Flint Rod with the G10 handle and the G10 Scraper included will help you start a fire in nature, while the Allen Wrench will hold all attachments on the K-Sheath.
✅ THRILL A NATURE ENTHUSIAST WITH A GIFT TO REMEMBER: Spoil a loved camper, hunter, fisherman or backpacker with the ultimate Bushcraft knife. Offered in the attractive Gift Box, this outdoor knife makes the best gift!
If you're anything like us, then you're torn between choosing a backpack, knife, and paracord bracelet. Good news! With this 72-in-1 survival kit, you don't have to choose!
This kit includes all of the necessary tools any survivalist or outdoorsman would need. It includes a tactical pen, folding knife, paracord bracelet, first aid kit, scissor, wire saw, emergency blanket, and fishing lures.
The best part is that all of these tools fit inside the backpack, making it perfect to take camping or keep in your car.
Gifts for Men Dad, 72Pcs Survival First Aid Kit, Survival Gear and Equipment, Emergency Supplies Camping Accessories with Molle Pouch, for Camping Hunting Hiking Outdoor Adventure
【Comprehensive Emergency Survival Kit & First Aid Kit】Hearing your requests, our team has been work hard on launching the New version of our survival kit which can get you well-prepared in an emergency situation. This kit contains 50Pcs first aid supplies, 12 powerful survival tools, and 10 fishing gear to suit all your needs while camping, hiking, car travel, climbing, boating, outside adventure, etc.
【Practical Survival Gears and Equipment】This kit contains the most popular survival tools: Tactical Pen, Bottle Hanging Buckle, flashlight, Multifunctional Card, Survival Bracelet, Dual-tube Whistle, Wire Saw, Parachute Cord, Emergency Blanket, Climbing Hook, Fishing Equipment, First Aid Kit. The supplies are enough to meet any medical or emergency need of a single family or several friends during outdoor wildness adventure such as camping, hiking, hunting, etc.
【Portable Large-capacity Molle Pouch】All the 72pcs emergency supplies are neatly arranged in a 600D nylon bag that offers three large compartments and plenty of rooms to add your own gear. The dimension of the bag is 9 inches x 6 inches x 5 inches, small and lightweight, Easy to carry. The Molle compatible straps on the back allow you to attach it to other bags or your belt, it's perfect for any outdoor activities.
【Perfect for Any Emergency】This Emergency Survival Kit is great for tactical doctors, military personnel, police, firefighters, first aid personnel, hikers, campers, outdoor sports enthusiasts, etc. It is idea for car, ship, bicycles, motorcycles, workplace, travel, shooting, hunting, camping, hiking, fishing, boating, cycling, outdoor sports, wilderness adventure and other activities.
【Perfect Christmas Gifts】 Cool gadgets for men, self defense weapons for women. It's suitable for all the people, especially young scouts or families interested in adventure. It will be a special and fantastic christmas gifts for one you loved. If you and Your family, are not satisfied with our product, please contact us in time, we will serve you wholeheartedly.
Natural disasters and emergencies can turn your safe drinking water into a contaminated water source, leaving you without clean drinking water. Having a water purification system will remove more than 99.99% of harmful bacteria, viruses, and parasites.
During a winter storm, water may become contaminated and need to be boiled before using, but with no electricity, this can't happen. Having a water purification system will purify your water to make it safe for drinking.
The water purification system includes a hand pump, hose, filter, and carrying case for easy packing and transportation.
Sale
Survivor Filter Pro Water Purification System for Survival - Lightweight Hand-Pump Portable Water Filter for Backpacking Hiking Camping Water Filtration - Removal of 99.999% of Tested Virus Bacteria Parasites
Independently Tested in the USA to show 99.999 percent filtration removal of tested Virus, bacteria, parasites and reduces heavy metals, unpleasant tastes and odors
Proven protection against any unwanted objects in your drinking water; Reduces Heavy Metals and Improves taste, thanks to Dual Hollow Fiber Membrane (Ultra Filters) and Carbon Filtration - 20 times more efficient than the competition at 0.2 microns and none of the Competition Comes Close with Our Heavy Metal Removal
Shell is ABS Material (Same Material Used on Car Bumpers), Polysulfone Medical Grade Ultra Filter (Same Material Used in Visors of Apollo Astronauts), Food Grade Activated Carbon and Handle Contains Steel Bar Inside for Extra Support. BPA Free
Super Fast Flow Rate of 500 Milliliters (17 Ounces) per Minute; Can be used directly from fresh water source, pumped into attached cup, or pumped into any portable hydration pack; Perfect for filtering large jugs of water for the whole family
Lifetime Warranty - We cover all manufacturing and other defects with our lifetime warranty
You can always use a hammer, saw, knife, screwdriver, corkscrew, and pliers while camping, but you may not want to pack all of those tools in one bag. With a 12-in-1 camping multi-tool, you don't have to.
All of these tools are built directly into one tool, giving you access to 12 different tools from one central location. Plus, it includes a convenient carrying case, so it doesn't take up much room in your backpack.
12 in 1 Camping Multi Tool Accessories - Camping Accessories with Good Wear Resistance, Easy to Carry Camping Gear Survival Tool, Can Be Given to Relatives, Friends, Father, Boyfriend, Husband
✔️ALL-IN-ONE TOOL: Hammer multitool is designed with 12 functions, including pliers, claw hammer, vise, hammer, wire cutter, double-row saw, main knife, Phillips screwdriver, bottle opener, fish scale scraper, flat-blade screwdriver, double-sided nail file. This multi tool can meet your daily needs, outdoor camping and other needs.
✔️HIGH-QUALITY MATERIAL: Hatchet multitool is made of 3Cr13 steel, which enhances toughness, good wear resistance, and increases service life. In addition, the camping multi tool accessories are designed with a lock position, which can be used to fix the tool and will not fall back easily during use.
✔️WIDE APPLICATION: Our mini hammer multitool can be used to cut, pry, hammer nails, twist screws, open fire hydrants, cut wire, saw wood branches, and cut rope. The multi tool axe is light and small, easy to carry and use, perfect for camping, DIY work, home decoration, and is a practical household tool.
✔️PERFECT GIFT: This set of camping gear is ergonomically designed with a non-slip grip for a comfortable grip. The multi tool can be used all year round, suitable as a gift on Christmas, Father's Day, Birthday, for campers, fathers, sons, etc. our
✔️GUARANTEE for YOU: Our hammer multitool has been strictly tested, and we are committed to giving you the best service and guarantee. If you have any questions about the quality of the multi tool, please contact us in time, and we will solve the problem for you as soon as possible.
These emergency blankets are great for camping but they are also ideal for keeping in your car in case of an unexpected roadside emergency that may leave you stranded in the cold.
There are four blankets included in this pack of blankets and each blanket is tear-resistant, puncture-resistant, heat reflecting, and 100% waterproof. They each include their own carrying pouch with carabiner for you to easily attach to your backpack while camping or hiking.
Sale
World's Toughest Emergency Blankets [4-Pack] Extra-Thick Thermal Mylar Foil Space Blanket | Waterproof Ultralight Outdoor Survival Gear for Hiking, Camping, Running, Emergency, First Aid Kits [Green]
TOUGHEST EMERGENCY BLANKETS ON EARTH – Exclusively from Don't Die In The Woods, our HeatFlex mylar is thicker and more flexible than ordinary space blankets. Combined with durable packaging designed ultralight & compact for outdoor adventures, you won't find tougher mylar emergency blankets anywhere.
DURABLE + ULTRALIGHT + COMPACT – No other space blanket comes close to our ultra compact, durable storage - the perfect balance of durability & light weight at only 12 oz/set (only 2.5 oz/blanket). You can stash single blankets (in ripstop stuff sacks) anywhere, or carry enough for your whole group in the included zipper pack with carabiner.
PERFECT FOR HIKING, RUNNING, & FIRST AID KITS – NASA-designed mylar is waterproof and reflects up to 90% of body heat to help prevent hypothermia for cold, wet, or hot weather survival situations. These thermal foil blankets are a must-have for camping, trail running, marathons, 48hr/72hr/30 day go bags, tactical gear preppers, earthquake survival kits, home emergency, and car first aid kits.
RELIABLE MATERIALS FOR SURVIVAL SITUATIONS – Other space blankets are made cheap in ziploc bags for one time use. Ours are built tough to be there when you need them. Stash these tactical blankets everywhere – your car, roadside emergency kit, survival kit, first aid kit, bug out bag, zombie survival kit, and camping gear. With a little tape and paracord, these XL mylar heat sheets can be converted into an emergency shelter, emergency sleeping bag, emergency bivy, or other survival gear.
100% SATISFACTION GUARANTEED – You won't find tougher mylar emergency blankets anywhere. Guaranteed. 1% FOR THE PLANET – We help protect the wild places we love by donating a percentage of sales to conservation efforts around the world.