Last Updated on October 12, 2022 by admin_hunter
The novel coronavirus, also referred to as the COVID-19 pandemic, was declared a global pandemic by the World Health Organization in March 2020.
Acute respiratory syndrome continues to be a burden to the world and has claimed close to 3 million confirmed lives to date. This makes it rank among the deadliest pandemics in the history of the world.
A cure is yet to be found, and we are living in very uncertain times. It is important to be prepared for whatever preventive and remedial measures may need to be taken to curb the virus.
This brings about the need for a Coronavirus survival kit. Below are some essentials we feel you will need to survive the virus that should be part of the kit.
Personal Protective Equipment (PPE)
These items will keep you safe from the virus when you come in close contact with it. Often you won't be able to tell if you are close to an infected person.
Sometimes you may need to take care of a loved one who is infected, or someone who lives in your block gets infected.
Face Shields
TCP Global Salon World Safety Face Shields
10 Pack of Face Shields with Glasses Frames: Sanitary, durable, lightweight, and comfortable premium protective face shields that are made with ultra-clear thick plastic. Each face shield contains an internally mounted comfort fit acrylic glasses frame. Wear the face shields just like you would when wearing glasses over your ears and on your nose bridge, but you'll also have a face shield for protection. Wear your eyeglasses underneath. One size fits all.
Full Face Protection while Avoiding the Headband: Safety full-length face shield with a flexible wrap-around design that provides side and front face protection. The shields have 180 degrees of protection and provide full coverage of the eyes, nose, and mouth to help prevent droplets of saliva, coughs, sneezes, and other foreign substances from reaching your face. Dimensions: 7.75″ high x 10″ wide.
Ultra-Clear and Anti-Fogging: Face shields provide super clear visibility and have superior optics that let in the maximum amount of light, while the anti-fogging material resists fog under extended use. The shield is crystal clear, after peeling off both layers of the protective film. Reusable after disinfecting. Some assembly required.
Ideal for Most Workplaces Our essential personal protective face shields are worn all over the world in most common workplace environments. They are used by Hair Salons and Spa Professionals, Restaurant, Food Services, Retailers, Warehouses, Offices, Schools, both Indoors and Outdoors.
Face Shields Ship From the USA: Salon World Safety Brand is a division of TCP Global Corporation, a trusted worldwide company that has been in business for over 45 years.
Face shields are designed to cover the face and protect you from droplets while making it hard to touch your face with contaminated hands and accidentally infect yourself.
TCP Global currently has a great deal in a pack of 10 Salon World Safety Face Shields at an affordable price. Their design can accommodate your regular eyeglasses underneath.
They are worn on your nose bridge and over your ears like you would wear glasses, so they are easy to remove without further contamination.
Face Masks
Halo Life Face Mask
STAY SAFE. BE COMFORTABLE. LOOK GOOD: The most powerful full-spectrum protection with a wafer-thin mask filter allowing incredibly easy breathing. Your days of walking around with FOGGED UP GLASSES ARE OVER. You can be fashionable, comfortable and safe!
ULTRA-BREATHABLE: Super-breathable poly-honeycomb outer design allows you to comfortably wear your face mask even in elevated temperatures. Made of a bamboo inside lining for soft all day wearing and ventilated honeycomb pattern provides a cooling mask effect.
EXCLUSIVE NANOTECHNOLOGY FILTER CAPTURES >99.8% OF AIRBORNE PARTICULATES: More than 15 miles of nanofiber protecting you from airborne pollutants with water resistant material. Ideal for commuting, travel, outdoor, everyday use.
FULLY ADJUSTABLE: Embedded adjustable nose clip and ear loops provide a secure fit of face mask for women, children, and men of all sizes. SIZING: General fitting, small face masks for kids 7-12 and small women. Medium for a woman, teenager or smaller man. Large for men. Extra large for the big & tall.
FACE MASK FIT: Comfortable & fashionable face mask with advanced protection from airborne pollutants. Bridge to lobe face mask coverage. Recommended size of face mask for women – Medium (or small for small women). Recommended size of face mask for men – Large (or extra-large for big & tall men/women).
They provide respiratory protection by covering your nose and mouth, acting as a barrier to contaminants in the air you breathe.
They also protect other people from air and surface contamination that may be caused by your breathing, sneezing, coughing, and talking.
Remember, you may be hosting the virus and not be aware of it. For this reason, face masks are mandatory in most public places and are even enforceable by the authorities and make a great addition to your emergency kit.
You can include them in your coronavirus survival kit in three ways: get reusable masks, disposable masks, or a combination of both.
Have a few reusable facemasks because panic buying can deplete resources before they can be replaced, and production may be affected by factory closures and lockdowns.
They are washable, after which you can use them again. A couple of sh083-20nts will take you a long way.
The Halo Life face mask with a replaceable nanofiber filter is our recommendation for the day. It is highly breathable and can be worn for extended periods of time. Its nanotechnology filter made of water-resistant material is designed to capture all airborne pollutants.
Disposable masks are less tedious because you get rid of them once done. They will eventually run out, and you can never be too sure of future availability. To get your money's worth, be on the lookout for deals that enable you to purchase many at once.
Pure Gem's Disposable Protective Masks have packs of 50 masks sold in batches from a minimum of 50 up to 2000. They are a great addition to your kit.
Surgical or Sterile Gloves
Med PRIDE Medical Vinyl Examination Gloves
Medical Exam Vinyl Gloves – Designed for handling bodily fluids, or for food service use, our latex-free gloves help provide reliable protection
Thick, Heavy-Duty Resilience – Crafted with a 4 mils thick PVC, these versatile medical gloves are stronger than nitrile or latex while still giving you the dexterity and control you need for needles or equipment.
Commercial or Industrial Use – These vinyl medical exam gloves can be used by emergency personnel, home or hospice care, lab technicians, elder care specialists, veterinarian and medical staff, and dental professionals.
Various Sizes Available – These power free exam gloves are 9.5" long, can be worn on either the right or left hand, and fit men and women equally. They also come in small, medium, large, and x-large sizes for more versatility.
Bulk Box Order – You'll receive a total of 100 total gloves to suit any office or service need. And because they come in compact, stackable boxes, they're easy to store, and they're also disposable for quick, safe, and simple clean up.
These prevent you from having direct contact with contaminants and contaminated surfaces. They should be used once and properly disposed of afterward. Their cuffs should be long, reaching from above the wrist to mid-forearm.
Products like the Medpride Medical Examination Vinyl Gloves, which come in packs of 100, will take care of your glove needs for a long time.
Alcohol-Based Hand Sanitizer
Germ-X Hand Sanitizer
Kills 99.99% of germs without water
Effective at eliminating 99.99% of many common harmful germs and bacteria in as little as 15 seconds
Contains moisturizers
With Vitamin E
A hand sanitizer will get rid of any contamination your hands may pick from contaminated surfaces. They are the most active parts of your body that come into contact with most foreign surfaces and your face. The CDC recommends sanitizers with between 60 to 95% alcohol content.
We like the Germ-X moisturizing hand sanitizer for this purpose because it is sold in packs of 12, 24, and 48 at an affordable price. It also comes in different sizes: 2,3,8 and 32 fluid ounces, which you can mix up; use the larger ones at home and the smaller ones outside. Everyone gets their own bottle.
Cleaning Supplies
Diversey-CBD540557 Virex All Purpose Disinfectant Cleaner
For use on hard, inanimate, nonporous surfaces such as floors, walls, porcelain, and plastic surfaces in hospitals, nursing homes, schools, colleges and hotels
Provides broad spectrum kill of microorganisms including hbv, hiv-1, vre, mrsa, grsa, mrse, visa, prsp, herpes simplex types 1&2, influenza type A2, rotavirus and many more
One-step quaternary disinfectants cleaner and deodorant to clean and disinfect hard surfaces in hospitals, nursing homes and other facilities
Kills the organisms that cause odors and works as an odor counteractant to further eliminate odors not associated with bacteria
Meets osha's bloodborne pathogen standards for hbv and hiv
Coronavirus can be transmitted through contact with contaminated surfaces. These include everything from fabric, walls, tables, other people, phones, bedding, and the list goes on.
To reduce the chances of this mode of transmission, surfaces should be consistently cleaned. This becomes more urgent if you are nursing a victim on the premises.
Note that being asymptomatic does not mean you can't contaminate the environment. Regular cleaning is therefore necessary throughout this COVID-19 period, no matter the circumstances. You need to stock up on cleaning supplies.
It is always possible to make your own disinfecting solution using bleach and water solutions. Ensure the bleach is not expired, though, as it breaks down and will no longer be effective.
Alternatively, add specially formulated surface cleaners like Diversey's Virex All-Purpose Disinfectant Cleaner to your survival kit, and you will be good to go.
In addition to cleaning supplies, you should also think about stocking up on toilet paper, paper towels, tissues, feminine hygiene products, disinfectant wipes, soap, laundry detergent, and extra batteries.
Medication
If you have any underlying conditions, ensure that you stock up on your prescription medication and confirm their expiry dates. Essentials such as insulin should be replenished.
Other medications to be considered are coronavirus-specific. So far, they are only for pain reduction and symptom management. Stock up on painkillers, cough syrup, and cold medicines that address the most common symptoms.
Medical Devices
iHealth No-Touch Forehead Thermometer
Non-Contact Technology For Safe & Hygienic Use: With a built-in infrared temperature sensor, the iHealth PT3 thermometer can read a person's body temperature within 1.18 inches from the center of the forehead without physically touching the person.
High Accuracy Via Tri-Point Sensory: An ultra-sensitive infrared sensor collects more than 100 data points per second while distance and environmental sensors work together to account for other variables, ensuring maximum accuracy every time the temperature is taken.
Simple, Fast, Clear, And Quiet: With an intuitive single-button control design, the thermometer reads and shows the temperature in just one second on its easy-to-read, extra-large LED display, even in total darkness. When the temperature is read, the device gives a gentle vibration notification to the holding hand—no beeps or buzzes.
Suitable For Wide Usage Scenarios & All Age Groups: This iHealth thermometer (model PT3) is designed for all ages, ranging from babies and toddlers to the elderly. An ideal choice for at-home use and for hospitals, hotels, schools, and other public or private establishments.
In The Box: 1× iHealth PT3 thermometer, 2× AAA batteries, 1× Instruction manual, 1× Quick User Guide, our worry-free 12-month warranty, and friendly California-based customer service.
These are critical for monitoring vitals if you already have the virus and are on your way to recovery and checking if you might develop symptoms.
We recommend a thermometer for checking temperature levels and a pulse oximeter used to measure your blood oxygen levels.
iHealth's PT3 No-Touch Forehead Thermometer is great for a Coronavirus survival kit because it does not require contact to measure the temperature. You can do it without exposing yourself or the gadget to contamination.
Food Supplies
For the short term, you can stock up on food that lasts at least three weeks without turning rancid. Focus on non perishable food like grains and legumes and an assortment of canned food to supplement them. Canned soup and peanut butter are a couple more great choices.
Should anyone get infected, the standard is to isolate and quarantine from the rest of the community for at least ten days according to health officials.
This is monitored and enforced by health authorities in some areas, and you may get stuck in your residence for this entire period, so having a sufficient food supply is critical.
We are also constantly facing the possibility of total lockdown if the rates of infections spike. This may lead to panic buying and an associated acute food shortage with no timeline. It is important to have long-term survival foods in stock as well. You can check out our guide on buying survival foods for more information.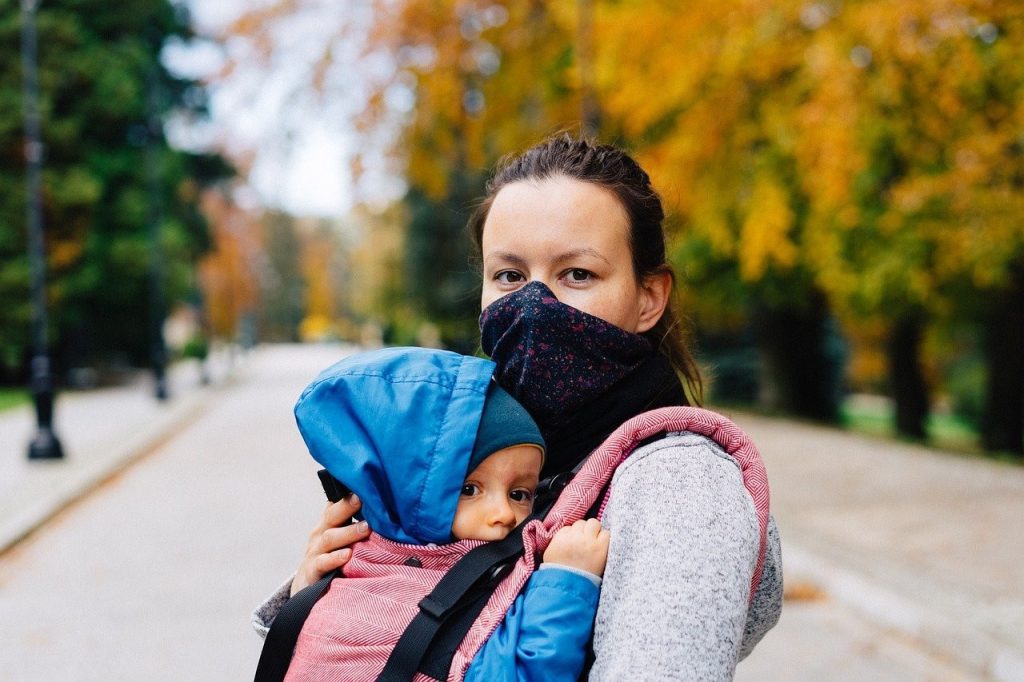 Stock your coronavirus survival kit with established brand names. Avoid opportunistic vendors out to take advantage of the situation. Start early, so you are not rushed when the need is dire. Survival preparedness is key to outlasting this pandemic.