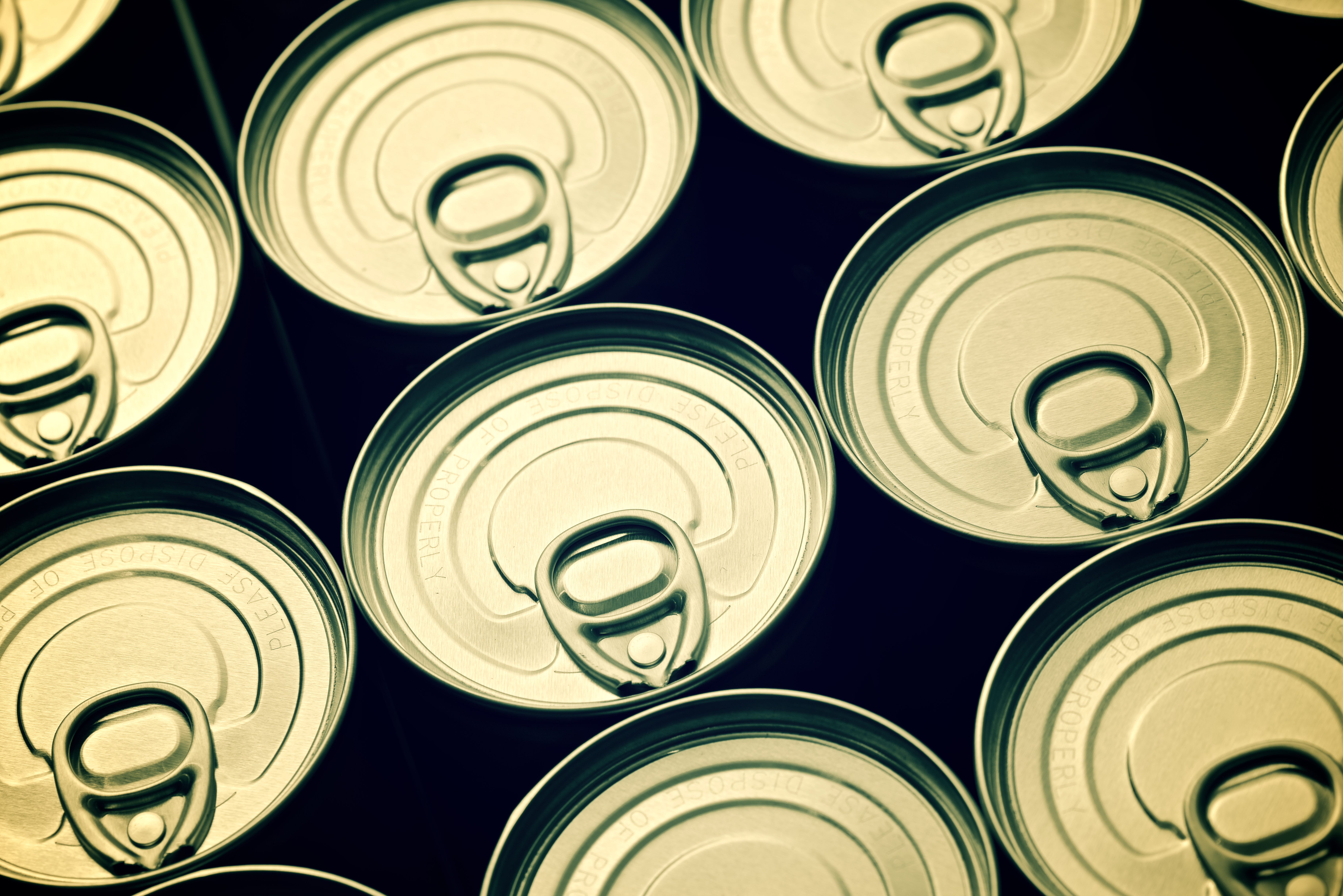 Best Canned Products to Stockpile
They are called natural disasters for a reason. Floods, hurricanes and blizzards may come without warning. They can force you to survive on your wits and your supply of food. During these times, you require your energy most. Which begs the question, how long could you feed your family, if you couldn't go shopping? Your number one job will be to make it through any crisis, and for this matter, you need to build a stockpile of food and other supplies. See it this way, stockpiling is like buying insurance. Your household may never face a crippling storm or devastating earthquake, but in the event that a natural disaster happens, stored food products may prove priceless. Maintaining a healthy food stockpile is in your family's best interest. While dehydrated foods are a great option, canned foods are easy to store and have an impressive shelf life.
How to Decide What Canned Products to Store?
The major problem when deciding what to stockpile is that you can't know for sure what type of disaster is likely to strike. It's hard to plan for the unknown. This makes it daunting to determine what to purchase. Due to this reason, most preppers base their purchase decision on the assumption that nothing will be available. You will never go wrong with foods rich in proteins and high energy. Nutrient specialists say that during this time your body more than ever will need proteins, fibers and all the important nutrients. You need to keep your foods normally balanced.
Emergency times don't call for luxury. You will be forced to eat things that you and your family aren't used to eating. You may not have electrical power, meaning your refrigerator may not work. Preferences and flavors won't be in your mind at the moment. But with the right planning, you might find yourself consuming all the required nutrients. But which canned products should you store? We present you the best-canned products to stockpile. Our list will prove very useful during times of disasters.
The Best Canned Products to Stockpile
Life Original Multigrain Breakfast Cereal, 12 Individual Cups
Life Breakfast Cereal, Original, 2.29oz Individual Cups, (12 Pack)
Your favorite cereal in a convenient cup you can enjoy at home, at the office, or on-the-go. Includes 12 individual cups
Crispy and crunchy with a touch of sweetness
Multigrain cereal made with whole grain oats, wheat, and other grains
20 grams of whole grains per 32 gram serving plus 9 essential vitamins and minerals
Helps promote heart health (Diets rich in whole grain foods and other plant foods and low in total fat, saturated fat, and cholesterol may reduce the risk of heart disease.)
The meal comes with 20 grams of grain per 32 grams servings.
It is low on fats and cholesterol
Ideal for consumption at home, in the car or at the office.
Everyone loves cereals, from kids to grownups to seniors. Cereals fall into the category of comfort foods. You don't require age limits to enjoy the crispy, lovely taste they're best known for. During times of disaster the Life Original Multigrain Cereal can turn out to be very important. What can you gain with its consumption? A cup of this favorite cereal is rich in whole grain foods including oats and wheat. The meal is low in fats and cholesterol too. This is good to keep your heartbeat rate optimal. The risks of contracting heart diseases are minimized. During calamities, you need to be at your best health and the Life Original multigrain Breakfast Cereal ensures this. The pack comes with 12 individual cups and can last you for a couple of days. The meal may be eaten during any time of the day and is ideal for home, office or consumption when inside your car. It's a wholesome meal with the right touch of sweetness. You will need a distraction away from your worries, and this meal will do a perfect job at that. Stock it for needy times.
Pros
Comes in 12 individual cups
Long lasting and can last for months without going bad.
Cons
Contains too much sugars.
Nature Valley Granola Bars, Crunchy, Mega Pack of Peanut Butter and Oats n Honey
Nature Valley Granola Bars, Crunchy, Mega Pack of Peanut Butter and Oats 'n Honey, 26.82 Ounce (Pack of 1)
GRANOLA BAR: Nature Valley granola bars are made with whole grain oats, and peanut butter or honey
REAL INGREDIENTS: Hearty 100% whole grain oats with no artificial flavors, artificial colors, high fructose corn syrup
WHOLE GRAIN: An excellent source of whole grain with 16 grams per serving (at least 48 grams recommended daily)
PERFECTLY PORTABLE: Easy, wholesome bites for breakfast, snack time or an on-the-go invigorating treat
Comes at 16 grams per serving, meeting the set standard of 48 grams daily.
The ingredients used to make t are all pure and natural.
It is value for its money and comes at a reasonable price.
Another great canned product on our list is the Nature Valley Granola Bars, Crunchy, Mega Pack of Peanut Butter and Oats n Honey. For an easy and satisfying snack, this product perfectly fits the description. When you're short of time and are unable to prepare a decent meal, this wholesome snack will give you the same required nutrients. This whole grain meal comes with 16 grams per serving, being at the rightful amounts where the recommended standards lie at least 48 grams daily. It is rich in carbohydrates and will provide you with all the energy you need. Its ingredients comprise of granola bars made with a mixture of either peanut butter or honey and whole grain oats; a decent food for times of disaster if you think about it. This deliciously tasty snack is perfectly portable. Carrying them from one place to another won't be a problem. In addition, it is all pure and natural. Its ingredients do not contain any artificial flavors, colors or sweeteners. It comes at a reasonable price and will prove its value for money all through. It is manufactured to stay fresh for at least six months, and with the 36 individually wrapped bars in it, there will be more than enough for everyone.
Pros
No added flavors, colors or sweeteners.
Easy to transport and store.
Cons
Unsuitable for those allergic to peanut butter.
Safe Catch Elite, Lowest Mercury Solid Wild Tuna Steak, 3oz Pouch
Safe Catch Elite Lowest Mercury Solid Wild Tuna Steak, 3 oz Pouch. The Only Brand To Test Every Tuna for Mercury (Pack Of 12)
LOWEST MERCURY CANNED TUNA IN THE MARKET- The only brand to test every tuna for mercury. Average mercury 25X lower than the FDA action limit. 8X lower than Albacore tuna (FDA).
AMERICAN PREGNANCY ASSOCIATION OFFICIAL TUNA- Healthy food for athletes, kids and pregnant women. No precook processing. No added oil, water, broth or fillers.
100% SUSTAINABLY CAUGHT -Wild-caught tuna, dolphin safe, fully traceable from catch to can. Monterey Bay Aquarium Seafood Watch partner!
LEAN SOURCE OF PROTEIN- Non-GMO, Whole 30, Paleo Certified, Kosher and Gluten-Free. Hand cut, hand packed and slowly cooked in the tuna's natural juices to retain maximum Omega 3s and nutrients.
FULL REFUND GUARANTEE- In the unlikely event you're not 100% happy with your purchase, we'll send you a free replacement or give your money back, no questions asked.
This food contains the least mercury content as compared to others in the market, 8X less than the others.
No pre-cooking required to consume it and is suitable for kids and pregnant women.
Rich in proteins and fats. Provides athletes with the needed energy for workouts and competitions.
Enough of grains and now to some fish, the Safe Catch Elite, Lowest Mercury Solid Wild Tuna Steal, 3oz Pouch is a delight to many meat lovers. Firstly, you should be aware that this is the only brand to test every tuna for mercury. Its mercury content is eight times lower than the FDA required standards. In fact, it is the lowest mercury canned tuna in the market. Your health safety is thus assured. A lot comes with this super healthy food. It is ideal for athletes, kids and pregnant women. There are no added oils, broths or fillers in it and there is no precooking process required before consuming it. Kosher and gluten allergic people have nothing to worry about its consumption. The Safe Catch Elite is a lean source of protein. The tuna fish are hand cut, packed and carefully and slowly cooked in natural juices for maximum omega 3s and other nutrients. For a healthy and tastier meal, this is the perfect fish meal during times of disasters. Lastly, the meal comes with a full refund or replacement in case you're not satisfied with the purchase.
Pros
No added oils or preservatives.
Kosher and gluten-free.
Cons
 Crispy Green Freeze –Dried Fruit, Single-Serve, Fruit Variety Pack, 0.35 Ounce
Crispy Green Freeze-Dried Fruit, Single-Serve, Variety Pack, 0.35 Ounce (Pack of 16)
CONTAINS: 16 convenient single-serve bags of the same delicious freeze-dried fruit but NEW PACKAGING
NUTRIENT PACKED with vital vitamins and nutrients from ONE single ingredient
CONVENIENT AND PORTABLE: Perfect for lunch bags and on-the-go snacks
DELICIOUSLY HEALTHY: Vegan, Paleo, Gluten Free, Dairy Free and Kosher
Three great flavors that are nutritious and delicious
Rich in nutrients.
The fruits are natural with no added preservatives and sugars.
Thanks to the firm sealing, no bacteria can penetrate through making the fruits last for very long periods.
Last on our list is a fruit-fully packed meal, the Crispy Green Freeze-Dried Fruit. As much as grains and meat are essential during calamities, fruits are equally important too. Fruits provide the body with huge amounts of nutrients. And to gather all these nutrients at once, the Crispy Green Freeze comes in handy. Lots of fruits are found in the pack, ranging from apples to tangerines and Asian pears. They are all natural and come with no added sugars, preservatives or cholesterol. Vegans, people allergic to gluten and kosher will find this meal consumable. Manufacturers had their needs in mind. The pack comes with 12 serve bags. This amount is enough to last the family a couple of days. The containers are carefully sealed and could last for months. Fruits are a great way to keep you going during hard times, and the Crispy Green Freeze- Dried Fruit provides just that.
Pros
100% natural and very low on calories
Irresistibly delicious
Cons
The oranges present are extremely tangy
PRO TIP: to further extend the shelf-life of your canned foods, store them in a cool dark location and rotate your food storage periodically. Incorrect storage can shorten the life of your canned products, and even risk food poisoning.
The Final Verdict
Even if you're lucky enough to live well outside the path of natural disasters, stockpiling is never a bad idea. Each of the above meal provides consumers with different nutrients. Grains, fruits and proteins are all essential, playing major roles in the survival for humans. Before purchasing any canned product, take time to figure out how much of each food type you'll need. Start small if you need to, but start building your stockpile of canned products now!
Of all the canned products in our list, Safe Catch Elite, Lowest Mercury Solid Wild Tuna Steal, 3oz Pouch is our top choice. A lot can be gained from this meaty prepper food during emergency times. You will benefit from their substantial amounts of proteins, omega-3s and other nutrients they provide. For vegans, the Crispy Green Freeze- Dried Fruit is a great choice. The meal is all natural and provides consumers with a variety of nutrients at a fraction of the price. This doesn't however imply that you should ignore other foods in our lists.
For more great information on survival foods,
click here
.