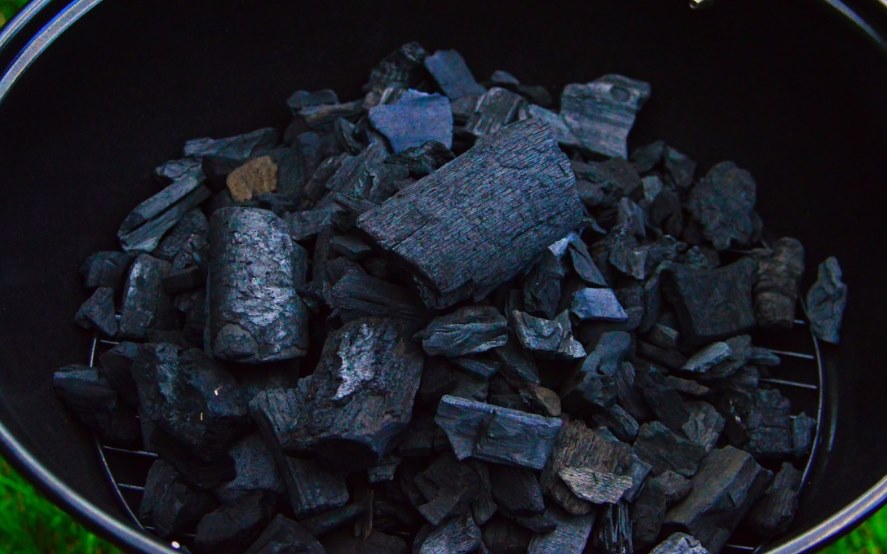 How to Store Charcoal Long-Term
Charcoal is the way to go, whether you enjoy barbecuing or want a dependable fuel choice for cooking emergencies.
The best way to store charcoal long-term is to keep it in an airtight and weatherproof container. Similar to diamond, natural lump charcoal is highly stable as long as you don't crush it into dust. But charcoal won't remain in good condition for too long if you store it in a humid area.
One of the good things about charcoal is its longevity. Lump charcoal can last indefinitely if you store it properly. Plus, you can use it again even if it gets wet. Simply let wet charcoal dry out, and you shouldn't have any problem starting a fire during grilling season.
In this quick post, I'll show you how to store charcoal long-term, the best charcoal storage containers, and tips to salvage rain-soaked charcoal.
How to Store Charcoal
One of the biggest mistakes to avoid is leaving your charcoal in a bag. For example, if you buy a 20-lb bag of charcoal for grilling season, it is okay to leave it in the bag if you plan to use it all up as soon as possible.
But if you intend to store it for future use, your best bet to preserving your purchase is to remove it from the bag and store the leftover charcoal in the right type of container until the next time you charcoal grill.
Here's how to store charcoal long-term:
Make sure the charcoal is completely dry when you take it out of the bag. The coal won't burn properly afterward if you store them wet.
Put the charcoal in a moisture-proof container with a tight lid. A metal or plastic container will do just fine.
Toss in some silica gel packets inside the container. This will help absorb any excess moisture left in the charcoal.
Seal the container shut with caulk or duct tape, depending on the type of container. This will keep humidity out for long-term storage.
Find a good storage spot to keep the container. The ideal location should be cool but not damp. You want to choose a spot that is out of direct sunlight or near a window. Some of the best storage locations include outdoor sheds, basements, and garages. Whichever location you choose, make sure it doesn't get excessively hot. It is a great idea to run a dehumidifier in the area (for example, in a basement).
Store the airtight container containing the charcoal off the ground. This is especially true if you use metal containers. These types of containers are susceptible to rust if left on damp surfaces for an extended period. Instead, you can place the container on a wooden pallet or a few bricks.
Best Charcoal Storage Containers
As mentioned earlier, bags are not the best places to store your charcoal. Bags can get wet and are easily affected by excess moisture. Besides, it is difficult to keep bags airtight.
Moisture-proof containers with tight lids are the best storage options. However, the market is rife with a wide assortment of these types of storage containers.
Thankfully, you don't have to stress too much to find the best containers for leftover charcoal because we've done some digging around and identified some of the best options for long-term storage.
Check out the following recommendations for the best results when it comes to storing charcoal.
1. Steel Trash Can
Sale
Behrens Garbage Lid-20 gal. (23" H x 17" Dia.) Galvanized Steel Trash Can, 20 gallon, Silver
Made in the USA. Behrens industrial strength garbage cans with solid steel handles and a tight fitting lid are ideal for trash, yard waste, seed, and pet food/livestock storage
Products that are Kinder to the Planet. Made of 100% Galvanized Steel. 100% Recyclable. Made of 100% Sustainable Materials
Cans are weather, chemical, and rodent resistant as well as feature an offset bottom to keep cans off the ground
Built to last, with the highest quality materials, these heavy duty garbage cans offer functional versatility for multiple uses
Each galvanized steel trash can is double seamed, with deep side swedging for superior structure and extra rigidity. Quality Metalware produced only by Behrens Mfg in Winona, Minnesota
A metal container is an excellent option because of its fireproof quality. Also, they are not porous but can rust if placed on a damp surface.
This 20-gallon galvanized steel trash can is wide enough to hold up to 24 lbs of charcoal. It comes with a snug-fitting lid, but it can still let in a little bit of air.
Consider putting your lump in a heavy-duty trash bag before adding it to the metal container. This will keep it airtight for long-term storage.
2. Plastic Charcoal Dispenser
If you prefer a charcoal-specific storage container, the Kingsford Charcoal Dispenser should be on your radar.
This model is made of plastic, but it is 100% weatherproof, so your charcoal will remain in good condition for a long time. It dispenses charcoal right from the bag and features a handle that makes pouring pretty easy.
This option can hold up to 24 lbs bag of charcoal.
3. Large Industrial Tote Plastic Container
Sale
If you plan to stockpile charcoal, a larger storage container will come in handy. Large plastic storage totes can hold up to two bags of charcoal.
Consider a wheeled industrial model with an airtight, drip-resistant lid for storing your charcoal long-term. Colored options are better for storing your lump in freezing weather.
4. Durable Bucket
For smaller storage solutions, consider a bucket with a tight-fitting lid. This option is made from HDPE material, making it very durable.
It has a wire bail handle with a plastic grip for convenient carrying. Plus, it features an integrated bottom handle for easy dumping.
It is a 5-gallon container, making it ideal for small charcoal storage.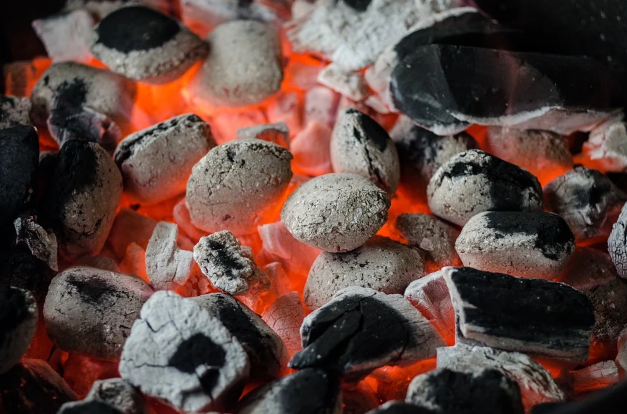 Tips for Drying Out Wet Charcoal
Lump charcoal will burn properly if it remains dry. But it won't do well if it gets wet or damp. That doesn't mean you have to throw out your charcoal because it got rain-soaked. You can salvage it and still make good use of the lump.
Simply lay the wet lump in a single layer and let it dry out in the sun. If the lump is just a bit damp, you can air it out and mix it with completely dried charcoal. Then, place the fresh and dry lump at the bottom and put the air-dry ones on top. It won't take long before the heat from the fresh fuel ignites the previously damp lump.
On the other hand, you may not be too lucky with charcoal briquettes. If you have wet charcoal briquettes, check to see whether they disintegrate or fall apart in your hand.
You can dry out charcoal briquettes in the sun for a few days if they don't fall apart. But if they disintegrate, you may as well throw them out.
Conclusion
There you have it: how to store charcoal long-term in six simple steps. The most essential point to remember is having a proper charcoal container.
You never want to leave leftover charcoal in the grill. You should also remove the charcoal ash as well. You can place aluminum foil at the base of the grill before cooking. This makes it easy to roll the old charcoal into the aluminum foil for disposal.
Your fresh charcoal can last forever if you pick the right storage container.