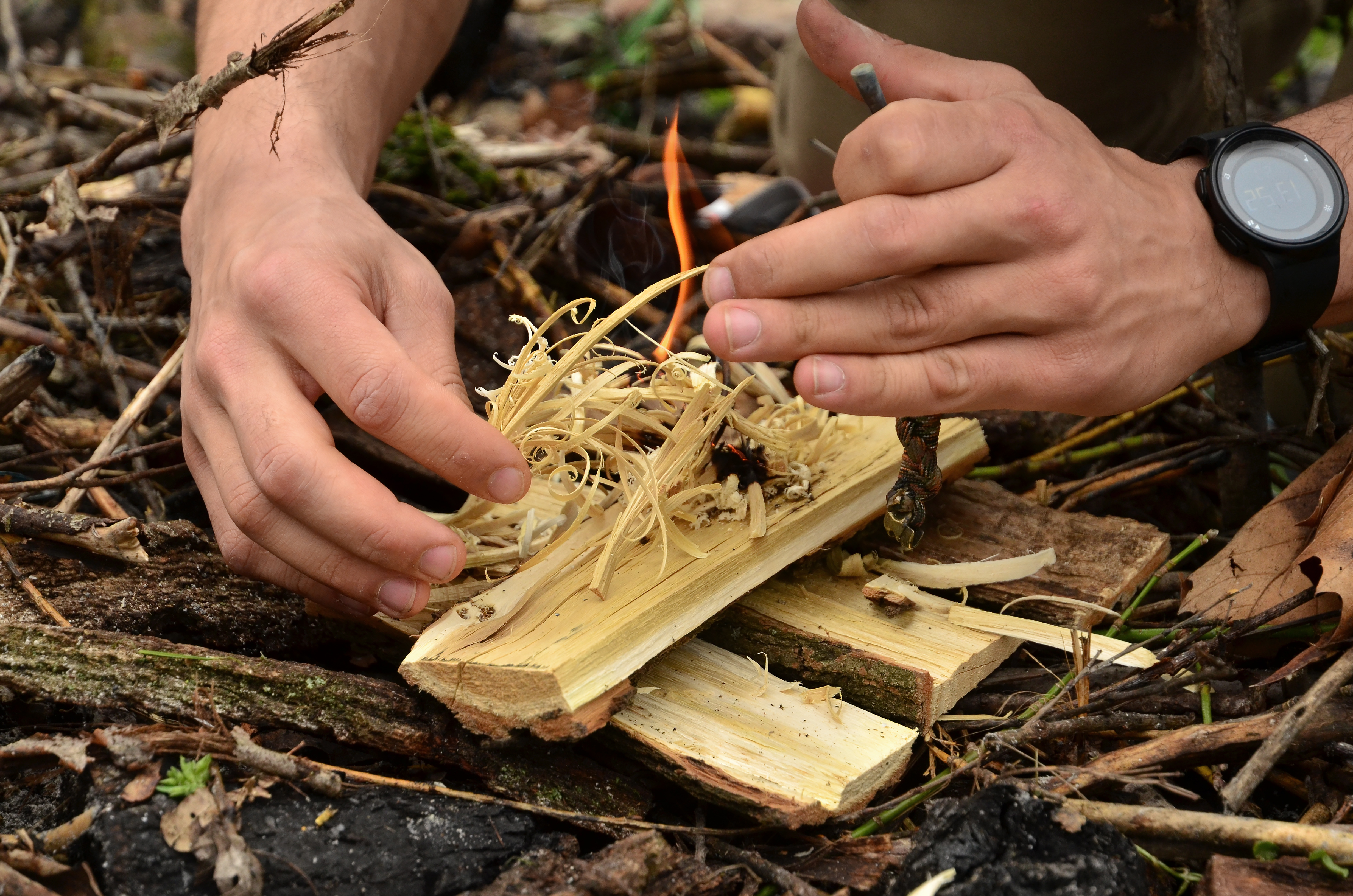 Best Tools to Start a Fire
There are different options for fire-starting tools and various reasons for using these devices. Whether you want an emergency fire starter to keep in your car or take with you on hikes or mountain bike excursions or need something reliable and long-lasting for casual camping trips, there are many options on the market.
The key to choosing the best fire-starting tool is finding one that provides the benefits and features you need for the best price.
There are several different options. Some devices are dedicated fire starters, while others have fire-starting features but also offer other tools.
Some use flint and magnesium or ferrocerium rods, while others rely on gas, compressed air, pistons, or magnifying glasses that focus light. Finally, there are traditional options, such as waterproof matches.
What are the Options
Multi-tools with fire starters. Some Multi-tools include ferrocerium or magnesium rods that you can use to start a fire. Survival knives may also have components that you can use to create a spark.
A ferrocerium rod is one of the more common options. These devices can be relatively small, with some hanging around the neck or small enough to sit in a shirt pocket. You start the fire by striking the rod.
Magnesium rods offer a similar design. The main advantage is that they can create sparks even if they are wet. These tools include a small blade that you strike the rod with to create a spark.
Fire pistons use compressed air to create a spark that lights tinder. These can be effective, though some require dry conditions to work correctly.
Waterproof matches work and gas-powered lighters offer more-traditional options. Quality matters a lot with these options because low-quality products may not work reliably.
Finally, classic flint stones can produce sparks that will start a fire. However, while very reliable, these tools may take practice before you can consistently create sparks large enough to start a fire.
What are the Best Tools to Start a Fire?
Here are the best tools to start a fire.
Bayite Four-Inch Ferrocerium Drilled Flint Fire Starter
bayite 4 Inch Survival Ferrocerium Drilled Flint Fire Starter, Ferro Rod Kit with Paracord Landyard Handle and Striker, 4"(Long) x 3/8"(Diameter)
5ft Paracord included, gives you a good grip and never comes off. Comes with a bayite Striker-Pro striker attached to the paracord, always be prepared to start a fire
bayite 6 Striking Edges Striker-Pro striker is made from TOOL GRADE HSS STEEL and has a distinct hardness, maximizes a shower of hot sparks, no matter whether you prefer to use your left hand or right hand to scrape. Don't use bad quality Knife as striker. Otherwise it will not produce enough sparks due to insufficient hardness of blade
Ferrocerium Rod Length:4"(10cm). Diameter: 3/8"(10mm). Large enough for a shower of sparks and small enough to carry
Made of high effective ferrocerium rod. Waterproof & Weatherproof, fits all weather, works in any weather condition
Sparks shower at 5,500 F (3,000 C) to ignite a fire in any weather (even wet), at any altitude. Perfect emergency fire starter for Bushcraft, Hiking, Hunting, Fishing, EDC, Emergency, BBQ, Gas Camp Stoves, etc
This ferrocerium rod comes with a striker. The rod and striker are on a paracord lanyard that you can attach to a backpack or wear around your neck.
The striker has a grip and tool-grade steel to create a shower of sparks when you strike the rod with enough force. The hardness of steel is essential for creating enough fire to start kindling.
In addition to being easy to carry, this rod works in any weather condition. Even if it has been underwater, it will still create sparks when struck with enough force.
Epiphany Outdoor Gear Bellows Fire Starter Kit
This kit has a ferrocenium rod and striker. It also has a couple of additional elements in a cylindrical carrier that make the fire starting process more manageable.
You also get beeswax and olive oil wicks, which catch the sparks and spread the fire quickly.
There is also a metal tube that you can use to breathe on the fire to spread it after it has started.
The kit comes in a weatherproof container, and the ferrocenium rod will work in wet conditions. The addition to the wicks makes it easier for beginners to light a fire successfully.
AOFAR AF-374 Magnesium Fire Starter
Sale
This magnesium rod comes in a two-pack, and you use one for camping and the other for survival or emergencies. This product comes with a waxed paracord that you can use to help start a fire.
The AOFAR Fire Starter steel striker has a handle that you can grip to angle in the ideal direction when striking. The magnesium rod is thick and relatively long, so they will work for thousands of uses before needing replacement.
The advantage of magnesium rods and shavings is that they will start in almost any weather condition. If you have an emergency survival kit, this product is an excellent option.
American Heritage Industries Piston Fire Starter Kit
American Heritage Industries Fire Piston Kit- Firestarter Kit with Char Cloth, Cord, and Tinder, Survivalist and Prepper Gift, Easily Start Your Next Campfire
FIRE PISTON- Light fires with the power of air; Combustion will create brief heat in excess of 500 degrees Fahrenheit and create a powerful burning ember within your char cloth
FULL FIREPISTON KIT- This kit comes with more than our meticulously machined piston; The compact metal tin has jute to be used as tinder, a small piece of paracord, one ready made char cloth, and one cloth to create your own char
SCIENCE EXPERIMENT- The power of air works magically as a fire starter; The homesteader and science student will each be equally intrigued with the ability to start a campfire with this simple piston
EASY TO FOLLOW VIDEO- American Heritage Industries knows that new products can be difficult, so the product comes with a link to a video so you can see exactly how it's done
THE HERITAGE GUARANTEE- All American Heritage Products come with a no questions asked 30 day return policy; If you have any issues at all we will not only walk you through it, we will gladly refund the item if you're displeased
This piston fire starter, which comes in a case with cotton tinder, paracord, and char cloth, uses combustion to create sparks. The piston relies on compressed air for the spark discharge.
This product comes with a video that teaches users the proper method to start a fire. This instruction is essential because the process takes a few steps.
The piston itself is of high quality with a machined metal exterior. This product is useful, but people who want a quick and uncomplicated fire-starting tool may prefer a magnesium or ferrocerium rod.
Icfun Waterproof Lighter
Waterproof Lighter Outdoor Windproof Lighter Dual Arc Lighter Electric Lighters USB Rechargeable-Flameless-Plasma Cool Lighters for Camping,Hiking,Adventure,Survival Tactical Gear (Camouflage)
❤️Waterproof Design ▶ waterproof lighter,metal-ring sealed lighter cover and locking clasp,IP56 WATERPROOF SYSTEM,water does not seep inside,no fear of rain,this waterproof lighter is your best choice when you go camping,travelling,survival tactical or hiking,arc lighter waterproof.
❤️Multipurpose ▶ windproof and flameless,usb rechargeable arc lighter,it is a perfect outdoor lighter,camping fire starter tool,emergency equipment,EDC Camping survival gear, gadgets for men and more.
❤️Economic & Eco-Friendly ▶ build-in rechargeable lithium battery,usb rechargeable electronic lighter,no gas or butane required,no more refilling,save you money,clean and convenient.About 2 hours full charged. There are obvious current voice when using,fashion and cool lighter.
❤️Convenient & Durable ▶ come with a thick paracord lanyard for better carrying during camping,hiking or other outdoor adventure. high-quality ABS and Zinc Alloy material,durable.
❤️After-sale Service ▶ 60 day guarantee,if you aren't love your lighter or any questions,please free to contact us,we are ready to help,we will provide a perfect solution.
This lighter has a sealed metal casing that keeps water out even if it gets submerged. It relies on a rechargeable battery for flameless fire starting. This feature makes it ideal for camping or as a survival fire-starting tool in a car.
The flameless characteristic means that it will also light in windy conditions. It comes with a thick lanyard so that you can carry it around your neck for easy access.
Though it requires recharging, it does not need butane or other gas. A full charge only takes about two hours.
überleben Zünden Fire Starter
überleben Zünden Fire Starter | 5/16", 3/8" or 1/2" Thick Bushcraft Fire Steel with Handcrafted Wood Handle | 12,000-20,000 Strikes | Traditional Survival Ferro Rod | Neck Lanyard | Trad 5/16"
HANDCRAFTED HARDWOOD HANDLE — Traditionally inspired materials and ergonomics. We've intentionally left the grip natural, ready to earn that seasoned finish. Oil & grit… bare, calloused hands.
BEST FERRO BLEND, PERIOD — Überleben's Sånft-korr(TM) ferrocerium is the perfect balance between softness & durability, consistently outperforming the leading fire starters. Easily throw a 5,500ºF shower of molten sparks in any weather (waterproof), at any altitude.
MULTIPLE SIZE OPTIONS — At nearly 5-inches in total length, the Zünden is available in three thickness variations, including: Trad 5/16" (8mm): 12,000+ strikes, Pro 3/8" (10mm): 15,000+ strikes, and Fatty 1/2" (12.5mm): 20,000+ strikes.
DESIGNED FOR NECK CARRY — There's no excuse. Even the Zünden Fatty weighs in at less than 3 oz. Includes Mil-spec 550 paracord lanyard + Multi-tool striker (straight-edge spine, concave tinder scraper, map scale, ruler, hex wrench… and most importantly, bottle opener).
HASSLE FREE GUARANTEE — If you're not stoked, we're not stoked. You shouldn't pay for something you don't love. If for any reason you're not absolutely thrilled with your Zünden, let us know. We'll fix it.
Traditionalists will appreciate this überleben Zünden product, which has a wooden handle and an ultra-thick ferrocenium rod that lasts for at least 12,000 strikes.
The wooden handle, long rod, and ergonomic striker make it easy to throw 5,000-degree sparks onto kindling. You will almost certainly start a fire with this product on the first try.
This product is excellent for neck carry with a lanyard, so it will always be within reach when you are out in the woods.
Unlike most fire starters, this one has a visual appeal. The wood handle, quality rod, and lanyard give it a classic appearance that some customers will appreciate.
Conclusion
The best tools to start a fire can create a spark in any condition. Hopefully, after reading this article, you have an idea of all the options and their benefits. With this knowledge, you can choose the best tools to start a fire for your specific need. This should be a must-have item in any serious emergency survival kit.