Last Updated on October 11, 2022 by admin_hunter
Camping is full of fun. It can be revitalizing to sleep outside and escape the stress of everyday life. Additionally, you'll have a great deal of free time to play games. Also, this can be an excellent time to attempt new activities or get back to hobbies you liked.
However, you'll relish preparing meals over a campfire with your family and buddies more. At the same time, you'll create some incredible memories in the process. In this article, we've discussed some common camping food hacks that'll blow your mind.
From tasty crescent dogs to delectable omelets in a Ziploc bag, you'll relish these scrumptious camping food hacks. Let's jump right in!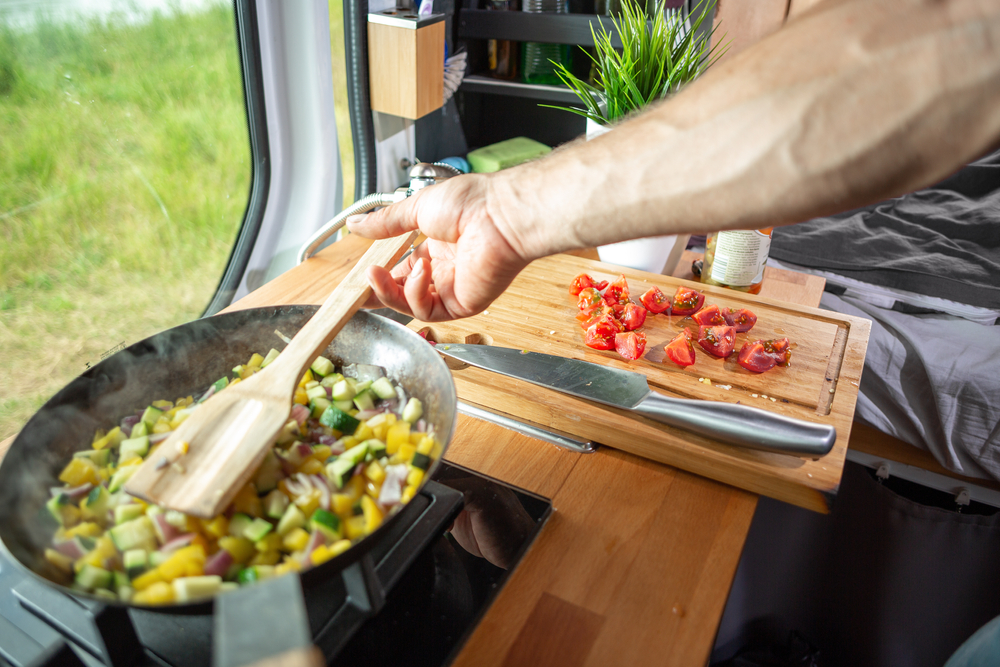 Camping Food Hacks
1. Break Eggs and Put Them in a Bottle
Moving your eggs from the refrigerator to the cooler, to the vehicle, and then to the camping location is challenging. It's because a couple of them may break along the way. To stop this, break your eggs beforehand.
Then, stir the eggs and put them in a plastic beverage bottle. It also saves you room. You can use a creamer bottle or any plastic bottle you have. When you get to the camping site, pour the eggs in a frying pan and ready yourself for mouth-watering scrambled eggs!
The other helpful trick is marking a line after adding an egg to the bottle. Do this when pouring the broken eggs into your bottle. This way, you'll know the number of eggs you're using to cook your camping meal.
2. Prepare Banana Boat Caramel S'mores
Among the many camping food hacks used on a campsite, this is one of the best. Take a banana and cut a slit into it. Slightly open up the banana's skin. Scoop out a couple banana chunks and eat them.
Fill 3-4 marshmallows in the sections of the banana that you've scooped out. Then, beside every marshmallow, put a chocolate square. After that, sprinkle a couple of caramel flakes on top of it.
Ensure you cover the banana skin as much as possible and put it directly on the grill of the campfire. Yes, this is also a foil packet hack!
Apart from that, you can also enfold the banana tightly using aluminum foil and put it on the coals directly. However, be more careful when taking it out of the coal and opening it. When the banana is cooking, its skin denigrates.
Barbecue until the caramel and the chocolate thaws. The marshmallows should start to appear soft and squishy in about 5-7 minutes. Carefully put the banana on a plate using metal tongs. If your banana gives off some water, wipe it off using a paper towel.
On top of the banana, sprinkle pulverized graham cracker pieces and serve it using a scooping spoon. This camping hack is ideal if you don't have everything you need for traditional s'mores like the tongs needed to toast the marshmallows.
3. Prepare Grounded Coffee
It's amusing how some people get hooked on coffee but don't like instant coffee. If you need to have coffee on your next camping trip, here is a camping hack for preparing ground coffee when you don't have access to a coffee machine.
Prepare a couple of filter coffee bombs by rolling them up before departure. To prepare one, put a couple of spoons of ground coffee in a filter and twist it into a ball with a bit of floss.
During your camping excursion, put your fastened coffee bomb in a pot with boiling water. The boiling water swallows up the coffee leaving the leaves. Discard the coffee bomb, and you have a strong, fine coffee left. It works like your coffee machine would at home but is convenient and portable and absolutely perfect for any camping trip.
4. Camping Fire Muffins in Orange Peels
Here is another delicious foil hack you can take advantage of. Whip up a collection of muffin batter. Pour the batter into a plastic vessel along with a bag of oranges. Divide the oranges into two and scoop out the fruit in them. You can use the fruit as a salad or squeeze the orange juice out of it.
Put the muffin batter in the scooped-out part and enclose your filled oranges with foil. Bake them on top of a campfire grill. Cooking these oranges takes between 10 and 15 minutes.
Sit back and enjoy your freshly-baked muffins. They'll make you the center of attention at the camping ground and don't even require an oven!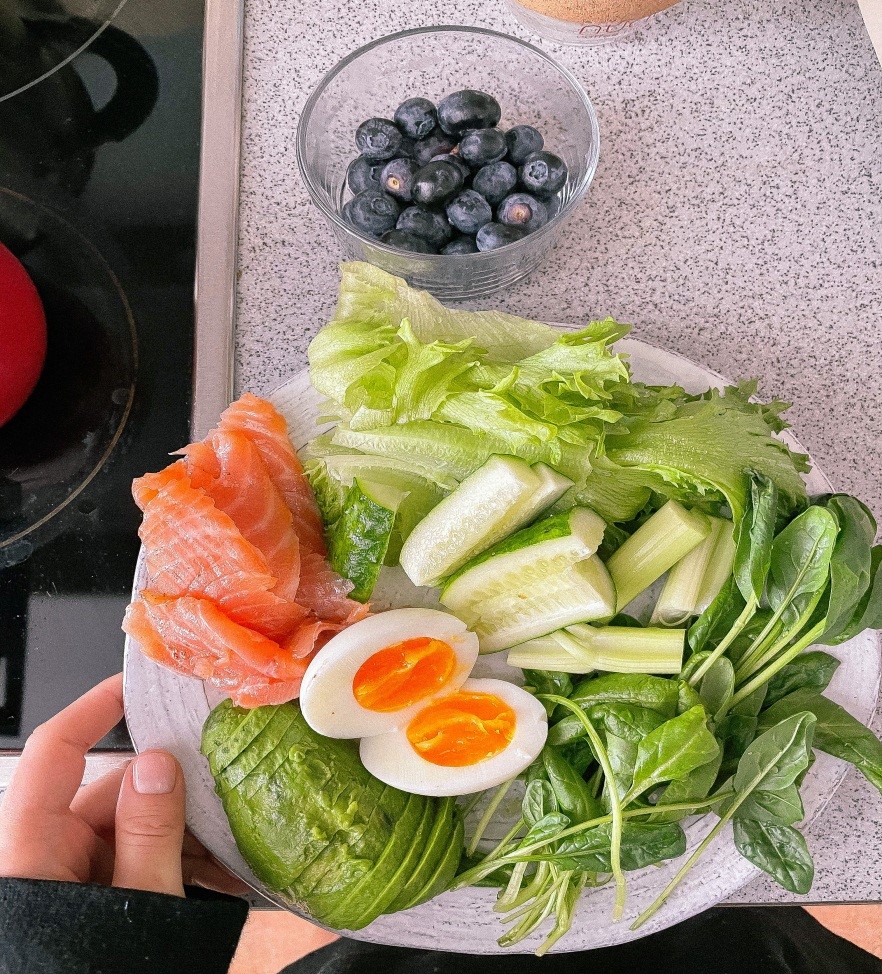 5. Wrap the Bread That You'll Consume During the Camping Excursion
In many homes, bread is a pantry staple. However, this doesn't imply that it should be in the camp kitchen. A loaf of bread has a limited lifetime compared to other foods.
If you're not cautious, the bread may get damaged or squeezed if your car is full of cargo that's rebounding over rugged terrain. The best substitute for your loaf of bread as you travel to your camping destination is a bread wrap.
Some benefits of this bread wrap hack:
It stays fresh for prolonged periods
It's more compact
It lasts longer as compared to traditional bread
It's easier to divide
For campers who don't like cleaning, the idea of enclosing food in a container is alluring. It's one of the best camping food hacks for camping enthusiasts.
It doesn't matter whether you eat an egg and pork burrito during daybreak, a salad wrap for lunch, or a chicken quesadilla for an evening meal. Bread wraps are ideal when traveling.
6. Preparing Campfire French Toast
If you want to cook while you're away, you possibly carried eggs, bread, and milk with you. Why don't you prepare French toast? You have all the ingredients Using a frying pan, prepare a few slices at a time. That's the conventional method of preparing French toast.
Nonetheless, if you prepare it in foil packets, you'll have plenty of time to relish the fresh air outside as it doesn't take long to get ready.
One possibility is to spread some pieces of foil out, then insert 2-3 bread slices in each foil and put the custard in between. The other option is to use an entire loaf of bread in a large foil wrapper and cautiously put the custard between the bread slices.
In the meantime, you can enjoy a cup of coffee while you wait for them to be ready.
7. Bake Apples Enclosed in a Foil Packet
Apples last long and don't produce much waste. That's why it's one of the perfect camping food hacks on this list.
Additionally, apples are excellent for baking, and, therefore, they're both a healthy light meal and a fulfilling dessert. If you want to prepare a simple campfire dessert, remove the apple's core and add your preferred trail mix or granola.
Enclose your mixture by making a heavy foil packet. Then, bake the apples at the edge of the campfire. While at home, prepare the apples beforehand if you want a more luxurious meal. Pack the apples with nuts, seasoning, brown sugar, caramels, and anything else you prefer.
8. Prepare Chili
You can never go wrong when it comes to chili. Not only does it freeze relatively well, but it's also the preferred meal by many campers. That makes it an ideal option for camping enthusiasts. Prepare the chili at home. You can then put it in a vessel and allow it to freeze until it's ready to cook.
So, if your family doesn't have any issue with dining on the same food for a couple of days, this amazing camping hack is all you need for a quick evening meal because you can make it in large batches, freeze it, travel with it, and then just heat and serve.
During your camping trip, take additional ingredients with you to add to your chili. This way, it'll be even more delicious.
9. Prepare Campfire Potatoes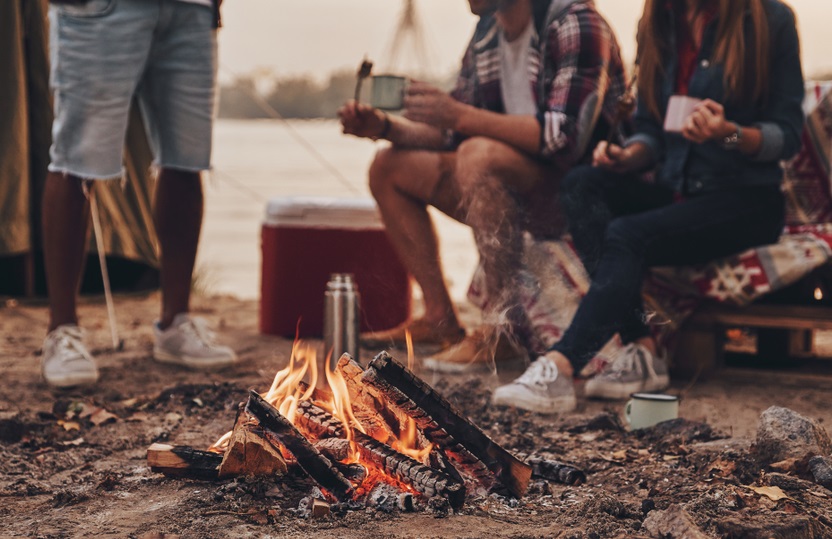 When camping during chilly nights, you need pleasantly warm, wintry meals. Campfire-prepared potatoes are among the best camping food hacks. The campfire adds a highly mouth-watering smokey taste to the potatoes when frying them.
Allow your camp oven to warm up. Rest it on top of the fire on a tripod stand or directly on some sultry coals. Cut ring-shaped onions and put them in your skillet or camp oven with a bit of finely chopped garlic.
While these pieces are cooking, chop your potatoes into 1/2-centimeter-thick slices. Throw in the spuds and a fistful of diced pork with garlic and onion. Then, cover it.
Ensure you stir in intervals of five minutes to make sure that it doesn't stick. As soon as everything is ready, add sour cream on top of your smokey and meaty spuds.
Conclusion
No matter if it is a summer holiday or a three-day long weekend, spending some time in nature can be the ideal getaway. When it comes to cooking while on a camping excursion, roasting hot dogs and barbecuing hamburgers around a campfire is a wonderful experience but is also a bit boring.
There's so much more you can do with your campfire besides barbecuing meat and preparing traditional s'mores. Whether you're a seasoned or beginner campfire cook, we have rounded up several superb camping food hacks that you may need to remember when planning your next camping excursion. Also, make sure that you store perishable foods safely.