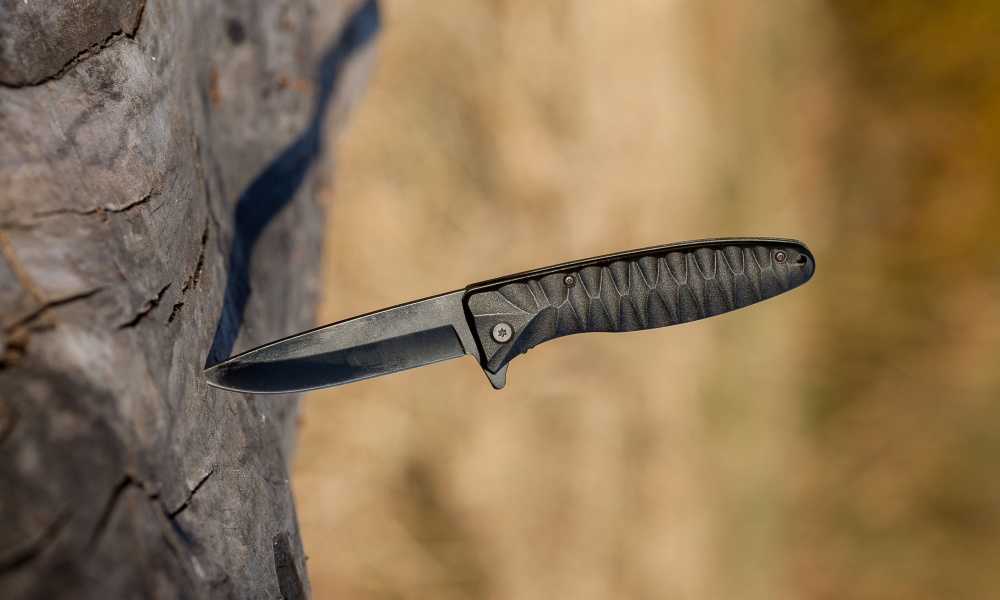 Mossy Oak 14-inch Bowie Knife Review
When you think about the gear you need for an outdoor excursion, undoubtedly a Bowie knife will feature at the top of the list. A Bowie knife will help protect you, create a fire, get food, and make shelter. But having just any Bowie knife will not do the job – you need it as a survival tool so you need the best Bowie knife. By choosing the Mossy Oak 14-inch Bowie knife, you are giving yourself an excellent tool for survival.
Kershaw Clash Black Serrated Pocket Knife Review
This knife has been designed for those who love the outdoors. This Mossy Oak knife is not only very well-priced but is high-caliber and durable. The grip actually looks like authentic bone and the blade is very sharp. When you take the knife out of the case, you can feel that you have a proper knife in your hand.
Who is this product for?
This knife is a majorly adaptable Bowie knife which is a fantastic addition for anyone who enjoys hiking, camping, hunting, and fishing. It is also great for military, tactical, and industrial situations. This knife is undeniably an excellent item for any outdoorsman or nature enthusiast.
What's included?
This knife comes with a real leather sheath that has a snap fastener for secure and safe carrying while giving easy access. The sheath has an integrated belt loop for added ease of use.
Overview of features
This knife is a smaller Bowie knife when compared to others. It has an overall length of just 14 inches and the blade has a length of 8.5 inches. This knife is very high on precision which means that any type of details can be accentuated by this knife. So, no matter if you are cutting meat, wood, or skinning an animal, you can be sure to have optimal usage.
This Mossy Oak knife also comes with a rosewood handle that has a full tang. This makes it both practical and beautiful. The rosewood handle is quite hard and has a distinct fragrance and color which adds an exotic feel to it. This is one of the main reasons that makes this knife a great choice in the under $25 range.
Additionally it has a non-slip grip and brass pommel. This gives the knife efficiency and strength. The rosewood grip is firm and comfortable, giving you great strength when you use it.
The surprisingly sharp blade is resistant to corrosion and is very durable. The genuine leather sheath has a snap fastener which makes the knife easy and safe to carry on your belt.
How to use it
This knife is very simple to use thanks to its sturdy finger furrows in the wood. Just hold the knife firmly in your dominant hand and use it to do whatever task you would like. Be aware that the blade is very sharp, so you should never use it towards yourself.
Alternatives
Tactical Bowie Survival Knife
This Bowie knife is a high-quality, heavy-duty item that is essential to your survival in the outdoors. It is a fairly small knife that is jet black, making it both imposing and intimidating. In total, the knife is around 12 inches long, with the blade making up 7 inches of that length. Although it is one of the shorter variants on the market, it is still one of the best.
The high-grade, durable stainless steel build makes this knife a winner in terms of performance and precision. This survival knife is designed more for the survivalist and hunter, but can easily be used by fishermen, hikers, and campers.
Winchester Large Bowie Knife
This large knife boasts an 8.57 inch long stainless steel blade that is fixed. It has a brass cross guard with sturdy finger-grooved wood. The full-tang build gives added strength. The knife is a total of 14.25 inches long and weighs a solid 14.4 oz. It comes with a ballistic nylon sheath for easy carrying and to protect you from accidental slips while keeping the knife close by for when you need it. You can use this knife in just about any outdoor situation, whether you are hunting, camping, or hiking.
Conclusion
Bowie knives are flexible knives that that are ideal for any outdoor activity, from hunting and camping to combat and survival. You need to ensure that the knife you purchase is suitable for these possibilities or you may be let down in a sticky situation.
The Mossy Oak Bowie Knife is an excellent knife that boasts many good features that make it a great option for any outdoor enthusiast. You never have to be unprepared when out in nature when you have the Mossy Oak Bowie Knife at your side.