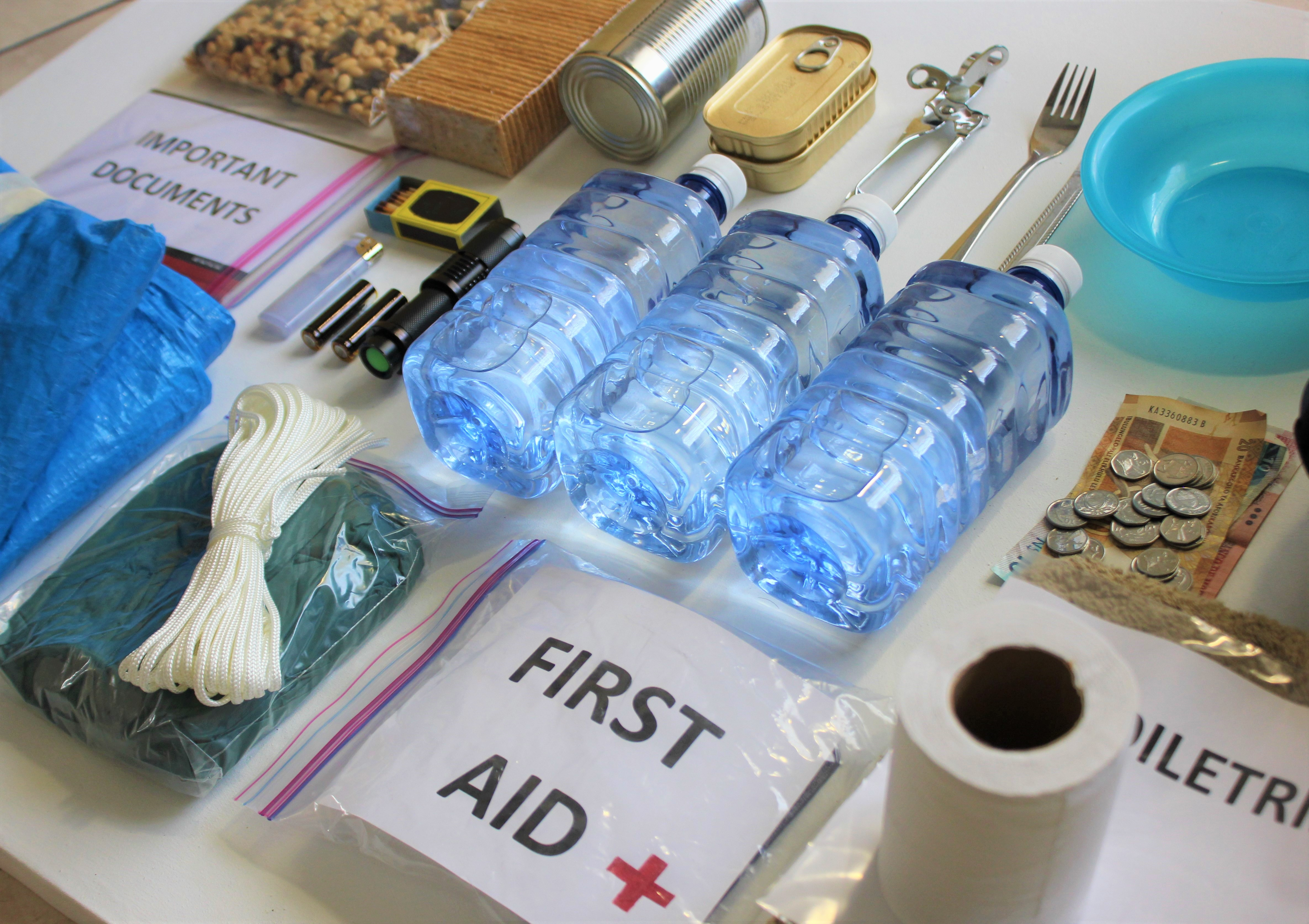 Best Earthquake Kits
Just recently, a magnitude 5.4 earthquake hit a large swath of Southern California. The recent seismic activity was the strongest to hit Southern California in nearly 2 decades. It damaged roads, sparked fires, broke gas lines and injured scores of people. No one likes to think about earthquakes that might put your family at risk, but closing your eyes to the possibility would not keep you and your loved ones safe.
Investing in a pre-packed, 72-hour earthquake kit is a smart way of ensuring that should you need to leave home during an earthquake, you'll have the necessary supplies to stay healthy and safe for up to 3 days. You will be at peace knowing that you're well-prepared if disaster strikes.
Who Needs An Earthquake Kit?
Everyone. If you live in an area that's prone to earthquakes, an earthquake kit is a must-have to keep your family safe. Earthquakes occur most frequently in California, Alaska, Nevada, Washington, Hawaii, Wyoming, Utah, Oregon and Montana. However, you don't necessarily need to live in an area classified as high risk for damaging earthquakes to buy an earthquake kit.
Disaster can happen without warning, and emergency survival kits are key to emergency planning. 72 hours is the amount of time many government agencies and emergency management planners suggest it could take for federal and local authorities to start rescuing the affected people in the aftermath of a significant disaster. It's better to have an earthquake kit and not need it than to need it and not have it
More and more people are realizing the importance of having earthquake kits in their homes and even in their cars. When an earthquake stands motorists overnight along the highway, or damages homes and you must quickly seek refuge, having an earthquake kit may be the difference between life and death.
Best Earthquake Kits Buying Guide
An earthquake kit should have everything your family needs to survive for at least 3 days as you wait for evacuation. In the aftermath of an earthquake, the supply of water, power and gas may be unavailable for several days. The stores may also be closed, meaning it will be impossible to get fresh supplies. An emergency survival kit should include all basic human needs (food, shelter and clothing) and everything required to supplement these basics.
Items that should be included in your emergency supply checklist according to the Centers for Disease Control and Prevention, the Federal Emergency Management Agency and the American Red Cross are:
Nonperishable, ready-to-eat food like canned food and nutrition bars, and a manual can opener.
Bottled water (1 gallon/person/day).
A first aid kit with a thermometer, antiseptic cleansing wipes, gauze roll bandages, tweezers, etc.
Flashlight, hand-crank radio and extra batteries.
Paper street maps.
Portable cellphone charger.
Special supplies for babies, elderly, disabled member or pets.
Backup medical equipment/supplies.
Sleeping bags/ponchos.
A whistle for signaling.
A dust mask and work gloves.
Sanitary and personal hygiene items.
Copies of important documents stored in a waterproof plastic bag.
Cash in small bills.
Extra car and house keys.
Entertainment items for kids and adults.
While you can create your own survival kit, buying a go-bag is an easier, cheaper and safer way to prepare yourself and your family for the worst. The easiest way to feel prepared for an emergency is to buy a ready-made earthquake kit.
Since Johnson & Johnson developed the first commercial first aid kits back in 1888, survival kits have come a long way. The current kits in the market are developed by survival experts and customized to provide vital supplies in the event of a disaster or an emergency.
The Best Earthquake Kits
If you want to prepare for the next earthquake, here is a list of 5 best earthquake kits:
Ready America 70385 Deluxe Emergency Kit 4 Person Backpack
Sale
When it comes to emergency preparedness, this low-cost, US Coast Guard approved emergency kit is the most thoughtfully curated option. Our favorite emergency kit has all the bare necessities needed for survival including nutrition, hydration and protection from elements. The water and food rations will keep you sufficiently nourished, the 4 ponchos and 4 emergency blankets will keep you warm and dry, and the first aid kit with 107 pieces will cover minor medical issues. Inside this kit, you will also find 4 12-hour light sticks, leather gloves, emergency whistle, 4 pairs of goggles, 4 NIOSH N-95 dust masks, 3 bio-hazard bags, emergency communication plan, 4 function emergency power station (cell phone charger, AM/FM radio, flashlight and siren), and a backpack.
Sustain Supply Co. Premium Emergency Survival Kit
Sustain Supply Co. Premium Emergency Survival Bag/Kit – Be Equipped with 72 Hours of Disaster Preparedness Supplies for 2 People, Comfort2
72-HOUR SUSTAINABILITY: The first 72 hours after a disaster are the most critical as rescue teams work their way through the affected area. The 2-person Sustain Supply Co. Premium Emergency Go Bag contains enough nutrition and water for the 2 of you for those 72 hours.
SUPERIOR QUALITY SUPPLIES: All of the items provided in your emergency go bag are premium. All items included: 12 servings of food, 2 Aqua Literz waters (33. 8 oz refillable cartons), 2 Sustain water filtration straws, 4 Cyalume SnapLights, 1 LED lantern, 1 flashlight, 1 fully stocked First Aid Kit, bath wipes, 2 emergency blankets, 1 portable stove, 2 bowls and utensils, 1 MoraKniv knife, 1 Ferrocerium rod, 2 InstaFire tinder, and 2 whistles.
PREMIUM EMERGENCY GO BAG: This 2-person emergency go bag contains supplies for two people to survive a natural disaster. When facing a crisis, you can rely on your kit to provide first aid, basic nutrition, hygiene and more.
BE COMFORTABLY PREPARED: Power outages are the most common after-effect of disasters. With 3 light source options, a fire-starting device, plenty of tinder, and a portable stove your emergency go bag lets you weather the storm in comfort.
LARGE DURABLE BACKPACK: While it's intended for use when sheltering in place in your home, the water-resistant pack is easily transportable in the event of a sudden evacuation order. It contains several inside pockets to store additional items.
We included this kit in our list because it covers basic needs plus redundancies in critical areas such as warmth and hydration. The company used Amazon analytics to determine the survival products most people tended to buy, then included the leading choices. You will find basics like 48 packets of Datrex emergency drinking water, a premium Sawyer Squeeze water filtration system, freeze-dried Mountain House Food, 4 bowls and utensils, fire starters, firsts aid supplies (gauze and tape, ointment, pain relievers, sanitary gloves, a first aid guide and a variety of bandages), 4 emergency blankets, 4 emergency whistles, a portable stove to warm up dinner and a sharp MoraKniv knife. Designed to sustain 4 adults, you also get 3 light options: 2 LED lanterns, multiple glow sticks, and 2 flashlights. The only downside is that the kit is a bit pricey and heavy than other kits in this list, but remember your safety is priceless.
Complete Earthquake Bag by Redfora
Complete Earthquake Bag - Emergency kit for Earthquakes, Hurricanes, Wildfires, Floods + other disasters (2 person, 3 days)
100% Satisfaction Guarantee - Built for 2 People for a 3 day period
FOOD & WATER: 3600 Cal Food Bars (2), Water Pouches (24), Hydration Bag w/ Straw, Water Purification Tablets (20)
FIRST AID & HYGIENE: 107 Piece Extended Life First Aid Kit, Hygiene Kit (2), Pocket Tissue Pack (2), Waste Bag (2)
LIGHT, SHELTER & WARMTH: Hand Crank Flashlight / Radio / Phone Charger, Matches, Emergency Poncho (2), Mylar Sleeping Bag (2), 2 Person Tube Tent, Hand/Body Warmer (2), 30+ hour Candle, 12 Hour Bright Stick
TOOLS: Pencil, Note Pad, 5-in-1 Whistle, 50 ft. Nylon Rope, Goggles, Sewing Kit, Work Gloves
This signature red backpack by Redfora is a bestseller on Amazon for a reason – it contains everything you would need to survive an earthquake for multiple days. The kit is smartly-packed with water and food (1 gallon of water plus 1000 calories/person/day), individual hygiene and first aid kits, warmth, shelter, off-the-grid light, waterproof matches, tools (knife, sewing kit, 5-in-1 whistle and a 50 ft. nylon rope) and communication (crank flashlight/radio). You also get leather palm gloves, emergency ponchos, sleeping bags, tent, hand and body warmers and safety goggles.
4 Person Survival Kit Deluxe by Survival Prep Warehouse
4 Person Survival Kit Deluxe - Prepare For Earthquake, Evacuation, Emergency Disaster Preparedness 72-Hour Kits for Home, Work, or Auto
4 Person Survival Kit with Essentials to Survive Disasters
Earthquake, Hurricane, Fire, Flood, All Natural and Man-Made Disasters
Grab and Go 72 Kit for 4
Emergency Disaster Preparedness Family Kit
Safety items, First aid, Gas shut off and more
This kit is the ultimate survival kit for earthquakes. It was designed following recommendations from Red Cross, FEMA and military officials. The kit comes packed in a convenient bag to make it easy to store it and grab it on the go. You can store it at home, at the office or in your car. Survival Prep Warehouse did a pretty great job of providing the survival essentials in the event that you have no water or power for days. Contents include 48 pouches of Datrex water, 4-2400 calorie food bars, 1 hand-crank AM/FM radio, 4 sleeping bags, 4 16-hour body warmers, 40 water purification tablets, 1 box of 50 waterproof matches, 1 multi-function pocket knife, a 50 ft. rope, 2 tents, 4 ponchos and 2 Hand Squeeze Rechargeable flashlights. The individual hygiene kits contain everything from handy wipes to toothbrush and toothpaste, while a sizeable first aid kit packs in the essentials. To help alert emergency personnel of your whereabouts, you get a 5-in-1 whistle and a signal mirror while a deck of cards will keep you entertained as you wait for help.
Mayday Industries Earthquake Kit
Sale
Designed by Mayday Industries, this 4 person earthquake-readiness survival kit is perfect to store in your home if you live in an earthquake-prone region. It has most of the things you need to keep a family of 4 safe and healthy during the first 72 hours of an earthquake. The kit has 24 pouches of water, a bottle of 50 water purification tablets so you can safely drink from any available water source, 4-2400 calorie food bars, 4 dust masks, thermal blankets, 4 ponchos with hoods, a multi-function Swiss army knife, 5-hour emergency candles, a box of waterproof matches, a utility knife, a can opener, a 54-piece first aid kit, a hand-crank radio to listen to emergency services, a 5-in-1 safety whistle to alert if help needed and a flashlight. If you need a toilet, the bucket turns itself into one, complete with chemical toilet disinfectant and toilet bags. The package is US Coast Guard approved and will last a minimum of 5 years.
Conclusion
It goes without saying that disaster preparation is about more than just buying emergency preparedness kits. It is vital to form an emergency plan with your family. Develop a communication plan with your family so you know who to call (an out-of-state contact) if cell service and power go down. Get familiar with the quickest and safest routes to safe ground and know where to meet.
Attend emergency training classes and participate in disaster sensitization community events. When you feel a tremor, drop, cover and hold on. Don't rush outside if you're inside. Avoid standing in doorways, near windows and mirrors. Only get up after the shaking passes. Items in your earthquake kit have a shelf life; remember to review and refresh your earthquake kit once a year.